Netanyahu rejects calls for ceasefire and resignation as he calls war against Hamas 'battle of civilization against barbarians'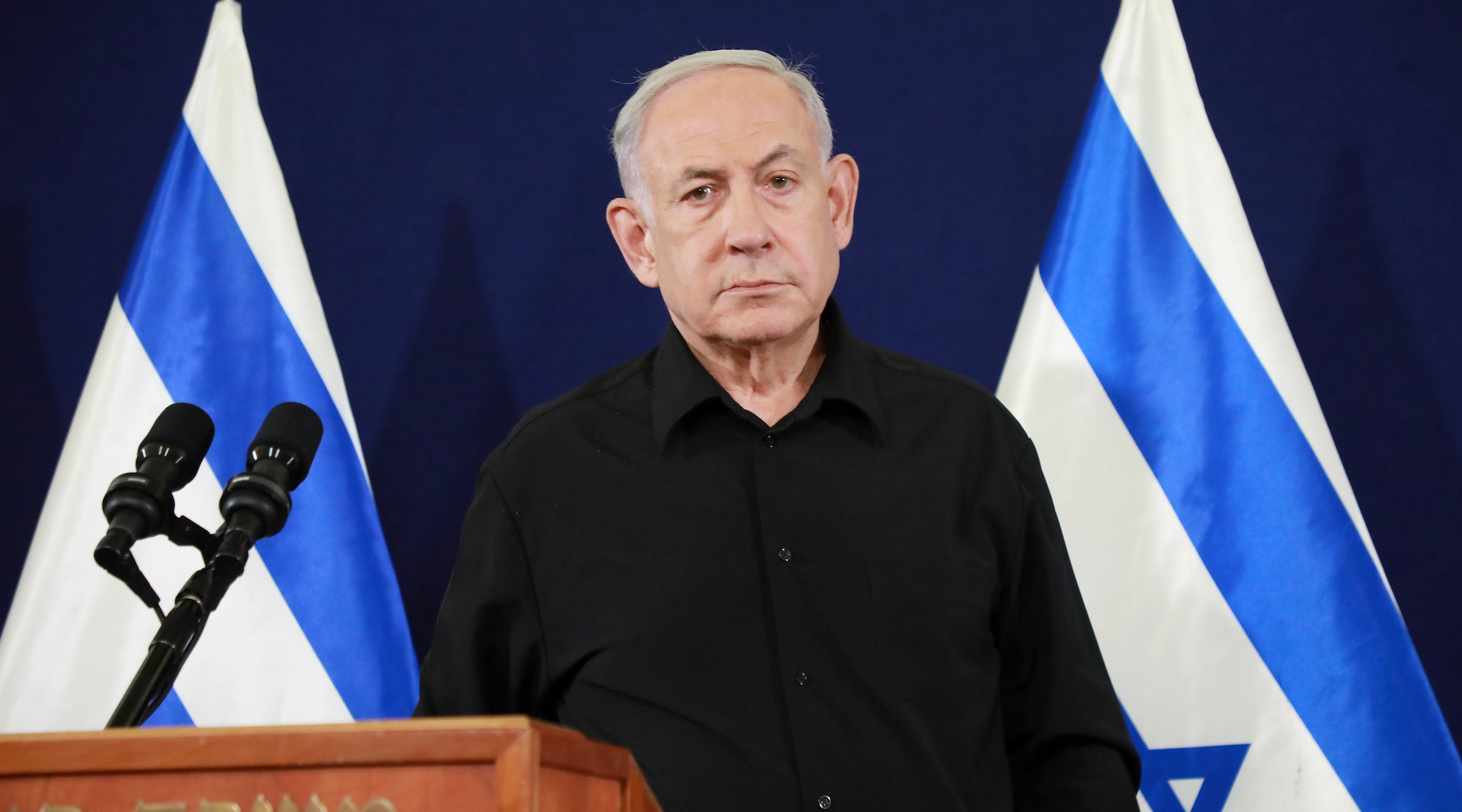 TEL AVIV (JTA) – Israeli Prime Minister Benjamin Netanyahu said that Israel's ground invasion of Gaza increases the chance that hostages will be freed, and rejected calls for a ceasefire in the country's war against Hamas, which he called "a battle of civilization against barbarians."
In a statement Monday evening followed by a brief question-and-answer period with foreign reporters, Netanyahu also blamed the war's mounting death toll on Hamas, the terror group that governs the Gaza Strip. And he said he would not resign despite dismal poll numbers.
 "I want to make clear Israel's position regarding the ceasefire: just as the United States would not agree to a ceasefire after the bombing of Pearl Harbor, or after the terrorist attack of 9-11, Israel will not agree to a cessation of hostilities with Hamas after the horrific attacks of October 7," Netanyahu said at the press conference at the Israel Defense Forces' headquarters in Tel Aviv. "Calls for a ceasefire are calls for Israel to surrender to Hamas, to surrender to terrorism." 
The press conference occurred days after the Israel Defense Forces expanded a ground invasion of the Gaza Strip following Hamas' Oct. 7 invasion of Israel, which killed 1,400 and wounded thousands. Hamas terrorists also took some 240 captives in the invasion. 
Israel subsequently declared war on Hamas, and the Hamas-run Gaza Health Ministry says Israeli strikes have killed more than 8,000 people. Hamas has also shot thousands of rockets at cities across Israel. 
In response to a question about the civilian death toll in Gaza, Netanyahu claimed that "not a single civilian has to die." He said Hamas is responsible for civilian casualties in Gaza because it fires at Israel and has its command centers in civilian areas, and prevents civilians from fleeing. He added that Israel told residents of the northern Gaza Strip to evacuate to the southeastern part of the territory, where he said there is a "safe zone." There have been IDF airstrikes in southern Gaza as well. 
"Hamas is preventing them from leaving, keeping them in the areas of conflict," Netanyahu said. "We're going out of our way to prevent civilian casualties, not only by asking civilians to move, calling them to move, arranging a place for them to be, which is safe — also putting in humanitarian support."
He added however, that "even the most just war" leads to the death of innocent civilians, citing the case of a British warplane that targeted the Gestapo headquarters in Copenhagen during World War II but accidentally struck a school, killing children. (Netanyahu inaccurately stated that the plane accidentally hit a children's hospital.)
Domestically, Netanyahu is facing pressure from families of those taken hostage by Hamas to agree to a large-scale prisoner exchange to secure their freedom. He said on Monday that he and the rest of Israel's leadership believes that the ground invasion may push Hamas to free the hostages. Israeli forces rescued one hostage soldier on Sunday, and Hamas has released four others. More than 200 remain. 
"The ground action actually creates the possibility, not the certainty, but the possibility of actually getting our hostages out," he said. "Hamas will not do it unless they're under pressure. They simply will not do it. They only do it under pressure. This creates pressure." 
Wearing a long sleeve black button-down shirt — his standard attire in public appearances since Oct. 7 — Netanyahu also addressed a question regarding calls for his resignation. A majority of Israelis, according to a recent poll, want him to resign after the war, while another poll showed that only 28% believe he's the best person to lead the country in a head-to-head matchup with centrist Benny Gantz. 
He also received flak for a recent social media post, which he later deleted and apologized for, that placed blame for the Oct. 7 massacre on Israel's military and intelligence chiefs. 
"The only thing I intend to have resigned is Hamas," he said. "We're going to resign them to the dustbin of history. That's my goal, that's my responsibility and that's what I'm leading the country to do."
—
The post Netanyahu rejects calls for ceasefire and resignation as he calls war against Hamas 'battle of civilization against barbarians' appeared first on Jewish Telegraphic Agency.
Top official says White House antisemitism strategy is 'under pressure' due to Israel-Hamas war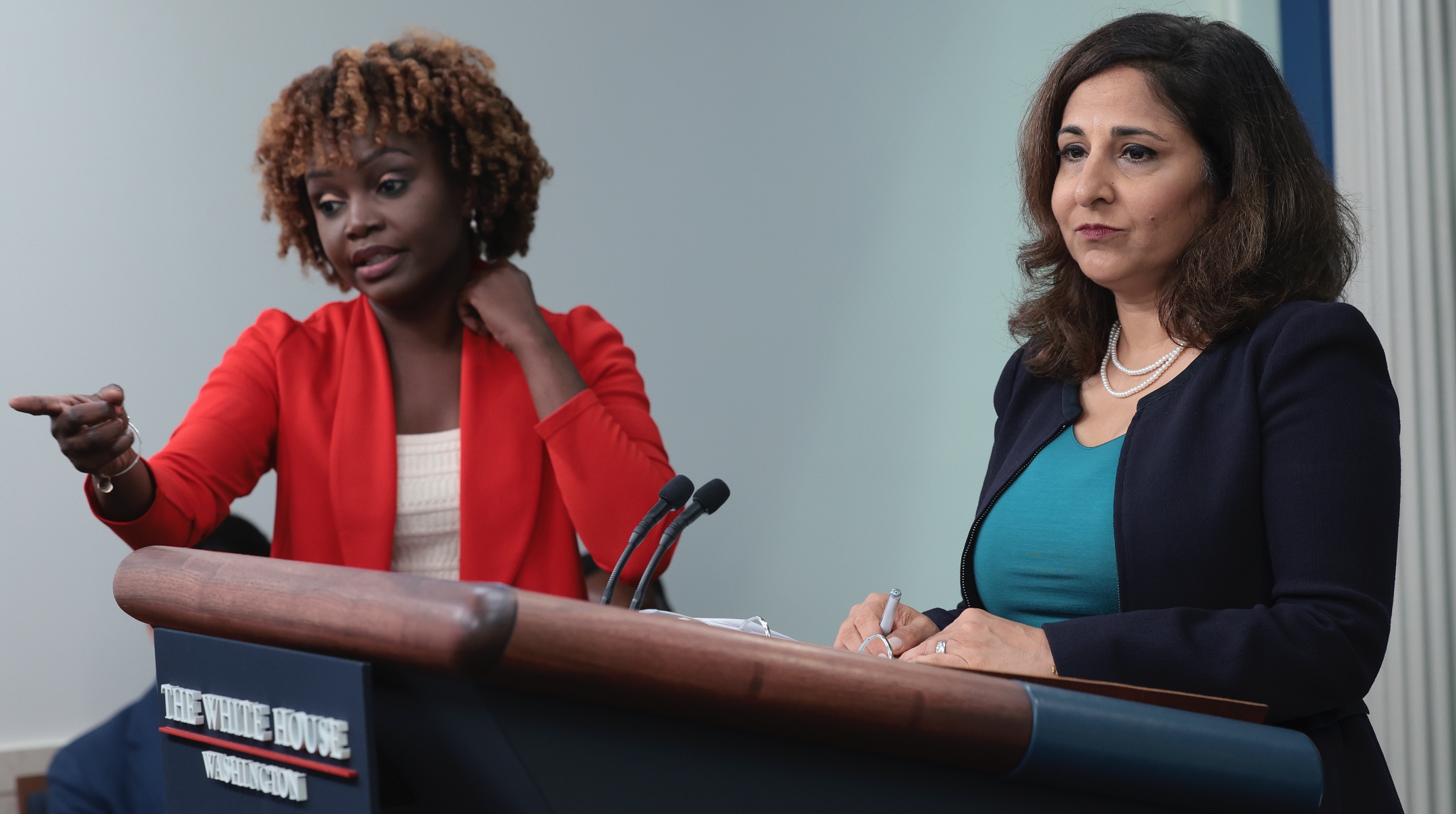 WASHINGTON (JTA) — The Biden administration's plan to combat antisemitism is "under a lot of pressure" because of the sharp rise in antisemitic incidents since the launch of the war between Israel and Hamas, a top White House official said.
Neera Tanden, President Joe Biden's top domestic policy adviser, held an online briefing with national Jewish communal leaders on Wednesday, about one month after Hamas' Oct. 7 invasion of Israel. She said the landmark strategy Biden launched in May to combat antisemitism created what she called a cross-department "architecture" to track and respond to reported incidents of antisemitism, especially on college campuses, but that that system is now being strained, she said.
"Unfortunately, that architecture is under a lot of pressure now with the rise of events" since Oct. 7, Tanden said. "The last several weeks we have seen, on campus and off, a real rise of targeting of Jewish people and antisemitic slurs, actions, threats of violence."
Jewish watchdogs have recorded a spike of antisemitic incidents worldwide and in the United States since Oct. 7, when Hamas terrorists invaded from the Gaza Strip, killing 1,400, wounding thousands, taking more than 200 captive and sparking an Israeli counterattack in Gaza. The Hamas-run Health Ministry in Gaza says more than 10,000 have been killed in the fighting.
This week, a Jewish man died after being wounded in an altercation with pro-Palestinian demonstrators this week near Los Angeles. Jews have also been assaulted and faced death threats on college campuses.
"We continue to see an alarming trend of antisemitic threats and attacks targeting Jewish communities across the country," White House Press Secretary Karine Jean-Pierre told reporters just before Tanden's briefing. "Disturbing acts like ripping down posters of Jewish hostages held by Hamas, vandalizing Jewish institutions, threatening to commit acts of violence against Jewish students, Jewish faith leaders and Jewish communities inflame tensions, stoke fear and are completely completely unacceptable."
In the webinar, Tanden said the White House was aware of how deep fears are running among American Jews. "We understand that people are scared in this moment, people are scared who have gone their whole loves without being scared," she said.
Just before the briefing, Jewish organizational leaders met with the top two U.S. law enforcement officials,  Attorney General Merrick Garland and FBI Director Chris Wray, to ask for greater protections against antisemitic harassment since the launch of the war, especially on campuses.
"We are comforted by the very active focus of the Department of Justice and the FBI in investigating and prosecuting the tsunami of increased cases since October 7 of hateful crimes against members of the Jewish community," said William Daroff, the CEO of the the Conference of Presidents of Major American Jewish Organizations, in a text immediately after the meeting ended at noon.
The meetings are among a flurry of efforts by American Jewish organizations to back Israel, fight antisemitism and advocate for the hostages. Jewish organizations are planning a mass rally next week in Washington to galvanize support for those goals.
Tanden said she and Education Secretary Miguel Cardona had met with Jewish students on campuses recently. "We spent a significant time hearing from kids, honestly, who are being threatened for who they are, for being Jewish," she said.
On Oct. 30, Jewish leaders had a meeting with Cardona, days before he warned federally funded colleges that they could lose funding if they failed to address harassment of religious and other minorities. Shelley Greenspan, the White House Jewish outreach director who was on the webinar, said the Education Department's Office of Civil Rights complaint form now had "antisemitism" designated as an area of harassment.
"There is an actual dropdown, so if you feel like you are being targeted at a university, you can actually click it's because of antisemitism," she said. "The department will then investigate."
Other organizations represented at the Justice Department meeting included the Anti-Defamation League, the Jewish Federations of North America, the American Jewish Committee and Hillel International. Julie Fishman Rayman, the AJC's managing director, said in an email that Wray also addressed FBI involvement in efforts to release the more than 200 hostages held by Hamas.
Nathan Diament, the Orthodox Union's executive director of public policy, said Jewish officials who spoke to the Justice Department officials stressed the threat to Jewish students on campus.
"We asked them to surge more resources into law enforcement agencies to protect our communities," he said in an email. "And we asked for a zero-tolerance policy — especially toward campus incidents. Federal authorities properly charged the student who made death threats at Cornell with a federal crime; that needs to be done across the board with others who act against Jewish students."
—
The post Top official says White House antisemitism strategy is 'under pressure' due to Israel-Hamas war appeared first on Jewish Telegraphic Agency.
With the Jerusalem Biennale canceled due to war, participating artists mount 3 exhibits in New York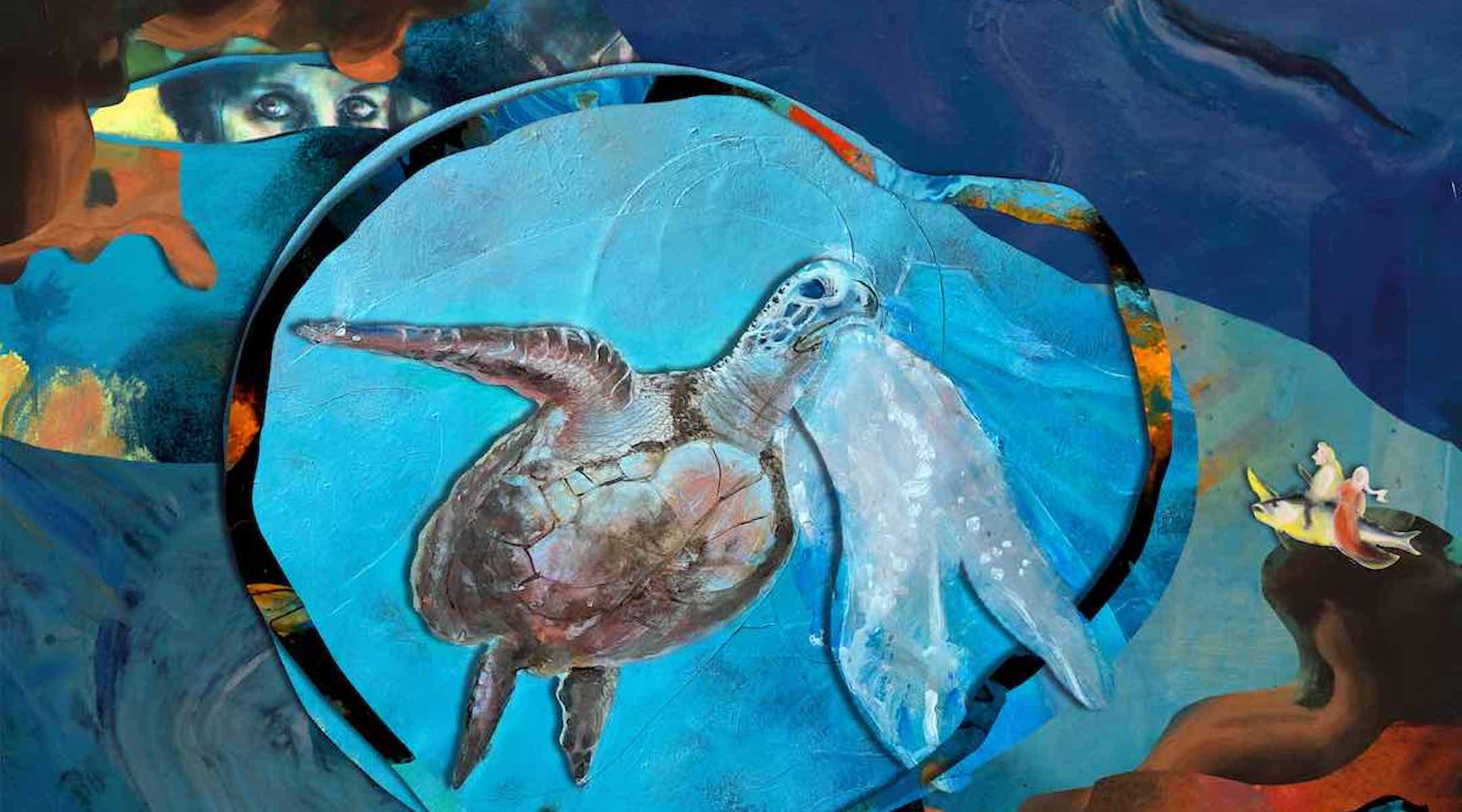 (New York Jewish Week) – Every two years, hundreds of artists from all over the world flock to Israel for the Jerusalem Biennale, an art festival that celebrates contemporary Jewish and Israeli artists from all over the world. 
Due to the ongoing war between Israel and Hamas, however, the 2023 festival, which was originally supposed to open Thursday, has been tentatively postponed until next spring.
Many of the artists are mounting their shows in their home cities instead. At least five of the Biennale's exhibits are scheduled to open this week in three continents — North America, South America and Europe — as a satellite version of the festival. 
On Thursday, three of the exhibits — "Activate," "The Seventeen" and "Hallelujah" — will open in New York City, where more than a dozen artists who are featured in the Biennale call home. 
The Heller Museum at Hebrew Union College-Jewish Institute of Religion, in partnership with the Jewish Arts Salon and the American Sephardi Federation, will host two of the Biennale exhibitions, "Activate" and "The Seventeen." They will be on view for free at the museum's East Village location for the next week. 
The Marlene Meyerson JCC Manhattan on the Upper West Side will host a third exhibit, "Hallelujah," in partnership with the Biennale. The Upper West Side building's Laurie M. Tisch gallery will show the work beginning Thursday through Dec. 17.
Founded in 2013, the Biennale takes place across the city of Jerusalem and centers contemporary artists whose work references Jewish and Israeli experiences. This year, the Biennale was prepared to bring more than 200 artists to Jerusalem to host 35 exhibitions across the city under the theme of "Iron Flock," which aims to "identify, through the eyes of curators and artists from all over the world, the movements, ideas, people, and moments that have become our unsaleable cultural assets," as the Jerusalem Biennale's website describes it. 
"The Jerusalem Biennale became like a pulse, beating steadily every two years. Since 2013, without exception and despite the many challenges, the Jerusalem Biennale has created a platform for contemporary art at the very center of the Jewish world. Until now. It's as if the heart skips a beat," Rami Ozeri, the festival's founder and creator director, said in a press release. 
"But even now, after the unspeakable pain of October 7, we have witnessed a huge outpouring of solidarity from around the world," he added. "Within weeks, our friends and partners have succeeded in mounting in their own cities the exhibitions created for the Jerusalem Biennale. We will continue to nurture the ties of art and culture between Jerusalem and the world today more than ever."
At the Heller Museum, "Activate: A New York Women's Perspective," curated by Israeli artist Hadas Glazer, showcases the work of six New York artists — Siona Benjamin, Goldie Gross, Ronit Levin Delgado, Joan Roth, Chelsea Steinberg Gay and Yona Verwer — who explore "the complexities of life as a woman today," according to a press release.  
Also at the museum, "The Seventeen" spans the 40-year career of Brooklyn-born artist Archie Rand. Curated by Samantha Baskind, the exhibition continues the artist's explorations of "the Bible and Jewish texts in serialized paintings conceptually informed by twentieth-century culture," according to the Jewish Art Salon website. 
Meanwhile, at the JCC, "Hallelujah" will showcase Israeli artists currently living in New York who have created art about their experiences as immigrants to the United States. On view will be works by Noa Charuvi, Hirut Yosef , Yehudit Feinstein, Yuli Aloni Primor, Gal Cohen, Ken Goshen, Gabriela Vainsencher and Maya Baran. 
Other exhibitions that were intended for the Biennale will be mounted at the AMIA Art Space in Buenos Aires and the Jewish Museum of Casale Monferrato in Italy. 
Ozeri said in a press release that more of the exhibits will open around the world in the coming months as a plan is made for the Biennale to take place in Jerusalem next year. "This heart will always keep beating," he said. 
—
The post With the Jerusalem Biennale canceled due to war, participating artists mount 3 exhibits in New York appeared first on Jewish Telegraphic Agency.
Brazil police arrest 2 men allegedly plotting terror attacks targeting Jews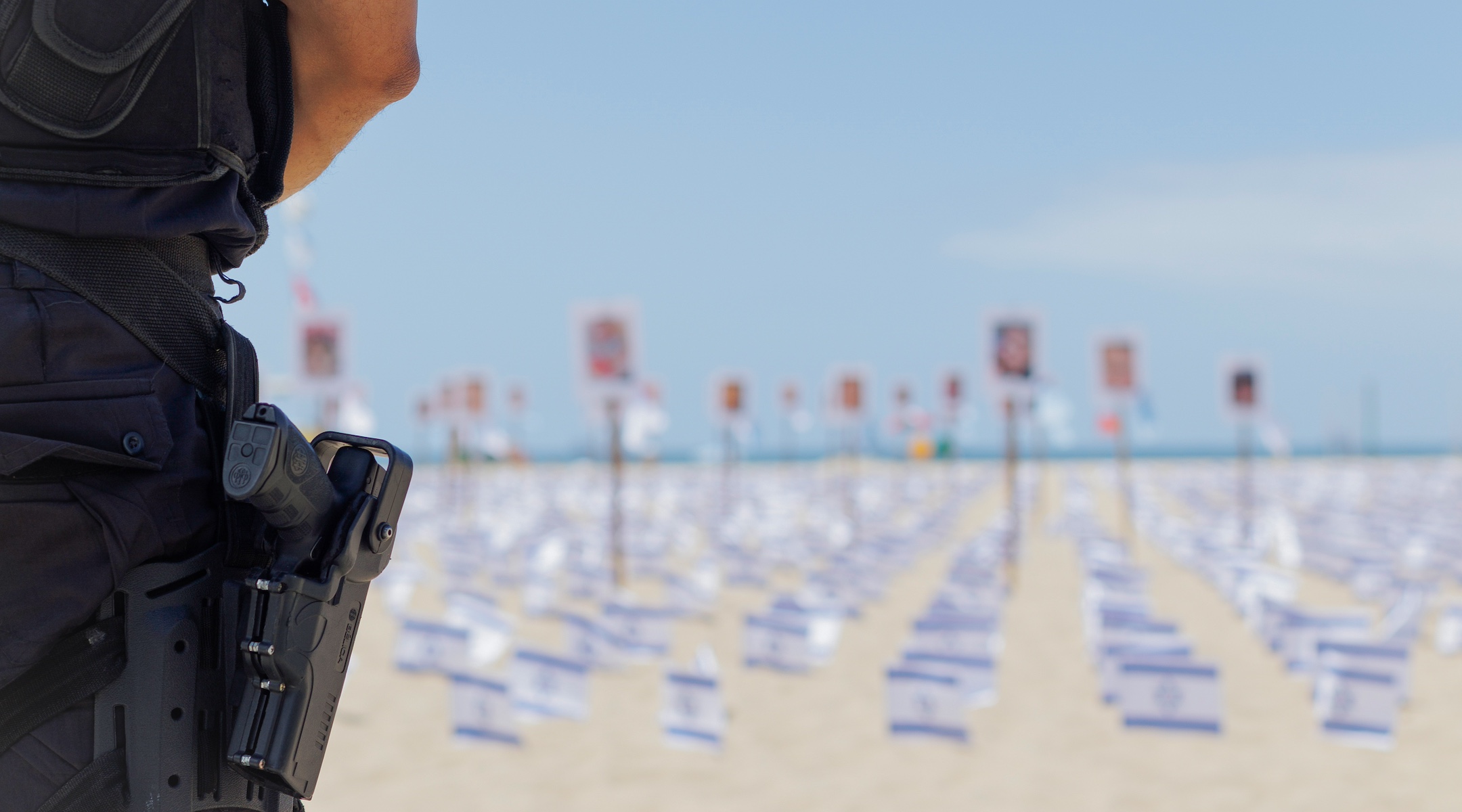 (JTA) — Brazilian police have arrested two men and are looking for 11 others reportedly involved in a terror cell plotting attacks aimed at Brazilian Jews.
The group is suspected to have ties to Hezbollah, the terrorist group based in Lebanon that is currently trading fire with Israel at Israel's northern border. Details on the alleged plot were scarce, but the O Globo newspaper reported that synagogues were among the group's targets.
One suspect was arrested on Wednesday after flying in from Lebanon to Brazil's biggest airport, in Guarulhos, near São Paulo. Police are searching São Paulo, the Minas Gerais state and the federal district around the country's capital Brasília for others.
Police said the charges of "creating or belonging to a terrorist organization and carrying out preparations for acts of terrorism" carry sentences of 15 and a half years in prison.
Over 100,000 Jews live in Brazil, mostly in São Paulo and Rio de Janeiro. The Confederação Israelita do Brasil, or CONIB, an umbrella group for Brazilian Jewish federations, congratulated police for breaking up the terror cell and expressed "enormous concern" about the situation.
Jewish communities around the world are on high alert in the wake of Hamas' Oct. 7 attacks and Israel's subsequent war in Gaza, and police in several European countries say they have interrupted or tracked plots against Jewish targets over the last month. But even before October, a report published in April found that antisemitism in Brazilian schools had spiked over the past three years. Police are also cracking down on local neo-Nazi groups that have grown in size and influence in recent years.
Hezbollah has been known to have a large presence in Latin America for decades and has been tied to multiple terror attacks in the region, including the bombings of Israeli embassy in Buenos Aires that killed 29 in 1992 and the attack on that city's AMIA Jewish center that killed 85 in 1994.
Israeli Prime Minister Benjamin Netanyahu's office said Brazilian police worked "in collaboration with Mossad and its partners within the Israeli security community, as well as other international security and law enforcement agencies" in making Wednesday's arrests.
—
The post Brazil police arrest 2 men allegedly plotting terror attacks targeting Jews appeared first on Jewish Telegraphic Agency.