Netanyahu to face a divided and aggrieved American Jewish community when he meets with its leaders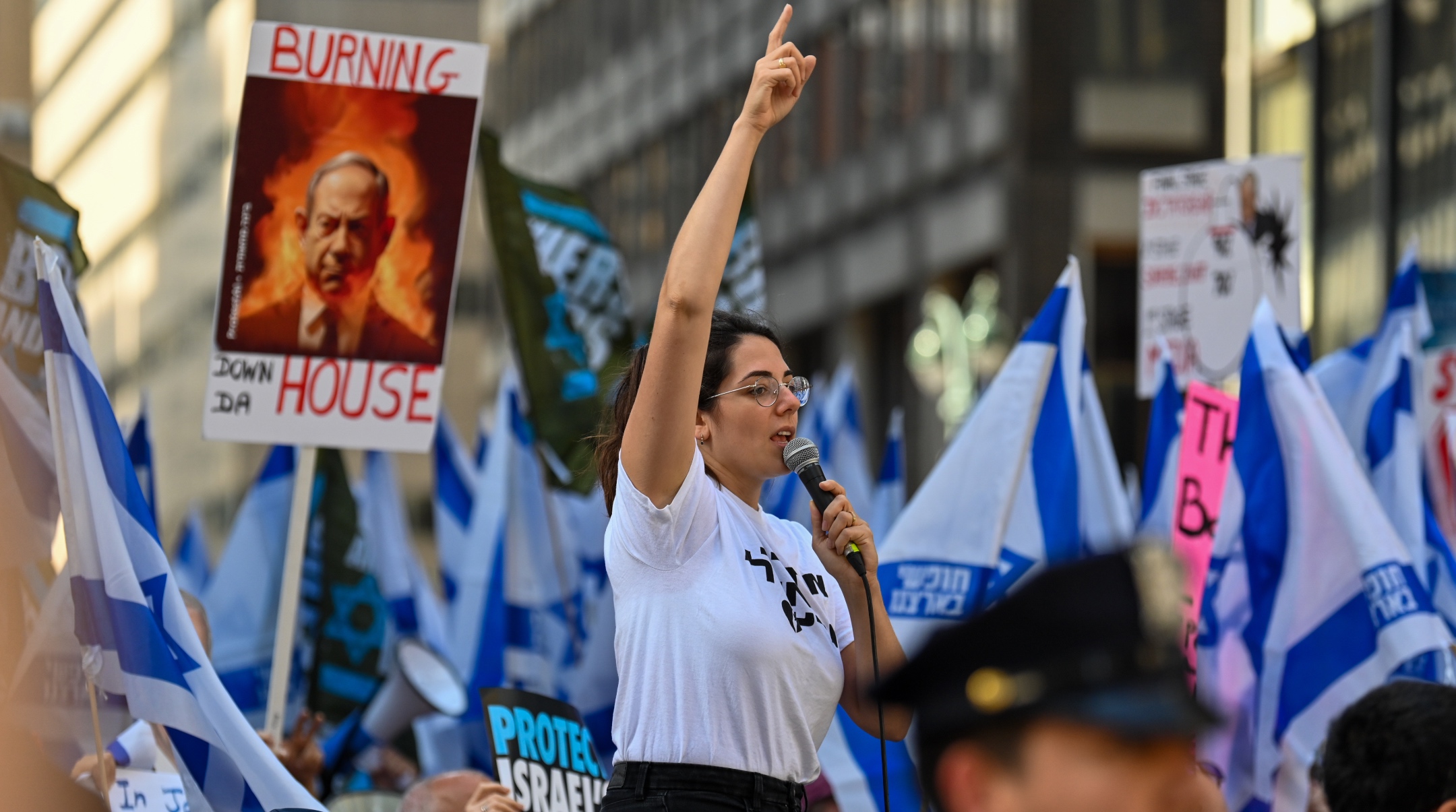 (JTA) — The first time Benjamin Netanyahu meets with American Jewish leaders in the United States this year, he will be sitting in a room with at least two people who have demonstrated outside his hotel. 
One of those rallies is being staged to welcome the Israeli prime minister. The other will be protesting him.
The meeting on Friday in New York City, following Netanyahu's address to the United Nations General Assembly, will reflect the internal tensions of an American Jewish community riven by his efforts to weaken the Israeli judiciary and by other policies of his government, which includes far-right partners in senior roles. 
The differences between American Jewish groups burst into the open this week, as two Orthodox Jewish groups rebuked those who have joined anti-Netanyahu protests.
"Criticism of the prime minister and his ruling coalition must be addressed in the right time and place," the Orthodox Union said in a statement it posted to social media. Am Echad, an arm of Aguadath Israel that promotes Israel-Diaspora relations, expressed in a statement its "dismay at the reckless and inciteful rhetoric adopted by the Israeli protest movement during Prime Minister Binyamin Netanyahu's visit to the United States."
That sentiment runs counter to the positions of a wide range of centrist and left-leaning Jewish organizations and rabbis who have, to one extent or another, voiced criticism of the judicial overhaul legislation since it was introduced in January. Major Jewish groups such as the Jewish Federations of North America, the American Jewish Committee and the Anti-Defamation League have urged compromise and lamented the passage of the first piece of the overhaul in July.
Some of those American Jewish critics have spoken at anti-overhaul rallies in the United States and Israel, including those taking place in New York City this week. At least one of the Jewish leaders, Rabbi Rick Jacobs, president of the Union for Reform Judaism, has been invited to attend the Friday meeting with Netanyahu. One day earlier, he is slated to speak at a major rally protesting the prime minister. 
"We demonstrate our love and support for Israel, including celebrating its 75th anniversary, while also expressing our criticism of policies that we believe are contrary to Israel's stated democratic and pluralistic values expressed in Israel's Declaration of Independence and affirmed throughout the decades since," Jacobs' office said in a statement announcing his plans to speak at the protest.
The judicial overhaul, as initially proposed, would have sapped the Israeli Supreme Court of its power and independence as a way, its advocates say, to curb an elitist, activist judiciary. Following months of mass protests that have decried the legislation as a mortal danger to Israel's democratic system, much of the legislation was temporarily shelved, though some of it may return to the table when Israel's lawmakers come back from their summer recess. The legislation that passed in July restricted the court's ability to strike down government decisions. 
The debate surrounding the overhaul and the protests against it has sparked apprehension among those attending the Jewish leaders' meeting — and those left off of the invitation list — about how the meeting will go. Participants were hesitant to confirm their attendance on the record.
A couple of the Jewish organizational executives said they had made last-minute changes so they could go to the meeting.
One of those invited noted that the consulate's invitation called the event a "briefing," leaving the recipient wondering whether Netanyahu will even brook questions or argument.
Despite the differences over Netanyahu's policies and record, a who's who of large Jewish organizations will be represented at the meeting. JTA has confirmed that, in addition to the URJ, the O.U. and Agudath Israel, the meeting will include representatives from the Zionist Organization of America, the Anti-Defamation League, the American Jewish Committee, the National Council of Jewish Women, Hadassah, the Conference of Presidents of Major American Jewish Organizations, the American Israel Public Affairs Committee, the Jewish Federations of North America and the Conservative movement.
Off the invite list are left-leaning groups that have been more vociferously critical of Netanyahu's policies toward the Palestinians, including J Street, Americans for Peace Now, the Israel Policy Forum and the Reconstructionist movement. (JTA has learned that other groups advocated for inclusion of the Reconstructionist movement.)
It is unclear whether the Jewish Council for Public Affairs, an umbrella community relations group that has recently taken a more explicitly progressive turn, will be invited to the meeting. The group's new CEO, Amy Spitalnick, criticized Netanyahu for meeting earlier this week with Elon Musk, the tech mogul who has been slammed by Jewish groups for engaging with antisemites on X, the social media platform he owns and renamed from Twitter, and for attacking the ADL in a series of posts. 
The prime minister's office referred questions about the meeting to the Israeli consulate, which did not respond to a request for comment.
A majority of the groups that are attending have spoken out against the changes to the court system, or at least the speed with which Netanyahu and his deputies are advancing them. 
Rabbi Jacob Blumenthal, the CEO of the United Synagogue of Conservative Judaism and the movement's Rabbinical Assembly, said that if he is able to pose a question to the prime minister, he will tell Netanyahu not to "demonize Jewish protesters" and ask about the impact of the judicial overhaul on threats to Israel's security. 
"My question will be, 'In the face of all the dangers Israel currently faces from Iran and Iran-supported terrorism, why is he choosing this moment to divide Israeli society through his judicial reforms?'" Blumenthal wrote in an email to JTA. "Both the government and opposition leaders I have spoken with have agreed that Israeli democracy is not perfect. Why not bring the country together around a process to examine the issues and propose reforms that are acceptable to a broad part of Israeli society?'"
Protests against the overhaul have been occurring regularly across the United States this year, and have been staged throughout the week in New York City on the occasion of Netanyahu's visit. The expatriate arm of the Israeli protest movement, UnXeptable, has organized rallies at his hotel and, on the evening before his arrival in New York, projected onto the U.N. headquarters a plea not to welcome the "Crime Minister" — a reference to Netanyahu's ongoing trial on corruption charges. Before his trip, the prime minister accused the demonstrators of partnering with Iran's regime and the Palestine Liberation Organization.
The dueling messages from American Jews, supporting and opposing him, complicate the image Netanyahu has sought for decades to project in his appearances at the United Nations, speaking not just for Israel but as the leader of a unified Jewish community. 
Now, he is facing sustained public criticism both from leading American Jews and from close allies. President Joe Biden has publicly opposed the judicial legislation, and raised the topic in his meeting this week with Netanyahu on the U.N. sidelines. Biden has said he believes he has the backing of the U.S. Jewish community in making his case. 
"The President also reiterated his concern about any fundamental changes to Israel's democratic system, absent the broadest possible consensus," said the White House readout of the Netanyahu-Biden meeting.
Netanyahu is not expected to focus on the judicial overhaul in his speech to the General Assembly on Friday. Instead, he is expected to emphasize threats to Israel from Iran, and to celebrate the progress his government has made toward mutual recognition with Saudi Arabia.
Meanwhile, another meeting on the U.N. sidelines between a Middle Eastern leader and Jewish community leaders seems to have gone smoothly. Jewish leaders sounded optimistic notes after meeting Wednesday with Turkish President Recep Tayyip Erdogan, who in recent months has sought to repair ties with Israel that had frayed significantly.
"We had a warm and engaging meeting with President Erdogan," William Daroff, the CEO of the Conference of Presidents, wrote in a text message. "The president reaffirmed his commitment to a stable and fruitful relationship with the State of Israel, as well as his resolve to combat antisemitism, which he referred to as a 'crime against humanity.'"
Netanyahu has not heard such a positive message thus far from many U.S. Jewish groups. But he might be able to make it out Thursday evening when he exits his hotel, as some American Jews plan to rally in the street on his behalf. 
Morton Klein, the president of the right-leaning Zionist Organization of America, told JTA by email that he hopes to attend a "Stand with Israel" gathering in support of Netanyahu on Thursday evening outside the hotel, as a counterpoint to the major demonstration planned by Netanyahu's critics. Klein, an outspoken supporter of the judicial overhaul, will also be at the meeting with Jewish leaders.
"It is important to show our support for Israel and its democratically-elected government and prime minister," said an action alert from ZOA calling on people to attend. The ZOA appeal said the anti-Netanyahu protests were the work of "billionaire-funded far-left groups that seek to undermine the results of Israel's democratic elections (while falsely claiming to be for democracy)."  Like Netanyahu, the action alert lumped Israeli protesters in with "Palestine/Arab hate groups that seek Israel's annihilation."
Klein added in a text message that he would also take Netanyahu to task — for not going far enough in the judicial overhaul.
—
The post Netanyahu to face a divided and aggrieved American Jewish community when he meets with its leaders appeared first on Jewish Telegraphic Agency.
Israeli and Jewish activists take campaign for greater concern about Oct. 7 sex crimes to UN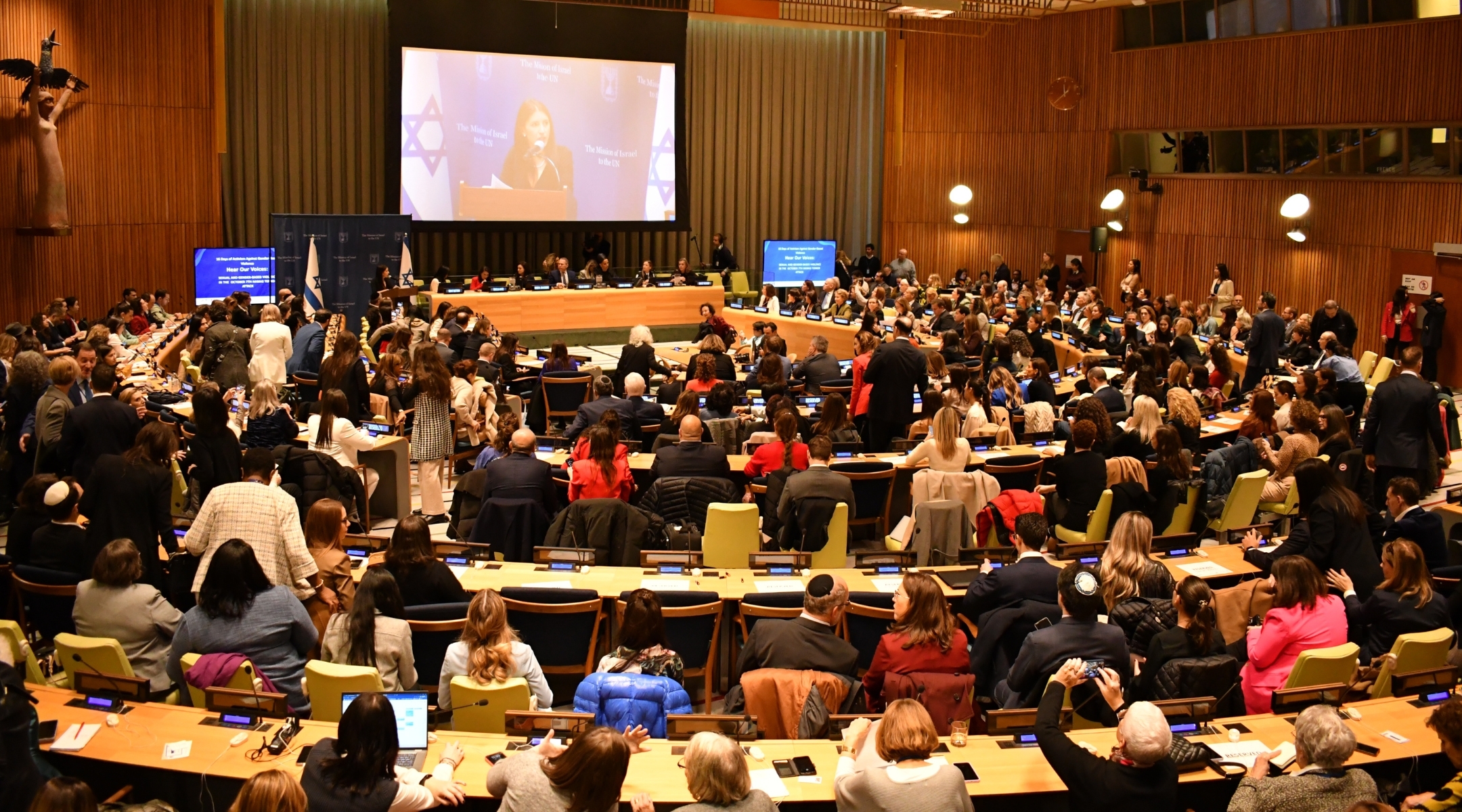 (JTA) — Less than a week after the United Nations secretary general urged an investigation into reported sexual violence by Hamas, the Israeli U.N. mission held a conference on the allegations and pressed the international community to speak out more forcefully against them.
"We have come so far in believing survivors of sexual assault in so many situations. That's why the silence on these war crimes is dangerous," said former Meta COO Sheryl Sandberg, the event's keynote speaker. "The world has to decide who to believe. Do we believe the Hamas spokesperson who said that rape is forbidden, therefore it couldn't have possibly happened on October 7th? Or do we believe the women whose bodies tell us how they spent the last few minutes of their lives?"
A CNN op-ed by Sandberg, and an accompanying Instagram post, have been at the center of a growing protest by Israeli and Jewish women who charge that the U.N. and other international bodies have dismissed or downplayed reports of sexual violence during Hamas' Oct. 7 attack on Israel. The protest has spread via the hashtag #Me_Too_UNless_UR_a_Jew and found its real-life expression in Monday's event, which drew 700 people to U.N. headquarters on Manhattan's East Side.
Israeli U.N. Ambassador Gilad Erdan took aim in particular at U.N. Women — the organization's arm for promoting gender equality and women's empowerment — which caught flak for posting and then deleting a statement condemning the Hamas attack.
"Sadly, the very international bodies that are supposedly the defenders of all women show that when it comes to Israelis, indifference is acceptable," Erdan said in his opening remarks.
"U.N. Women ignored all of the proof and were blind to all the evidence, including video footage of testimonies of sexual crimes," he said. "Instead of immediately supporting the victims, U.N. Women brazenly suggested that Hamas' gender-based violence be investigated by a blatantly antisemitic U.N. body."
The condemnation of the U.N. is the latest in a long line of complaints Israel has had about the body both before and during its ongoing war with Hamas. In late October, Erdan called on Secretary-General Antonio Guterres to resign after he said the Oct. 7 attack "did not happen in a vacuum."
The United Nations General Assembly has yet to condemn Hamas and has called for a cessation of the conflict, which restarted last week after a seven-day pause in which Hamas released more than 100 hostages and Israel released hundreds of Palestinian security prisoners..
Last week, Guterres called for an investigation into sexual violence by Hamas. But speakers at Monday's event pushed for more from world leaders. Sandberg called for "the entire U.N. to formally condemn, investigate, hold the terrorists accountable." Erdan, to loud applause, called for an "investigation of U.N. Women's indifference to the heinous crimes against Israeli women"
In the nearly two months since the Hamas attack in Israel on Oct. 7, Israeli law enforcement, search and rescue groups, and the country's recently formed Civil Commission on October 7 Crimes by Hamas against Women and Children have collected evidence and testimony regarding Hamas' sexual violence on Oct. 7. Over the weekend, The Sunday Times reported testimony from survivors of the Nova music festival recalling women being gang raped and beheaded.
Sheila Katz, the CEO of the National Council of Jewish Women, which organized the event along with other women's rights groups, drew a parallel between last week's Torah portion, which includes the Biblical story of the rape of Dinah, and the experiences of the victims of Oct. 7. Katz noted that Dinah's voice is notably missing from the Biblical narrative.
"For generations, survivors of sexual assaults have looked to Dina's story because it speaks so powerfully to the secondary trauma of being unheard, ignored and reduced to mere objects for debate," said Katz, who invited people to step out of the room if they felt the need, given the graphic nature of the event. "And we heard this with new significance this year, because Israeli women and girls were recently tortured, raped, and killed, forever silenced by Hamas."
Several actors attended the event, including Tovah Feldshuh, Julianna Margulies, Emmy Rossum and Debra Messing, all of whom have spoken out against antisemitism or Hamas' attack. (Margulies was also fresh off an apology after making disparaging comments about Black Americans who have not supported Jews after Oct. 7.)
The event also featured people who tended to victims of the event, including representatives from ZAKA, the Orthodox Israeli first-responder organization, and the Israeli police, who have been collecting and documenting evidence from victims of sexual violence and people who witnessed the violence. They recounted graphic stories, to which the crowd responded vocally with murmurs, gasps and tears. Some in the audience exchanged tissues, hugs and pats on the back for extra support.
Sen. Kirsten Gillibrand of New York, a Democrat, also came and discussed seeing a compilation of footage of the attack that a group of senators recently viewed.
"I've seen much of the raw footage. It takes your breath away," she said. "You can't unsee it."
Speaking to the Jewish Telegraphic Agency after the event, Sandberg said silence surrounding sexual violence is connected to a dearth of female representation on the world stage.
"You look in that hall at those flags — those are countries run by men, very few are run by women. I really wanted that to change in my lifetime. It's not going to happen, not going to be close," she said. "But that means the progress we fought for to get women's women's rights and protection of our bodies, protection of who we are, protection against systematic, sexualized violence — can't be lost. And that is why anyone can speak out. And when they speak out, we have to all unite together as quickly as possible."
—
The post Israeli and Jewish activists take campaign for greater concern about Oct. 7 sex crimes to UN appeared first on Jewish Telegraphic Agency.
Canada's Rally for the Jewish People brought thousands to Ottawa calling for the return of the hostages in Gaza—while delivering a loud rebuke to the recent waves of antisemitism
Despite bus driver boycott, thousands attend pro-Israel rally in Ottawa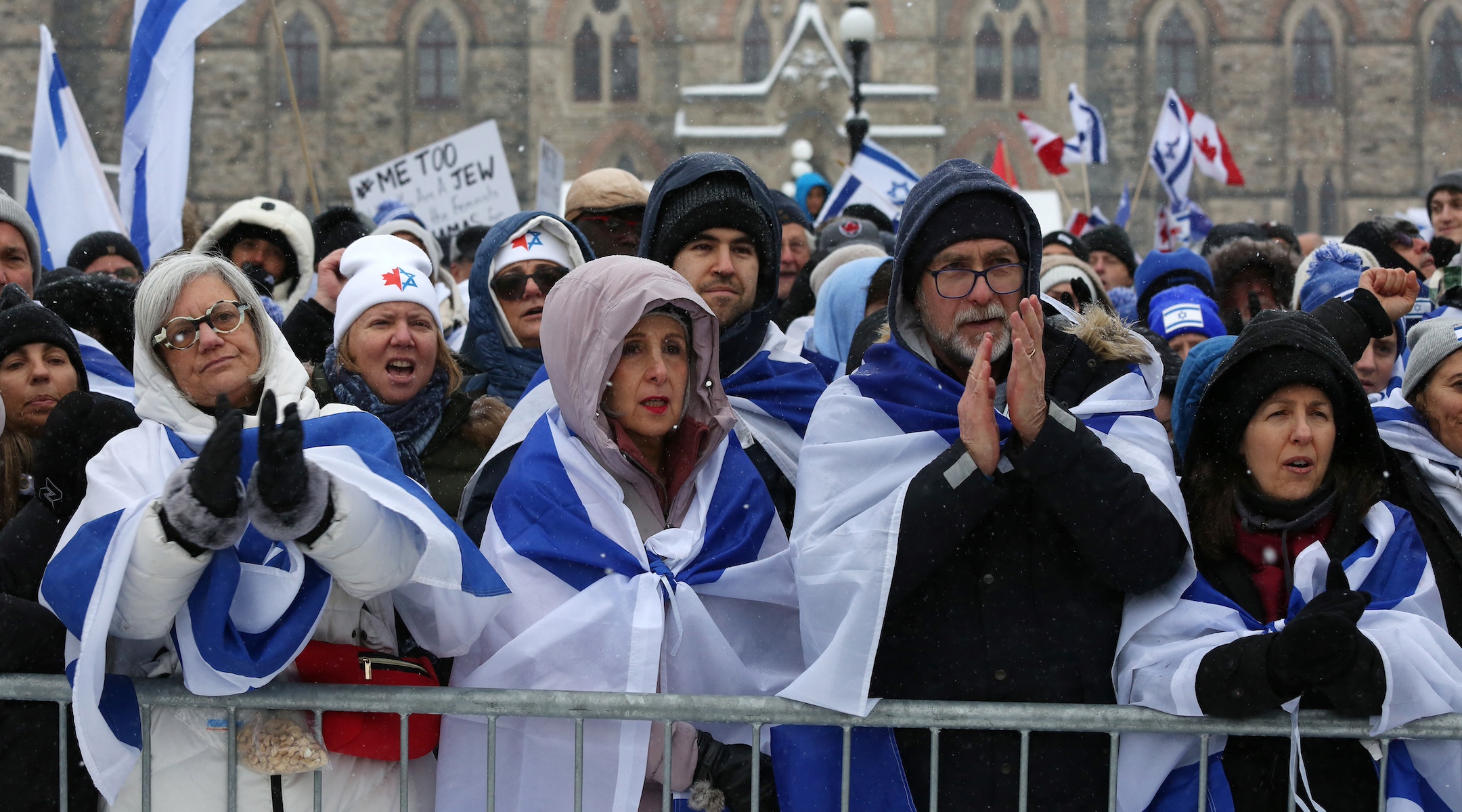 MONTREAL (JTA) — Despite a foot of snow in Montreal and chartered buses that never showed up in Toronto, thousands of Canadian Jews assembled on Parliament Hill in Ottawa on Monday to voice solidarity with Israel and decry a rise in antisemitism.
Despite concerns over overall security in Canada's capital city, which was tight, the rally's speakers included several prominent Canadian politicians, Jewish leaders, college students who feel unsafe on campus and family members of Israelis taken hostage or killed by Hamas on Oct. 7.
Local Jewish leaders called the event, organized by Jewish federations across Canada and the Centre for Israel and Jewish Affairs, a historic gathering. But just weeks after a similar incident in Detroit before a massive pro-Israel rally in Washington, 17 of 70 chartered buses did not show up to pick up rally-goers in Toronto.
Organizers called the no-show bus company antisemitic.
"Despite charging in full in advance and confirming its participation, the [unidentified] company did not send a single bus and has declined all communications while refusing to provide any explanations," said Adam Minsky, president and CEO of United Jewish Appeal Federations in Toronto.
"We are driven to the view that this shameful decision is intended to disrupt our peaceful rally out of hatred toward Jews," he added. "What happened today is sickening and outrageous. We will respond aggressively with every legal and public affairs tool at our disposal."
Israel's ambassador to Canada Iddo Moed, Liberal Party member of parliament Anthony Housefather and deputy Conservative Party leader Melissa Lantsman all spoke on Monday.
"This is not 1943. I'm grateful that Israel exists and has an army to fight back against those who launched this pogrom," said Housefather, who is Jewish and represents Montreal's heavily Jewish Mount Royal district.
Raquel Look, whose son Alexandre was murdered at the music festival in southern Israel attacked by Hamas on Oct. 7, called on Canadian politicians to take more action against antisemitism. Hate crimes against Jews — including multiple incidents that have involved Molotov cocktails thrown at Montreal-area synagogues — have spiked across Canada.
"Our sorrow is deep and immeasurable but today we want to channel this immense pain into a call for action," Look said. "Please let us honour his memory by standing up against the forces that seek to destroy Jewish and Canadians values we hold so dear."
—
The post Despite bus driver boycott, thousands attend pro-Israel rally in Ottawa appeared first on Jewish Telegraphic Agency.