The Hamas attack wasn't the Holocaust. But it must be understood in terms of Jewish trauma.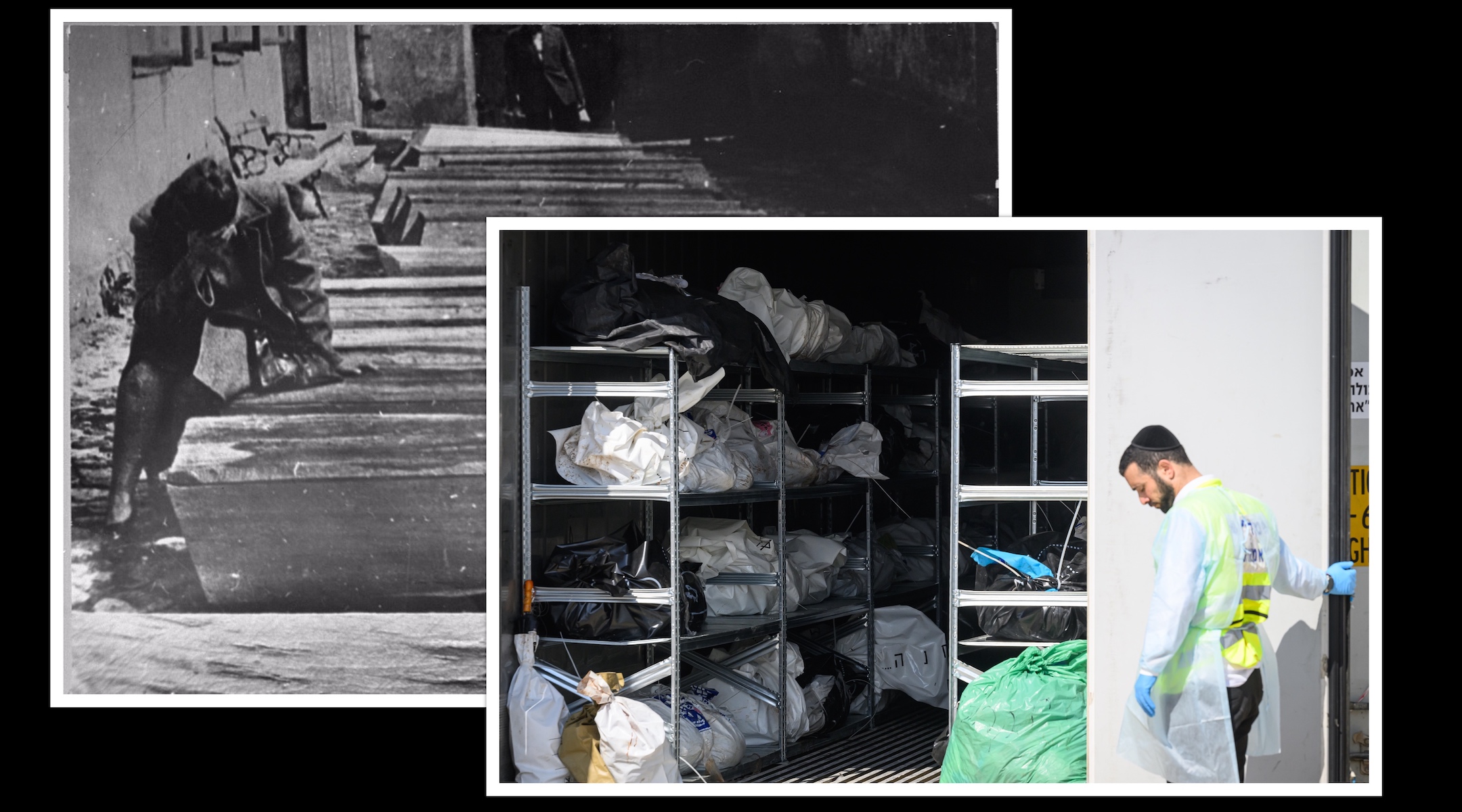 (JTA) — When unspeakable tragedy hits the Jewish people, we turn to memory — we ask not just, "what happened?" We also ask: "What does this remind us of?"
Maybe refusing to heal from the tragedies of the past is pathological; maybe we are holding on too tight. Maybe it is epigenetic. Mostly, however, I see it as a coping mechanism developed over time, an interpretive strategy we use both to preserve our past and to create continuity. It makes it possible for a persecuted people to promise themselves they will survive whatever they face in the moment. "Never forget" is not merely a slogan to preserve the past; it is also a means of trying to ensure a future. 
And, sometimes, I think that our insistence on seeing the past reawakened in the present is a right that we have earned in blood. We are entitled to use our suffering however we would like, and if we find it helpful to keep it close, to use it as a means of understanding and thus surviving the present, we can and should do so.
Throughout the last week, Jews have responded to the violent atrocities in Israel by analogizing Hamas' horrific attacks to stories seared in our memories. I am sure you heard at least one version of the statistic that on Oct. 7, 2023, Hamas carried out the deadliest one-day attack on Jews since the Holocaust. The more liturgically oriented are reading from the biblical books of Lamentations and Job. Some have described the burned bodies strewn across southern Israel with the single word "pogrom," evoking the sorrows of the Eastern European Jewish experience.
Throughout the week, I felt — and I continue to feel — that it is our right to see this story through the prism of our particularistic collective experience. Gideon Hausner, the prosecutor at Adolf Eichmann's trial, called this "a historical principle stretching from Pharaoh to Haman." 
Jewish tradition reserves the name "Amalek" for the worst of our enemies, suggesting that they share a lineage back to the biblical Amalekites whose unforgivable sin was to attack the Israelites from the rear, picking off the most vulnerable, refusing to spare the weakest and most weary. I do not need Hamas to be Amalek; our post-biblical sages tell us not to draw straight lines when it comes to connecting the dots between the historical Amalekites and contemporary villains. But the callous murder of infants, the snatching of Holocaust survivors, the vicious murder of young people dancing — all of this is Amalekite behavior. This theological vocabulary allows us to name and understand the depths of the depravity that are facing, and then to marshal our resolve to face it for what it is. Our Jewish souls demand it.
I know that this sort of rhetoric is loaded and risky. I am writing this now precisely because I am seeing pushback online against it — suggestions that comparing this week's events to the Holocaust distort the political realities of the Israeli-Palestinian conflict, or create permission for Israel to attack Gaza without constraint. My colleague, historian James Loeffler, cautions that constant analogies of present politics to history can become "willful weaponizations" to be used towards political ends. I've also written about these risks, which I worry about in particular when memory is marshaled for the sake of partisan politics. The greatest risk may be the temptation to weaponize our trauma by acting violently toward others. After all, after many of the tragedies of the Jewish past, the Jewish people had little of the power and military resources that Israel has today to respond in kind to our oppressors. 
The vocabulary of the Jewish past is rich and evocative, and there is always risk that it will be misused, that it will be mapped inappropriately in light of the agency we now wield. 
But sometimes, we need to take these risks. Sometimes, being a Jew in the world requires sustaining a relationship between our past, our present and our future. We are bidden to live in the present and feel burdened by the past. I want us right now to forgive our imperfect analogies, to lean into the instinct. I refuse to let anyone deprive us of the few interpretive tools we must make sense of what has befallen us. The fact that there was more talk on X about the prospect of Israel committing "genocide" in a military campaign that hadn't started, than about the actual atrocities committed by Hamas which started this war, is an example of antisemitic gaslighting. The bodies lie before us, and we are bereft; will our memory be taken from us, too? 
And I also feel that it is entirely possible to turn to these stories and to assert our own humanity without also dehumanizing the other. There are safeguards in place to help us. The State of Israel holds itself to the moral standards of modern warfare and its rule of law, and it knows it must — as in the stunted career of Gen. Ofer Winter, passed over for promotion because he cast the fight against Hamas as a "holy war" — constrain the application of theological paradigms to the practice of warcraft. The IDF knows the difference between error and intent in the killing of civilians in wartime, and it abides to the principles of proportionality.  We can trust ourselves to do this, more than we think. 
More importantly, however, our victimhood has also been and can be a catalyst for our own self-reflection and growth. A small number of Jews have and always will turn outwards and turn their rage into fantasies for revenge. These people need to be stopped. Most of us know, however, that the lachrymosity of our history has been material for the refinement of our moral sensibilities. The traumatic memories of our ancestors that we carry in our stories fuels our prayers and shapes our moral imagination.
As we mourn this week — a Jewish people missing their children and forced to send others into battle, a Jewish people whose clothes are rent and whose faces are wet with tears, a nation that cannot sleep — we must allow ourselves the right to comfort ourselves with the bitter salve that our people has seen pieces of this story before.
—
The post The Hamas attack wasn't the Holocaust. But it must be understood in terms of Jewish trauma. appeared first on Jewish Telegraphic Agency.
Penn president resigns amid criticism of her testimony on campus antisemitism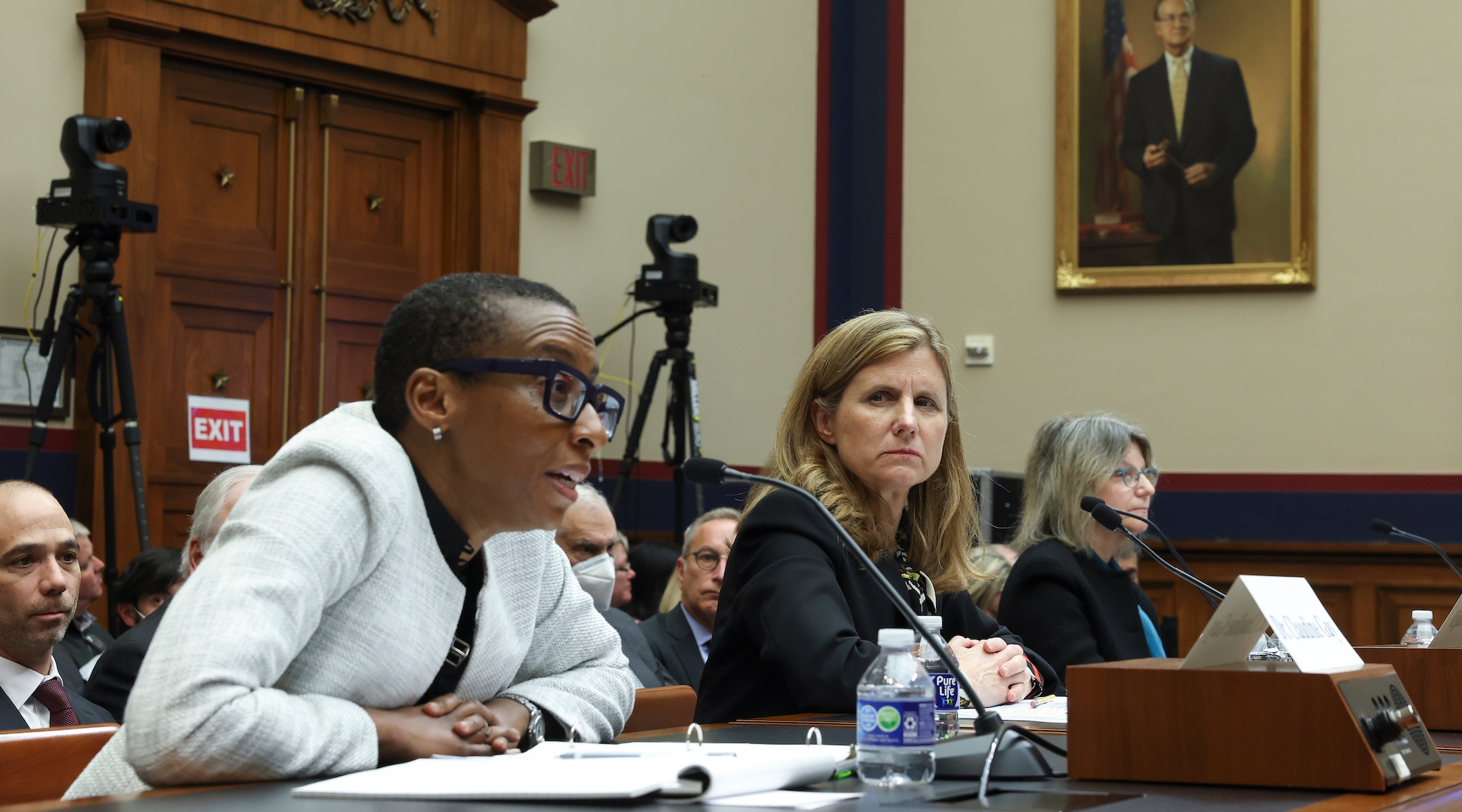 (JTA) — The president of the University of Pennsylvania announced her resignation on Saturday after facing growing backlash for declining to say outright that calling for the genocide of Jews violated the school's code of conduct.
"I write to share that President Liz Magill has voluntarily tendered her resignation as President of the University of Pennsylvania," Scott Bok, the chair of the school's board of trustees, said in a statement. Bok subsequently said he would also be resigning.
Magill's resignation is the most significant fallout so far from a congressional hearing on Tuesday in which she and the presidents of Harvard University and the Massachusetts Institute of Technology were all asked whether calls for genocide of Jews would constitute harassment or bullying. All three responded that the answer depended on "context."
Video of the exchange went viral and was highlighted by Jewish and pro-Israel activists as an illustration of how universities have failed to take campus antisemitism seriously in the wake of Hamas' Oct. 7 attack on Israel and Israel's ensuing war against the terror group in Gaza.
"I hope this signals a new start for @Penn & a wake-up call for all college presidents," Jonathan Greenblatt, the CEO of the Anti-Defamation League, wrote on X, formerly Twitter. "Campus administrators must protect their Jewish students with the same passion they bring to protecting all students. They can't hide behind language coached by their attorneys & look the other way when it comes to antisemitism."
In the wake of the hearing, Magill in particular faced mounting criticism from Penn's stakeholders. The board of the school's Wharton School called for new leadership for the school and a donor threatened to pull a $100 million donation unless Magill stepped down. Pennsylvania Gov. Josh Shapiro, who is a non-voting member of the board of the private university, said Magill "failed" to create a safe atmosphere for students and urged the board to review her leadership.
In her own brief statement Saturday, Magill did not mention the reason for her stepping down, and said, "It has been my privilege to serve as President of this remarkable institution." Bok said in his statement that Magill was "not the slightest bit antisemitic" but had faltered in the hearing because she had given "a legalistic answer to a moral question, and that made for a dreadful 30-second sound bite."
Both Magill and Harvard President Claudine Gay walked back their comments to Congress in statements the day after the hearing, and Gay issued a subsequent apology in an interview with the Harvard Crimson, the student newspaper, saying, "When words amplify distress and pain, I don't know how you could feel anything but regret."
MIT's board, meanwhile, is backing its president, Sally Kornbluth, who is Jewish. "I write now to let you know that I and the Executive Committee of the MIT Corporation entirely support President Kornbluth," MIT Corporation chair Mark Gorenberg wrote in an open letter on Thursday.
Meanwhile, Rep. Elise Stefanik, the New York Republican who asked the questions about genocide, celebrated Magill's resignation and called for Gay and Kornbluth to follow suit.
"One down. Two to go," Stefanik wrote on X. "This is only the very beginning of addressing the pervasive rot of antisemitism that has destroyed the most "prestigious" higher education institutions in America."
At least one other elite university has taken the opportunity to signal that its approach to antisemitism is different. "In the context of the national discourse, Stanford unequivocally condemns calls for the genocide of Jews or other peoples," Stanford University wrote in a social media post on Friday. "That statement would clearly violate Stanford's Fundamental Standard, the code of conduct for all students at the university."
—
The post Penn president resigns amid criticism of her testimony on campus antisemitism appeared first on Jewish Telegraphic Agency.
University of Pennsylvania President Resigns Amid Massive Backlash Over Tepid Response to Campus Antisemitism
University of Pennsylvania President Elizabeth Magill resigned from her position on Saturday, ending a 17-month tenure marked by controversy over what critics described as an insufficient response to surging antisemitism on campus.
"It has been my privilege to serve as president of this remarkable institution," Magill said in a statement. "It has been an honor to work with our faculty, students, staff, alumni, and community members to advance Penn's vital missions."
Magill's resignation followed growing calls from university leaders, donors, and students, as well as US lawmakers, for her to step down after refusing to say during a congressional hearing held on Tuesday that calling for the genocide of Jews would not constitute a violation of school rules.
"It is a context-dependent decision, congresswoman," Magill said, responding to US Rep. Elise Stefanik (D-NY), who posed the question. "If the speech becomes conduct, it can be harassment, yes."
"Conduct meaning committing the act of genocide?" Stefanik asked, visibly disturbed by Magill's answer. "The speech is not harassment? This is unacceptable Ms. Magill."
The following day, Magill apologized.
"In that moment, I was focused on our university's longstanding policies aligned with the US Constitution, which say that speech alone is not punishable," she said in a video posted on X/Twitter. "I was not focused on, but I should have been, the irrefutable fact that a call for genocide of Jewish people is a call for some of the most terrible violence human beings can perpetrate."
Appointed in July 2022, Magill, an alumnus of Yale University and the University of Virginia Law School, began her position at the school vowing to "shape Penn's next great chapter." By the time of Saturday's announcement, however, two Jewish students had sued the school, alleging that it violated their civil rights by "selectively" enforcing rules that would punish those who harass and intimidate Jewish students, hiring radical anti-Zionist professors, and fostering a hostile learning environment.
Meanwhile, the US government began investigating accusations of antisemitism at the university, and a major donor threatened to rescind a $100 million gift if she remained in place.
Jewish students have said that antisemitism at Penn is an "institutional problem" that has been worsening for many years.
The problem became acute and first noticed by much of the public in September, when the school hosted an anti-Zionist festival that featured several speakers who called for violence against Israel and were accused of promoting antisemitic conspiracies. For weeks, the school would not condemn the event, and Magill recently apologized for not doing so — after it took place.
After Hamas' massacre across southern Israel on Oct. 7, anti-Zionist protests at the university at times descended into demagoguery and intimidation of Jewish students, as speakers berated pro-Israel counter-protesters.
For roughly seven hours on Oct. 17, the protesters walked back and forth across Penn's grounds chanting, "From the river to the sea, Palestine will be free" — a slogan widely interpreted as a call for the destruction of Israel, which is located between the Jordan River and the Mediterranean Sea. The demonstrators also chanted "Israel, Israel, you can't hide, we caught you in genocide."
However, according to court documents viewed by The Algemeiner concerning the recent lawsuit by two Jewish students, such incidents were hardly new.
In March, for example, the anti-Zionist group Penn Against the Occupation (POA) hosted Mohammed El-Kurd during its "Israeli Apartheid Week." Currently a columnist for the left-wing magazine The Nation, the 25-year-old el-Kurd has trafficked in antisemitic tropes, demonized Zionism, and falsely accused Israelis of eating the organs of Palestinians. Over the past two years he has widely toured across American university campuses, heightening concerns about rising antisemitism and harassment against pro-Israel students.
On Oct. 7, as scenes of Hamas terrorists abducting children and desecrating dead bodies in Israel circulated worldwide, POA members held an "Emergency Solidarity Rally" where one of its members congratulated Hamas on a "job well done." According to the complaint, the student said, "When they woke up in the morning, and they found the field hands in the house, with a knife, ready to cut their f—king throats. I was late to the news but when I heard it, I smiled. I don't want to hear that bulls—t, 250, 250, innocent Israelis are dead. F—k 'em. Again, I swear, I salute Hamas."
Follow Dion J. Pierre @DionJPierre.
The post University of Pennsylvania President Resigns Amid Massive Backlash Over Tepid Response to Campus Antisemitism first appeared on Algemeiner.com.
Yemen's Houthis Warn They Will Target All Ships Headed to Israel
Yemen's Houthi movement said on Saturday they would target all ships heading to Israel, regardless of their nationality, and warned all international shipping companies against dealing with Israeli ports.
The Iran-aligned group is escalating the risks of a regional conflict amid a brutal war between Israel and the Palestinian terrorist Hamas.
The Houthis have attacked and seized several Israeli-linked ships in the Red Sea and its Bab al-Mandab strait, a sea lane through which much of the world's oil is shipped, and fired ballistic missiles and armed drones at Israel.
Houthi officials say their actions are a show of support for the Palestinians.
Israel said attacks on ships was an "Iranian act of terrorism" with consequences for international maritime security.
A Houthi military spokesperson said all ships sailing to Israeli ports are banned from the Red Sea and the Arabian Sea.
"If Gaza does not receive the food and medicine it needs, all ships in the Red Sea bound for Israeli ports, regardless of their nationality, will become a target for our armed forces," the spokesperson said in a statement.
The threat has an immediate effect, the statement added.
The Houthis are one of several groups in the Iran-aligned "Axis of Resistance" which have been hitting Israeli and U.S. targets since Oct. 7 when Hamas militants attacked Israel.
In one of the latest incidents, three commercial vessels came under attack in international waters last week, prompting a U.S. Navy destroyer to intervene.
The Houthis, which rule much of Yemen and its Red Sea coast, also seized last month a British-owned cargo ship that had links with an Israeli company.
The United States and Britain have condemned the attacks on shipping, blaming Iran for its role in supporting the Houthis. Tehran says its allies make their decisions independently.
Saudi Arabia has asked the United States to show restraint in responding to the attacks.
The post Yemen's Houthis Warn They Will Target All Ships Headed to Israel first appeared on Algemeiner.com.