US Hints at More Strikes Unless Iran-Linked Groups Halt Attacks
US Defense Secretary Lloyd Austin on Monday left open the possibility of more strikes against Iran–linked groups if attacks against American forces in Iraq and Syria don't stop, hours after overnight US air strikes in Syria.
The US military carried out its third air strike in as many weeks in Syria late on Sunday, targeting a training facility near the city of Albu Kamal and a safe house near the city of Mayadeen.
The strikes came after at least 40 attacks against US and coalition troops in Iraq and Syria by Iran-backed forces in recent weeks, as regional tensions mount over the Israel-Hamas war. At least 45 US troops have suffered traumatic brain injuries or minor wounds.
"These attacks must stop, and if they don't stop, then we won't hesitate to do what's necessary, again, to protect the troops," Austin told reporters at a news conference in Seoul.
Austin said the latest air strikes in eastern Syria targeted facilities used by Iran's Islamic Revolutionary Guard Corps (IRGC), a US-designated terrorist organization, and related groups.
"These strikes are intended to disrupt and degrade the freedom of action of these groups, which are directly responsible for attacks against US forces in Iraq and Syria," Austin said.
The United States has 900 troops in Syria, and 2,500 more in neighboring Iraq, to advise and assist local forces trying to prevent a resurgence of Islamic State, which in 2014 seized large swathes of both countries but was later defeated.
There is growing concern that the Israel-Hamas conflict could spread through the Middle East and turn US troops at isolated bases into targets of heavier weaponry than the smaller rockets and one-way drones seen so far.
The United States has deployed additional air defenses and sent warships and fighter aircraft to the region since the Israel-Hamas conflict erupted on Oct. 7, including two aircraft carriers, to try to deter Iran and Iran-backed groups.
The number of troops added to the region is in the thousands.
Reuters has reported that the US military was taking new measures to protect its Middle East forces during the ramp-up in attacks by suspected Iran-backed groups, and was leaving open the possibility of evacuating military families if needed.
The measures include increasing US military patrols, restricting access to base facilities, and boosting intelligence collection, including through drone and other surveillance operations, officials say.
It was still unclear whether anyone was killed in the latest US strikes in Syria. A US official, speaking on condition of anonymity, said a US review was under way.
The post US Hints at More Strikes Unless Iran-Linked Groups Halt Attacks first appeared on Algemeiner.com.
Israel's Defense Ministry Reveals 'Arrow' Interception, First Time in Action
i24 News — Israel's Ministry of Defense on Monday released footage of the first 'Arrow' defense system interception.
The system was used operationally for the first time in the Sword of Iron war on Oct. 31, after the Iran-backed Houthi government in Yemen sent a rocket projectile over the Red Sea region.
WATCH: The Israeli Ministry of Defense has revealed footage showing the operational launch of an 'Arrow' interception during Swords of Iron War
— Ministry of Defense Spokesperson's Office pic.twitter.com/InEoTi6L9h
— i24NEWS English (@i24NEWS_EN) November 13, 2023
According to the Ministry of Defense spokesperson's statement, "the Israel Missile Defense Organization (IMDO) in the Ministry of Defense's Directorate of Defense R&D (DDR&D) captured the operational launch in southern Israel. The Israeli Air Force's Air and Missile Defense Array executed the launch and intercepted the designated target."
The post Israel's Defense Ministry Reveals 'Arrow' Interception, First Time in Action first appeared on Algemeiner.com.
Israel Sharpens Warning to Lebanon as Cross-Border Hostilities Spike
Israel said it was poised to impose quiet on the Lebanese front as hostilities spiked on Sunday, with Hezbollah wounding civilians in a cross–border missile attack and the Israeli air force bombing sites linked to the Iranian-backed terrorist group.
The chief Israeli military spokesperson, Rear Admiral Daniel Hagari, described Hezbollah as "the defender of Hamas-ISIS," in reference to the Islamist Palestinian terror group whose cross–border rampage against Israel on Oct. 7 sparked a devastating Gaza war.
Hezbollah, whose rocket arsenal is widely believed to dwarf that of Hamas, has been carrying out relatively limited attacks in solidarity with the Palestinians. Hezbollah leader Hassan Nasrallah on Saturday described the Israel front as "active."
But with at least 70 of the group's fighters, along with several Lebanese civilians, having been killed in Israeli counterstrikes, Hezbollah's tactics have expanded to include rockets with 300kg-500kg warheads and kamikaze drones.
On Sunday, Hezbollah claimed responsibility for a guided missile attack that Israel said wounded at least two electrical company workers sent to carry out repairs at a border community.
A mortar attack wounded seven Israeli soldiers, the military said. A rocket set off sirens near the Israeli port city of Haifa, 27 km (17 miles) from the Lebanese border, but caused no casualties. A Lebanese wing of Hamas took credit for the launch.
Israel said its air force and artillery struck Hezbollah and other targets in Lebanon in response, saying it was holding the group and the Beirut government responsible for all hostilities.
"The IDF [Israel Defense Forces] is focused on Gaza but we are at a very high state of readiness in the north," Hagari said. "Lebanon's citizens will bear the cost of this recklessness, and of Hezbollah's decision to be the defender of Hamas-ISIS."
"The IDF has operational plans for changing the security situation in the north. The security situation will not remain one in which northern residents do not feel secure in returning to their homes," he said in a televised briefing.
Residents of villages and towns on the Lebanese border have evacuated southward even as Gaza border communities hit by Hamas emptied, making for some 200,000 internally displaced Israelis, according to figures given to Reuters by government officials. Many southern Lebanese have also fled northward for safety.
UN Secretary-General Antonio Guterres said he had appealed to Iran, which backs Hamas as well as Hezbollah, to intervene.
Interviewed on Fareed Zakaria GPS, Guterres said he asked Iran "to tell Hezbollah, 'You cannot create a situation in which Lebanon will be completely engulfed by this conflict,' because if Hezbollah will launch a massive attack on Israel it might create, I don't know what kind of impact, but one thing I am sure — Lebanon would not survive."
Asked if Iran had been responsive, he said: "I do not know. They said always that they have nothing to do with what is happening but they say publicly that there is a risk of this conflict to be extended. It's always very mysterious, the position of Iran."
The post Israel Sharpens Warning to Lebanon as Cross-Border Hostilities Spike first appeared on Algemeiner.com.
Israel revises Oct. 7 death toll down to 1,200 as long process of identifying victims nears close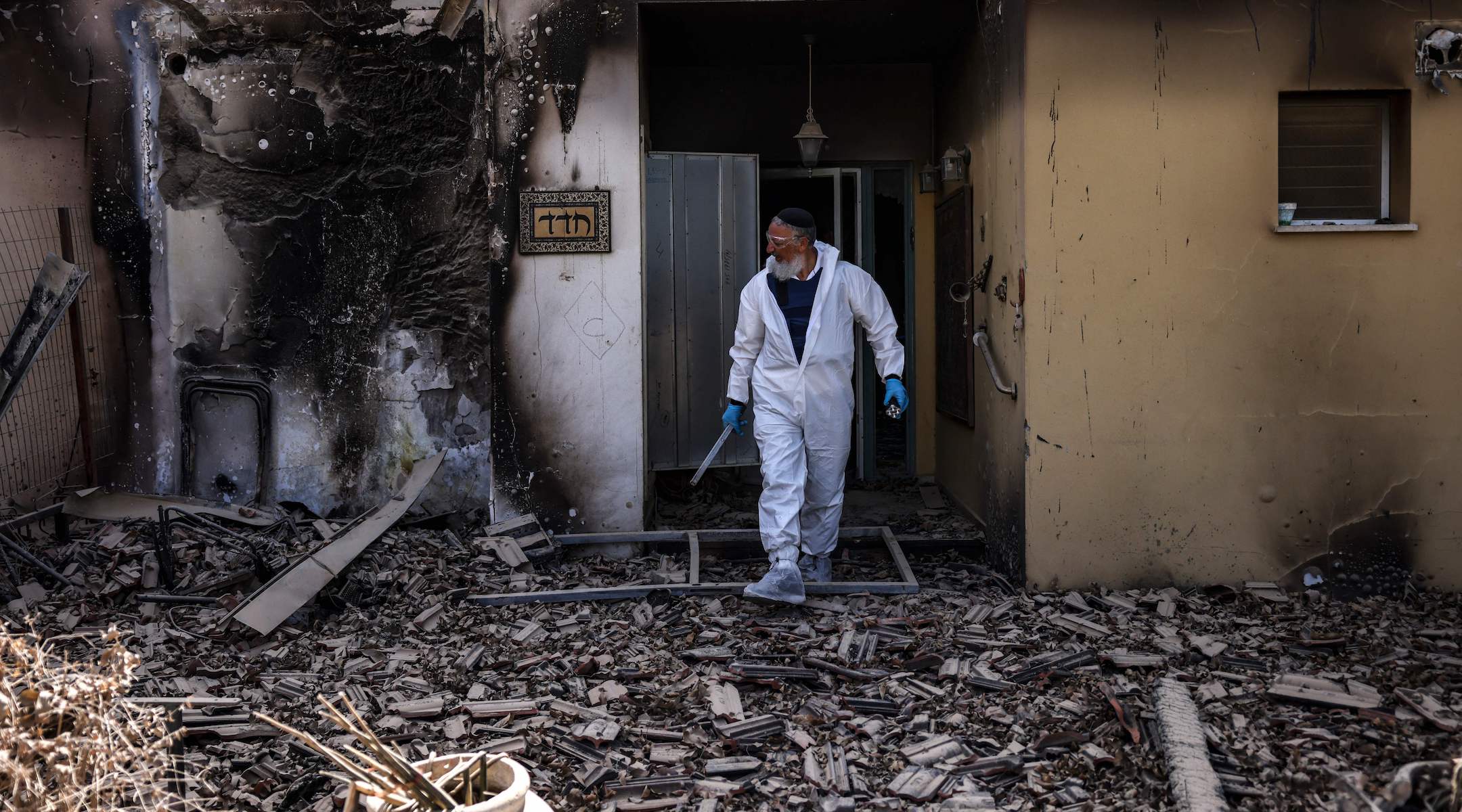 (JTA) — Israel has revised the number of people known to have been killed during the Hamas attack on Oct. 7, dropping its official estimate from 1,400 to 1,200 over the weekend.
The change, announced in a statement from an Israeli Foreign Ministry spokesperson, comes more than a month after the attack, in which Hamas terrorists targeted dozens of locations in southern Israel, and reflects the challenges that Israeli authorities have faced in assessing the scale of the devastation. Hamas wounded thousands in the attack and took more than 200 people captive.
In some cases, emergency responders have said, bodies were so burned or otherwise damaged that it was challenging to identify how many people remains belonged to. Only through meticulous collection of biological material and the use of DNA technology have officials been able to determine the identities of the people killed.
In other cases, officials have said bodies of Hamas terrorists might have initially been mistaken for Israeli victims. Israeli soldiers and civilians killed about 1,500 attackerd that day, according to government estimates.
In addition, some people initially thought to be dead are now believed to be hostages in Gaza. The estimated number of hostages has risen in the weeks since the attack, as Israel has gathered intelligence and ruled out the presence of bodies of people who are missing.
The number of Oct. 7 victims could rise again. Some people who had officially been considered missing were revealed this week to be dead, including Roni Eshel, whose passion for Taylor Swift had prompted the singer's dedicated fans to lobby on her behalf, and Oren Goldin, who was originally thought to be a hostage and whose body remains in Gaza. A woman who had been hospitalized since Oct. 7 died last week. And it is unclear how many of the hostages, who range from 10 months to over 80 years old, are alive; some are known to have been seriously wounded in the initial attack.
—
The post Israel revises Oct. 7 death toll down to 1,200 as long process of identifying victims nears close appeared first on Jewish Telegraphic Agency.