'We were broken to see what we saw': US rabbis visit Israel during wartime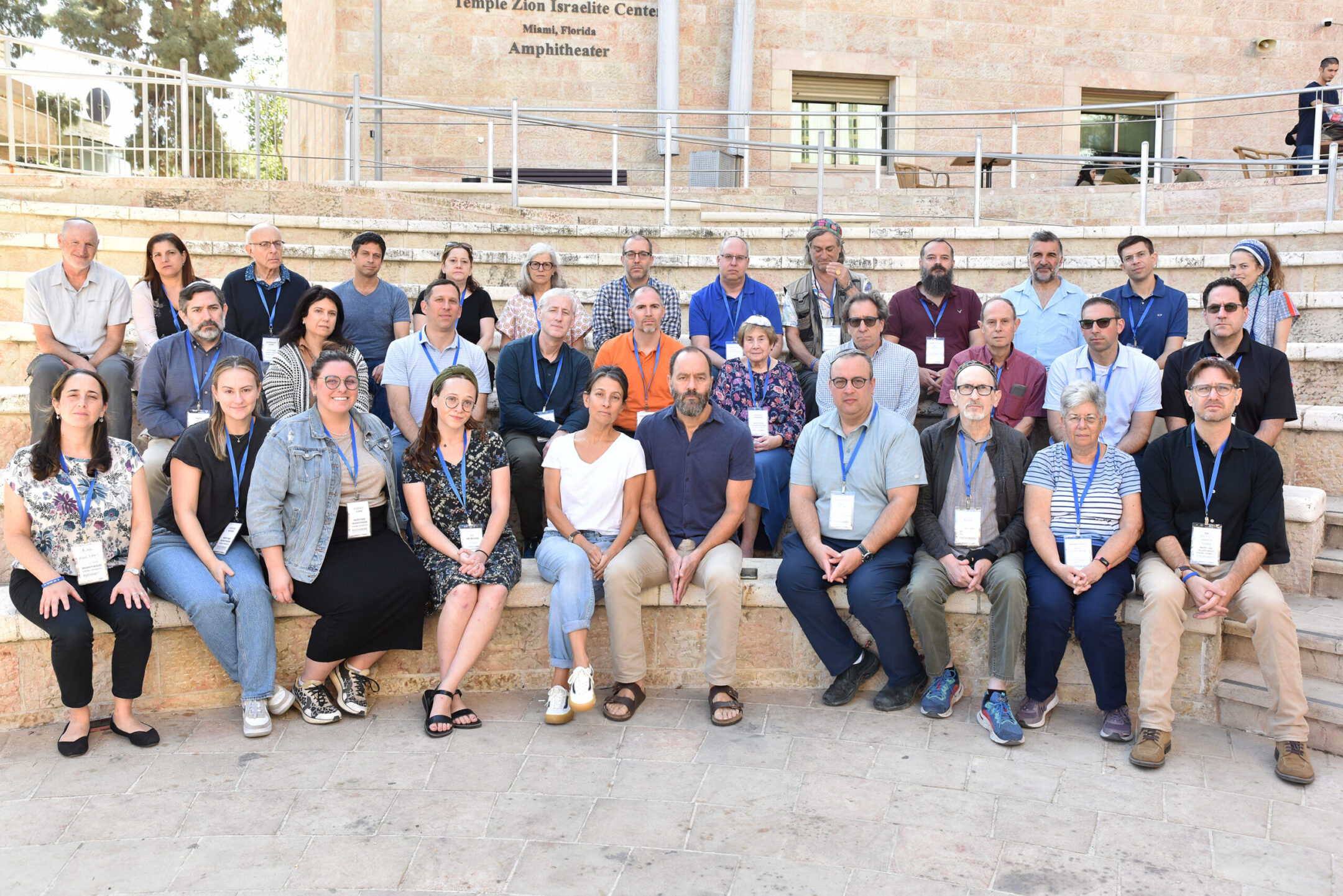 JERUSALEM (JTA) — Wearing army-green helmets and bulletproof vests, the group of American rabbis and community leaders stood next to the ruins of a building at Kibbutz Be'eri as Cantor Luis Cattan chanted El Maleh Rachamim, the traditional Jewish prayer for the dead, for "all those who were murdered in Israel and beyond."
The group then collectively said the Mourner's Kaddish and walked silently back to their bus.
So ended the first day of a three-day solidarity mission to Israel, which brought the group through the ravaged communities of southern Israel, to a volunteer center in Jerusalem and back home. One of multiple such missions taking place this week — another was organized by New York's UJA-Federation — the goal of the trip was to expose the participants to the horrors of Hamas' Oct. 7 attack on Israel, provide them with opportunities to give back to the country and help them articulate a message to bring back to their communities.
"I hear over and over again American Jews saying there are no words," said Rabbi Neil Zuckerman of New York City's Park Avenue Synagogue. "I think there are a lot of words, actually. And I think being here gives us some words that need to be spoken about what's happening here, the moral clarity that's here, both the pain and the incredible acts of unity that we see."
The group of 34 consisted of 19 Americans and 15 more Israeli counterparts and support staff, and was organized by the Fuchsberg Jerusalem Center, a complex that serves as the home base of Conservative Judaism in Israel. It ran from Monday to Wednesday. The goal, said Fuchsberg CEO Stephen Daniel Arnoff, was to help "our colleagues from North America have a firsthand, very human experience of this horrible time in our world."
After landing at Ben Gurion Airport on Monday, the participants first traveled to Ofakim, a southern Israeli city that also suffered the Hamas invasion, where they visited the home of Rachel Edri, who became an Israeli folk hero after stymying terrorists by offering them cookies. From there, the group went to Be'eri, where attackers killed more than 100 people.
They were the first civilian group since the massacre, aside from journalists, to tour the site, where homes are burnt and blood and knives still line the floor. They ended the day at Camp Shura, a military base that has transformed into a facility for identifying the bodies of those killed in the invasion.
"What I saw and experienced yesterday is imprinted in me for the rest of my life," said Rabbi Marc Soloway of Congregation Bonai Shalom in Boulder, Colorado. Arnoff said, "We were broken to see what we saw and the difficult but natural response was to say the prayer for the dead."
Tuesday was spent volunteering at a relief center in Jerusalem and meeting with families directly impacted by Oct. 7 and Israel's ensuing war on Hamas in Gaza. Those included Rachel Goldberg and Jon Polin, whose son Hersh Goldberg-Polin is held hostage by Hamas, along with about 240 others. The couple have become two of the leading faces of the movement demanding the hostages' freedom, which has galvanized Jewish communities across the United States and beyond. Before they spoke to the delegation, Goldberg-Polin's parents had made the reverse trip — returning to Israel after a short stint advocating for their son in New York City.
"I am in shock, walking through the world without my heart," Goldberg told the group. She and Polin described the horror of not knowing whether Hersh is still alive, after he was last seen in a video lifting himself up with his own strength into the rear of a Hamas pickup truck on its way back to Gaza — after he had lost one his arms in a grenade attack that killed 18 of 29 people who were crammed alongside him in a roadside bomb shelter.
"We are not convinced that the Israeli government is putting the hostages front and center," Polin said. "They are talking about war and victory, but they are not talking about the hostages. It is critical even in Israel that we are not forsaking the 239 hostages. The biggest moral victory that this country needs now is to see 239 hostages returning to their families."
Goldberg described herself as a naturally shy person who has become incapable of feeling emotions such as nervousness or fear when thrust onto the public stage to push for her son's release. But she said that small gestures still make a difference. "It actually helps, receiving the one-line message on Whatsapp," she said.
The final day of the trip was about "resilience and inspiration" for "clergy and communal leaders to go back home, representing tens of thousands of people who are frozen with fear and don't know what they can do to help," said Arnoff. "Now, they can go back and explain what they saw, what they witnessed."
The solidarity mission is part of Fuchsberg's broader efforts to respond to the crisis. It has also turned its Jerusalem campus into a sanctuary for 200 evacuated families from Israel's south and north, living in dorms generally reserved for students on the Conservative gap-year program Nativ. It has also opened its synagogue for young Israelis of all stripes to sing and pray together.
"I came here because it's home and I needed to come home and really give the message to everyone here who is struggling, who have lost people ,who are hurting — you're not alone, we are with you," said Rabbi Annie Lewis of the Shaare Torah congregation in Gaithersburg, Maryland.
A personal moment for Zuckerman came when he was able to give a quick hug to his son, who is serving in the IDF in Gaza. He compared the experience of being a pulpit rabbi now to how he felt at the onset of the COVID-19 pandemic.
"Whatever we were planning on doing this fall with our communities, we've pivoted," said Zuckerman. "This is very much a marathon, not a sprint."
—
The post 'We were broken to see what we saw': US rabbis visit Israel during wartime appeared first on Jewish Telegraphic Agency.
Treasure Trove: How some sheet music in the Theresienstadt Ghetto became a symbol of hope
Protester Sets Self on Fire Outside Israeli Consulate in Atlanta
i24 News – A protester was in critical condition on Friday after setting themself on fire outside the Israeli consulate in Atlanta, Georgia, U.S. authorities said. A security guard who tried to intervene was also wounded.
A Palestinian flag found at the scene was part of the protest, Atlanta Police Chief Darin Schierbaum said at a news conference. He added that investigators did not believe there was any connection to terrorism and none of the consular staff was ever in danger.
JUST IN: A pro-Palestine protester is in critical condition after they set themselves on fire in "political protest" outside of the Israeli Consulate office in Atlanta.
The protester was reportedly draped in a Palestine flag.
The protester has severe burns and unfortunately, a… pic.twitter.com/B8nUQAj2nU
— Collin Rugg (@CollinRugg) December 1, 2023
"We do not see any threat here," he said. "We believe it was an act of extreme political protest that occurred." Everyone inside the consulate building was said to be safe.
Anat Sultan-Dadon, Consul General of Israel to the southeastern U.S., said: "We are saddened to learn of the self-immolation at the entrance to the office building. It is tragic to see the hate and incitement toward Israel expressed in such a horrific way."
"The sanctity of life is our highest value. Our prayers are with the security officer who was injured while trying to prevent this tragic act. We are grateful to the city of Atlanta's law enforcement and first responders for all they do to ensure safety."
The post Protester Sets Self on Fire Outside Israeli Consulate in Atlanta first appeared on Algemeiner.com.
Released Israeli Hostages Call for Captives to Be Freed
Israeli hostages released in the past week by Hamas in Gaza called on Saturday for the immediate release of fellow captives left behind, a day after a temporary truce that had allowed scores to come home broke down.
Tens of thousands gathered at a rally in Tel Aviv outside Israel's defense headquarters, where they cheered Yelena Trupanov, 50, standing on a stage just two days after being freed.
"I came to thank you because without you I wouldn't be here. Now we must bring back my (son) Sasha, and everyone. Now."
Similar pleas from other released hostages were shown on video.
A seven-day truce, during which Hamas had released more than 100 hostages, collapsed on Friday after Hamas breached the ceasefire.
Israel said on Saturday it had recalled a Mossad intelligence agency team from Qatar, host of indirect negotiations with Hamas, accusing the Palestinian faction of reneging on a deal that would have freed all children and women held hostage.
More than 240 people – Israelis and foreign nationals – were abducted to Gaza on Oct 7. by Hamas terrorists who burst through the border with Israel and killed 1,200 people.
The post Released Israeli Hostages Call for Captives to Be Freed first appeared on Algemeiner.com.