An Orthodox woman says she is no longer welcome to pray at a New York synagogue because she is trans
(JTA) — When Talia Avrahami was asked to resign from a job teaching in an Orthodox Jewish day school after people there found out she was transgender, she was devastated. But she hoped to be able to turn to her synagogue in Washington Heights, where she had found a home for the last year and a half.
The Shenk Shul is housed at Yeshiva University, the Modern Orthodox flagship in New York City that was locked in battle with students over whether they could form an LBGTQ club. Still, Avrahami had found the previous rabbi to be supportive, and the past president was an ally and a personal friend. What's more, Avrahami had just helped hire a new rabbi who had promised to handle sensitive topics carefully and with concern for all involved.
So Avrahami was shocked when her outreach to the new rabbi led to her exclusion from the synagogue, with the top Jewish legal authority at Yeshiva University personally telling her that she could no longer pray there.
"Not only were we members, we were very active members," Avrahami told the Jewish Telegraphic Agency. "We hosted and sponsored kiddushes all the time. We had mazel tovs, [the birth of] our baby [was] posted in the newsletter, we helped run shul events. We were very close with the previous rabbi and rebbetzin and we were close with the current rabbi and rebbetzin."
Avrahami's quest to remain a part of the Shenk Shul, which unfolded over the past two months and culminated last week with her successful request for refunded dues, comes at a time of intense tension over the place of LGBTQ people in Modern Orthodox Jewish spaces.
Administrators at Shenk and Y.U. said they are trying to balance Orthodox interpretations of Jewish law, or halacha, and contemporary ideas around inclusion — two values that have sharply collided in Avrahami's case.
Emails and text messages obtained by JTA show that many people involved in Avrahami's situation expressed deep pain over her eventual exclusion. They also show that, despite a range of interpretations of Jewish law on LGBTQ issues present even within Modern Orthodoxy, the conclusions of Yeshiva University's top Jewish legal authority, Rabbi Hershel Schachter, continue to drive practices within the university's broader community.
"I completely understand (and am certainly perturbed by) the difficulty of the situation. Nobody wants to, chas v'shalom [God forbid], oust anybody, especially somebody who has been an active part of this community," the synagogue's president, Shimon Liebling, wrote in a Nov. 17 text message to his predecessor. But, he continued, "When it came down to it, the halachah stated this outcome. As much as we laud ourselves as a welcoming community, halachah cannot be compromised."
Liebling went on, using the term for a rabbinic decision and referring to a ruling he said the synagogue rabbi had obtained from Schachter: "A psak is a psak."
The saga began this fall, several weeks after Avrahami lost her short-lived job as an eighth-grade social studies teacher at Magen David Yeshivah in Brooklyn, which she had obtained after earning a master's degree at Yeshiva University. She had been outed after a video of her in the classroom taken during parent night began circulating on social media.
Around the High Holidays, when Orthodox Jews spend many days in their synagogues, Avrahami learned that people within the Shenk Shul community were talking about her, some complaining about her presence. As she always had, she had spent the holidays praying in the women's section of the gender-segregated congregation.
Concerned, Avrahami reached out to the new rabbi, Shai Kaminetzky. He confirmed the complaints and told her he wanted further guidance from a more senior rabbi to deal with the complex legal issue before him: Where is a trans woman's place in the Orthodox synagogue?
For Avrahami and some others who identify as Modern Orthodox, this question has already been resolved. They heed the rulings of the late Rabbi Eliezer Waldenberg, known as the "Tzitz Eliezer," an Orthodox legal scholar who died in 2006. He ruled that a trans woman who undergoes gender confirmation surgery is a woman according to Jewish law.
But Waldenberg's determination is not universally held among Orthodox Jews — and one prominent rabbi who does not accept it is Hershel Schachter. In a 2017 Q&A, Schachter derided trans issues, saying about one trans Jew, "Why did he decide that God made a mistake? He looked so much better as a man than as a woman." He also suggested that a trans person asking whether to sit in the men's or women's section should instead consider attending a Conservative or Reform synagogue, where worshippers are not separated by gender.
"We know we'd have no problem if we were at a Reform or Conservative synagogue when it comes to the acceptance issue. The thing is, that's not the only thing in our life," Bradley Avrahami told JTA.
The couple became religiously observant after spending time in Israel and the two now identify as Modern Orthodox. They were married by an Orthodox rabbi in 2018, and when they had their baby via surrogate in 2021, it was important to them that the infant go through a Jewish court to formally convert to Judaism. Avrahami seeks to fulfill the Jewish legal and cultural expectations of Orthodox women, wearing a wig and modest skirts. The pair both adhere to strict Shabbat and kashrut observance laws.
"We didn't want to be the only family that kept kosher at the synagogue, we didn't want to be the only family that is shomer Shabbat and shomer chag," Bradley Avrahami added, referring to strict observance of the Sabbath and holiday restrictions. "It kind of becomes isolating."
Kaminetzky kept both Talia Avrahami and Eitan Novick, the past president, in the loop about his research, in which he consulted with Schachter. It was a natural place for him to turn: He had studied at Yeshiva University's Rabbi Isaac Elchanan Theological Seminary and learned from Schachter there. And while the Shenk Shul includes members not affiliated with Yeshiva University, it is closely entwined with Y.U., occupying space in a university building and hiring rabbis only from a list of options presented by the university.
After speaking with Schachter, Kaminetzky reached a conclusion, according to messages characterizing it by Liebling, the synagogue president.
"He made an halachic decision that Talia isn't able to sit in the women's section for the time being," Liebling wrote Nov. 17 in a message to his predecessor as president, Eitan Novick. But Liebling left the door open for change, writing, "All in all, the 'official shul policy' is still being decided."
He said Kaminetzky had spoken extensively the previous evening with the Avrahamis and had been determined to share his judgment in a way that was respectful "despite the difficult-to hear halachic conclusion."
Liebling added a parenthetical: "I honestly can't imagine how difficult it is for them. If I were told I couldn't sit in the men's section, I'd be beyond heartbroken and likewise feel displaced."
Talia Avrahami did indeed feel heartbroken. She told Kaminetzky and others that she felt like she wanted to die, alarming her friends and prompting some of them to reach out to the rabbi. "The concern about Talia's well-being is likewise the #1 — and only — factor on my mind right now," Kaminetzky told one of them that night.
The Avrahamis stopped attending the Shenk Shul, but they held out hope for Kaminetzky to change his mind, or for the synagogue to set a firm policy that would permit her participation. Over the next six weeks, though, they heard nothing — a situation that so disappointed Novick that he and his wife also stopped attending. (Kaminetzky's third child was born during this time.)
"We really feel like this is a pretty significant deviation from the community that we have been a part of for 11 years, which has always been a very accepting place," Novick said. "This is just not the community that I feel comfortable being a part of if these are the decisions that are being made. It's not just about the Avrahamis."
While Avrahami waited for more information, Yeshiva University and Schachter were already in the process of rolling out what they saw as a compromise in a different conflagration over LGBTQ inclusion at the school. Arguing that homosexuality is incompatible with the school's religious values, Yeshiva University has been fighting not to have to recognize an LGBTQ student group, the YU Pride Alliance, and has even asked the Supreme Court to weigh in after judges in New York ruled against the university. This fall, the school announced that it would launch a separate club endorsed by Schachter, claiming it would represent LGBTQ students "under traditional Orthodox auspices." (The YU Pride Alliance called the new club "a desperate stunt" by the university.)
Multiple people encouraged Avrahami to make her case directly to Schachter. When she headed to a meeting with the rabbi on Jan. 1, she hoped that putting a face to her name and explaining her situation, including that she had undergone a full medical transition, might widen his thinking about LGBTQ inclusion in Orthodoxy.
The meeting lasted just 15 minutes. And according to Avrahami, who said Schachter told her she was the first trans person he had ever met, it didn't go well.
In an email to another rabbi who attended the meeting, Menachem Penner, Avrahami said Schachter had called her "unOrthodox" and accused him of "bullying Rabbi Shai Kaminetzky into accepting bigoted psaks."
Penner, the dean of Yeshiva's rabbinical school, characterized the conversation differently.
"Rabbi Schachter rules that it is prohibited to undergo transgender surgery and does not accept the opinion of the Tzitz Eliezer post-facto," he wrote in an email response that day in which he denied that Kaminetzky had been pressured to follow Schachter's opinion.
"That's simply a halachic opinion that many hold," Penner wrote. "He did not call you 'unorthodox' — you come across as very sincere in your Judaism and he wished you hatzlacha [success] — but simply said that the surgery was unorthodox, meaning it was not something that is accepted by what he feels is Orthodox Judaism."
The meeting so angered Avrahami that she asked Liebling to refund her Shenk Shul dues that day, saying that Kaminetzky had kicked her out of the congregation.
"Of course! I'll send back the money ASAP!" Liebling responded. "I'm so sorry how things are ending up."
Yeshiva University and Schachter, through a representative, declined to comment, referring questions directly to the Shenk Shul. Kaminetzky directed requests for comment to a representative for the Shenk Shul.
"We have had several conversations with the Avrahamis and we understand their concerns," the Shenk Shul said in a statement. "It's important to emphasize that the Avrahamis were not asked to leave the congregation."
That response doesn't sit right with Novick, who said blocking Talia Avrahami from praying on both the men's and women's sides of the synagogue was tantamount to ejecting her.
"They seem to be trying to have their cake and eat it, too," he said of the synagogue's leadership. "They may not be wrong in saying they didn't tell Talia she was 'kicked out' of Shenk, but they've created a rule that makes it impossible for her to be a full participant in our community."
Bradley Avrahami argued that the rabbis who ruled on his wife's case were short-sighted, giving too little weight to the fact that Jewish law requires Jews to violate other rules in order to save a life. Referring to that principle and pointing to the fact that transgender people are at increased risk of suicide, he said, "It was pikuach nefesh for the person to have the surgery." His brother, he noted, survived two suicide attempts after coming out as trans.
"They really just don't understand the harm that they caused when they make these decisions and put out these opinions," Bradley Avrahami said. "A rabbi should not take a position knowing that that position will cause someone to want to harm themselves."
Bradley Avrahami said he has received several harassing calls to his work number at Yeshiva University's Azrieli Graduate School, where he is liaison for student enrollment and communications and taught Hebrew in the fall 2022 semester. Talia Avrahami, meanwhile, has struggled to find a job to replace the one she left under pressure in September, although she recently announced that she had landed a temporary position.
For now, they are attending another synagogue in Washington Heights, though Talia says she and her husband would consider returning to Shenk Shul if she were invited back and permitted to participate.
So far, there are no signs of that happening. On Jan. 1, after her meeting with Schachter, Talia sent a WhatsApp message to Kaminetzky.
"We elected you because you said you would stand up for LGBT people, not kick us out of shul," she wrote.
The message went unanswered.
—
The post An Orthodox woman says she is no longer welcome to pray at a New York synagogue because she is trans appeared first on Jewish Telegraphic Agency.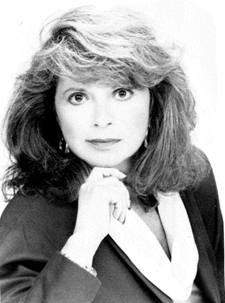 Phyllis Pollock died at home Sunday September 3, 2023 in Winnipeg, after a courageous lifetime battle with cancer.
Phyllis was a mother of four: Gary (Laura), daughter Randi, Steven (deceased in 2010) (Karen), and Robert. Phyllis also had two grandchildren: Lauren and Quinn.
Born in Fort Frances, Ontario on February 7, 1939, Phyllis was an only child to Ruby and Alex Lerman. After graduating high school, Phyllis moved to Winnipeg where she married and later divorced Danny Pollock, the father of her children. She moved to Beverly Hills in 1971, where she raised her children.
Phyllis had a busy social life and lucrative real estate career that spanned over 50 years, including new home sales with CoastCo. Phyllis was the original sales agent for three buildings in Santa Monica, oceanfront: Sea Colony I, Sea Colony II, and Sea Colony. She was known as the Sea Colony Queen. She worked side by side with her daughter Randi for about 25 years – handling over 600 transactions, including sales and leases within the three phases of Sea Colony alone.
Phyllis had more energy than most people half her age. She loved entertaining, working in the real estate field, meeting new and interesting people everyday no matter where she went, and thrived on making new lifelong friends. Phyllis eventually moved to the Sea Colony in Santa Monica where she lived for many years before moving to Palm Desert, then Winnipeg.
After battling breast cancer four times in approximately 20 years, she developed metastatic Stage 4 lung cancer. Her long-time domestic partner of 27 years, Joseph Wilder, K.C., was the love of her life. They were never far apart. They traveled the world and went on many adventures during their relationship. During her treatment, Phyllis would say how much she missed work and seeing her clients. Joey demonstrated amazing strength, love, care, and compassion for Phyllis as her condition progressed. He was her rock and was by her side 24/7, making sure she had the best possible care. Joey's son David was always there to support Phyllis and to make her smile. Joey's other children, Sheri, Kenny, Joshua and wife Davina, were also a part of her life. His kids would Facetime Phyllis and include her during any of their important functions. Phyllis loved Joey's children as if they were her own.
Thank you to all of her friends and family who were there to support her during these difficult times. Phyllis is now, finally, pain free and in a better place. She was loved dearly and will be greatly missed. Interment took place in Los Angeles.
Gwen Centre Creative Living Centre celebrates 35th anniversary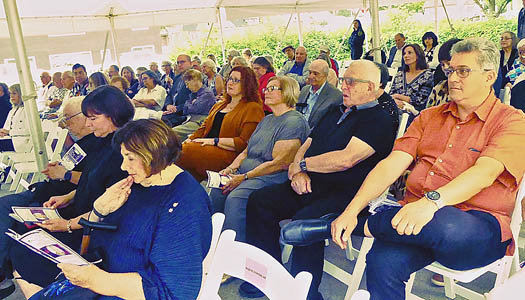 By BERNIE BELLAN Over 100 individuals gathered at the Gwen Secter Centre on Tuesday evening, July 18 – under the big top that serves as the venue for the summer series of outdoor concerts that is now in its third year at the centre.
The occasion was the celebration of the Gwen Secter Centre's 35th anniversary. It was also an opportunity to honour the memory of Sophie Shinewald, who passed away at the age of 106 in 2019, but who, as recently as 2018, was still a regular attendee at the Gwen Secter Centre.
As Gwen Secter Executive Director Becky Chisick noted in her remarks to the audience, Sophie had been volunteering at the Gwen Secter Centre for years – answering the phone among other duties. Becky remarked that Sophie's son, Ed Shinewald, had the phone number for the Gwen Secter Centre stored in his phone as "Mum's work."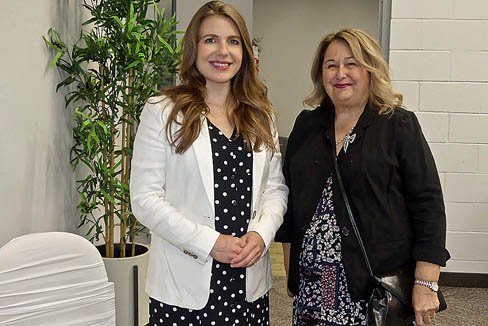 Remarks were also delivered by Raquel Dancho, Member of Parliament for Kildonan-St. Paul, who was the only representative of any level of government in attendance. (How times have changed: I remember well the steadfast support the former Member of the Legislature for St. John's, Gord Mackintosh, showed the Gwen Secter Centre when it was perilously close to being closed down. And, of course, for years, the area in which the Gwen Secter Centre is situated was represented by the late Saul Cherniack.)
Sophie Shinewald's granddaughter, Alix (who flew in from Chicago), represented the Shinewald family at the event. (Her brother, Benjamin, who lives in Ottawa, wasn't able to attend, but he sent a pre-recorded audio message that was played for the audience.)
Musical entertainment for the evening was provided by a group of talented singers, led by Julia Kroft. Following the concert, attendees headed inside to partake of a sumptuous assortment of pastries, all prepared by the Gwen Secter culinary staff. (And, despite my asking whether I could take a doggy bag home, I was turned down.)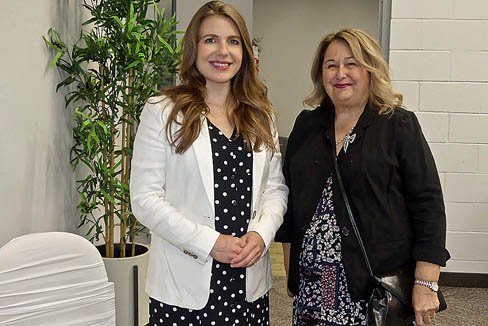 Palestinian gunmen kill 4 Israelis in West Bank gas station
This is a developing story.
(JTA) — Palestinian gunmen killed four people and wounded four in a terror attack at a gas station near the West Bank settlement of Eli, the Israeli army reported.
An Israeli civilian returning fire at the scene of the attack on Tuesday killed one of the attackers, who emerged from a vehicle, and two others fled.
Kan, Israel's public broadcaster, said one of those wounded was in serious condition. The gunmen, while in the vehicle, shot at a guard post at the entry to the settlement, and then continued to the gas station which is also the site of a snack bar. A nearby yeshiva went into lockdown.
Israeli Defense Minister Yoav Gallant announced plans to convene a briefing with top security officials within hours of the attack. Kan reported that there were celebrations of the killing in major West Bank cities and in the Gaza Strip, initiated by terrorist groups Hamas and Palestinian Islamic Jihad. Hamas said the shooting attack Tuesday was triggered by the Jenin raid.
The shooting comes as tensions intensify in the West Bank. A day earlier, Israeli troops raiding the city of Jenin to arrest accused terrorists killed five people.
The Biden administration spoke out over the weekend against Israel's plans to build 4,000 new housing units for Jewish settlers in the West Bank. Israeli Prime Minister Benjamin Netanyahu also finalized plans to  transfer West Bank building decisions to Bezalel Smotrich, the extremist who is the finance minister. Smotrich has said he wants to limit Palestinian building and expand settlement building.
Kan reported that the dead terrorist was a resident of a village, Urif, close to Huwara, the Palestinian town where terrorists killed two Israeli brothers driving through in February. Settlers retaliated by raiding the village and burning cars and buildings.
—
The post Palestinian gunmen kill 4 Israelis in West Bank gas station appeared first on Jewish Telegraphic Agency.