ChatGPT can write verse, but it is no more alive than the Golem of Prague
(JTA) — ChatGPT, an AI (artificial intelligence) chatbot with remarkable abilities to mimic human language, has been making big news. One stunt that's gotten a lot of attention is ChatGPT's alleged ability to write poetry. If true, this would mark a major advance. If an AI app can write real poetry, it has acquired a soul. 
Have we crossed that threshold now with ChatGPT? The program is fun and swiftly generates remarkably lifelike responses to queries and prompts, in grammatically correct if somewhat dull and stuffy sentences. Still, the responses are often full of excellent information.
We've certainly made progress in building machines that think. The chess program Deep Blue can beat any grandmaster. Given  a prompt like, "Draw me Donald Duck in the style of Rembrandt surfing on an ocean of macaroni" an art-generating AI like DALL-E can produce remarkable illustrations instantly. "Write me a sonnet about e-bicycles in the style of Shakespeare "— presto, ChatGPT can spit out a sonnet.
For many, the difference between these AI-generated products and the real deal is hard to discern — as it was for the congregants of the New York rabbi who delivered a sermon generated by AI this past Shabbat. If ChatGPT is writing poetry it has passed a most difficult version of the Turing test. 
Alan Turing, the early computer scientist who helped crack the Nazis' Enigma code in World War II, speculated on how to tell if a machine has acquired real intelligence: Can it fool a human being into believing it, too, is human? Imagine yourself exchanging texts with an unseen source hidden behind a screen. If you can't tell whether you are conversing with a machine or a person, the computer has passed the Turing test. 
But I've found a loophole. What if the human judge is devolving at the same rate that AI is advancing? Perhaps people are becoming more like computer programs as computer programs become more human. I often hear people say, "I am multitasking," or "I need to recharge my batteries." They are emulating machines and even a little proud of it. What if ChatGPT seems to be writing poetry because so many people have become so mechanical in their thinking they can't recognize the poetry of life? 
Out of the wounded vanity of a merely human poet, I asked ChatGPT to "write me a poem about kabbalah in the style of Rodger Kamenetz." Here are the first four lines:
Kabbalah, the ancient wisdom of the Jews
Enshrined in symbols, stories, and the Tree
Of Life, a map to guide us through our dues
And find the spark of divinity within
To those who know and love poetry this isn't poetry. It is verse — language written in a rough iambic pentameter that has zero felicity.
The verse offers some good clichés about kabbalah because ChatGPT draws instantly from the whole internet. But ChatGPT has no idea what it is saying. It doesn't care, or have access, to the kind of truths found in poetry. It just cobbles words and phrases together in a plausible way. Since I asked for a poem, it pours the content into a metrical form. But that doesn't make it beautiful.
In skillful verse, line breaks and end rhymes create variety and emphasis. But what emphasis is served by rhyming "Jews" and "dues"? What does "dues" even mean in this context — unless it's a reminder to pay your synagogue dues?
Judging from the response to ChatGPT's verse, many do think it writes poetry. But that's where the loophole comes in. The Turing test depends on a human judge. For a judge who has never spent time dwelling on what is beautiful in poetry, ChatGPT has passed the test. But that does not prove that ChatGPT is genuinely creative. It just proves that many people have little interest in poetry, and do not value primary imagination. If I can't tell whether I am talking to a program or a person, maybe the problem is with me. I pity anyone who can't distinguish verse written by a bot and a poem by Alicia Ostriker or Gerald Stern.
ChatGPT is no more alive than the legendary golem of Prague. 
It is said that the Maharal — the great Rabbi Judah Loew of 16th-century Prague — fashioned a magical creature of river mud in order to (what else?) save the Jews. Using permutations of the names of God,  the Maharal brought the golem to life by writing "emet" on the creature's forehead — Hebrew for "truth."
The legend is rooted in Talmudic discussions of the mystical Book of Formation (Sefer Yetzirah), and further back to Genesis 2:7 which describes a second version of Adam's creation:
Then the LORD God formed man of the dust of the ground, and breathed into his nostrils the breath of life; and man became a living soul.
Here we see the original transition from matter to life, from a mere golem — a heap of dirt — to an "adam," a human being. And according to the 2nd-century translator Onkelos, what marks that transition is the human's ability to speak poetic language.
When Onkelos translates Genesis 2:7, he renders the Hebrew "nefesh haya" — living soul — as the Aramaic "ruach m'mamila" — a speaking spirit. Poetry is that spirit speaking. Poetry is the utterance of a living soul. And poetry inscribes truth, not on a forehead of mud, but on the human heart.
ChatGPT cannot tell — and doesn't care — whether what it is writing is true or beautiful. But in the best poetry we hear that strong "speaking spirit" — what Wallace Stevens called "the voice that is great within us." Poetry rings true — and makes us more beautifully human.
—
The post ChatGPT can write verse, but it is no more alive than the Golem of Prague appeared first on Jewish Telegraphic Agency.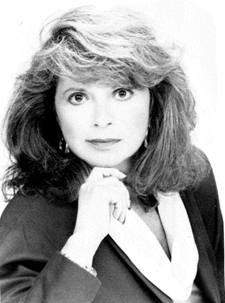 Phyllis Pollock died at home Sunday September 3, 2023 in Winnipeg, after a courageous lifetime battle with cancer.
Phyllis was a mother of four: Gary (Laura), daughter Randi, Steven (deceased in 2010) (Karen), and Robert. Phyllis also had two grandchildren: Lauren and Quinn.
Born in Fort Frances, Ontario on February 7, 1939, Phyllis was an only child to Ruby and Alex Lerman. After graduating high school, Phyllis moved to Winnipeg where she married and later divorced Danny Pollock, the father of her children. She moved to Beverly Hills in 1971, where she raised her children.
Phyllis had a busy social life and lucrative real estate career that spanned over 50 years, including new home sales with CoastCo. Phyllis was the original sales agent for three buildings in Santa Monica, oceanfront: Sea Colony I, Sea Colony II, and Sea Colony. She was known as the Sea Colony Queen. She worked side by side with her daughter Randi for about 25 years – handling over 600 transactions, including sales and leases within the three phases of Sea Colony alone.
Phyllis had more energy than most people half her age. She loved entertaining, working in the real estate field, meeting new and interesting people everyday no matter where she went, and thrived on making new lifelong friends. Phyllis eventually moved to the Sea Colony in Santa Monica where she lived for many years before moving to Palm Desert, then Winnipeg.
After battling breast cancer four times in approximately 20 years, she developed metastatic Stage 4 lung cancer. Her long-time domestic partner of 27 years, Joseph Wilder, K.C., was the love of her life. They were never far apart. They traveled the world and went on many adventures during their relationship. During her treatment, Phyllis would say how much she missed work and seeing her clients. Joey demonstrated amazing strength, love, care, and compassion for Phyllis as her condition progressed. He was her rock and was by her side 24/7, making sure she had the best possible care. Joey's son David was always there to support Phyllis and to make her smile. Joey's other children, Sheri, Kenny, Joshua and wife Davina, were also a part of her life. His kids would Facetime Phyllis and include her during any of their important functions. Phyllis loved Joey's children as if they were her own.
Thank you to all of her friends and family who were there to support her during these difficult times. Phyllis is now, finally, pain free and in a better place. She was loved dearly and will be greatly missed. Interment took place in Los Angeles.
Gwen Centre Creative Living Centre celebrates 35th anniversary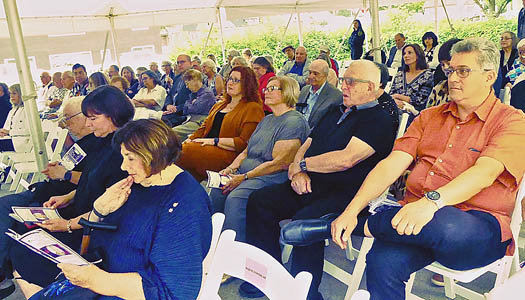 By BERNIE BELLAN Over 100 individuals gathered at the Gwen Secter Centre on Tuesday evening, July 18 – under the big top that serves as the venue for the summer series of outdoor concerts that is now in its third year at the centre.
The occasion was the celebration of the Gwen Secter Centre's 35th anniversary. It was also an opportunity to honour the memory of Sophie Shinewald, who passed away at the age of 106 in 2019, but who, as recently as 2018, was still a regular attendee at the Gwen Secter Centre.
As Gwen Secter Executive Director Becky Chisick noted in her remarks to the audience, Sophie had been volunteering at the Gwen Secter Centre for years – answering the phone among other duties. Becky remarked that Sophie's son, Ed Shinewald, had the phone number for the Gwen Secter Centre stored in his phone as "Mum's work."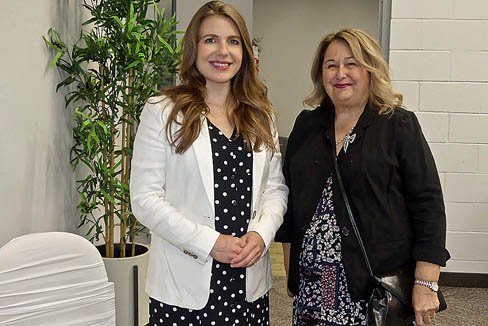 Remarks were also delivered by Raquel Dancho, Member of Parliament for Kildonan-St. Paul, who was the only representative of any level of government in attendance. (How times have changed: I remember well the steadfast support the former Member of the Legislature for St. John's, Gord Mackintosh, showed the Gwen Secter Centre when it was perilously close to being closed down. And, of course, for years, the area in which the Gwen Secter Centre is situated was represented by the late Saul Cherniack.)
Sophie Shinewald's granddaughter, Alix (who flew in from Chicago), represented the Shinewald family at the event. (Her brother, Benjamin, who lives in Ottawa, wasn't able to attend, but he sent a pre-recorded audio message that was played for the audience.)
Musical entertainment for the evening was provided by a group of talented singers, led by Julia Kroft. Following the concert, attendees headed inside to partake of a sumptuous assortment of pastries, all prepared by the Gwen Secter culinary staff. (And, despite my asking whether I could take a doggy bag home, I was turned down.)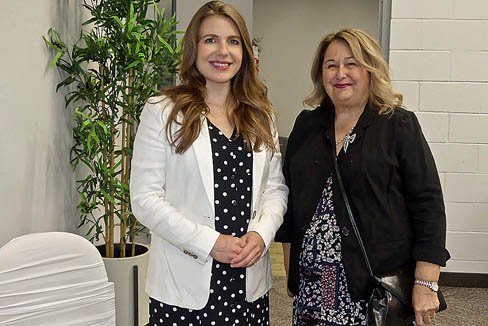 Palestinian gunmen kill 4 Israelis in West Bank gas station
This is a developing story.
(JTA) — Palestinian gunmen killed four people and wounded four in a terror attack at a gas station near the West Bank settlement of Eli, the Israeli army reported.
An Israeli civilian returning fire at the scene of the attack on Tuesday killed one of the attackers, who emerged from a vehicle, and two others fled.
Kan, Israel's public broadcaster, said one of those wounded was in serious condition. The gunmen, while in the vehicle, shot at a guard post at the entry to the settlement, and then continued to the gas station which is also the site of a snack bar. A nearby yeshiva went into lockdown.
Israeli Defense Minister Yoav Gallant announced plans to convene a briefing with top security officials within hours of the attack. Kan reported that there were celebrations of the killing in major West Bank cities and in the Gaza Strip, initiated by terrorist groups Hamas and Palestinian Islamic Jihad. Hamas said the shooting attack Tuesday was triggered by the Jenin raid.
The shooting comes as tensions intensify in the West Bank. A day earlier, Israeli troops raiding the city of Jenin to arrest accused terrorists killed five people.
The Biden administration spoke out over the weekend against Israel's plans to build 4,000 new housing units for Jewish settlers in the West Bank. Israeli Prime Minister Benjamin Netanyahu also finalized plans to  transfer West Bank building decisions to Bezalel Smotrich, the extremist who is the finance minister. Smotrich has said he wants to limit Palestinian building and expand settlement building.
Kan reported that the dead terrorist was a resident of a village, Urif, close to Huwara, the Palestinian town where terrorists killed two Israeli brothers driving through in February. Settlers retaliated by raiding the village and burning cars and buildings.
—
The post Palestinian gunmen kill 4 Israelis in West Bank gas station appeared first on Jewish Telegraphic Agency.