How Israel built its most talented baseball roster ever for the 2023 World Baseball Classic
MIAMI (JTA) — As Team Israel celebrated its victory over Nicaragua Sunday afternoon in its opening game of the 2023 World Baseball Classic, there was proof up and down the lineup card of a months-long recruitment process that brought together a slew of major league talent.
There was manager Ian Kinsler, a 14-year MLB veteran and four-time All-Star. Big league pitchers Dean Kremer, who started the game, plus Richard Bleier and Zack Weiss. All-Star slugger Joc Pederson, and major league catcher Garrett Stubbs, who drove in the winning run.
For Kinsler, who played a central role in putting the roster together, the victory served as validation — even if he didn't know what some of the players actually looked like until they arrived in Miami.
"Knowing the names, and then finally seeing all the faces and everybody coming together and playing a good game yesterday was very rewarding," Kinsler said Monday. "It was a lot of fun."
Pulling the team together took a combination of personal cajoling, a widely respected manager, Jewish geography and an effort to tap — and ignite — the sometimes embryonic Jewish identities of players who hadn't given much thought to how their Jewish roots and baseball prowess might be combined.
"There's quite a few guys who really want to help Israel and feel Jewish and buy into it," Team Israel general manager Peter Kurz told the Jewish Telegraphic Agency. "We evolve towards those players more — a player who says that he's been to Israel, or that he's connected to Israel. We definitely like to keep more than a player who was not connected at all, even though we try to go for the best athletes."
The journey to assemble Team Israel, a 30-man roster composed largely of American Jewish ballplayers, half of whom have MLB experience, actually began back in 2021.
While playing for Israel's 2020 Olympic team, Kinsler had conversations with Kurz and Israel Association of Baseball president Jordy Alter about managing the team in 2023.
"Once I developed the relationship with those two in the Olympics, it was a pretty easy decision," Kinsler told JTA prior to the WBC. Kinsler had never managed a team before, at any level.
After he took the helm last June, Kinsler took a lead role in the team's recruitment, working off a preliminary list of 50 players who were eligible to play for the team — meaning they were Jewish themselves, or the child or the grandchild of a Jew or married to one, and thus eligible for Israeli citizenship.
Kurz said Kinsler's reputation around baseball was a key factor in offering him the job.
"There's no doubt that Ian is one of the most respectable Jewish players that's ever played the game before," he said. "People respect him and they look up to him. Having experienced being in Israel twice, and playing for us in the Olympics, it just gives him that much more legitimization to talk to these players and ask them to come play for Team Israel."
Kinsler is not the WBC's only inexperienced manager who was chosen in part as a draw for players. Former players Mark DeRosa (United States), Mike Piazza (Italy) and Yadier Molina (Puerto Rico) are all managing, and Nelson Cruz is both a player on the Dominican Republic team and its general manager.
As Kinsler began his recruitment, his first call was to Joc Pederson.
"It's been an awesome experience," Pederson told JTA. "I really enjoyed my time last time I played [in the 2012 WBC qualifier], and I wanted to do that again. Great group of guys."
From there, Kurz said, he and Kinsler went down the list of Jewish major leaguers, calling each one to gauge their interest in representing Israel in the World Cup-style tournament. Given the timing of the WBC — just weeks before Major League Baseball's Opening Day — it was largely a conversation about logistics.
"I think it wasn't really necessarily the conversation about 'Are you Jewish?' Or 'Are you eligible to play for Team Israel,'" Kinsler explained. "I think it was more of a conversation of 'do you want to participate?'"
Pederson, who texted fellow big league players like Houston Astros star Alex Bregman and Milwaukee Brewers first baseman Rowdy Tellez (who is playing for Mexico), said health concerns and having enough time to get ready for the season were factors. New York Yankees players Harrison Bader and Scott Effross dropped out because of injuries.
And why did Pederson want to help recruit? It's simple: "Because I like winning, and I want to win," he said.
Israel hoped that having big-name players like Kinsler and Pederson lead the outreach efforts would pay off. While some of the game's top Jewish stars ultimately did not join the team — namely Bregman and Atlanta Braves ace Max Fried — their work was far from fruitless, as this roster boasts the most major league experience Israel has ever had.
"I tried to get Peter to hold off as long as he could, so I could be the first one to get in touch with people," Kinsler said. "Because I do think it helps hearing from a player."
When making his calls, Kinsler said he shared his experience playing in the 2017 WBC with the U.S. team, plus "what kind of environment we're trying to create for Israeli baseball."
While navigating spring training schedules and injuries is certainly part of it, Kurz said there were many players who were excited for the opportunity to wear Israel across their jersey.
One of those players is Baltimore Orioles pitcher Dean Kremer, who was the first Israeli to be drafted into the MLB. Kremer, whose parents are Israeli, was born and raised in California, but has spent time living in Israel.
"Playing for Team Israel, anytime I get to put on that uniform is special for me," Kremer said after pitching in Israel's victory over Nicaragua. "It's like another home. So every time I get to represent it's one of the better feelings."
Pederson added that the whole team "feels extremely proud."
Ryan Lavarnway, a veteran catcher who has also played for Israel since 2017 and is seen as one of its leaders, has been vocal about how much it means to him to suit up for Israel.
"Playing for this team is super meaningful to me," Lavarnway said after Israel's exhibition game against the Miami Marlins. "It's been really life changing. And I hope that this next generation of players that are new to this team takes the baton, and it means as much to them as it's meant to us."
One of those younger players is Toronto Blue Jays prospect Spencer Horwitz.
"Coming into this, I didn't know what to really expect, this being my first time playing for Team Israel," Horwitz said. "It's living up to everything that people are saying. That environment we were just in was definitely electric."
With reports of antisemitism on the rise in the United States, Kurz said players are more inclined to publicly identify as Jewish.
"I think a lot of these players feel, even more so, that they have to identify as being Jewish. Nobody's trying to hide that at all," he said.
Kurz added that Israel had an easier time recruiting top talent for the 2023 roster than in previous years, for a few reasons.
First, he said, both Team Israel and the WBC itself have gained in prominence over the past decade. For Israel, a surprising run in the 2017 WBC helped put Israeli baseball on the map, garnering excitement among both fans and potential players. And the WBC itself has grown more popular in the United States and around the world, with superstar players such as Shohei Ohtani and Mike Trout suiting up for their ancestral countries, and MLB devoting more resources to marketing the tournament.
Geography also played a role. With most of the games being played in Miami, that allowed MLB players to more easily participate, as half the league has spring training in Florida.
When trying to discover Jewish players, there's a certain element of word-of-mouth Jewish geography that comes into play, too. No player encapsulates that better than Ty Kelly.
"It's easy to get the Cohens and the Levys. It's more difficult to get the Ty Kellys," Kurz said.
Kurz recalled that about seven years ago, he heard from someone on Long Island who had taken his kids to a minor league game. Kelly was signing autographs and spotted the kids' kippahs and told them he was Jewish. They told their father, who in turn told Kurz.
"And the rest was history," Kurz said. Kelly, who has played for Israel since the 2017 WBC, has become another one of the team's leaders. After this WBC, he will begin his coaching career in the Seattle Mariners organization.
The WBC's eligibility rules also allowed Israel some flexibility in recruiting. Outfielder Alex Dickerson, for example, is not Jewish, but his wife is.
"This is about creating the best team possible within the rules," Kinsler said.
Creating the best team also meant creating a strong coaching staff.
Kinsler recruited former Israel manager Brad Ausmus, who was Kinsler's manager in the big leagues, and former All-Star and fan favorite Kevin Youkilis, the former Boston Red Sox first baseman.
"It was easy," Youkilis said of his decision to join the team. "Being part of this is part of my heritage, part of growing up Jewish and being bar mitzvahed and all that. It was an easy yes."
Youkilis, who retired in 2014, said coaching full-time isn't in the cards for him, but he's enjoying the experience right now.
"It's remarkable how good a talent we have, a collective Jewish group of ballplayers that when I was growing up probably wasn't that strong," he said. "It's good to see the next generation of ballplayers, and to be a coach, and to witness it and be around and help guys."
While this team, and its coaches, is largely a group of American Jews, the uniform says Israel. Even with the fraught political climate in Israel, which is experiencing an uptick in violence and widespread protests over the country's far-right government and its controversial judicial proposals, both Kurz and Kinlser said politics were not a factor for any player.
"I don't think in general athletes are too scared of those types of things," Kinsler said.
Kurz added that leading up to the WBC, numerous players reached out to ask questions and gain a better understanding of the current situation in Israel. But nobody expressed hesitation about identifying with the country. (There have not been protests or anti-Israel demonstrations, as there have been at times in the past when Team Israel plays in the United States and abroad.)
"They're definitely interested, they want to know what's going on," Kurz said. "They want to know who they're playing for."
Kelly, who was part of those types of discussions in the clubhouse with the Olympic team, said the players are keeping an eye on the news, but they haven't had many conversations about it yet.
"I think it's sort of the nature of the team, having a lot of new guys and people not really knowing what their roles are supposed to be, as far as talking about that stuff, or what their opinions are supposed to be," Kelly said. "I think that happens as guys get to know each other more."
Building camaraderie was also a priority for the team. Prior to the tournament, Israel held a private screening of the new documentary "Israel Swings for Gold," which followed the team's Olympic experience in Tokyo.
Kinsler said that while the event was not mandatory, he encouraged players to attend.
"I think that'll be a great bonding experience for us, and something that other teams don't really have the luxury of using as motivation or bringing togetherness," Kinsler said beforehand. "That could be an advantage for us."
And with a tough draw in Pool D, which pits Israel against top teams including the Dominican Republic, Venezuela and Puerto Rico, Israel will need any advantage it can get.
But Israel is no stranger to being the underdog. In fact, the team relishes it.
"We're certainly the David against the Goliath of the baseball world. But you know, we love it," Kurz said.
—
The post How Israel built its most talented baseball roster ever for the 2023 World Baseball Classic appeared first on Jewish Telegraphic Agency.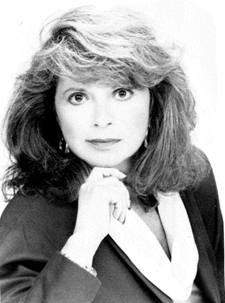 Phyllis Pollock died at home Sunday September 3, 2023 in Winnipeg, after a courageous lifetime battle with cancer.
Phyllis was a mother of four: Gary (Laura), daughter Randi, Steven (deceased in 2010) (Karen), and Robert. Phyllis also had two grandchildren: Lauren and Quinn.
Born in Fort Frances, Ontario on February 7, 1939, Phyllis was an only child to Ruby and Alex Lerman. After graduating high school, Phyllis moved to Winnipeg where she married and later divorced Danny Pollock, the father of her children. She moved to Beverly Hills in 1971, where she raised her children.
Phyllis had a busy social life and lucrative real estate career that spanned over 50 years, including new home sales with CoastCo. Phyllis was the original sales agent for three buildings in Santa Monica, oceanfront: Sea Colony I, Sea Colony II, and Sea Colony. She was known as the Sea Colony Queen. She worked side by side with her daughter Randi for about 25 years – handling over 600 transactions, including sales and leases within the three phases of Sea Colony alone.
Phyllis had more energy than most people half her age. She loved entertaining, working in the real estate field, meeting new and interesting people everyday no matter where she went, and thrived on making new lifelong friends. Phyllis eventually moved to the Sea Colony in Santa Monica where she lived for many years before moving to Palm Desert, then Winnipeg.
After battling breast cancer four times in approximately 20 years, she developed metastatic Stage 4 lung cancer. Her long-time domestic partner of 27 years, Joseph Wilder, K.C., was the love of her life. They were never far apart. They traveled the world and went on many adventures during their relationship. During her treatment, Phyllis would say how much she missed work and seeing her clients. Joey demonstrated amazing strength, love, care, and compassion for Phyllis as her condition progressed. He was her rock and was by her side 24/7, making sure she had the best possible care. Joey's son David was always there to support Phyllis and to make her smile. Joey's other children, Sheri, Kenny, Joshua and wife Davina, were also a part of her life. His kids would Facetime Phyllis and include her during any of their important functions. Phyllis loved Joey's children as if they were her own.
Thank you to all of her friends and family who were there to support her during these difficult times. Phyllis is now, finally, pain free and in a better place. She was loved dearly and will be greatly missed. Interment took place in Los Angeles.
Gwen Centre Creative Living Centre celebrates 35th anniversary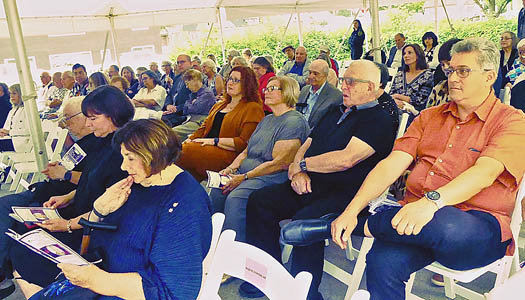 By BERNIE BELLAN Over 100 individuals gathered at the Gwen Secter Centre on Tuesday evening, July 18 – under the big top that serves as the venue for the summer series of outdoor concerts that is now in its third year at the centre.
The occasion was the celebration of the Gwen Secter Centre's 35th anniversary. It was also an opportunity to honour the memory of Sophie Shinewald, who passed away at the age of 106 in 2019, but who, as recently as 2018, was still a regular attendee at the Gwen Secter Centre.
As Gwen Secter Executive Director Becky Chisick noted in her remarks to the audience, Sophie had been volunteering at the Gwen Secter Centre for years – answering the phone among other duties. Becky remarked that Sophie's son, Ed Shinewald, had the phone number for the Gwen Secter Centre stored in his phone as "Mum's work."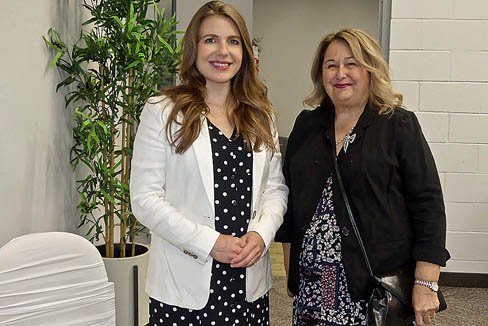 Remarks were also delivered by Raquel Dancho, Member of Parliament for Kildonan-St. Paul, who was the only representative of any level of government in attendance. (How times have changed: I remember well the steadfast support the former Member of the Legislature for St. John's, Gord Mackintosh, showed the Gwen Secter Centre when it was perilously close to being closed down. And, of course, for years, the area in which the Gwen Secter Centre is situated was represented by the late Saul Cherniack.)
Sophie Shinewald's granddaughter, Alix (who flew in from Chicago), represented the Shinewald family at the event. (Her brother, Benjamin, who lives in Ottawa, wasn't able to attend, but he sent a pre-recorded audio message that was played for the audience.)
Musical entertainment for the evening was provided by a group of talented singers, led by Julia Kroft. Following the concert, attendees headed inside to partake of a sumptuous assortment of pastries, all prepared by the Gwen Secter culinary staff. (And, despite my asking whether I could take a doggy bag home, I was turned down.)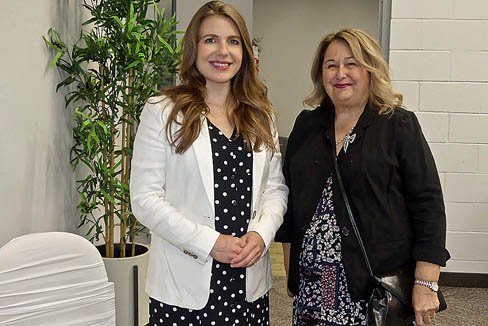 Palestinian gunmen kill 4 Israelis in West Bank gas station
This is a developing story.
(JTA) — Palestinian gunmen killed four people and wounded four in a terror attack at a gas station near the West Bank settlement of Eli, the Israeli army reported.
An Israeli civilian returning fire at the scene of the attack on Tuesday killed one of the attackers, who emerged from a vehicle, and two others fled.
Kan, Israel's public broadcaster, said one of those wounded was in serious condition. The gunmen, while in the vehicle, shot at a guard post at the entry to the settlement, and then continued to the gas station which is also the site of a snack bar. A nearby yeshiva went into lockdown.
Israeli Defense Minister Yoav Gallant announced plans to convene a briefing with top security officials within hours of the attack. Kan reported that there were celebrations of the killing in major West Bank cities and in the Gaza Strip, initiated by terrorist groups Hamas and Palestinian Islamic Jihad. Hamas said the shooting attack Tuesday was triggered by the Jenin raid.
The shooting comes as tensions intensify in the West Bank. A day earlier, Israeli troops raiding the city of Jenin to arrest accused terrorists killed five people.
The Biden administration spoke out over the weekend against Israel's plans to build 4,000 new housing units for Jewish settlers in the West Bank. Israeli Prime Minister Benjamin Netanyahu also finalized plans to  transfer West Bank building decisions to Bezalel Smotrich, the extremist who is the finance minister. Smotrich has said he wants to limit Palestinian building and expand settlement building.
Kan reported that the dead terrorist was a resident of a village, Urif, close to Huwara, the Palestinian town where terrorists killed two Israeli brothers driving through in February. Settlers retaliated by raiding the village and burning cars and buildings.
—
The post Palestinian gunmen kill 4 Israelis in West Bank gas station appeared first on Jewish Telegraphic Agency.