Israel's dual crises, explained
If it feels like there's an overload of news out of Israel — a sea of flags at a Jerusalem protest, police sirens outside of a synagogue — that's because there is. Israel has been consumed by two escalating crises that both appear to be crescendoing at the same time. And even though they feel separate, they're intertwined in at least one big way. 
Allow us to explain: 
Israel is simultaneously contending with two things: a wave of Palestinian terror attacks and Israeli military raids in the West Bank, and massive protests of a government plan to constrain the courts. Each of these two news stories is significant by itself, and would likely command the world's attention if it were happening alone. But it's not exactly a coincidence that they're happening together. 
What is happening right now?
The Israeli news that has captured the world's notice over the past few weeks — and drawn criticism from President Joe Biden — is the ongoing right-wing effort to sap the power of Israel's courts. The Israeli government that took power in December wants to take control over the appointment of judges and effectively remove the Supreme Court's ability to strike down laws. Backers of the plan say the courts have essentially become an instrument of the country's left-wing minority, leaving the right-wing majority unable to pass laws and govern. 
But one poll found that just a quarter of Israelis support the plan in its current form, and hundreds of thousands have taken to the streets in protest. Satellite protests have sprung up in cities outside of Israel, organized by people who oppose Israeli Prime Minister Benjamin Netanyahu due to his ongoing trial for corruption. 
Observers warn that the court reform will remove a key element of what makes democracies democratic — the separation of powers between the executive and judicial branches. Entrepreneurs in Israel's tech sector are pulling their business out of the country in protest of the decision. 
Nevertheless, in the face of a 100,000-person protest in Jerusalem on Monday, the government pushed the plan forward — though it has also signaled that it's open to negotiations over the proposal.
Alongside the social unrest, a series of violent attacks have shaken the West Bank and eastern Jerusalem. Two Friday attacks by Palestinians in Israeli eastern Jerusalem neighborhoods — one in late January and one on Feb. 10 — killed 10 civilians, including three children. 
The homes of the perpetrators will likely be demolished, and in response to the attacks, Israel authorized nine settlement outposts it had previously considered illegal. The United States condemned the decision.  
On Monday, an Israeli border police officer died after being stabbed by a 13-year-old Palestinian and then being hit with friendly fire from a security guard. It's the latest in a string of attacks by teenagers. 
Those attacks have taken place against the backdrop of Israeli military raids in the West Bank that have killed dozens of Palestinians. According to Israel and its supporters, the dead are almost entirely militants. But last month, two civilians were killed in an Israeli raid on the northern West Bank City of Jenin that saw 10 total fatalities. Several teenagers have also been among the Palestinians killed. On Saturday, an Israeli settler shot and killed a Palestinian man following an altercation.  
And this week, violence in the West Bank again received global attention when a staff writer for the New Yorker filmed an Israeli soldier beating a Palestinian activist in Hebron. The soldier was jailed for 10 days. 
Are these two stories connected?
No, and yes.
On one hand, one of these stories is legislative and the other concerns the Israeli-Palestinian conflict. The street protesters are, by and large, not coming out in opposition to Israel's policies in the West Bank — and the Palestinian attackers almost definitely aren't motivated by an opposition to judicial reform. 
But on the other hand, both the judicial reform and the escalation are taking place under the watch of Netanyahu's new government, the most right-wing in the country's history. The same right-wing factions that are trumpeting the judicial reform are pushing for a harsher and more widespread crackdown on the Palestinian attacks — and looser rules of engagement for soldiers. Meanwhile, the same Supreme Court that the government wishes to restrain also rules on the legality of certain counterterrorism measures — including the demolition of attackers' homes. 
Finance Minister Bezalel Smotrich, whose Religious Zionism party is leading the charge on constraining the courts, also tweeted on Monday that teenage Palestinian attackers "blossom in a violent and inciting society that brainwashes them with hatred of Israel." He called on Israel to "exact a heavy price" for such incitement. His ally, far-right National Security Minister Itamar Ben-Gvir, protested the military's decision to punish the soldier who beat the Palestinian activist. 
"I support the soldier who didn't stay quiet with all my strength," Ben-Gvir tweeted. "Soldiers need to receive support, not jail time."
Is there going to be another intifada?
The second intifada — in which a series of Palestinian terror attacks in cafes, buses and other public spaces in the early 2000s killed approximately 1,000 Israelis — traumatized a generation of Israelis. Israeli retaliatory measures during that time killed thousands of Palestinians, and since then, hopes for peace have faded. 
There have been waves of terrorism in the intervening decades, though none as intense as the intifada 20 years ago. It is too soon to tell whether attacks will rise to that level, though the violence does not appear to be ending anytime soon. According to Israeli reports, Palestinian terror groups are encouraging teenagers to carry out attacks on Israelis. 
And members of Israel's government are agitating for an escalation of counterterror measures in ways that recall Israeli actions during the intifada. In 2002, in response to the terror attacks, Israel launched Operation Defensive Shield, which saw Israeli soldiers enter Palestinian population centers in the West Bank to root out terror groups. Following Friday's terror attack in Jerusalem, Ben Gvir proposed "Defensive Shield 2."
"I am determined to bring about Defensive Shield 2 in Jerusalem," he tweeted, pledging to "demolish illegal buildings, to arrest more than 150 targets and to spread out across the houses, to stop the incitement in the mosques, to stop those who owe tax money and much more."
Is Israeli society collapsing?
Fears of a societal break are growing, and even President Isaac Herzog warned of looming disaster. Herzog, whose role is largely ceremonial, gave a landmark speech on Sunday begging for negotiations and compromise over the judicial reforms. 
"For a while, we have no longer been in a political debate, but are on the brink of constitutional and social collapse," Herzog, a former leader of the Labor opposition party who once ran against Netanyahu, said early in the speech. "I feel, we all feel, that we are in the moment before a clash, even a violent clash. The gunpowder barrel is about to explode."
In response, the government delayed part of the bill's legislative advance, but it remains to be seen whether there will be meaningful negotiations over its content. In the interim, Israelis are broadcasting fears of civil war. On Tuesday, former Prime Minister Naftali Bennett, an opponent of Netanyahu, shared a video from a Jewish think tank announcing a societal dialogue initiative. 
Over the melody of Israel's national anthem, the video reviews past moments of societal rupture — among them the assassination of Prime Minister Yitzhak Rabin in 1995, and Israel's withdrawal from Gaza a decade later — and then says, "February 2023: We did not begin a civil war." 
Netanyahu has responded to the protests by decrying calls for violence, accusing his opponents of fomenting anarchy, and calling for calm. But in a speech on Sunday, he reiterated that his government won a majority and intends to legislate accordingly. 
"This government received the trust of the people in democratic elections, and a clear mandate from Israel's citizens," he said. "No one here can doubt that."
It's hard to say what the future will hold, but it's clear that this moment has the potential to transform into something more dangerous than what has already taken place.
—
The post Israel's dual crises, explained appeared first on Jewish Telegraphic Agency.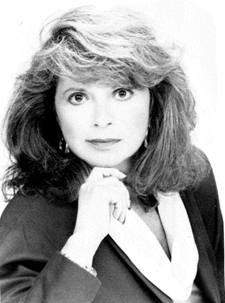 Phyllis Pollock died at home Sunday September 3, 2023 in Winnipeg, after a courageous lifetime battle with cancer.
Phyllis was a mother of four: Gary (Laura), daughter Randi, Steven (deceased in 2010) (Karen), and Robert. Phyllis also had two grandchildren: Lauren and Quinn.
Born in Fort Frances, Ontario on February 7, 1939, Phyllis was an only child to Ruby and Alex Lerman. After graduating high school, Phyllis moved to Winnipeg where she married and later divorced Danny Pollock, the father of her children. She moved to Beverly Hills in 1971, where she raised her children.
Phyllis had a busy social life and lucrative real estate career that spanned over 50 years, including new home sales with CoastCo. Phyllis was the original sales agent for three buildings in Santa Monica, oceanfront: Sea Colony I, Sea Colony II, and Sea Colony. She was known as the Sea Colony Queen. She worked side by side with her daughter Randi for about 25 years – handling over 600 transactions, including sales and leases within the three phases of Sea Colony alone.
Phyllis had more energy than most people half her age. She loved entertaining, working in the real estate field, meeting new and interesting people everyday no matter where she went, and thrived on making new lifelong friends. Phyllis eventually moved to the Sea Colony in Santa Monica where she lived for many years before moving to Palm Desert, then Winnipeg.
After battling breast cancer four times in approximately 20 years, she developed metastatic Stage 4 lung cancer. Her long-time domestic partner of 27 years, Joseph Wilder, K.C., was the love of her life. They were never far apart. They traveled the world and went on many adventures during their relationship. During her treatment, Phyllis would say how much she missed work and seeing her clients. Joey demonstrated amazing strength, love, care, and compassion for Phyllis as her condition progressed. He was her rock and was by her side 24/7, making sure she had the best possible care. Joey's son David was always there to support Phyllis and to make her smile. Joey's other children, Sheri, Kenny, Joshua and wife Davina, were also a part of her life. His kids would Facetime Phyllis and include her during any of their important functions. Phyllis loved Joey's children as if they were her own.
Thank you to all of her friends and family who were there to support her during these difficult times. Phyllis is now, finally, pain free and in a better place. She was loved dearly and will be greatly missed. Interment took place in Los Angeles.
Gwen Centre Creative Living Centre celebrates 35th anniversary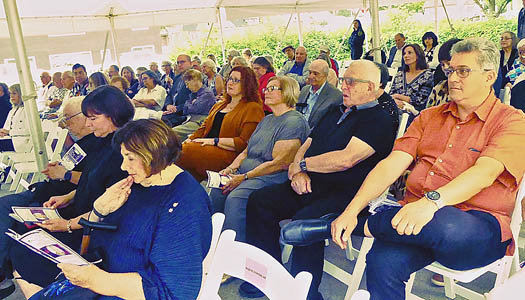 By BERNIE BELLAN Over 100 individuals gathered at the Gwen Secter Centre on Tuesday evening, July 18 – under the big top that serves as the venue for the summer series of outdoor concerts that is now in its third year at the centre.
The occasion was the celebration of the Gwen Secter Centre's 35th anniversary. It was also an opportunity to honour the memory of Sophie Shinewald, who passed away at the age of 106 in 2019, but who, as recently as 2018, was still a regular attendee at the Gwen Secter Centre.
As Gwen Secter Executive Director Becky Chisick noted in her remarks to the audience, Sophie had been volunteering at the Gwen Secter Centre for years – answering the phone among other duties. Becky remarked that Sophie's son, Ed Shinewald, had the phone number for the Gwen Secter Centre stored in his phone as "Mum's work."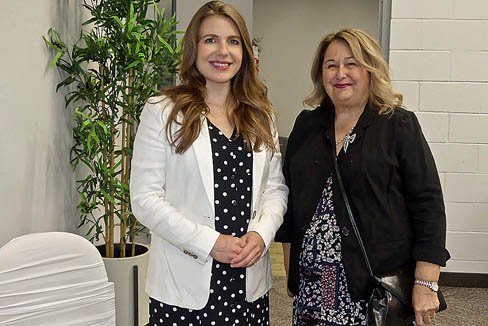 Remarks were also delivered by Raquel Dancho, Member of Parliament for Kildonan-St. Paul, who was the only representative of any level of government in attendance. (How times have changed: I remember well the steadfast support the former Member of the Legislature for St. John's, Gord Mackintosh, showed the Gwen Secter Centre when it was perilously close to being closed down. And, of course, for years, the area in which the Gwen Secter Centre is situated was represented by the late Saul Cherniack.)
Sophie Shinewald's granddaughter, Alix (who flew in from Chicago), represented the Shinewald family at the event. (Her brother, Benjamin, who lives in Ottawa, wasn't able to attend, but he sent a pre-recorded audio message that was played for the audience.)
Musical entertainment for the evening was provided by a group of talented singers, led by Julia Kroft. Following the concert, attendees headed inside to partake of a sumptuous assortment of pastries, all prepared by the Gwen Secter culinary staff. (And, despite my asking whether I could take a doggy bag home, I was turned down.)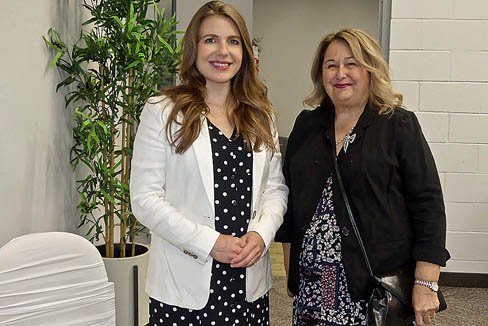 Palestinian gunmen kill 4 Israelis in West Bank gas station
This is a developing story.
(JTA) — Palestinian gunmen killed four people and wounded four in a terror attack at a gas station near the West Bank settlement of Eli, the Israeli army reported.
An Israeli civilian returning fire at the scene of the attack on Tuesday killed one of the attackers, who emerged from a vehicle, and two others fled.
Kan, Israel's public broadcaster, said one of those wounded was in serious condition. The gunmen, while in the vehicle, shot at a guard post at the entry to the settlement, and then continued to the gas station which is also the site of a snack bar. A nearby yeshiva went into lockdown.
Israeli Defense Minister Yoav Gallant announced plans to convene a briefing with top security officials within hours of the attack. Kan reported that there were celebrations of the killing in major West Bank cities and in the Gaza Strip, initiated by terrorist groups Hamas and Palestinian Islamic Jihad. Hamas said the shooting attack Tuesday was triggered by the Jenin raid.
The shooting comes as tensions intensify in the West Bank. A day earlier, Israeli troops raiding the city of Jenin to arrest accused terrorists killed five people.
The Biden administration spoke out over the weekend against Israel's plans to build 4,000 new housing units for Jewish settlers in the West Bank. Israeli Prime Minister Benjamin Netanyahu also finalized plans to  transfer West Bank building decisions to Bezalel Smotrich, the extremist who is the finance minister. Smotrich has said he wants to limit Palestinian building and expand settlement building.
Kan reported that the dead terrorist was a resident of a village, Urif, close to Huwara, the Palestinian town where terrorists killed two Israeli brothers driving through in February. Settlers retaliated by raiding the village and burning cars and buildings.
—
The post Palestinian gunmen kill 4 Israelis in West Bank gas station appeared first on Jewish Telegraphic Agency.