Queer Jews fought to join the Celebrate Israel Parade. This year, I marched in drag.
(JTA) — "Look mom, he's a beautiful butterfly," a child shouted, pointing at me, as I marched up Fifth Avenue in drag on June 4 at the Celebrate Israel Parade.
I could only imagine how meaningful it would have been for me as a kid to see drag included as part of this annual Jewish communal celebration on Fifth Avenue. I didn't know that boys were allowed to be beautiful. Worse, I thought that there was something shameful about my own longing to embrace my femininity. Certainly, growing up, there were many who seemed only too happy to reinforce that shame. Now, strutting proudly in the parade in a fabulous pink sundress and 9-inch heels is my way of creating a Jewish world where one's whole self belongs.
Drag helps me find joy in not fitting neatly into boxes or binaries. As a queer Jew who grew up in an Orthodox family, non-binary identity is not just a helpful framing for my gender, it also best captures my approach to religion and my relationship with Israel. Not quite a man and not quite Orthodox, I am equally not quite a woman and kind of Orthodox. While I may not label myself a Zionist, I most certainly celebrate Israel and consider the nation central to my Judaism.
For me, these internal conflicts create the tension that energizes my art. The ability to hold seemingly opposing identities at once provides an authenticity that is both thrilling and freeing. Perhaps this is why I am so drawn to drag. What better art form to express the full spectrum of identity with all its contradictions, complications, and kaleidoscopic colors? I find drag the most exciting and self-actualizing way to fully show up in a parade that celebrates the complexity of Jewish heritage and homeland.
My drag also pays homage to the unapologetic fighting spirit that allowed queer Jews into the parade in the first place. Today, the Jewish Community Relations Council-NY (the parade's producers) fully embraces the LGBTQ marching cluster and makes us feel like valued members of the Jewish community. But queer organizations were not always welcome at this event. When New York's gay synagogue attempted to March in the early 1990s, its invitation was rescinded when Orthodox day schools (which still appear to make up the majority of marching schools) threatened to pull out from a parade with an LGTBQ contingent.
As a closeted teen in yeshiva, I remember feeling crushed when I read about the parade's gay ban. The internalized message was clear: I'm not wanted and there is no place for me in this Jewish community. I recall feeling angry that it seemed like queer Jewish organizations just gave up and gave in to homophobia without a fight. This fury became a drive that helped create JQY (Jewish Queer Youth), the organization I co-founded whose mission is to support LGBTQ youth from Orthodox homes.
It was not until years later, in 2012, when a 16-year-old JQY member named Jon asked if we could march in the Celebrate Israel parade, that I knew it was time to reopen the fight for queer inclusion. That year JQY organized a cluster of queer Jewish organizations and applied to march as an official LGBTQ contingent. At first there was little resistance and our application was accepted. But two weeks before the parade, I was contacted by the parade's director, informing me that the banner for our marching group must have "no reference to a LGBT or Gay and Lesbian community." Apparently, once again Orthodox schools were threatening to boycott the parade if queers were to be allowed to march under an LGBT banner.
This time, however, JQY would not back down. I made it clear to the parade director that his request to erase our community identity is unacceptable and that we intended to show up on parade Sunday ready to march with a banner that read "Gay, Lesbian, Bi, Trans Jewish Community." I told the director that he was welcome to call the police and deal with the optics of arresting queer Jews attempting to celebrate Israel.
Soon after, I began getting phone calls from leaders of the largest queer Jewish organizations. To my surprise, instead of being encouraging, they pressured me to stand down and compromise. Their concern was that my position made queer Jews seem "divisive." I nearly gave in to these calls for appeasement until I spoke with Larry Kramer, the gay activist, playwright and personal hero of mine. Larry's words still ring true today. "They were wrong then and they are wrong now," he said. "The pressure to not be divisive is just a convenient and cowardly device for professionals to hang their internalized homophobia [on]."
The JQY team devised a plan. Prior to the parade's pushback, we had already received an invitation to a pre-parade wine-and-cheese reception hosted by Fox TV, which was televising the parade that year. I would attend the event with Jon, the JQY member who inspired this parade advocacy, and we would speak to every journalist in the room, letting them know how excited and thankful we were that, for the first time ever, there would be an LGBTQ marching cluster.
When we approached the parade director who was flanked by Fox TV execs, we shook his hand and loudly congratulated him on the incredible milestone for queer inclusion. Cornered and in the spotlight, his response could not have been more perfect. "Yes, we are so proud to have an LGBTQ cluster this year," he said. We had won.
(Noam Gilboord, the chief operating officer of JCRC-NY, confirmed this account. He said he had not been aware of the pushback against JQY at the time and noted that a highlight of his parade experience this year was handing an Israeli flag to a friend's trans daughter, who was marching with her community.)
That Sunday our LGBTQ Community cluster had more than 100 marching participants made up of queer Jews of all ages and denominations, as well as friends, family, and allies. We received an overwhelmingly supportive reaction from the crowd, made up of mostly Orthodox Jews. We felt like we were healing old wounds and breaking new ground. Most importantly, we demonstrated that Jewish unity means including the LGBTQ Jewish community by name.
The organizers of the parade were so impressed with our contingent that they awarded us the Most Enthusiastic Participation Award. With subsequent yearly participation, our LGBTQ cluster has become a parade staple and highlight for onlookers. It is one of JQY's proudest accomplishments.
I believe that it is precisely JQY's focus on uplifting complex identities that made our case to join the parade so strong. For most of our teens, celebrating Israel is part of what it means to both be Jewish and part of the Jewish community (the nation of Israel). Participation in the parade for them is about belonging, not support for any political structure or agenda. It makes sense that Jewish queer youth want to experience communal belonging in an LGBTQ-affirming way. Yet there are still those on the extreme political right and left who refuse to see this nuance and put our participants at risk.
In 2017 our LGBTQ contingent was targeted, infiltrated and sabotaged by members of Jewish Voice for Peace, an anti-Israel activist group. The protesters physically pushed, surrounded and blocked terrified queer Jewish minors who were bravely marching in front of their Orthodox families. Little did our teens know that it was bigotry from the left that would come for them that day.
This year we were particularly wary of marching among a predominantly Orthodox crowd — not because the Orthodox community has gotten more religious or pious, but because of reports that the Orthodox community has become more influenced by a political right that increasingly targets the LGBTQ community. One of the most influential public figures on the right is Ben Shapiro, an Orthodox Jew who, besides being fixated on canceling companies that work with trans people, recently published an article blaming LGBTQ acceptance for the "failure of modern Orthodox Judaism."
Our contingent this year was mostly met with smiles, cheers and applause. However, it was difficult to ignore the handful of people on nearly every block who covered their children's faces, displayed angry thumbs down signs and even shouted homophobic or transphobic slurs as we passed. Over the last few years I have noticed an uptick in these kinds of negative responses. It would be negligent not to connect this change to the recent nation-wide scapegoating of trans youth, drag artists, and LGBTQ acceptance.
This week, for the first time ever, the Human Rights Campaign declared an LGBTQ state of emergency in the United States, after lawmakers in 45 states proposed anti-trans bills in 2023. Of those, 24 have proposed "Don't Say Gay" laws that criminalize discussion of LGBTQ issues in public schools, and lawmakers in 14 states have proposed anti-drag laws. Politicians and pundits with huge platforms are openly describing queer advocates as "groomers," conveying that there is a pedophilic sexual agenda to the call for LGBTQ human rights and dignity.
This is the environment that LGBTQ Jewish youth live in today and experienced while marching in front of the Jewish community at this year's parade. This is why I chose to march in drag. Marching is an exercise in building resilience and self-esteem in the face of adversity. My message is to not be afraid, to never back down and to be as magnificent as possible. These principles are the foundations of drag.
Drag is a queer art form that empowers us to express ourselves with every color imaginable. Drag elicits joy and entertainment by subverting expectations and turning gender expression into theatrical performance. It is an artistic genre that can be innocent or scandalous. The form ranges from family-friendly fun like "Mrs. Doubtfire" and Drag Queen Story Hours, to hit TV shows like "RuPaul's Drag Race" and the more adult fare found in late night bars.
At the Celebrate Israel parade, drag is as natural an aesthetic for queer marchers as Bukharan music and garb are to the Russian-speaking Jewish community cluster.  For many LGBTQ Jews, drag is as much a part of our culture and heritage as the celebration of Israel. This year, I was the first participant to march in drag. Next year, I hope many more will follow. Because let's face it, nothing lights up a parade quite like a fabulous drag queen.
—
The post Queer Jews fought to join the Celebrate Israel Parade. This year, I marched in drag. appeared first on Jewish Telegraphic Agency.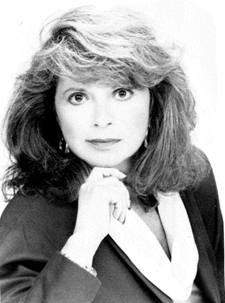 Phyllis Pollock died at home Sunday September 3, 2023 in Winnipeg, after a courageous lifetime battle with cancer.
Phyllis was a mother of four: Gary (Laura), daughter Randi, Steven (deceased in 2010) (Karen), and Robert. Phyllis also had two grandchildren: Lauren and Quinn.
Born in Fort Frances, Ontario on February 7, 1939, Phyllis was an only child to Ruby and Alex Lerman. After graduating high school, Phyllis moved to Winnipeg where she married and later divorced Danny Pollock, the father of her children. She moved to Beverly Hills in 1971, where she raised her children.
Phyllis had a busy social life and lucrative real estate career that spanned over 50 years, including new home sales with CoastCo. Phyllis was the original sales agent for three buildings in Santa Monica, oceanfront: Sea Colony I, Sea Colony II, and Sea Colony. She was known as the Sea Colony Queen. She worked side by side with her daughter Randi for about 25 years – handling over 600 transactions, including sales and leases within the three phases of Sea Colony alone.
Phyllis had more energy than most people half her age. She loved entertaining, working in the real estate field, meeting new and interesting people everyday no matter where she went, and thrived on making new lifelong friends. Phyllis eventually moved to the Sea Colony in Santa Monica where she lived for many years before moving to Palm Desert, then Winnipeg.
After battling breast cancer four times in approximately 20 years, she developed metastatic Stage 4 lung cancer. Her long-time domestic partner of 27 years, Joseph Wilder, K.C., was the love of her life. They were never far apart. They traveled the world and went on many adventures during their relationship. During her treatment, Phyllis would say how much she missed work and seeing her clients. Joey demonstrated amazing strength, love, care, and compassion for Phyllis as her condition progressed. He was her rock and was by her side 24/7, making sure she had the best possible care. Joey's son David was always there to support Phyllis and to make her smile. Joey's other children, Sheri, Kenny, Joshua and wife Davina, were also a part of her life. His kids would Facetime Phyllis and include her during any of their important functions. Phyllis loved Joey's children as if they were her own.
Thank you to all of her friends and family who were there to support her during these difficult times. Phyllis is now, finally, pain free and in a better place. She was loved dearly and will be greatly missed. Interment took place in Los Angeles.
Gwen Centre Creative Living Centre celebrates 35th anniversary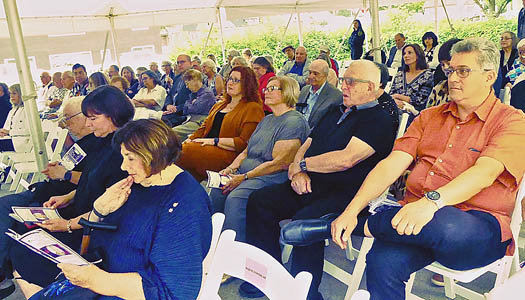 By BERNIE BELLAN Over 100 individuals gathered at the Gwen Secter Centre on Tuesday evening, July 18 – under the big top that serves as the venue for the summer series of outdoor concerts that is now in its third year at the centre.
The occasion was the celebration of the Gwen Secter Centre's 35th anniversary. It was also an opportunity to honour the memory of Sophie Shinewald, who passed away at the age of 106 in 2019, but who, as recently as 2018, was still a regular attendee at the Gwen Secter Centre.
As Gwen Secter Executive Director Becky Chisick noted in her remarks to the audience, Sophie had been volunteering at the Gwen Secter Centre for years – answering the phone among other duties. Becky remarked that Sophie's son, Ed Shinewald, had the phone number for the Gwen Secter Centre stored in his phone as "Mum's work."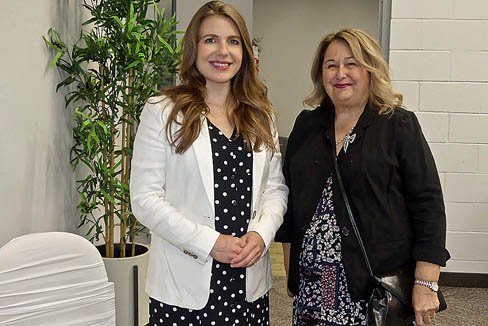 Remarks were also delivered by Raquel Dancho, Member of Parliament for Kildonan-St. Paul, who was the only representative of any level of government in attendance. (How times have changed: I remember well the steadfast support the former Member of the Legislature for St. John's, Gord Mackintosh, showed the Gwen Secter Centre when it was perilously close to being closed down. And, of course, for years, the area in which the Gwen Secter Centre is situated was represented by the late Saul Cherniack.)
Sophie Shinewald's granddaughter, Alix (who flew in from Chicago), represented the Shinewald family at the event. (Her brother, Benjamin, who lives in Ottawa, wasn't able to attend, but he sent a pre-recorded audio message that was played for the audience.)
Musical entertainment for the evening was provided by a group of talented singers, led by Julia Kroft. Following the concert, attendees headed inside to partake of a sumptuous assortment of pastries, all prepared by the Gwen Secter culinary staff. (And, despite my asking whether I could take a doggy bag home, I was turned down.)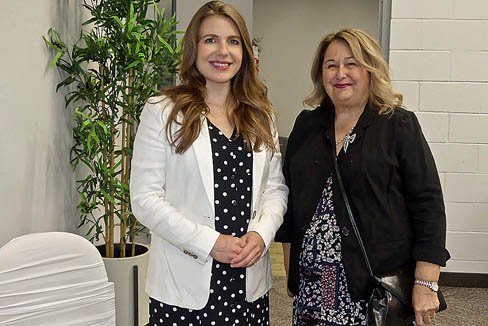 Palestinian gunmen kill 4 Israelis in West Bank gas station
This is a developing story.
(JTA) — Palestinian gunmen killed four people and wounded four in a terror attack at a gas station near the West Bank settlement of Eli, the Israeli army reported.
An Israeli civilian returning fire at the scene of the attack on Tuesday killed one of the attackers, who emerged from a vehicle, and two others fled.
Kan, Israel's public broadcaster, said one of those wounded was in serious condition. The gunmen, while in the vehicle, shot at a guard post at the entry to the settlement, and then continued to the gas station which is also the site of a snack bar. A nearby yeshiva went into lockdown.
Israeli Defense Minister Yoav Gallant announced plans to convene a briefing with top security officials within hours of the attack. Kan reported that there were celebrations of the killing in major West Bank cities and in the Gaza Strip, initiated by terrorist groups Hamas and Palestinian Islamic Jihad. Hamas said the shooting attack Tuesday was triggered by the Jenin raid.
The shooting comes as tensions intensify in the West Bank. A day earlier, Israeli troops raiding the city of Jenin to arrest accused terrorists killed five people.
The Biden administration spoke out over the weekend against Israel's plans to build 4,000 new housing units for Jewish settlers in the West Bank. Israeli Prime Minister Benjamin Netanyahu also finalized plans to  transfer West Bank building decisions to Bezalel Smotrich, the extremist who is the finance minister. Smotrich has said he wants to limit Palestinian building and expand settlement building.
Kan reported that the dead terrorist was a resident of a village, Urif, close to Huwara, the Palestinian town where terrorists killed two Israeli brothers driving through in February. Settlers retaliated by raiding the village and burning cars and buildings.
—
The post Palestinian gunmen kill 4 Israelis in West Bank gas station appeared first on Jewish Telegraphic Agency.