October 30, 2022 We lost the matriarch of our family on October 30, 2022 when Selma Corobow, my mother, passed away in Montreal at 96 years of age.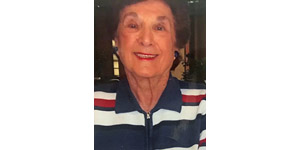 ---

She was the treasured mother-in-law of Rosalie Lazar, mother to me Irwin, to my sister Gail, and cherished Nana of Jonathan, Arielle, and Levy. She was married to my father Peter for 62 years until he passed away in 2010. She was a devoted daughter of the late Annie and Julius Strezavsky and loving sister of the late Jenny Shiroky and the late Lila Brotman.
My mother had a long career in Montreal as a Family Life Educator. After she and my father (he a professional engineer and World War 11 Veteran) ) retired from their respective careers, they were both tireless volunteers with the Golden Age Association and then The Cummings Jewish Centre for Seniors. 
In the last 11 months both Rosalie and I have lost our remaining parents and Jonathan has lost his two remaining grandparents. His Bubba Mary Lazar passed away in 2009. We are very fortunate that Selma and Ed Lazar lived long enough to have played a significant role in Jonathan's life.