The battle for Jewish hearts and minds returns to the printed page
(JTA) — The last 20 years haven't been kind to Jewish journalism, with local weeklies shrinking or folding and even big city papers suspending their print publications and going completely digital. Publishing online has allowed these papers to cut costs and given them the potential for a wide reach — albeit a potential undermined by an increasingly siloed and ideologically polarized market for news and ideas. 
Yet still there are those who aren't giving up on print — at least in small, carefully targeted batches. This spring has seen the launch of two Jewish journals — Masorti, a reboot of the former Conservative Judaism, and Fragments, a product of the left-leaning Jewish human rights group T'ruah. The two magazines join a small but scrappy fraternity of journals aiming to steer the Jewish conversation.
"We're the people of the book. I think print is having a moment," said Rabbi Lev Meirowitz Nelson, who as director of Emor, T'ruah's affiliated think tank, edits Fragments. "In the midst of all the [digital] bombardment people experience, there's something very grounding about picking up a hard copy and being able to mark it up or carry it with you."
Of course, Fragments and its more established cousins — from a legacy Modern Orthodox quarterly like Tradition to the interdisciplinary journal Modern Judaism — are all available online, and few print more than 1,000 copies at a time. The goal, the editors and publishers of some of the newer publications told me, is to establish a brand and repair what each one said was a broken communal discussion about Israel, domestic politics and religion.
"I hate what's become of discourse in Jewish life, which largely goes on on Twitter and other places like that," said Mark Charendoff. "I think Jews like longform discussions, and we've become very, very impatient. I wanted to carve out a space for that long type of writing and reading."
Charendoff is president of the Maimonides Fund, which publishes Sapir, perhaps the best known of the newish journals. It has a high-profile editor — Bret Stephens, the conservative columnist on the New York Times opinion page — and a penchant for hot-button topics that rally conservatives and enrage liberals. Recent issues of the two-year-old journal have focused on "cancel culture" and a campus environment that most of its contributors consider hostile to conservatism and Jewish life. 
"I think society and the Jewish community has become so polarized that people are afraid of articulating controversial views. We need to take a breath and say, 'You're not going to be harmed by reading something you disagree with,'" said Charendoff. 
(Another journal, The Jewish Review of Books, was initially backed by Tikvah, but recently spun off under its own foundation.)
The premiere issue of Fragments includes essays on concepts of freedom by Laynie Soloman, a director at SVARA, an LGBTQ yeshiva based in Chicago, and Joelle Novey, the director of an interfaith environmental group in the Washington, D.C. area.
Nelson sees two audiences for Fragments: "It's definitely speaking to the left and offering a deepening of language and of conversation around Jewish sources and Jewish ideas," he said. "And it's an effort to speak to the center, which often shares our values and can be spooked by the language they see coming from the right."
Fittingly for a magazine published by a group formerly known as Rabbis for Human Rights, Fragments leans into Jewish text and religious perspectives. That sets it apart from Jewish Currents, a legacy journal of the Jewish left that, after a relaunch in 2018, now aims for an audience of young, left-wing, mostly secular Jews who, when not anti-Zionist, are deeply critical of Israel. Arielle Angel, editor in chief of Jewish Currents, has said that the magazine has become "a reliable and essential space for challenging, rigorous, surprising work that has shifted the discourse even beyond the American Jewish left." 
The aspiration that the "discourse can be shifted" by gladiators writing for small magazines harkens back to the post-World War II period, a sort of golden age of Jewish thought journals. Jewish and Jewish-adjacent publications like the Menorah Journal, Partisan Review, Commentary and Dissent provided a launching pad for an ideologically fluid cohort of "New York intellectuals" that over the years included Sidney Hook, Hannah Arendt, Lionel Trilling, Saul Bellow, Irving Howe, Delmore Schwartz, Norman Podhoretz, Paul Goodman, Midge Dector, Jeanne Kirkpatrick and Alfred Kazin. 
While writers like these tackled Jewish issues, or general issues through a Jewish lens, many of them influenced the wider national conversation. Angel has said she has drawn inspiration from Commentary: Founded in 1945 by the American Jewish Committee, the magazine became hugely influential in promoting neoconservative ideas and thinkers in the 1980s and '90s. 
The "golden age" was an explosion of Jewish creativity, and political influence, that would be difficult to replicate today. Benjamin Balint, a former editor at Commentary and author of a history of the magazine, says the flowering of Jewish journals in the mid-20th century was the result of "terrific pent-up pressure among the children of immigrants who were pushed down for so long and were able to explode into the mainstream." Small magazines "provided that release — pushing critics and writers into the larger culture," said Balint, who previously edited Sources, the journal of the Shalom Hartman Institute of North America.
A long piece in Tablet recently argued that such Jewish influence is in steep decline "anywhere where American Jews once made their mark," from academia to Hollywood to government. Author Jacob Savage doesn't blame the loss of the immigrant work ethic, however, but rather "American liberalism" for marginalizing Jews. 
Whatever the cause, few of the newer journals aspire to that kind of influence on the larger culture, and acknowledge that they are trying to shape the conversation within the Jewish community. 
"We believe that Jewish leaders need great ideas to do their work well," said Rabbi Justus Baird, senior vice president for national programs at the Shalom Hartman Institute of North America and publisher of its journal Sources, launched in 2021. "The way we invest in ideas is by cultivating a large group of Jewish thinkers and scholars who are doing not just the scholarship for its own sake, but really trying to work collaboratively on how Jewish thought can apply to the challenges facing the Jewish people."
The Hartman Institute (which also counts the Maimonides Fund among its long list of major donors) is a religiously pluralistic, liberal Zionist think tank with outposts in New York and Jerusalem. Recent essays in Sources include lengthy essays by Yale religious studies professor Christine Hayes on the ethics of shaming and Hartman scholar Mijal Bitton on how relationships can heal the breach between the Diaspora and Israel.
Part of Hartman's goal in publishing the journal is to provide a space for such long-form articles, filling what Baird calls "a gap between the quick, super-responsive, news-oriented Jewish publication landscape, the hot takes about what is going on, and the academic Jewish work."
"It's a space where ideas can really percolate," said Claire Sufrin, who now edits Sources. "The written word, the printed word is there and can be shared in that way and people can engage with it over and over again."
Masorti, the relaunched journal of Conservative Judaism, is also trying to bridge a gap, in this case between Jewish scholarship and the synagogue.
"Rabbis have responsibilities to serve as congregational leaders, and also the obligation to engage in Jewish learning and scholarship," said Rabbi Joseph Prouser, the editor of Masorti.
The original Conservative Judaism was published from 1945 through 2014. The reboot is sponsored by the movement's Rabbinical Assembly and its five seminaries, including the Jewish Theological Seminary, the New York flagship. Its readership base is rabbis and cantors affiliated with the movement. 
Masorti arrives at a critical time for the Conservative movement: In an essay in the first issue, its associate editor, Rabbi Jonathan Rosenbaum, says what was once America's largest Jewish denomination is at a "precipice."
"At its summit, the plurality of [North American] Jews identified with the Conservative movement, something like 40%," Rosenbaum said in an interview. "There was something like 1.6 million Jews who were thought to be part of the Conservative movement up to maybe the late '80s, early '90s. Today, there are about 500,000.
"Part of the goal of the journal," he said, is to "look at the problems and the means of solving them."
In the past the Conservative Judaism journal had been a forum for debate within the movement. It published dueling papers, for example, on the decision to ordain women and what is and isn't permissible on Shabbat. Prouser says he'll uphold that tradition of dissent: The current issue features an essay by Michal Raucher, a Jewish studies professor at Rutgers University, who criticizes the movement's establishment for embracing a justification for abortion that doesn't go far enough in recognizing the bodily autonomy of women (an argument she also advanced in a JTA oped).
And Prouser does hope these arguments are heard beyond the movement, positioned between traditionalist Orthodoxy and liberal Reform. "One of the beauties of the Conservative movement is that we can talk to people to our right to our left right, we can talk to the entire spectrum of the Jewish community," he said.
The editors of the new journals agree that there are fewer and fewer spaces for civil conversation among Jews, blaming the filter bubble of the internet and the take-no-prisoners style of current political debate. And each said they would like to be part of the solution.

Sufrin, the editor of Hartman's journal, calls it a "bridge, because people can talk about it together, they can engage with the ideas together, and it's in that conversation that they can develop a relationship and ultimately, talk together more productively."
The question is whether it is too late: At a time when algorithms reward readers with the kind of material they are likely to agree with, will even an elite reach across ideological divides and listen to what the other side is saying? When institutions — from government to religion — regard compromise as surrender, who dares to concede that your ideological opponent might have a point?
"Difference and disagreement are productive when we engage with the best versions of those with whom we disagree," Hayes writes in Sources. That sounds like a call to action. Or is it an epitaph?
—
The post The battle for Jewish hearts and minds returns to the printed page appeared first on Jewish Telegraphic Agency.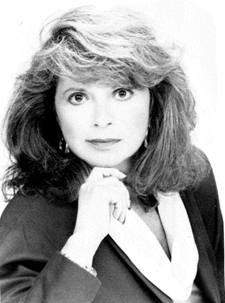 Phyllis Pollock died at home Sunday September 3, 2023 in Winnipeg, after a courageous lifetime battle with cancer.
Phyllis was a mother of four: Gary (Laura), daughter Randi, Steven (deceased in 2010) (Karen), and Robert. Phyllis also had two grandchildren: Lauren and Quinn.
Born in Fort Frances, Ontario on February 7, 1939, Phyllis was an only child to Ruby and Alex Lerman. After graduating high school, Phyllis moved to Winnipeg where she married and later divorced Danny Pollock, the father of her children. She moved to Beverly Hills in 1971, where she raised her children.
Phyllis had a busy social life and lucrative real estate career that spanned over 50 years, including new home sales with CoastCo. Phyllis was the original sales agent for three buildings in Santa Monica, oceanfront: Sea Colony I, Sea Colony II, and Sea Colony. She was known as the Sea Colony Queen. She worked side by side with her daughter Randi for about 25 years – handling over 600 transactions, including sales and leases within the three phases of Sea Colony alone.
Phyllis had more energy than most people half her age. She loved entertaining, working in the real estate field, meeting new and interesting people everyday no matter where she went, and thrived on making new lifelong friends. Phyllis eventually moved to the Sea Colony in Santa Monica where she lived for many years before moving to Palm Desert, then Winnipeg.
After battling breast cancer four times in approximately 20 years, she developed metastatic Stage 4 lung cancer. Her long-time domestic partner of 27 years, Joseph Wilder, K.C., was the love of her life. They were never far apart. They traveled the world and went on many adventures during their relationship. During her treatment, Phyllis would say how much she missed work and seeing her clients. Joey demonstrated amazing strength, love, care, and compassion for Phyllis as her condition progressed. He was her rock and was by her side 24/7, making sure she had the best possible care. Joey's son David was always there to support Phyllis and to make her smile. Joey's other children, Sheri, Kenny, Joshua and wife Davina, were also a part of her life. His kids would Facetime Phyllis and include her during any of their important functions. Phyllis loved Joey's children as if they were her own.
Thank you to all of her friends and family who were there to support her during these difficult times. Phyllis is now, finally, pain free and in a better place. She was loved dearly and will be greatly missed. Interment took place in Los Angeles.
Gwen Centre Creative Living Centre celebrates 35th anniversary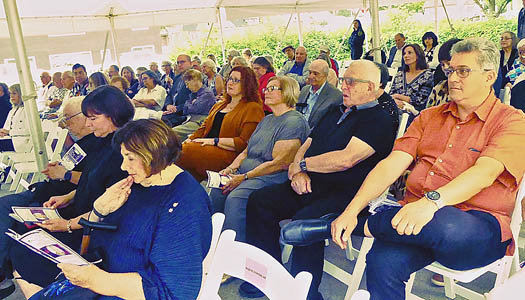 By BERNIE BELLAN Over 100 individuals gathered at the Gwen Secter Centre on Tuesday evening, July 18 – under the big top that serves as the venue for the summer series of outdoor concerts that is now in its third year at the centre.
The occasion was the celebration of the Gwen Secter Centre's 35th anniversary. It was also an opportunity to honour the memory of Sophie Shinewald, who passed away at the age of 106 in 2019, but who, as recently as 2018, was still a regular attendee at the Gwen Secter Centre.
As Gwen Secter Executive Director Becky Chisick noted in her remarks to the audience, Sophie had been volunteering at the Gwen Secter Centre for years – answering the phone among other duties. Becky remarked that Sophie's son, Ed Shinewald, had the phone number for the Gwen Secter Centre stored in his phone as "Mum's work."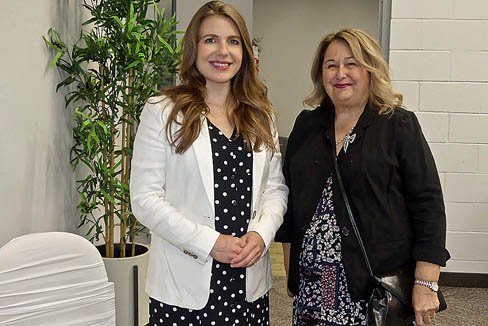 Remarks were also delivered by Raquel Dancho, Member of Parliament for Kildonan-St. Paul, who was the only representative of any level of government in attendance. (How times have changed: I remember well the steadfast support the former Member of the Legislature for St. John's, Gord Mackintosh, showed the Gwen Secter Centre when it was perilously close to being closed down. And, of course, for years, the area in which the Gwen Secter Centre is situated was represented by the late Saul Cherniack.)
Sophie Shinewald's granddaughter, Alix (who flew in from Chicago), represented the Shinewald family at the event. (Her brother, Benjamin, who lives in Ottawa, wasn't able to attend, but he sent a pre-recorded audio message that was played for the audience.)
Musical entertainment for the evening was provided by a group of talented singers, led by Julia Kroft. Following the concert, attendees headed inside to partake of a sumptuous assortment of pastries, all prepared by the Gwen Secter culinary staff. (And, despite my asking whether I could take a doggy bag home, I was turned down.)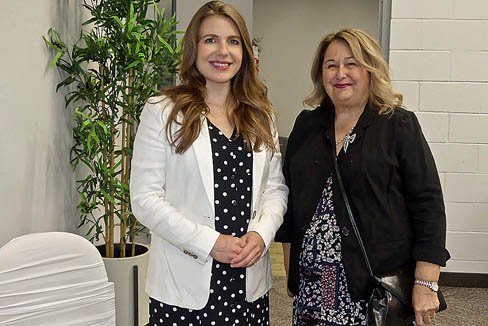 Palestinian gunmen kill 4 Israelis in West Bank gas station
This is a developing story.
(JTA) — Palestinian gunmen killed four people and wounded four in a terror attack at a gas station near the West Bank settlement of Eli, the Israeli army reported.
An Israeli civilian returning fire at the scene of the attack on Tuesday killed one of the attackers, who emerged from a vehicle, and two others fled.
Kan, Israel's public broadcaster, said one of those wounded was in serious condition. The gunmen, while in the vehicle, shot at a guard post at the entry to the settlement, and then continued to the gas station which is also the site of a snack bar. A nearby yeshiva went into lockdown.
Israeli Defense Minister Yoav Gallant announced plans to convene a briefing with top security officials within hours of the attack. Kan reported that there were celebrations of the killing in major West Bank cities and in the Gaza Strip, initiated by terrorist groups Hamas and Palestinian Islamic Jihad. Hamas said the shooting attack Tuesday was triggered by the Jenin raid.
The shooting comes as tensions intensify in the West Bank. A day earlier, Israeli troops raiding the city of Jenin to arrest accused terrorists killed five people.
The Biden administration spoke out over the weekend against Israel's plans to build 4,000 new housing units for Jewish settlers in the West Bank. Israeli Prime Minister Benjamin Netanyahu also finalized plans to  transfer West Bank building decisions to Bezalel Smotrich, the extremist who is the finance minister. Smotrich has said he wants to limit Palestinian building and expand settlement building.
Kan reported that the dead terrorist was a resident of a village, Urif, close to Huwara, the Palestinian town where terrorists killed two Israeli brothers driving through in February. Settlers retaliated by raiding the village and burning cars and buildings.
—
The post Palestinian gunmen kill 4 Israelis in West Bank gas station appeared first on Jewish Telegraphic Agency.