The Conservative movement youth group was already struggling. Then came COVID.
This article was produced as part of JTA's Teen Journalism Fellowship, a program that works with Jewish teens around the world to report on issues that affect their lives.
(JTA) — Weeks before United Synagogue Youth's International Convention in December 2021, Alexa Johnson picked out some of the exciting seminars she wanted to attend. It would be her first big USY event and the current high school sophomore was excited to visit Washington, D.C. from her home in Los Angeles.
But then the Omicron variant hit and the event was canceled. She was disappointed but figured she would go the following year. Then she learned that there would be no 2022 convention and she started questioning her affiliation with the national organization. Why should she stay affiliated with the Conservative movement youth group if they failed to provide her with engaging programming? 
"I just feel there really hasn't been enough programming as a whole," said Johnson, who was looking forward to meeting other Conservative Jewish teens like her. Overall the programming dissatisfaction from her and other members of the 35-person chapter at Pasadena Jewish Temple and Center started after the pandemic. "We just feel like it's really hard to get people involved because there isn't much programming at a regional or international level that people want to go to or look fun to them," said Johnson.
United Synagogue Youth serves almost 8,250 Jewish youth from 3rd to 12th grade as the primary Conservative youth group since its founding in 1951. Through local, regional and international events, generations of Jews have participated in USY, but for some, this may be the end of the road for their involvement.
For decades now, Conservative Judaism has seen their numbers fall as members flock to other denominations like Reform and the United States becomes increasingly less religious. In the 1950s and 1960s, Conservative Judaism — which, despite its name, is a centrist movement between more liberal Reform and the traditionalist Orthodoxy — was the largest Jewish denomination. Now, only 15% of American Jews identify as Conservative, according to the Pew Research Center.
With Conservative numbers on the decline, United Synagogue Youth is struggling to stay on its feet. Julie Marder, the interim senior director of teen engagement, was open about the organization's membership struggles. "Coming out of the pandemic, numbers just weren't where they used to be," Marder said. "They were lower than we can continue to sustain." 
While the membership decline predated the pandemic, COVID undid a lot of their work to gain back members. 
Stacey Glazer, associate director of synagogue support, who also oversees the southwest region of USY, said that the southwest region was successfully building up their membership pre-pandemic, but once COVID hit, the region's progress was erased. 
A staff shortage also led to reduced international and regional programming across the organization. As of publication, there were seven events listed for the 15 regions. 
The challenges the staff face turn into frustration and disappointment for the teenage members.
Dan Lehavi, a high school senior who serves on the USY board of his Los Angeles synagogue and on the Far West Regional General Board, witnesses the changes firsthand. He said in 2018 and 2019, his region filled a banquet hall for the annual regional convention, but coming back after the pandemic, the group could fit into a much smaller room. "They did their best to make it a memorable weekend as possible, but it just doesn't have the same energy when there are so few people," said Lehavi.
As someone who has grown up with USY, Lehavi is disappointed by the decline in attendance and engagement. "It's just really sad," Lehavi said. "Generally, I think that USY has been an invaluable resource for the Conservative movement as a whole. I hope that the future of the Conservative movement is a lot brighter than the present." 
Despite serving a large Jewish community spanning across southern California, Hawaii, Arizona, Nevada, and more, the region did not organize many region-wide events. During the last school year, Far West offered five events, including a regional dance that was canceled due to low registration. This year, Far West is currently only offering one regional event, in partnership with the Southwestern region. The region hopes to announce another region-wide event later in the year.
"It has just made our chapter not feel like a USY chapter," said Samuel Svonkin, a member of Far West USY from Los Angeles. "I don't feel like we have any connection to USY itself." Svonkin said that regional programming lacks a pull for his fellow members and the association with USY doesn't attract teens. 
Svonkin has been a member of USY since he was 13. He grew up with teens at his synagogue going to USY events and making friends and great memories. Now, he feels like his generation is being ignored. "I feel like they're not focusing on what their youth want. And they're instead trying to make something that works well for them. I think they're struggling as a result of their own incompetence of looking at what teens actually want," he said.
USY staff acknowledge that there are fewer events overall but say they are working to improve the teen experience. Glazer, associate director of synagogue support, who also oversees the southwest region of USY, suggests that Svonkin reach out to a local staff person. "If we don't, we don't hear from the teens —which, at the end of the day, this is who we're here to serve — then it's hard to know what they want," she said. 
In previous years, USY's Marder said, there was no need to heavily advertise regional and international events; teens would just attend with their synagogues naturally. But now, "We can't just build a regional convention and assume that people are going to come because we created it. We need to take a step back and start doing more local programming and support the chapters and help them build. Then we can build the bigger programs," said Marder. Attracting more attendees is not an easy fix, but Marder and the rest of USY are working to build the best programs that they can create. 
As they continue to regroup, USY is working towards supporting congregations in teen engagement and rebuilding the pipeline to USY. "That means redesigning and rethinking how we are running our regional and international programs to build up to the large programs that we once had," Marder said. "We want to do it with excellence. To not just throw a program out there to throw out a program. That we are creati
This year, in place of an international convention, USY offered three different summits: a Heschel Summit at the Jewish Theological Seminary in New York City, a Civil Rights Journey based in Alabama and Georgia, and a Teen Climate Activism Retreat set in Maryland. Stacey Glazer wants USY's events like these summits to focus on what young Jewish teens are interested in, whether that is religion or social justice. 
In addition to these three retreats, USY planned on hosting a Teen Leadership Summit in Denver, but the event was canceled. Glazer did not have an answer as to why the summit was canceled. 
Focusing on what teens are interested in proved to be successful for USY. Last December, the official Instagram account reported that the Civil Rights Journey only had seven spots left, four days before the registration deadline. Moreover, over 1,200 teens participated in regional or international programming, according to an Instagram post summarizing some of USY's successes in the second half of 2022.
On top of rethinking the way USY creates programs, last year, USY also cut membership fees for its individual members, a cost that was absorbed by the synagogue. Synagogues now pay just one fee to have all of its members be associated with the national organization. "I think we had some pretty good success with [cutting fees]  this year," Marder said. USY would not provide specifics to JTA but did say the organization is not losing money because of the pay structure change. 
At the end of United Synagogue of Conservative Judaism's fiscal year in 2022, the parent organization of USY reported that they collected a little over $6.3 million in membership dues, around a $45,000 increase from 2021. But that is still a drop from 2019, when United Synagogue  collected over $7 million dollars in membership fees. Despite a recent increase in collected membership fees, the organization did see a stark decline in membership fees between 2019 and 2022, according to published figures. 
Nevertheless, Glazer provided statistics that show membership growing. In March of 2018, USY recorded 5,138 members from 3rd grade to 12th grade. In June of 2020, USY recorded 4,408 members across those same demographics. From 2020 to their members now, they recorded an increase of about 3800 members as they now record having over 8,200 members. 
Membership numbers are on the rise, but USY is having struggles with staff shortages, a large cause of reduced programming. Marder said that of the 12 regional staff members, only eight work full-time. With 15 active regions, supporting each region equally is a challenge. For regional overnight events this year, many nearby regions combined their events so more attention from staff and youth leaders could be put into the events.
Rather than hiring more staff, Stacey Glazer said that the organization wanted to work with the staff they have and "maybe come up with a new structure where we're using each of our employees to the best benefit to USY as a whole," said Glazer. She also said that the lack of staff is not because of financial pressures, but because they are working on restructuring the ways they function as a staff. And Glazer acknowledged that they will eventually need to hire more staff.
Additionally, Marder said that there are fewer full-time chapter directors at synagogues. During the pandemic, when Jewish organizations like synagogues were cutting staff, youth departments were heavily affected. Marder said that synagogues with chapter directors task them with other youth-related jobs as well.
The time USY is taking to rebuild may be causing the Far West region to struggle, but not all regions are dragging behind. Sigal Judd, a teen member of the Central Region — which encompasses parts of Indiana, Ohio, Kentucky, Michigan, Western Pennsylvania and West Virginia — was excited about the current status and future of her region. "We have really grown in the past few years and have had many more events to keep the people coming," said Judd. 
For Jewish teenagers who do not attend Jewish high schools, finding connections with other Jewish youth can be hard. Judd is grateful for the relationships USY gives her. "I am lucky to have these friendships from [Central Region USY] and a pen pal from the Far West region. I love being a part of the Jewish community through USY and growing my Jewish identity surrounded by kids like me," she said.
—
The post The Conservative movement youth group was already struggling. Then came COVID. appeared first on Jewish Telegraphic Agency.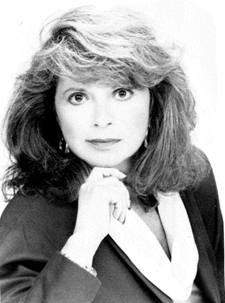 Phyllis Pollock died at home Sunday September 3, 2023 in Winnipeg, after a courageous lifetime battle with cancer.
Phyllis was a mother of four: Gary (Laura), daughter Randi, Steven (deceased in 2010) (Karen), and Robert. Phyllis also had two grandchildren: Lauren and Quinn.
Born in Fort Frances, Ontario on February 7, 1939, Phyllis was an only child to Ruby and Alex Lerman. After graduating high school, Phyllis moved to Winnipeg where she married and later divorced Danny Pollock, the father of her children. She moved to Beverly Hills in 1971, where she raised her children.
Phyllis had a busy social life and lucrative real estate career that spanned over 50 years, including new home sales with CoastCo. Phyllis was the original sales agent for three buildings in Santa Monica, oceanfront: Sea Colony I, Sea Colony II, and Sea Colony. She was known as the Sea Colony Queen. She worked side by side with her daughter Randi for about 25 years – handling over 600 transactions, including sales and leases within the three phases of Sea Colony alone.
Phyllis had more energy than most people half her age. She loved entertaining, working in the real estate field, meeting new and interesting people everyday no matter where she went, and thrived on making new lifelong friends. Phyllis eventually moved to the Sea Colony in Santa Monica where she lived for many years before moving to Palm Desert, then Winnipeg.
After battling breast cancer four times in approximately 20 years, she developed metastatic Stage 4 lung cancer. Her long-time domestic partner of 27 years, Joseph Wilder, K.C., was the love of her life. They were never far apart. They traveled the world and went on many adventures during their relationship. During her treatment, Phyllis would say how much she missed work and seeing her clients. Joey demonstrated amazing strength, love, care, and compassion for Phyllis as her condition progressed. He was her rock and was by her side 24/7, making sure she had the best possible care. Joey's son David was always there to support Phyllis and to make her smile. Joey's other children, Sheri, Kenny, Joshua and wife Davina, were also a part of her life. His kids would Facetime Phyllis and include her during any of their important functions. Phyllis loved Joey's children as if they were her own.
Thank you to all of her friends and family who were there to support her during these difficult times. Phyllis is now, finally, pain free and in a better place. She was loved dearly and will be greatly missed. Interment took place in Los Angeles.
Gwen Centre Creative Living Centre celebrates 35th anniversary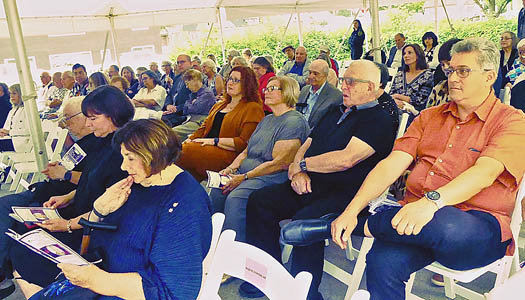 By BERNIE BELLAN Over 100 individuals gathered at the Gwen Secter Centre on Tuesday evening, July 18 – under the big top that serves as the venue for the summer series of outdoor concerts that is now in its third year at the centre.
The occasion was the celebration of the Gwen Secter Centre's 35th anniversary. It was also an opportunity to honour the memory of Sophie Shinewald, who passed away at the age of 106 in 2019, but who, as recently as 2018, was still a regular attendee at the Gwen Secter Centre.
As Gwen Secter Executive Director Becky Chisick noted in her remarks to the audience, Sophie had been volunteering at the Gwen Secter Centre for years – answering the phone among other duties. Becky remarked that Sophie's son, Ed Shinewald, had the phone number for the Gwen Secter Centre stored in his phone as "Mum's work."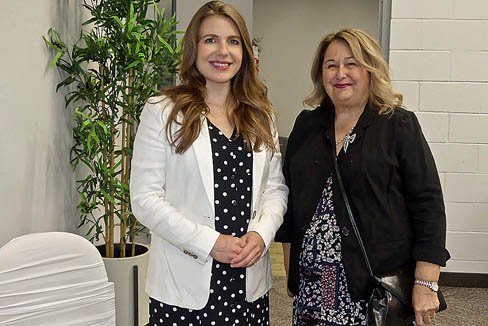 Remarks were also delivered by Raquel Dancho, Member of Parliament for Kildonan-St. Paul, who was the only representative of any level of government in attendance. (How times have changed: I remember well the steadfast support the former Member of the Legislature for St. John's, Gord Mackintosh, showed the Gwen Secter Centre when it was perilously close to being closed down. And, of course, for years, the area in which the Gwen Secter Centre is situated was represented by the late Saul Cherniack.)
Sophie Shinewald's granddaughter, Alix (who flew in from Chicago), represented the Shinewald family at the event. (Her brother, Benjamin, who lives in Ottawa, wasn't able to attend, but he sent a pre-recorded audio message that was played for the audience.)
Musical entertainment for the evening was provided by a group of talented singers, led by Julia Kroft. Following the concert, attendees headed inside to partake of a sumptuous assortment of pastries, all prepared by the Gwen Secter culinary staff. (And, despite my asking whether I could take a doggy bag home, I was turned down.)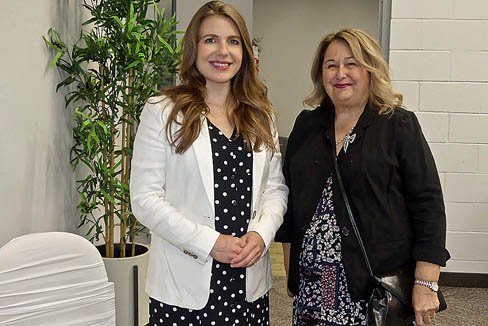 Palestinian gunmen kill 4 Israelis in West Bank gas station
This is a developing story.
(JTA) — Palestinian gunmen killed four people and wounded four in a terror attack at a gas station near the West Bank settlement of Eli, the Israeli army reported.
An Israeli civilian returning fire at the scene of the attack on Tuesday killed one of the attackers, who emerged from a vehicle, and two others fled.
Kan, Israel's public broadcaster, said one of those wounded was in serious condition. The gunmen, while in the vehicle, shot at a guard post at the entry to the settlement, and then continued to the gas station which is also the site of a snack bar. A nearby yeshiva went into lockdown.
Israeli Defense Minister Yoav Gallant announced plans to convene a briefing with top security officials within hours of the attack. Kan reported that there were celebrations of the killing in major West Bank cities and in the Gaza Strip, initiated by terrorist groups Hamas and Palestinian Islamic Jihad. Hamas said the shooting attack Tuesday was triggered by the Jenin raid.
The shooting comes as tensions intensify in the West Bank. A day earlier, Israeli troops raiding the city of Jenin to arrest accused terrorists killed five people.
The Biden administration spoke out over the weekend against Israel's plans to build 4,000 new housing units for Jewish settlers in the West Bank. Israeli Prime Minister Benjamin Netanyahu also finalized plans to  transfer West Bank building decisions to Bezalel Smotrich, the extremist who is the finance minister. Smotrich has said he wants to limit Palestinian building and expand settlement building.
Kan reported that the dead terrorist was a resident of a village, Urif, close to Huwara, the Palestinian town where terrorists killed two Israeli brothers driving through in February. Settlers retaliated by raiding the village and burning cars and buildings.
—
The post Palestinian gunmen kill 4 Israelis in West Bank gas station appeared first on Jewish Telegraphic Agency.