Translating 'tzedakah' for Marylanders: Sen. Ben Cardin's long Jewish goodbye
WASHINGTON (JTA) — Ben Cardin's love letter to Maryland, the state he has represented in the U.S. Senate since 2007, was also a love letter to his family's Jewish values.
In a video that Cardin released this week to announce his retirement from the Senate, he reminisced about the 56 years he has spent representing Maryland voters in various capacities. In conversation with his wife Myrna, he also reflected on the ideals that animated his work and his family life.
"We use the expression 'tikkun olam,' repairing the world. We use it a lot. It's in our DNA," Myrna Cardin says in the video. "I love the way you've taken that from our family, to Annapolis, to Washington. It undergirds so much of what you do."
"It also comes back to the tzedakah part of our tradition as Jews to help those that are less fortunate," Ben Cardin later tells his wife, as a definition of the Hebrew word floats across the screen. Elsewhere, the video shows Cardin in a kippah at his wedding, then surrounded by children including one wearing a kippah himself.
Cardin, 79, this week announced his plans to retire in 2024 from the Senate seat he first won in 2006, with commanding majorities then and since. He wants people to know: He is as much a Jew as he is a Marylander. In fact, he sees the two identities as inextricable.
"It's been an incredible opportunity," Cardin told the Jewish Telegraphic Agency. "The people in Maryland are so understanding. It's been a wonderful state where I've been able to talk about and acknowledge my Jewish faith easily."
Cardin's legacy is shaped as much by the still waters of the Chesapeake and the protections he has secured for it, as it is by his Jewish upbringing and the far-reaching human rights law it inspired him to author.
The mention in the five-minute video of tzedakah and its explanation is striking for how casual it is. Cardin told JTA that he wanted to convey, 56 years after he was first elected in 1968 to the Maryland House of Delegates, how much his Jewish identity shaped him.
"My Jewish values are what got me throughout my entire life," he said. "I grew up in a very strong Jewish family and a strong Jewish community."
"Jewish values" can be amorphous when a Jewish politician cites them as fueling his or her actions, but Cardin is able to cite specifics.
He says the involvement of his wife and his cousin, the late Shoshana Cardin, in the Soviet Jewry movement shaped his work in government. "I would come home at night from Congress, and Myrna would ask me, what have I done to help Soviet Jews that day?" he recalled.
Cardin's close personal ties to the movement propelled him to his years-long involvement with the Helsinki Commission, the network of parliamentary bodies that monitor compliance with the landmark 1975 human rights Helsinki Accords.
It also propelled, decades later, his most significant legislation, the 2012 Magnitsky Act, which sanctions individuals for human rights abuses. Sergei Magnitsky was an accountant who died in a Russian prison in 2009 after exposing massive corruption implicating Russian President Vladimir Putin and his circle.
"You can talk about human rights tragedies, but unless you put a face on it, it's hard to get corrective action," he said about why he made sure Magnitsky's name was attached to the legislation. "So I was determined to put a face on it."
Naming the act for an individual gave it a face, something he learned from the wristbands he once wore bearing the names of Jewish Prisoners of Zion.
"We put a face on every one of these individuals," Cardin said of advocates for Soviet Jewry. "And that was the success of the Soviet Jewry movement. Putting a face on the refuseniks, on those that were in prison really helped us a good deal."
The Magnitsky case underscored how Cardin's human rights advocacy did not stop with the collapse of the Soviet Union, and the freedom of its Jews. In the three years Cardin was the top Democrat on the Senate Foreign Relations Committee, from 2015 to 2018, he invited reporters to the Capitol for periodic briefings.
The reporters would gather in the stately Foreign Relations Committee room, framed by daunting portraits of its past chairmen,and take seats around its conference table. At each place, they would find a one-page printout of a single person being persecuted by a repressive regime, usually activists unknown outside of their region.
Cardin made clear the blurry photo atop the printout exercised him more than the portraits on the walls. He would open the meeting with a minute or so of explanation about the persecuted person, and then take questions on whatever was on a reporter's mind, an unusual gambit in the hyper-controlled Senate. He did not expect reporters to necessarily write about the human rights activist, but he wanted them on the media's radar.
Cardin's style, soft-spoken and self-effacing, stood out in a body crowded with self-promoters; he is able to attract bipartisan support and navigate far-reaching legislation through the Senate, cleaning up waterways, enhancing retirement plans and providing dental care to impoverished children.
There were occasions when his best efforts at finding accommodation stymied him, never more so when he was one of just four Democrats in the Senate in 2015 to oppose President Barack Obama's signature foreign policy achievement, the Iran nuclear deal that traded sanctions relief for Iran's rollback of its nuclear enrichment capabilities.
He was getting it from both sides: Obama and the organized Jewish community, which mostly opposed the deal. Obama kept him in a room for more than 90 minutes, seeking to attach to the deal the credibility of the lawmaker most identified with Jewish activism. Meanwhile, the American Israel Public Affairs Committee organized a rally at Cardin's synagogue, Beth Tfiloh in Pikesville, Maryland.
"Call Senator [Barbara] Mikulski and call Senator Cardin and urge them to oppose the deal," Howard Kohr, AIPAC's CEO at the time, said in a rare public appearance outside of AIPAC's policy conferences.
"It was a tough vote," Cardin recalled. "I was lobbied very, very heavily by President Obama personally. It lasted probably about an hour and a half, two hours. President Obama was pretty insistent on getting my vote, so it was a tough vote."
Wait, a reporter asks, 90 minutes alone with the U.S. president, for a single vote?
Cardin grins. "It felt like five hours."
Cardin does not regret the vote; he said the Obama administration gave up too much too early by going into the talks conceding that Iran would walk away with some level of enrichment. But he made it clear that he thought President Donald Trump's withdrawal from the deal in 2018 was a disaster, giving Iran a pretext to break its commitments, leading it to near-weaponization levels of enrichment today.
"One of the most tragic foreign policy mistakes of our time was Donald Trump withdrawing from the nuclear agreement while Iran was in compliance, and today we're in much worse shape than we would have been if we were still in the agreement," he said.
AIPAC spokesman Marshall Wittman said the pro-Israel lobby would miss Cardin's reliable support.
"For his entire tenure in Congress, Senator Cardin has been an extraordinary leader in advancing the US-Israel relationship," Wittman told JTA. "Time after time, he could be counted on to take the initiative to support our alliance with the Jewish state. We will miss his stalwart leadership but his legacy of standing with our ally will long endure."
Indeed, with Cardin's departure, the organized Jewish community is losing go-to senator for Jewish and pro-Israel issues — most recently, Cardin joined Texas Republican Sen. Ted Cruz in seeking to honor Israeli Prime Minister Golda Meir with a gold coin.
Not to worry, Cardin said: Every generation of Jews frets as it ages that it will be the last to fully represent on the American stage.
"I love the Jewish community. You can find every flavor imaginable in the Jewish community, and that's healthy," he said. "It was that way when I was growing up, it's that way today. There are a lot of Jews that have very little identification to the traditions of Judaism, and there are a lot of young people who are much more engaged than I was."
He added, "We've lasted these thousands of years — we're going to continue to have a healthy, young population that understands the values of our religion and are committed to making sure we carry it out."
Cardin is concerned by the turmoil in Israel in the face of the government's radical proposals to overhaul the courts, but even there he sees hope.
"What Prime Minister [Benjamin] Netanyahu is doing with the judiciary is wrong, I'm going to speak out against it. I think it weakens their democratic institutions and democracy is their bedrock," he said. "The Israelis are speaking pretty strongly against what the Netanyahu government is trying to do."
Cardin described the typical headache of a Jew explaining his faith to others: It doesn't quite match other faiths' concepts of identification.
"I keep kosher in my house and we observe the major holidays in the Orthodox traditions, but I'm not an observant Orthodox Jew," he said. "It's hard to explain that."
He recalled the late Sen. Harry Reid calling him, apologetically, to come in on the second day of Rosh Hashanah for a critical vote to fund the government and avoid a shutdown. Reid's assumption was that Cardin would abjure working for the holiday.
"I said, 'Look, it's perfectly OK if you do it in the afternoon, I go to synagogue in the morning — I'll be there for the vote," Cardin said.
That's typical of Cardin's most tender memories — his non-Jewish colleagues expressing sensitivity to his Jewishness. In 1971, members of the House of Delegates noticing him gathering a minyan to say Kaddish after his mother died, and offering to join in; in 2006 after his election to the Senate, Mikulski telling him that she would handle meet and greets on Friday nights, knowing that he and Myrna routinely have as many as 30 people over for the Shabbat meal.
Asked if he would encourage younger Jews to get into politics, he doesn't hesitate.
"This is a great country," he said. About being Jewish, he added, "It has certainly not interfered with my political career."
—
The post Translating 'tzedakah' for Marylanders: Sen. Ben Cardin's long Jewish goodbye appeared first on Jewish Telegraphic Agency.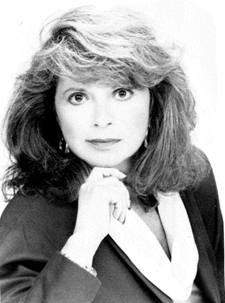 Phyllis Pollock died at home Sunday September 3, 2023 in Winnipeg, after a courageous lifetime battle with cancer.
Phyllis was a mother of four: Gary (Laura), daughter Randi, Steven (deceased in 2010) (Karen), and Robert. Phyllis also had two grandchildren: Lauren and Quinn.
Born in Fort Frances, Ontario on February 7, 1939, Phyllis was an only child to Ruby and Alex Lerman. After graduating high school, Phyllis moved to Winnipeg where she married and later divorced Danny Pollock, the father of her children. She moved to Beverly Hills in 1971, where she raised her children.
Phyllis had a busy social life and lucrative real estate career that spanned over 50 years, including new home sales with CoastCo. Phyllis was the original sales agent for three buildings in Santa Monica, oceanfront: Sea Colony I, Sea Colony II, and Sea Colony. She was known as the Sea Colony Queen. She worked side by side with her daughter Randi for about 25 years – handling over 600 transactions, including sales and leases within the three phases of Sea Colony alone.
Phyllis had more energy than most people half her age. She loved entertaining, working in the real estate field, meeting new and interesting people everyday no matter where she went, and thrived on making new lifelong friends. Phyllis eventually moved to the Sea Colony in Santa Monica where she lived for many years before moving to Palm Desert, then Winnipeg.
After battling breast cancer four times in approximately 20 years, she developed metastatic Stage 4 lung cancer. Her long-time domestic partner of 27 years, Joseph Wilder, K.C., was the love of her life. They were never far apart. They traveled the world and went on many adventures during their relationship. During her treatment, Phyllis would say how much she missed work and seeing her clients. Joey demonstrated amazing strength, love, care, and compassion for Phyllis as her condition progressed. He was her rock and was by her side 24/7, making sure she had the best possible care. Joey's son David was always there to support Phyllis and to make her smile. Joey's other children, Sheri, Kenny, Joshua and wife Davina, were also a part of her life. His kids would Facetime Phyllis and include her during any of their important functions. Phyllis loved Joey's children as if they were her own.
Thank you to all of her friends and family who were there to support her during these difficult times. Phyllis is now, finally, pain free and in a better place. She was loved dearly and will be greatly missed. Interment took place in Los Angeles.
Gwen Centre Creative Living Centre celebrates 35th anniversary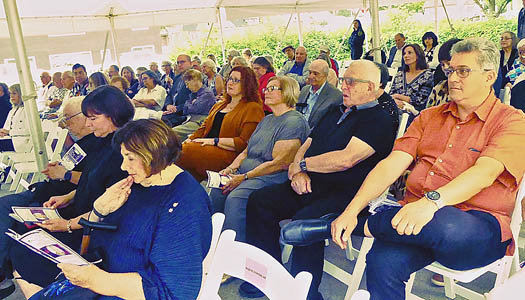 By BERNIE BELLAN Over 100 individuals gathered at the Gwen Secter Centre on Tuesday evening, July 18 – under the big top that serves as the venue for the summer series of outdoor concerts that is now in its third year at the centre.
The occasion was the celebration of the Gwen Secter Centre's 35th anniversary. It was also an opportunity to honour the memory of Sophie Shinewald, who passed away at the age of 106 in 2019, but who, as recently as 2018, was still a regular attendee at the Gwen Secter Centre.
As Gwen Secter Executive Director Becky Chisick noted in her remarks to the audience, Sophie had been volunteering at the Gwen Secter Centre for years – answering the phone among other duties. Becky remarked that Sophie's son, Ed Shinewald, had the phone number for the Gwen Secter Centre stored in his phone as "Mum's work."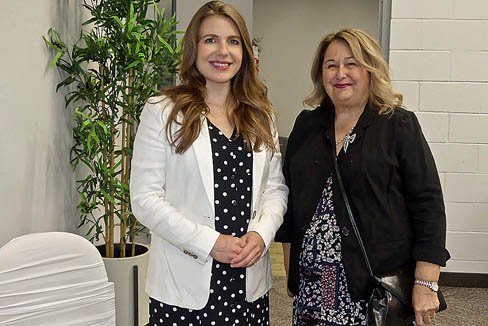 Remarks were also delivered by Raquel Dancho, Member of Parliament for Kildonan-St. Paul, who was the only representative of any level of government in attendance. (How times have changed: I remember well the steadfast support the former Member of the Legislature for St. John's, Gord Mackintosh, showed the Gwen Secter Centre when it was perilously close to being closed down. And, of course, for years, the area in which the Gwen Secter Centre is situated was represented by the late Saul Cherniack.)
Sophie Shinewald's granddaughter, Alix (who flew in from Chicago), represented the Shinewald family at the event. (Her brother, Benjamin, who lives in Ottawa, wasn't able to attend, but he sent a pre-recorded audio message that was played for the audience.)
Musical entertainment for the evening was provided by a group of talented singers, led by Julia Kroft. Following the concert, attendees headed inside to partake of a sumptuous assortment of pastries, all prepared by the Gwen Secter culinary staff. (And, despite my asking whether I could take a doggy bag home, I was turned down.)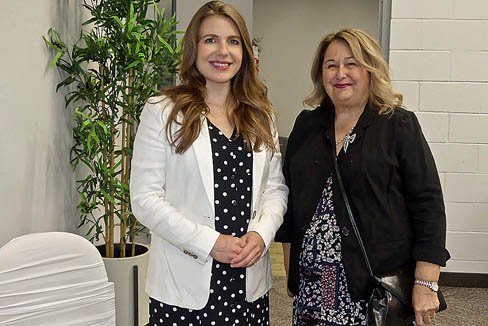 Palestinian gunmen kill 4 Israelis in West Bank gas station
This is a developing story.
(JTA) — Palestinian gunmen killed four people and wounded four in a terror attack at a gas station near the West Bank settlement of Eli, the Israeli army reported.
An Israeli civilian returning fire at the scene of the attack on Tuesday killed one of the attackers, who emerged from a vehicle, and two others fled.
Kan, Israel's public broadcaster, said one of those wounded was in serious condition. The gunmen, while in the vehicle, shot at a guard post at the entry to the settlement, and then continued to the gas station which is also the site of a snack bar. A nearby yeshiva went into lockdown.
Israeli Defense Minister Yoav Gallant announced plans to convene a briefing with top security officials within hours of the attack. Kan reported that there were celebrations of the killing in major West Bank cities and in the Gaza Strip, initiated by terrorist groups Hamas and Palestinian Islamic Jihad. Hamas said the shooting attack Tuesday was triggered by the Jenin raid.
The shooting comes as tensions intensify in the West Bank. A day earlier, Israeli troops raiding the city of Jenin to arrest accused terrorists killed five people.
The Biden administration spoke out over the weekend against Israel's plans to build 4,000 new housing units for Jewish settlers in the West Bank. Israeli Prime Minister Benjamin Netanyahu also finalized plans to  transfer West Bank building decisions to Bezalel Smotrich, the extremist who is the finance minister. Smotrich has said he wants to limit Palestinian building and expand settlement building.
Kan reported that the dead terrorist was a resident of a village, Urif, close to Huwara, the Palestinian town where terrorists killed two Israeli brothers driving through in February. Settlers retaliated by raiding the village and burning cars and buildings.
—
The post Palestinian gunmen kill 4 Israelis in West Bank gas station appeared first on Jewish Telegraphic Agency.