With 1.6M followers, TikTok influencer Miriam Ezagui teaches the masses about her Orthodox lifestyle
(JTA) — "Hi my name is Miriam," the video begins. "I'm an Orthodox Jew, and I share what my life is like." 
So opens a typical TikTok post from Miriam Ezagui, a 37-year-old Brooklyn-based labor and delivery nurse who has amassed 1.6 million followers on the social media platform. Users who make their way to "JewTok," as the Jewish corner of TikTok is known, have likely encountered Ezagui's videos, which cover everything from purchasing a sheitel to making matzah ball soup to a makeup tutorial with her daughter.
Since starting her account in May 2020, Ezagui has cemented herself at the top of the searches for "Jewish" and "Orthodox Jewish" thanks to her warm demeanor, easy humor and information-based approach. But she didn't set out to become a Jewish influencer. 
"I didn't originally start as a Jewish account," Ezagui told the Jewish Telegraphic Agency. Instead, it was a way to be productive while on maternity leave for her fourth child: "It gave me an excuse to get dressed and not just walk around in pajamas all day."  
"I never would have imagined that it would be where it is today," Ezagui said of her TikTok account. "It's been a little life-changing."
These days, Ezagui gets invited to numerous events and Jewish product launches: she's received free clothes thanks to collaborations with local retailers; tickets to see the off-Broadway play "The Wanderers" in exchange for an ad on her account, as well as discounts at the well-known Shani Wigs store in Brooklyn. Ezagui, who collaborates with both Jewish and non-Jewish influencers, said she's often recognized as she goes about her day-to-day life. 
Ezagui, who is Hasidic and whose four daughters range in age from 18 months to 9 years old, began her account as a way to share tips on the best ways to safely and comfortably hold a baby using woven wraps. But that all changed in late January 2022, when comedian and "The View" host Whoopi Goldberg said on air that "the Holocaust isn't about race." 
As the granddaughter of Holocaust survivors, Ezagui said she questioned how someone with as much of a platform as Goldberg had such a lack of understanding about the Holocaust — so she decided to speak up and create a video that debunked Goldberg's claims.  
"I really had a long, hard think about whether I wanted to come out as being openly Jewish online because I was really scared of hatred and antisemitism because it's so easy for people to do that online because they can just be a blank profile or screen," Ezagui explained of why she was initially skeptical to post. "I never hide the fact that I'm Jewish, but I was not a social media personality … I share things personally but not with the world." 
Ezagui made her first explainer video in February 2022, breaking down why the Holocaust was an attempt to eliminate the Jewish people because the Nazis viewed them as a lesser race.  "I feel like I have an obligation as a Jewish woman," she said in the three-minute clip. "As the granddaughter of not one, but two, Holocaust survivors, I feel like my voice needs to be heard."
"The Nazi movement wanted to eradicate Jewish people from the world. They saw us as subhuman, they saw us as inferior, something that the world needed cleansing of," she added. "If you read the Nuremberg Laws, they refer to us as the Jewish race. They racialized us, they slapped stars on our arms, put us in concentration camps, sent us to gas chambers because we were Jewish — our whiteness didn't save us."   
Though the video got positive feedback from her followers, the video only received around 350 likes. But her account started attracting a large following in April 2022, when she featured her grandmother, Lilly Malnik, who discussed her memories of the Holocaust. The video, titled "Meet my Bubby," racked up over 30,000 likes.  
In the next four months, several of Ezagui's videos began to rack up anywhere from tens of thousands to millions of likes and views. In one particular TikTok from June 2022, Malnik discusses how she lost her menstrual cycle while in Auschwitz. The clip garnered 3.1 million likes and 23.4 million views. 
Along the way, Ezagui began producing more Judaism-focused content. Within two months of her first Jewish video, half of Ezagui's content had become talking about the Jewishness of her day-to-day life. These days, she posts a mix of storytimes (a popular type of TikTok video in which creators recount a story about their lives), explainer videos on Orthodox customs and scenes from her days as a mom and nurse.
"It's a lot about multitasking or it's a lot about me just filming my everyday life," she added, explaining how she manages to fit between one and four hours of filming each day, except on Shabbat. "You know, 'OK, I'm making some chicken matzah ball soup. Let's take out the camera.'" 
It's a mixture that's clearly working for her. Fans say that it's Ezagui's authenticity — her children are often yelling in the background, for example — is what sets her apart. "I like Miriam so much because I feel like she embodies the idea of an influencer staying true to themselves," said Alyssa Cruz,19, of Toledo, Ohio. "She does not apologize for living her life a certain way, but she also handles hate and criticism with grace and respect. You can tell her what her true intentions are, and she never tries to be anyone but herself."
"​​I like that she's not as much of an 'influencer' as some other similar types of TikTok channels," said Rachel Delman Turniansky, 57, from Baltimore. "I get that there are people who have been able to monetize their accounts, and good for them, but it's kind of a nice break from that to see someone who isn't doing it for that reason."
"Miriam is a friend of mine, so it's been fun to watch her grow," said Shaina, a 25-year-old in Wellington, Florida, who knows Ezagui personally and did not want to share her last name for privacy reasons. "I'm also an Orthodox nurse, and I love seeing the way she runs so many different parts of her life — work, family, religion, TikTok, her own hobbies, etc. — in such a great rhythm. She doesn't hide behind filters, and set ups. What you see is her real day to day life."
Though Ezagui's approach is often no-nonsense and educational, her videos are occasionally livened up with her unique blend of sarcasm and cheekiness — something her fans lovingly call "spicy Miriam." 
"I love Miriam's humor — it's mom humor so it reminds me of my own mother," said 22-year-old Los Angeles native Alexa Hirsch. "I love her sexual innuendos because they're so lighthearted and cute! I love how she manages to maintain her family friendly persona while also normalizing discussions about personal and private aspects of Orthodox Judaism."
When asked whether Orthodox Jews can have sex on Shabbat, Miriam responded that the practice is "actually encouraged," then boldly calls for her husband to help her push the beds together, raising her eyebrows and smirking. 
Replying to @greysanatomyfanatic is making a baby allowed on shabbos? #babymaking #shabbos #religion #jewishtiktok #husbandwife
♬ original sound – Miriam Ezagui
As her internet fame has grown, so, too, has the amount of antisemitic comments Ezagui has received on her accounts. Perhaps not surprisingly, she has found that her posts about Judaism have received the most hate. "When people are trolling my account, I'm not afraid to call them out, but I don't want to make it [my account] all about that," she said. "But when I do call out, I like to do them in a tasteful way."
For example Ezagui, in response to a comment saying "go in the oven jew," Ezagui filmed a video in which she superimposed the comment over a video in which she says: "For thousands of years Jews have been persecuted. Great empires have tried to extinguish our flame, but we survive. We. Will. Always. Survive! Your hatred has no power over me." 
Ezagui emphasized how important it is for her account to be a safe space for all people, regardless of their race, gender or religion. She consistently features content creators and also man-on-the-street videos of people of all backgrounds — in one video, she and a Muslim friend discuss why they cover their hair, and in another she discusses topics like why Purim costumes should not appropriate other cultures.
"I welcome everyone to my channel," she said. " I accept people as they are, I think it makes them feel comfortable." 
"She's all about education, and in a world filled with falsehoods and stereotypes about Jews, it's nice to see someone actively combatting it and engaging with people's questions," said Olivia, a 21-year-old living in Morningside Heights who declined to provide her last name. "There are so many people in the world who have never met anyone Jewish in their lives, and to them, Jews are almost fictitious, mythical, evil creatures rather than just real people. It's really difficult to be so visible as a Jewish person, especially an Orthodox one, yet she does it anyway, and I think that's really brave and commendable." 
When the busy mom isn't on camera and or at work, she enjoys reading, experimenting in the kitchen and getting some much needed R&R at the nail salon.  
In the future, Ezagui hopes to bring the birthing classes she runs in the Orthodox community to a wider audience, or even to start a podcast. Both ideas are still in their early stages but would continue her TikTok account's mission of education.  
"A lot of people don't know Orthodox Jews, and there's a lot of antisemitism surrounding Jews from a place of not, like, extreme hatred," Ezagui said. "I'm not here to change anybody's mind if they hate us for no reason, just to hate. But there's a lot of people that hate Jews, just because of stereotypes that are not real or because there's a lack of information. 
"One of the things that I hope to accomplish with my account is that people can learn from a Jewish person directly," she added. "And that has a positive impact."
—
The post With 1.6M followers, TikTok influencer Miriam Ezagui teaches the masses about her Orthodox lifestyle appeared first on Jewish Telegraphic Agency.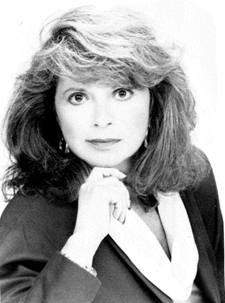 Phyllis Pollock died at home Sunday September 3, 2023 in Winnipeg, after a courageous lifetime battle with cancer.
Phyllis was a mother of four: Gary (Laura), daughter Randi, Steven (deceased in 2010) (Karen), and Robert. Phyllis also had two grandchildren: Lauren and Quinn.
Born in Fort Frances, Ontario on February 7, 1939, Phyllis was an only child to Ruby and Alex Lerman. After graduating high school, Phyllis moved to Winnipeg where she married and later divorced Danny Pollock, the father of her children. She moved to Beverly Hills in 1971, where she raised her children.
Phyllis had a busy social life and lucrative real estate career that spanned over 50 years, including new home sales with CoastCo. Phyllis was the original sales agent for three buildings in Santa Monica, oceanfront: Sea Colony I, Sea Colony II, and Sea Colony. She was known as the Sea Colony Queen. She worked side by side with her daughter Randi for about 25 years – handling over 600 transactions, including sales and leases within the three phases of Sea Colony alone.
Phyllis had more energy than most people half her age. She loved entertaining, working in the real estate field, meeting new and interesting people everyday no matter where she went, and thrived on making new lifelong friends. Phyllis eventually moved to the Sea Colony in Santa Monica where she lived for many years before moving to Palm Desert, then Winnipeg.
After battling breast cancer four times in approximately 20 years, she developed metastatic Stage 4 lung cancer. Her long-time domestic partner of 27 years, Joseph Wilder, K.C., was the love of her life. They were never far apart. They traveled the world and went on many adventures during their relationship. During her treatment, Phyllis would say how much she missed work and seeing her clients. Joey demonstrated amazing strength, love, care, and compassion for Phyllis as her condition progressed. He was her rock and was by her side 24/7, making sure she had the best possible care. Joey's son David was always there to support Phyllis and to make her smile. Joey's other children, Sheri, Kenny, Joshua and wife Davina, were also a part of her life. His kids would Facetime Phyllis and include her during any of their important functions. Phyllis loved Joey's children as if they were her own.
Thank you to all of her friends and family who were there to support her during these difficult times. Phyllis is now, finally, pain free and in a better place. She was loved dearly and will be greatly missed. Interment took place in Los Angeles.
Gwen Centre Creative Living Centre celebrates 35th anniversary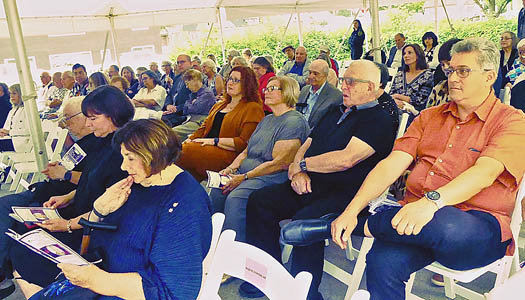 By BERNIE BELLAN Over 100 individuals gathered at the Gwen Secter Centre on Tuesday evening, July 18 – under the big top that serves as the venue for the summer series of outdoor concerts that is now in its third year at the centre.
The occasion was the celebration of the Gwen Secter Centre's 35th anniversary. It was also an opportunity to honour the memory of Sophie Shinewald, who passed away at the age of 106 in 2019, but who, as recently as 2018, was still a regular attendee at the Gwen Secter Centre.
As Gwen Secter Executive Director Becky Chisick noted in her remarks to the audience, Sophie had been volunteering at the Gwen Secter Centre for years – answering the phone among other duties. Becky remarked that Sophie's son, Ed Shinewald, had the phone number for the Gwen Secter Centre stored in his phone as "Mum's work."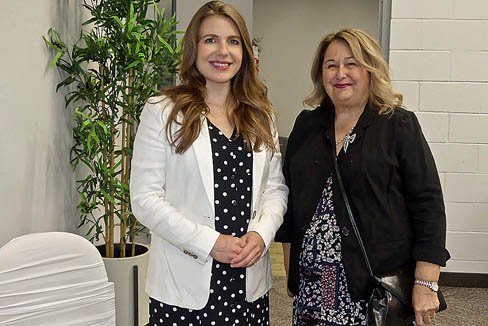 Remarks were also delivered by Raquel Dancho, Member of Parliament for Kildonan-St. Paul, who was the only representative of any level of government in attendance. (How times have changed: I remember well the steadfast support the former Member of the Legislature for St. John's, Gord Mackintosh, showed the Gwen Secter Centre when it was perilously close to being closed down. And, of course, for years, the area in which the Gwen Secter Centre is situated was represented by the late Saul Cherniack.)
Sophie Shinewald's granddaughter, Alix (who flew in from Chicago), represented the Shinewald family at the event. (Her brother, Benjamin, who lives in Ottawa, wasn't able to attend, but he sent a pre-recorded audio message that was played for the audience.)
Musical entertainment for the evening was provided by a group of talented singers, led by Julia Kroft. Following the concert, attendees headed inside to partake of a sumptuous assortment of pastries, all prepared by the Gwen Secter culinary staff. (And, despite my asking whether I could take a doggy bag home, I was turned down.)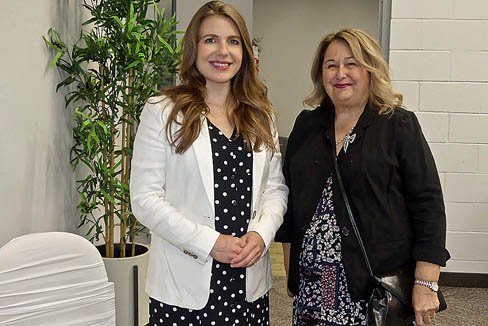 Palestinian gunmen kill 4 Israelis in West Bank gas station
This is a developing story.
(JTA) — Palestinian gunmen killed four people and wounded four in a terror attack at a gas station near the West Bank settlement of Eli, the Israeli army reported.
An Israeli civilian returning fire at the scene of the attack on Tuesday killed one of the attackers, who emerged from a vehicle, and two others fled.
Kan, Israel's public broadcaster, said one of those wounded was in serious condition. The gunmen, while in the vehicle, shot at a guard post at the entry to the settlement, and then continued to the gas station which is also the site of a snack bar. A nearby yeshiva went into lockdown.
Israeli Defense Minister Yoav Gallant announced plans to convene a briefing with top security officials within hours of the attack. Kan reported that there were celebrations of the killing in major West Bank cities and in the Gaza Strip, initiated by terrorist groups Hamas and Palestinian Islamic Jihad. Hamas said the shooting attack Tuesday was triggered by the Jenin raid.
The shooting comes as tensions intensify in the West Bank. A day earlier, Israeli troops raiding the city of Jenin to arrest accused terrorists killed five people.
The Biden administration spoke out over the weekend against Israel's plans to build 4,000 new housing units for Jewish settlers in the West Bank. Israeli Prime Minister Benjamin Netanyahu also finalized plans to  transfer West Bank building decisions to Bezalel Smotrich, the extremist who is the finance minister. Smotrich has said he wants to limit Palestinian building and expand settlement building.
Kan reported that the dead terrorist was a resident of a village, Urif, close to Huwara, the Palestinian town where terrorists killed two Israeli brothers driving through in February. Settlers retaliated by raiding the village and burning cars and buildings.
—
The post Palestinian gunmen kill 4 Israelis in West Bank gas station appeared first on Jewish Telegraphic Agency.