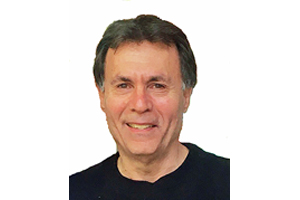 By BERNIE BELLAN While the news that Etz Chayim Congregation was putting their synagogue building up for sale would not have come as a total shock to actual members of the congregation (who had been kept informed by their board of plans to do that), it certainly took thousands of other members and former members of our Jewish community by surprise.
Rather than wait to publish the news that the Etz Chayim was being put up for sale in our print newspaper – which I prefer to do rather than break a story on this website, I thought it important to post the news on this website that the Etz Chayim was being put up for sale as soon as we had official confirmation that was the case. However, when Myron Love told me that there was an actual for sale sign out in front of the building and I asked him to verify that (Myron lives much closer to the synagogue than I do), he reported back that there was no sign up yet. So, I said to him: We can't run a story unless we get official confirmation from Etz Chayim Congregation spokesperson Avrom Charach that the building is indeed for sale.
Still, when Myron did get that official confirmation from Avrom I decided to go ahead and post the story to our website – and, at the same time, post something to Facebook as well. However, I could hardly have anticipated the incredible reaction that Facebook post received: Over 10,000 people have seen that post to date. No doubt, many more individuals who didn't actually see the Facebook post were also informed of the news, which makes me wonder a few things:
1. Why are individuals so surprised that the Etz Chayim is being put up for sale?
For years now various boards of that synagogue have wrestled with the problem what are they going to do with their synagogue building? The vast majority of the remaining congregants don't live north any more. In hindsight, one wonders whether the failure to merge the Shaarey Zedek and Etz Chayim congregations, when former Jewish Federation CEO Bob Freedman was hired in 2014 to sound out the possibility of doing exactly that, is going to come back to haunt the members of Etz Chayim?
2. Where would the congregation move – even temporarily?
Apparently the board is scouting possible venues that might be suitable for the congregation – including churches. But, considering that Avrom Charach made clear in his discussions with Myron Love that the congregation would want to relocate to an area that is much closer to the majority of the Jewish population here – and that would be somewhere south, I'm not sure how many potential sites there might be that would fit the bill. Still, I'll leave that to the board of Etz Chayim to figure out.
3. Wouldn't the Asper Campus have been the perfect site for a brand new synagogue that would have served both the Shaarey Zedek and Etz Chayim congregations?
When Bob Freedman was working on the possibility of a merger between Winnipeg's two largest congregations, the campus was mooted as an ideal location for a new synagogue. There's room on the grounds, there's ample parking, and it's right in the heart of where the majority of Winnipeg's Jewish population lives.
At that time what we heard was there was an incompatibility between the cultures of the two congregations. But couldn't there have been some sort of accommodation made in terms of having two separate sanctuaries? As many of us who are familiar with the painful negotiations that were conducted under the aegis of Jack London when the Bnay Abraham, Beth Israel, and Rosh Pina congregations were negotiating a merger back in the early 2000s, the issue that also led to the deal coming asunder was nothing more than high holiday seating.
Isn't it just typical of our community that the issue of who would be given a more prominent seat during the high holidays almost led to the collapse of that merger back then? And yet, as someone who has heard stories for years of how offensive various moves by certain congregations – such as allowing men and women to sit together (heaven forbid!) were to certain diehard congregants, I can well understand how certain moneyed individuals would be outraged if they were forced to be relegated to a seat that would be considered of lesser prestige than another seat in a synagogue.
4. This is a point that's been noted by members of congregations not just in Winnipeg, but in cities throughout the world: How much do individuals really care now about their physical surroundings when they're participating in worship services?
As is noted in an article from the JTA in the Sept. 28 print edition of our paper  about synagogues adjusting to the "new normal – whatever that is", it's not at all clear what the long term effects that Covid will have on synagogue attendance going forward. Even if the virus does diminish to the point where congregants who have been staying away from in-person services might want to consider going back to a synagogue, has the Zoom experience been rewarding enough for many individuals such that they simply won't want to return to a synagogue building – except perhaps on the odd occasion?
And, with synagogue attendance having been on the decrease for years, what does that portend for future attendance at synagogues?
As others have suggested to me, what with the Shaarey Zedek being closed for renovations for up to two years, what is the likelihood that it will have a similar membership once the renovations are completed? Will many of the members simply drift away? Of course, there will likely be an initial interest in seeing what the newly revamped synagogue will be like, but in the fast paced world in which we are now all living, will there simply be a burst of attendance at the new synagogue, only to be followed by a huge drop off?
I well remember that is what happened with Gray Academy when it first opened 25 years ago. In its first year the school was bursting at the seams, as there were so many students who were eager to attend a brand new school. But, it didn't take long for enrollment to start declining after that initial year when so many students were so curious to experience what they anticipated would be something new and exciting.
5. Who would want to buy the Etz Chayim synagogue?
If the current occupants have decided that it's simply not worth it to invest in their building – for a variety of reasons, who out there would be interested in buying the synagogue? Certainly there is potential for redeveloping the acreage upon which the Etz Chayim sits – ideally for multi unit housing similar perhaps to the Rosh Pina Housing Co-op, but I also well remember that when the old Y.M.H.A. was abandoned once the new Asper Campus opened, there was much talk of another group taking it over as a community centre. Nothing ever came of that and the land upon which the Y.M.H.A. was located still remains a parking lot. I'm no real estate expert but to place a value on the Etz Chayim of something in the neighbourhood of $10 million which, according to Avrom Charach, is what it's worth – well, that does seem to be wildly out of proportion to what property in that part of town is going for.
Again, it reminds me of the ridiculous situation in which the Gwen Secter Centre found itself not that long ago, when the owner of the building, the National Council of Jewish Women, demanded $1 million for the Gwen Secter Centre to remain in its current location, or else the centre was going to have to vacate the premises. Who else on earth would have come close to offering $1 million for that building? Have you taken a look at the adjoining shopping centre – where the parking lot seems to be mostly vacant at any given time? Let's be honest: the north end is hardly what it used to be and property values have plummeted relative to other parts of the city.
Still, I'll leave it to the board of the Etz Chayim to figure things out. I'm sure they've thought of all the contingencies.
But, to return to that Facebook post which I mentioned earlier – I was struck by the outpouring of nostalgia that my having posted that the Etz Chayim was now up for sale elicited. There were so many comments from individuals who had such warm memories of the old Rosh Pina synagogue – either because they were married there perhaps or had a bar mitzvah there.
Isn't that just typical of Winnipeg Jews though – and former Winnipeggers – to wax nostalgic about the way things used to be, and lament the passing of an era?
Of course, The Jewish Post & News thrives on nostalgia and I'm complicit in fostering the rosy-hued lens through which so many individuals look back upon Jewish Winnipeg's history. Sure, I still harbour a great attachment to the institutions with which I grew up, including synagogues, schools, community centres, and camps, but I'm realistic enough to know that those were all associated with a much more robust and cohesive Jewish community that is our current one.
I'm not sure what the future holds for our Jewish community here, but it is certainly evolving so rapidly that it's really hard to know just what defines this community any more. But that's a subject for much debate – and one about which I'm sure we're going to be hearing quite a bit more once the census figures for our Jewish population are revealed in November – and I predict the figures are going to be very disappointing to community leaders.