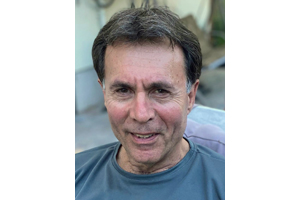 By BERNIE BELLAN After over five weeks of constantly turning to CBC Radio news and checking my iPhone or iPad for regular updates on the war in Ukraine, maybe it's time to take a breather from following the military action as we head into what is shaping up to be a new phase in Putin's invasion of that country. Rather than turning away from what's going on there though, we should now be taking stock of what it is that we can all do to help beleaguered Ukrainians in terms of humanitarian relief.
One can't but help admire how Ukraine's army, along with its citizenry, have stood up to the attacks coming from Russian forces, and seem to have stymied Russian advances in key areas, especially around Kiev. Yet, the fact that so many Ukrainians are trapped in place where they are makes the urgency of getting help to them so much more acute.
While it's always helpful to read as many analyses as possible of the military situation to try to understand how it is that a Ukrainian military that is so badly outgunned by its adversary has been able to turn the tables on the Russian army in so many respects, the ongoing humanitarian catastrophe is one that is sure to dominate our attention for months, if not years, to come.
What has been happening in Mariupol, in particular, is something that is beyond belief. Here you have a major cosmopolitan European city under relentless bombardment, with 150,000 people still trapped there – without food, water, electricity, or heat – and with the Russians allowing only a trickle to leave. Further, the Russians have quite frequently opened fire on convoys attempting to evacuate residents of Mariupol.
That the Russians would behave in such a vicious and cruel manner comes as no surprise, given how they acted in Syria and Chechnya – and yet, Ukrainians and Russians share so many common bonds, the idea that Russians would impose a medieval type siege on a major city without any regard to the rules of war that most nations have agreed to follow, is a reminder how thin the veneer of civilization truly is.
Still, as I found in speaking with two different members of our Jewish community, both of whom come from Ukraine originally, not everyone here holds the same views on what is happening in Ukraine.
Frankly, I was somewhat repelled by the perspective that I gleaned from speaking with someone whom I chose to refer as "Michael" (because he didn't want me to use his real name). As you can read in my article about the conversations that I had, both with "Michael" and Alexey Grenier, which you can read at http://jewishpostandnews.ca/local/1078-jews-from-ukraine-who-have-settled-in-winnipeg-offer-conflicting-opinions-about-the-russian-invasion, Jewish Ukrainians are not homogenous when it comes to how they regard Russians.
There is certainly a certain amount of justifiable ambivalence that Jewish Ukrainians are entitled to feel toward both non-Jewish Ukrainians and Russians. After all, both countries have long traditions of virulent anti-Semitism, so anyone who is a Jewish Ukrainian might be forgiven for saying perhaps: "A pox on both their houses."
Yet, the Ukraine of 2022 is not the Ukraine of just a few years ago. A Pew Centre Research Study in 2016 found that Ukraine has the lowest level of anti-Semitism among all the countries of Eastern Europe, with only 5% of Ukrainians saying they felt uncomfortable having Jews live among them, and 83% of Ukrainians saying they held favourable attitudes toward Jews.
As we read of the tremendous efforts to help Ukrainians, both Jewish and non-Jewish, coming from a multitude of Jewish organizations, it should be a source of great pride that Jewish organizations are contributing so mightily in aid of Ukrainians, both refugees and Ukrainians still trapped in their country.
The role that the Chabad Lubavitch movement has been playing in Ukraine is something that deserves special recognition. As someone who has been on the receiving end of what seems to be an endless series of requests for help from many different Jewish religious organizations seeking to provide humanitarian assistance to Ukrainians, it is somewhat astonishing to see how active so many different Jewish organizations are in Ukraine.
While estimates of the number of Jewish Ukrainians range anywhere from 49,000 to 400,000, the difficulty in determining a more precise number comes from the fact that so many Ukrainian Jews are totally assimilated. Volodomyr Zelensky, Ukraine's Jewish president, if typical of most Ukrainian Jews when he insists that he is not Jewish by religion, but by ancestry.
But, as we have seen here in Winnipeg with our own Chabad movement, many Jews who came from Ukraine (often via Israel), as well as many other parts of the former Soviet Union, are quite willing to participate in religious activities, at least on an occasional basis. The Chabad movement has a particular attraction for individuals who may have come from a background where religion either played a very minimal role in their lives or was altogether non-existent. Because Chabad places no expectations on anyone to have to "join" a synagogue – and because it is open to anyone to attend its programs or services, usually either at no cost or, as can be seen with its upcoming seder, at a cost far lower than one would expect to pay anywhere else, its outreach efforts with Jews who had been assimilated have often proved extraordinarily successful.
This is not meant to be a plea for readers to donate to any specific organization above any other, but in reading about how so many Chabad rabbis have insisted on remaining in Ukraine despite the inherent dangers, and in seeing how quickly Chabad was able to establish much needed humanitarian networks, both in Ukraine, and in neigbouring countries to where Ukrainian refugees have been fleeing, Chabad is certainly deserving of our appreciation and support.
*****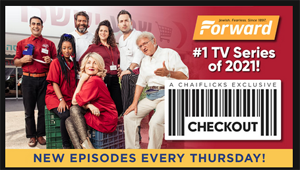 Switching gears – which is what this column is all about, I wanted to let readers know about a new streaming platform which we have recently joined, called "Chaiflicks". Started in 2020 in response to a demand for Jewish film and TV content that was prompted by so many individuals finding themselves home due to Covid with not a lot to do, Chaiflicks has been adding to its inventory of TV shows and movies, many of which are Israeli-made.
We just started watching an Israeli TV series called "Checkout" which, if the first two episodes are any indication, is absolutely hilarious. The show is about the goings-on in what appears to be a typical Israeli supermarket, but the cast of characters is reminiscent of the best American sitcoms.
And, if you like irreverent attitudes toward Orthodox Judaism, you're going to love the way Checkout lampoons some of the more ridiculous aspects of Orthodoxy, especially how sages are often treated as Jewish "saints". (Perhaps it might seem an odd juxtaposition after I've just lauded the efforts of the Chabad movement in helping Ukrainians, but I distinguish between the humanitarian efforts of an organization and some of the religious beliefs it espouses.)
Another popular Israeli series available on Chaiflicks that we watched for just one episode so far is called "The New Black" in English or "Shababnikim" in Hebrew. Like the hugely successful "Shtisel", "Black Hats" focuses on "Haredim" (ultra Orthodox), but unlike "Shtisel", this series pokes fun at Haredi foibles.
What's great about Chaiflicks too is that you can watch it on any device connected to the internet, whether it's a desktop or laptop computer, or any mobile device. You don't have to have a cable subscription either. The cost is also quite reasonable: $5.99 US/month and there's an introductory free two-week trial available.
I'm a huge fan of Israeli TV shows and films – and Chaiflicks gives you access to many productions that, until now, you might only have heard about.
*****
Also, since I'm on the subject of promoting Israeli content, I was made aware of a new website that serves as a virtual marketplace for over 150 different Israeli vendors. In an article elsehwhere on this site you can read about the "ACHI market", which was created during Covid to help Israeli retailers who had experienced huge drop offs in their business as a result of diminished tourist traffic.
As you might expect, this newspaper receives a lot of requests to publicize so many worthwhile endeavours that it's often quite arbitrary how we decide to promote one cause or business over another. Still, if we can expose some new opportunities for readers to consider supporting different causes or businesses, or availing themselves of something new to watch, we consider it our mandate to serve as an ongoing clearing house for different sorts of information.