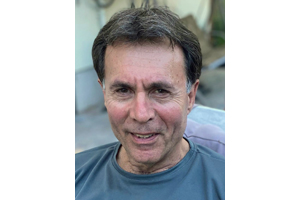 By BERNIE BELLAN At the time of writing we are now in the fourth week of the Russian invasion of Ukraine.
As we all recoil from the images and the utter tragedy that has befallen the Ukrainian people it is time to take stock though of the conflicting currents that are running through this tragic situation for us as Jews.
While we can all feel immense pride in the fact that Ukraine is being led by, of all people, a Jewish actor, at the same time it is hard to forget the long history of anti-Semitism that has pervaded Ukraine. A story elsewhere on this website (jewishpostandnews.ca/8-features/1071-jews-and-non-jews-share-a-bloody-history-in-ukraine-but-there-are-reasons-for-hope) examines that history – and offers a strong sense of hope that, at last, Jews are now accepted as full citizens of Ukraine. For those of us who have ancestors from Ukraine that very thought would have been almost inconceivable just a few years ago. The influence that Western liberalism has had on Ukraine is undeniable. Yet, the fact that Ukrainians are demonstrating a heroic sense of nationalism might have been unsettling if it were not for the fact that the man who personifies that nationalist spirit to the utmost, Vlodymyr Zelensky, is a Jew. For a country that was notorious for its pogroms and pervasive anti-Semitism from which so many of our ancestors fled not that long ago – well, the turnaround is truly remarkable.
At the same time that we can all feel the greatest amount of sympathy for Ukrainians of all stripes – except for the Russophiles among them, I wonder how many other Jews are harbouring feelings of embarrassment over the fact that so many Russian oligarchs are Jews.
In a very lengthy piece in Haaretz, written by Shuki Sadeh, one learns a great many details about these Jewish oligarchs: who they are, how they amassed their fortunes, the extent to which they are tied to Putin, and – what might be the most significant point – how many have now fled to Israel.
A few years back I had the opportunity to read a book titled "The Rise of the Oligarchs". That book focused on two oligarchs in particular: Boris Berezovsky (sometimes spelled Berezhovsky) and Roman Abramovich.
Their stories, as it was with so many of the other oligarchs, were quite remarkable. Berezovsky was a brilliant mathematician who saw the opportunities awaiting him with the collapse of the Soviet Union. In time he befriended Abramovich, who did not have the academic pedigree that Berezovsky had, but who had a clear idea how to seize opportunities and form alliances, including with Vladomir Putin.
Again, the notion that a certain number of Jews were able to take advantage of the collapse of the Soviet Union is one of the great ironies of history, given how much Jews were oppressed within the Soviet Union.
But, as one can learn from reading Shuki Sadeh's brilliant analysis of the deep ties that many Jewish oligarchs have formed with Israeli businessmen and politicians, the fact that Israel has become a refuge for so many men who are on the top of Western lists of individuals who are now sanctioned should be a source of great embarrassment for many Israelis – and Jews around the world.
The notion that Israel, of all places, is becoming home to many of the same individuals who are accused of being complicit in having enabled Putin to turn into the most ruthless and savage autocrat alive today, is likely to create huge problems for Israel as one Western nation after another seeks to confiscate the wealth amassed by the oligarchs.
When I read that the trustees of Yad Vashem lobbied to have Roman Abramovich removed from the list of sanctioned oligarchs because he has donated so much money to Yad Vashem, I was embarrassed.
The idea that so many Jewish oligarchs have been strong supporters of Jewish charities and institutions is nothing to be proud of. Their wealth was essentially achieved on the backs of the Russian people following the collapse of the Soviet Union when resources were pillaged by vicious individuals who saw the opportunities awaiting them and employed often ruthless methods to hive off the vast resources of the former Soviet Union.
That so many of them have now forged strong ties with Israel – and have used their power and money to solidify themselves within Israel reminds me of nothing less than the late mobster Meyer Lansky's attempt to find refuge in Israel when he was facing criminal charges in the US for tax evasion. Unluckily for Lansky, he ran up against a principled Israeli Supreme Court Chief Justice in Abraham Burg who, along with the other members of the court, ruled that Lansky could not be approved for Israeli citizenship – though under the Law of Return, any Jew has the right to move to Israel.
Speaking of the Law of Return, Israel also faces a quandary when it comes to approving the entry of what may be as many as 125,000 Ukrainian refugees, of whom perhaps 100,000 might be Jews. (For more on this you can read Myron Love's analysis of what lies ahead for Israel in welcoming Ukrainian refugees on page 9 of this issue.)
One can only guess at what problems await the so-called "Jewish" refugees when it comes to proving their Jewishness. Considering that the Orthodox rabbinate in Israel has a firm grip on deciding who is a Jew, the likelihood is that most of the Ukrainian Jews are going to have a very hard time providing sufficient proof that they really are Jewish.
For the time being, they'll be accepted into Israel, but because so many Ukrainian Jews are intermarried, one wonders what is in store for them down the road. It seems likely, however, that the majority will be directed to living on the West Bank, where they will be seen as a further counterweight to the Palestinian population. Given the situation from where they're coming, I doubt that very many of these terribly unfortunate Ukrainians – Jewish or not, will chafe at the notion of living on the West Bank.
And, just as the vast migration of Russian Jews to Israel in the 1990s helped to solidify Israel's position as a powerhouse in the Middle East, the expected influx of Ukrainian refugees can only be expected to add to Israel's status as a technological and military power.
When it comes to Ukrainian refugees furthermore, I asked Elaine Goldstine CEO of our Jewish Federation, whether any steps have been taken to try to help refugees come to Winnipeg. Elaine said that communications have taken place with the Federal Government, but it is far too early to know what might come of the offer that the Jewish Federation has made to help take in refugees.
Considering that many Russian Jews are also eager to get out of the poisonous atmosphere that Putin has created for Russians, I would think it's just a matter of time before we see another large number of Russian Jews, on top of Ukrainian Jews, also interested in coming to Winnipeg. I would think that most Winnipeg Jews would be only too glad to do what they could to help Ukrainians and Russians come here, Jewish or not.
The fact that our community had already raised $135,000 in aid of Ukrainian Jews as of Friday, March 11, should be a point of immense pride for all of us. In the days to come, as we continue to watch the horror of Russian savagery continue unabated, I'm sure that the outpouring of support from Winnipeg Jews will continue apace.
Turning to a completely different subject – social media, we have an article elsewhere on this website related to that topic (at http://jewishpostandnews.ca/local/1072-avi-posen-on-engaging-young-jews-through-media). It's about educator Avi Posen's polished presentation during the Sunday, March 6 Limmud on how to engage young Jews. I'm sure that if every Jewish educator were as enthusiastic as Avi in how he comes across, and how well acquainted he is with the most sophisticated forms of educational tools, we would be producing students who are as knowledgeable as they are savvy at using social media.
I recently had the opportunity to speak to a group of Grade 9 and 10 students at Gray Academy, when I was invited to talk about this newspaper and its role in the community. While I was impressed with the enthusiasm of the students, when I asked them whether any of them ever read articles in any publication – online or not, and I was met with total silence, I have to admit that I despair for the next generation.
Yes, I know that our Jewish Federation places great faith in Instagram – and that most young people say it's their favourite form of social media, but I honestly doubt that anyone on Instagram is going to learn very much about what's going on in the world beyond seeing pictures and videos.
So, when Avi Posen said that one of the aspects of what he does is try and encourage young people to read in-depth articles about a great many subjects, and from different perspectives – well, that's what we try to do with this newspaper.
I don't know how much success Avi has in what he's trying to do, but when I spoke to the Gray Academy students, I wasn't surprised to learn that reading in-depth articles about anything is not exactly something they're interested in doing.