How much responsibility do social media groups bear for fomenting terrorist and extremist behaviour?
That question lies at the heart of a momentous lawsuit that has been making its way through the US legal system and which is about to be decided by the United States Supreme Court this June.
The driving force behind the legal challenge, which aims to curb the ability of social media giants to serve as conduits for terrorist messaging, is Nitsana Darshan-Leitner, head of Shurat Ha-Din (or the Israel Law Centre, as it is known in English).
On Sunday, May 7, Darshan-Leitner will appear live from Israel via Zoom to explain how, for years, Shurat Ha-Din has been using the courts in various countries, to attempt to mitigate the terrible toll that terrorist activities have had on Jews and non-Jews alike, in Israel and beyond.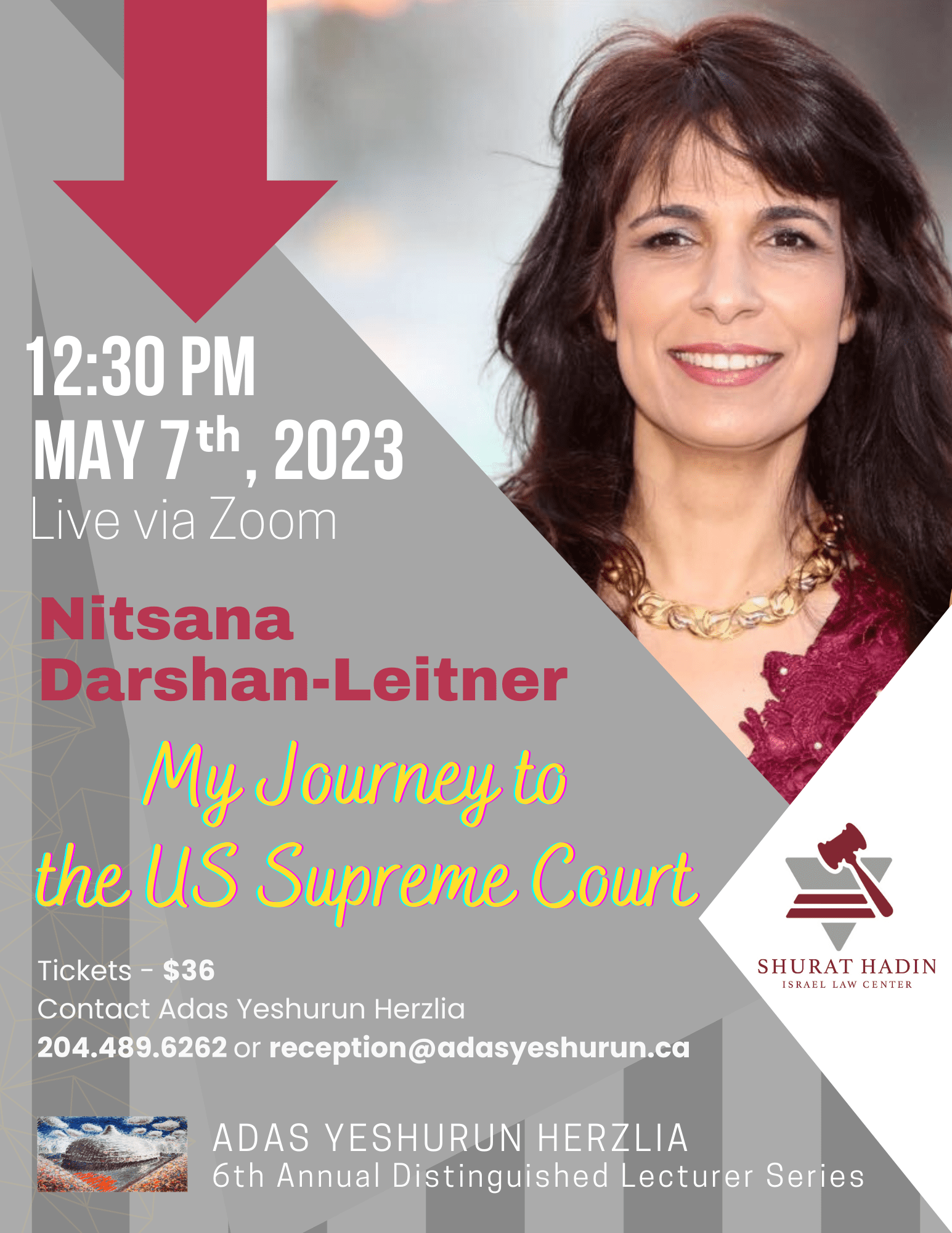 Following is some background information about Shurat Ha-Din's latest court challenge:
Terror and extremist groups have been using social media to broadcast hateful propaganda, incite murder, recruit members, disseminate orders, and generate donations for 3 decades. We have grown accustomed to videos of terror attacks and photos of terrorists celebrating death and mayhem around the world. The world stood by helplessly as the expanding power of social media shaped opinion and fostered intolerance. Meanwhile, social media platforms have done little to address the toxicity that festers online, and social media shareholders have profited from growing viewership and use.
Social media platform owners have consistently rejected responsibility for their role in supporting terror because Section 230 of the US 1996 Communication Decency Act states that "No provider or user of an interactive computer service shall be treated as the publisher or speaker of any information provided by another information content provider."
Section 230 has provided terrorists with unlimited opportunities to promote themselves and their actions on social media platforms for 22 years – in spite of the 2001 Anti-Terrorism Act forbidding US companies and citizens from providing support to designated terrorist groups.
Shurat HaDin – Israel Law Center shifted attention from interrupting terror financing to understanding California-based social media giants' role when terror groups started urging online followers to commit lone-wolf attacks in Israel in 2014. Dozens of Israelis were killed, and scores of by-standers were wounded in a series of stabbings and car-ramming attacks during "the Facebook Intifada".
Shurat HaDin realized that social media algorithms amplified terrorist messages, and suspected complaints about hateful content were handled subjectively if at all. To prove their suspicion, Shurat HaDin created 2 identical posts targeting different groups, and then raised concerns with Google. The post targeting Arabs was immediately removed. The post targeting Jews remained online. 
Shurat HaDin reached out to Facebook to demand that proprietary algorithms be created to block dangerous content. When those efforts failed, Shurat HaDin sued on behalf of the victims of the Facebook Intifada in state and federal courts and lost. Section 230 was interpreted at every level of the judiciary to protect Facebook, even though aiding and abetting the murder of Jews, Israelis and American citizens was illegal and in direct conflict with anti-terrorism legislation.
When ISIS murdered 130 people in Paris on November 13, 2015,  the sole American casualty was a twenty-three-year-old exchange student named Nohemi Gonzalez. Her parents sued Google, arguing that the tech giant used its algorithms to promote and recommend terrorist videos and propaganda for profit in direct violation of the Anti-Terrorism Act. Faced with Google's army of attorneys and lobbyists, Shurat HaDin again repeatedly lost in state and federal courts.
Nohemi's parents remained resolute and after years of legal defeat, the US Supreme Court decided it would hear their case, Gonzalez vs. Google. Oral arguments were presented by Shurat HaDin lawyers in February 2023, and a ruling is expected in June 2023. If the Supreme Court decides in favour of Big Tech, Congress has already indicated it will amend the law. The Internet will be radically altered because of the unrelenting efforts of Shurat HaDin on behalf of terror victims around the world.
Nitsana Darshan – Leitner, President of Shurat HaDin – Israel Law Centre, will join us live from Israel to discuss her team's remarkable journey to the US Supreme Court on Sunday, May 7th. You are invited to attend Nitsana's Zoom presentation in person at Adas Yeshurun Herzlia, 620 Brock Street at 12:30 pm, or watch via Zoom from home. A dessert reception will follow the presentation at the synagogue. Contact Adas Yeshurun at 204-489-6262 or reception@adasyeshurun.ca for more information.