While many more Israelis may be thinking of leaving the country, Manitoba has seen very few arrive here the past three years
By BERNIE BELLAN Elsewhere on this website you can read an article about how many Israelis are planning on leaving the country as a result of the radical shift in that country's direction since the new government came into power (https://jewishpostandnews.ca/rss/alarmed-by-their-countrys-political-direction-more-israelis-are-seeking-to-move-abroad/). We wondered though whether that might lead to an upsurge in Israelis applying to come to Manitoba. If recent figures for the number of Israelis who have come here under the Provincial Nominee Program are any indication, then it seems that the number of Israelis who have been applying to come here has fallen drastically in the past three years.
In May 2022 we published an article about an increase in the number of applicants that Manitoba was going to be able to accept under the Provincial Nominee Program. The PNP is the program through which most immigrants coming to Manitoba arrive. At that time we predicted that the increase – from 6,275 to 6,367, would lead to an increase in the number of Israelis applying to move to Manitoba.
Recently the province announced that its allocation for 2023 under the PNP hds jumped almost 50% – to 9,500.
Yet, while the number of applicants who will be accepted under the PNP may be skyrocketing, it hasn't translated into any marked increase in the number of Israelis who have applied to move here – either in 2022 or 2023.
We asked a spokesperson for Jon Reyes, Manitoba's Minister of Advanced Education, Skills and Immigration, the following question: "How many applications under the PNP have you received from Israelis in the past year?"
The answer we received was: "In 2022, the Manitoba Provincial Nominee Program (MPNP) received 16 applications from Israeli citizens. In 2021, the MPNP received 7."
The spokesperson for the minister also added this note: "I'm not sure if you were thinking those numbers would be larger, but it's also possible that individuals/families arrive in a different province, and then move to Manitoba. In those instances, that wouldn't be reflective in the province's numbers."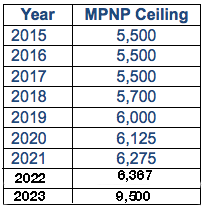 We also emailed the Jewish Federation, asking this question: "I'm wondering whether there has been an increase in inquiries from people living in Israel wanting to know about moving to Winnipeg. The reason I ask is obvious: There are so many Israelis wanting to leave the country now because of what the government is doing, but from what I've been reading the vast majority are applying to move to Europe. Is there anything you can tell me about how many have inquired in the past year about moving to Manitoba?"
Here is the answer we got back: "We have not gotten any indication of people leaving Israel and coming to Winnipeg due to the political situation there, at least as of now."
Between 2017-2019 there had been a steady stream of Israelis who were allowed to move here under the PNP. When COVID hit in 2020, however, the number dropped – for obvious reasons, and it dropped even further in 2021. It increased slightly in 2022 – but nowhere near the levels it had been from 2017-2019.
Following the article we published last May about the Provincial Nominee Program, we received an email from an immigration consultant here who has a great deal of experience assisting Israelis with the process of emigrating to Manitoba. That person suggested that, as a result of the tightening of requirements under the PNP, fewer individuals from Israel were applying to come to Manitoba. We also wrote: "That individual also suggested that many immigrants who have come here have left Winnipeg as a result of not being able to find work in their chosen fields."
In June 2022 we reported that the Jewish Federation was optimistic that immigration by Jewish families would bounce back in 2022. A spokesperson for the Federation wrote: "We have 75 people ready and willing to come to Winnipeg and continue with the immigration process, and with pandemic restrictions loosening, we anticipate numbers to bounce back from 2021. There are currently 300 individuals in various stages of producing required documents necessary to continue with the process."
From time to time we have been reporting in this paper about new families having arrived in Winnipeg from other countries, including Turkey and Mexico (and in this issue, from Brazil) – and we will be continuing to report on new arrivals in coming issues, but again, we're left wondering: Why aren't more people coming here from Israel?
In our November 9 issue last year we reported on information gleaned from the 2021 census about the number of individuals in Winnipeg who reported that their ethnic origin was Israeli. The figure in the 2021 census was 1,435; in 2016 the figure was only 405. (We also explained that figures from the 2016 census were suspect because that census did not report Jewish or Israeli as one of the choices for ethnic origin. Respondents would have had to write in those answers. In 2021, by way of contrast, respondents were offered a check list of over 100 different choices for ethnic origin – this time including both "Jewish" and "Israeli" as possible answers.)
In either event, there was certainly a marked increase in the number of respondents in 2021 who gave "Israeli" as their ethnic origin.
But, as we also noted in another article (in our November 23 issue) about results of the 2021 census, there were also some very surprising figures about the religious background of individuals who said their ethnic origin was Israeli: "Of the 1350 individuals who said their ethnic origin was 'Israeli', only 855 said their religion was Jewish. Of the remainder, 385 said they had no religion, while 105 said they were Christian."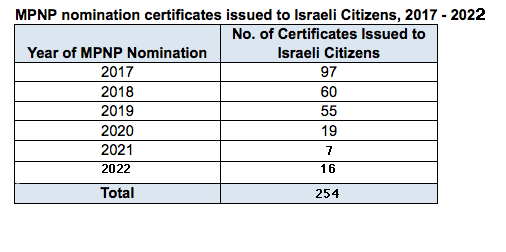 While there have also been a number of arrivals of Jewish families to Winnipeg from countries other than Israel, it's been Israel that's been by far the largest source of immigration to this city for Jewish families over the past 20 years.
And, while Winnipeg's Jewish population showed an apparent increase from 2011 to 2021, when you combine figures for both ethnic origin and religion, the increase was fairly negligible. As I noted in my November 23rd article, a careful analysis of data from the 2021 census showed that, at a maximum, the number of individuals in Winnipeg who might be considered Jewish – either by ethnic origin or religion, was 14, 270 – and the figure was probably much lower than that.
So, what does this all signify? The rate of immigration from Israel to Manitoba has slowed over the past three years – even though the number of applicants who would be allowed to come here under the Provincial Nominee Program has jumped dramatically this year.
But last May, when we spoke with Dalia Szpiro, GrowWinnipeg Director for the Federation, she told us then that there was a large backlog of prospective immigrants who delayed coming here for exploratory visits as a result of Covid. In the past little while many individuals have now been coming here on those exploratory visits, Dalia said at the time.
Evidently though, very few of those prospective immigrants are from Israel – at least if figures released by the Manitoba government showing how few applicants under the PNP in the past two years have been from Israel.
In some respects, what is going on in Israel right now is reminiscent of what was being expressed when Donald Trump was elected President in 2016. Many Americans said then that they would leave the US as a result. While some did come to Canada, it turned out that our immigration requirements were far more onerous than many Americans had thought.
Last May, when we wrote about the PNP, we noted that Manitoba was seeking immigrants in specific areas.
At the time we asked the spokesperson for Minister Reyes: "Are there particular classes of immigrants that Manitoba is wanting to recruit? e.g., computer programmers, nurses, etc. (also good hockey players)?"
The spokesperson responded:
"The MPNP is an economic program that aims to address labour market needs by nominating skilled workers and business investors who satisfy program criteria – and who are employable in their areas of professional experience – across all industry sectors.
"Based on the Manitoba government's Labour Market Outlook 2021-2025 and recent Manitoba occupations gap analyses for the 2022-2026 period, the need for the following occupations is expected to be acute until 2026, given new and expanding businesses and organizations and replacement of retiring workers:
 ·         Retail salespersons
·         Transport truck drivers
·         Nurse aides, orderlies and patient service associates
·         Retail and wholesale trade managers
·         Registered nurses and registered psychiatric nurses
·         Food counter attendants, kitchen helpers and related support occu- pations; and
·         Elementary school and kindergarten teachers
 
Many of the immigrants from Israel under the PNP have indeed found work in those areas, especially truck drivers, but one wonders why there has been such a slowdown in applicants from Israel under the PNP?
The answer seems to lie in the tightened requirement that the province is not imposing under the Provincial Nominee Program. Anecdotally, we recall hearing stories from individuals who had come here in the past. In many of those instances, we were told, they came applying to be truck drivers. When asked whether they had experience driving a truck, invariably they would answer: "Yes." But, we were told, that wasn't true; no matter, they were accepted under the PNP – and did get jobs as truck drivers.
Apparently the ease with which many applicants were accepted under the PNP no longer applies. We hope to explore the issue of why there has been such a dramatic slowdown in applicants from Israel to Manitoba under the PNP in a future issue.
Winnipeg Jewish Theatre to open season with world premiere of "Pals"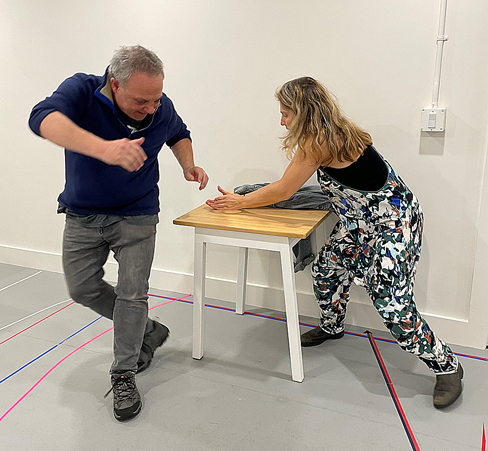 By BERNIE BELLAN The opening show of Winnipeg Jewish Theatre's 2023-24 season promises to be a clever and poignant take on relationships between men and women, when "Pals" makes its world premiere on November 9 in the Berney Theatre, running until November 19.
"Pals" is the third two-person show created by the team of Diane Flacks and Richard Greenblatt. Interestingly, when I spoke with Flacks and Greenblatt while they took a break from rehearsing the play in Toronto, they told me that their previous two two-person plays also had one word titles – with four letters in both: "Sibs" and "Care."
"Pals" is the story of two friends, told over a 25-year time period. Their friendship survives many tribulations, including both characters entering and exiting many other relationships. The play uncovers the underlying tensions that permeate all friendships.
"Pals" opens with the two characters meeting for the first time. I asked Diane and Richard whether the notion of their having sex ever enters into the plot, but Richard was quick to exclaim, "We don't have sex."
Diane also noted that, in the case of her character, she is married to another woman. (Diane is a lesbian in real life.)
The fact that the characters maintain a friendship though becomes a source of friction within their respective relationships. It raises the question: Can you have an intimate, albeit platonic, relationship, with a member of the opposite sex all the while you're in a physical relationship with someone else?
I asked whether the characters in "Pals" are Jewish (which both Diane and Richard are), and the answer was "yes."
Both Diane and Richard have had past associations with the Winnipeg Jewish Theatre. Richard's goes back a very long time – when he directed the critically acclaimed "League of Nathans" in 1995.
Diane Flacks appeared in a one-night performance of a show in 2021 called "25 Questions for a Jewish Mother," which was a part of that year's Tarbut festival. There were no in-person events that year, due to Covid, but "Jewish Mother" was available on Zoom and had a huge audience.
In addition to writing for the stage, Diane Flacks has written for TV, including Working the Engels, Baroness Von Sketch Show, Young Drunk Punk, PR, and The Broad Side.
Richard Greenblatt has performed in theatres across Canada and abroad, as well as in feature films, television and radio. He co-wrote 2 Pianos 4 Hands, which played on five continents and in over 150 cities since it opened in 1996.
Pals is directed by the internationally acclaimed director Jillian Keiley. More information, tickets and 5-show subscriptions can be found at: www.wjt.ca. You can also reach WJT by phone at (204) 477-7478.
To watch a preview video from Pals, click here: https://www.youtube.com/watch?v=z2W0VmHHFbA
Simkin Centre introduces Friday afternoon Shabbat services – open to all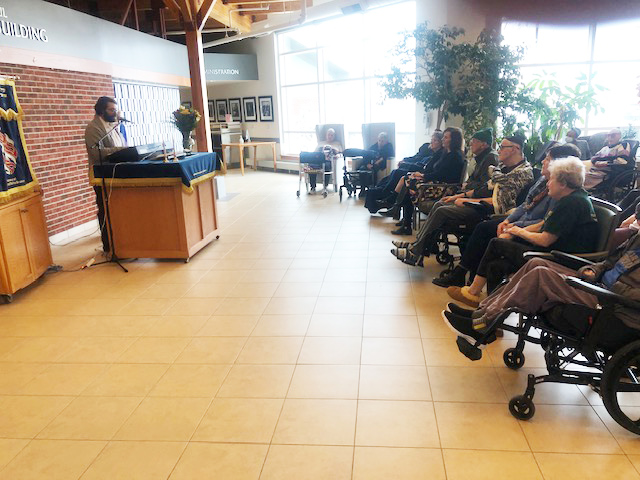 By BERNIE BELLAN (Posted Oct. 31) The Simkin Centre held its first ever Friday afternoon Erev Shabbat service this past Friday (Oct. 27), led by Rabbi Matthew Leibl.
There were more than 30 residents in attendance, along with various other outside guests. The service was approximately 45 minutes long and was filled with stories and songs associated with Friday evening Shabbats – some from Rabbi Leibl's own childhood and some from more recent years.
The Friday afternoon Erev Shabbat services are now to become a regular features at the Simkin Centre and are open to anyone to attend.
To watch a short clip of Rabbi Leibl introducing his first Friday afternoon service click https://youtu.be/hLSrV18K58o
The complete text of MP Marty Morantz's speech at the community vigil for Israel on October 10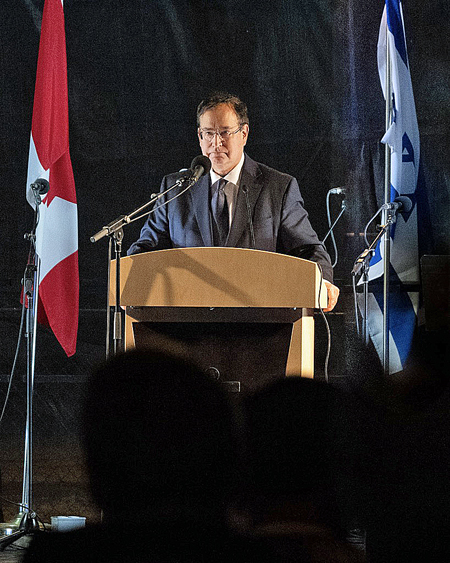 Tonight we are all Israelis!
Conservatives stand with Israel.
Pierre Poilievre stands with Israel.
On Saturday we woke up to unspeakable images.
We must stand shoulder to shoulder with Israel as it defends itself from these criminal and barbarous acts.
On Shabbat, Hamas brutally invaded Israel, invaded homes, killing hundreds, taking hostage hundreds.
More Jews were killed in Saturday's attack than in any single day since the Holocaust.
Some 1500 human beings killed in a single day would be like 6000 Canadians being murdered in a single attack.
They were children, babies, men, women.
They were young people just out listening to music at a dance party.
This was an unprecedented brutal attack.
As we speak Hamas is threatening to execute innocent hostages.
This outrage cannot, must not stand.
Don't let anyone tell you Hamas is the legitimate voice of the Palestinian people. It is not a government.
They are a genocidal murderous and evil death cult and they must be defeated.
But friends, we have seen evil before.
Jews have been persecuted for millennia, but we have survived.
Conservatives unequivocally condemn the invasion of Israel by Hamas terrorists and the sadistic violence that Hamas has carried out against innocent civilians.
Now is the time for moral clarity. There is no moral equivalency between democratic Israel and the butchers of Hamas.
There is no response, no matter how strong, that would be disproportionate to the crimes Hamas has committed.
Israel has the right to defend itself against these attacks and respond against the attackers – as any other country would.
Theodore Herzl, the father of modern Zionism, said, "If you will it, it is no dream."
In 1948 that dream became a reality – a homeland in Israel, the promised land.
Working together Israelis turned a desert into an oasis.
An island of democracy surrounded by a sea of autocracy.
A Jewish state where Jews could live in peace free from fear and persecution.
Let there be no doubt. Israel is the ancient and indigenous homeland of the Jewish people.
We will not let the butchers of Hamas take that dream, long realized, away from us.
Many politicians will stand with Israel when it is easy.
But listen to what they say when it is hard.
They will talk about "both sides."
I'm here to tell you that there is only one side.
The side of morality.
The side of democracy.
The side of Israel.
We see too often politicians at the United Nations unfairly singling out Israel for criticism.
I will always stand against the unfair singling out of the Middle East's only democracy.
Already there are calls for Israel to deescalate.
I ask you.
Would any country deescalate after having its people slaughtered in cold blood?
I wish the people of Israel and its brave soldiers Godspeed on their mission to defend the promised land from pure evil.
As Prime Minister Stephen Harper said:
Through fire and water Canada will stand with you.
Am Yisrael Chai!