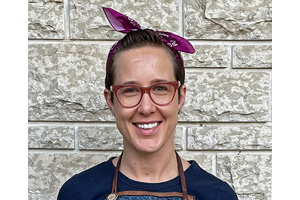 By BERNIE BELLAN It's been almost a year since Schmoozer's in the Asper Campus was closed due to the Covid pandemic and the major drop-off in traffic at the campus.
In one more sign that things are getting back to some semblance of near-normal, Schmoozer's has now reopened, although with more limited hours than in the past – for the time being (7:30 am – 4 pm, Monday –Thursday, and 7:30 am – 3 pm Fridays).
As part of the reorganization of Schmoozer's, a new manager, Beth Jacob, has been hired to oversee operations. Beth brings with her a wealth of experience within the food industry. The daughter of Riva and Scott McWilliam, Beth is a graduate of Red River College's Culinary Arts program. Her first employment in the food industry was at the Fort Garry Hotel, where she worked in the kitchen from 2002-2004.
In 2004, Beth went to Israel on the Birthright program. While there, she decided she'd like to stay on in Israel for a while, rather than returning home. From 2004-2006 she worked at the Dan Panorama Hotel in Eilat, where she was both a pastry and sous chef. Upon returning to Winnipeg, aside from getting married to Jonathon Jacob, Beth was the head chef for the Royal Winnipeg Ballet for a period of time. As well, Beth was the chef at Fresh Cafe, a popular healthier breakfast and lunch spot on Corydon in its time, she notes.
She also worked at Bernstein's Deli for three years before taking time off to raise five-year-old twins. "In my tenure at Bernstein's," Beth notes, "we really brought new energy to the deli, and participated in Raw Almond and le Burger Week."
This past June, Beth says, she started a short stint as the cook at Camp Massad which, while not open to campers, did rent out cabins to families. It was while she was at Massad that she was approached by someone on the Asper Campus board with an invitation to take over management of Schmoozer's.
Visitors to the campus will not see anything particularly different at Schmoozer's: still the same method of ordering and picking up food. In going over the menu with Beth, however, she pointed out that most of the menu is new, save a few popular items. "We didn't keep many of the old menu dishes except the fries, a tuna sandwich and a kids grilled cheese," Beth explains.
She adds that, while they're still "keeping the kitchen kosher and dairy, we are making more things from scratch (baked goods in particular) and I think my own spin on classic homey dishes is kind of my niche."
Beth points to such original items as "Grilled cheese with housemade tomato jam and spinach; pancakes with a cinnamon swirl and cream cheese icing with housemade raisins, new soup recipes, some healthier items with the Rady JC patrons in mind. Some grab and go items ready so people don't have to wait in line (a common request from what I've heard). Daily specials to come soon as well."
Some of the new menu choices include: Challah French Toast and Egg Wrap. With a nod to Israeli dishes, Beth has also introduced something called "Sabich", which the menu describes as "Romaine, hardboiled egg, pickles, fried eggplant, raw veggies, pickled mango sauce, hummus, and pita chips."
Beth also notes that Schmoozer's has a new coffee supplier, Colosimo Coffee Roasters, and says patrons are sure to notice the difference in the quality of the coffee.
As far as students at Gray Academy being able to eat at Schmoozer's goes, for the time being, they are not able to go there, although a program whereby hot food will be delivered to the students is being set up. As well, Schmoozer's will be working with the Rady JCC daycare to provide some meals for kids.
And, going forward, Beth says that she expects the seniors "Lunch 'n Learn program at the Rady will be "up and running soon" (hopefully by Chanukah, she adds).