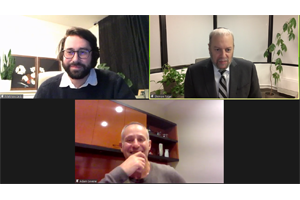 By BERNIE BELLAN On Wednesday, October 14, the Jewish Federation of Winnipeg presented a conversation between Rabbi Matthew Leibl and CIJA (Centre for Israel and Jewish Affairs) CEO Shimon Koffler Fogel titled: "Antisemitism in Canada: Pushing back against hate".
In introducting Fogel, Leibl made the following observation about his not having been exposed to antisemitism during the six years he spent as a radio show host prior to his becoming a rabbi at the Shaarey Zedek: "In the six years I spent on the air I never experienced anything like it (antisemitism)."
That observation served as a prelude to Leibl's asking Fogel, "How familiar do you think people are with antisemitism?"
Fogel responded: "I am increasingly uncomfortable with the term 'antisemitism'. Our concern is hatred directed toward the Jews…There has been a steady increase in unabashed hatred toward Jews…The overwhelming majority of antisemitic animus toward Jews is rooted in ignorance…Anything born out of ignorance can be healed with education, but what we really have to be concerned about is the 20 percent of antisemitism that comes out of real hatred toward Jews, not ignorance."
Leibl asked: "How do we balance the distinction between antisemitism and antiZionism?"
Fogel: "I reject the understanding that 'everything has changed as a result of the conflict between Israel and Gaza' "(last May, which led to a marked upsurge in antisemitic behaviour, especially on the internet).
"What has been happening is an effort to redefine how we think about society."
Fogel went on to explain that Israel makes for an easy target, especially for those on the left. He referred to Naomi Klein ("Progressive" hero who has often criticized Israel) as having remarked, in explaining why so many on the left attack Israel when there are so many other countries that have far worse records when it comes to human rights: "Israel is the low hanging fruit."
Fogel added that "Israel is the proxy for the Jewish people. To treat differently the aspirations of the Jewish people is antisemitic."
He referred to instances this past May in Montreal when Hamas supporters would drive through Jewish neighbourhoods of Montreal in their cars, shouting "Hitler didn't finish the job" or "We're coming to get you."
There is "an artificial distinction between the Jewish people and the Jewish state," Fogel suggested.
Leibl asked: "Are there tools we can use when tension is raised?"
Fogel: "We have to separate things into two categories: What we used to do – which was target certain political groups in an effort to win support for Israel and what we need to do more of, which is recognize that we actually have a second target group within our own constituency" (members of the Jewish community who are quite critical of Israel).
Turning to the subject of social media, Fogel had this to say: "There is a sense of inadequacy how to answer (antisemitic posts) on social media." Again, he pointed to divisions within the Jewish community itself, saying "We've become fractured, we've become polarized. A community that isn't unified has lost its effectiveness."
Still, Fogel wanted to emphasize that it is "unity – not uniformity" that the Jewish community has lost. "We've lost the principle of consensus," he observed.
Yet, in responding to antisemitic social media, Fogel noted the challenges that pertain to how small the Jewish community is worldwide, in comparison with the Muslim community, for instance (although he was also quick to note that by no means are all Muslims antisemitic).
"We have to develop a greater facility to respond to social media," Fogel said, including doing the following:
We have to "educate" – something that is a result of "an ignorant multi-generational deficit".
We have to draw a "distinction between activism and advocacy". In doing that, we must enter into an "exercise of valuing the principles of inclusion and mutual self-respect."
Leibl followed up Fogel's suggestion, asking "So, who's the 'we' who does that?"
Fogel suggested that "Federations are the key hubs – maybe not the main points of contact for Jews, but the best places to provide resources" for combating antisemitism.
Yet, as much as antisemitism is certainly a problem in Canada, Fogel conceded that "the vast majority of social media posts originate outside of Canada" – which makes it very hard to counter, even if there were some government regulation of social media in this country
"We've called on the federal government to introduce an online anti-hate strategy," Fogel said, but Canada alone isn't going to be able to do it."
"We're going to have to generate a global consensus so that posts generated in Iran and which are seen in the U.K. (for example)" can be regulated in the U.K.
When it comes to hatred toward Jews on social media, moreover, Fogel pointed out that "both extremes (left and right) are toxic to the Jewish community. Unless there's a coercive element imposed upon them," he added, "they're not going to change."
However, there's another element to trying to control social media, Fogel said, which is "that in order to have an impact we actually have to surrender control" – not to governments, but to "influencers".
In this new world of social media it is the importance of "influencers" we have to acknowledge, Fogel argued: people who don't "create" content on social media, "they report" what others have produced.
"We have to reach out to the real influencers," Fogel suggested. He pointed to the influence someone like Lebron James has – with his "37 million followers on Twitter".
For someone like Lebron James (and if you're reading this and don't have a clue who Lebron James is, he's an American basketball player), "the most important influence Lebron James is going to have isn't what he tweets, it's what he retweets," according to Fogel.
"The best way to get control is to give up control" to young influencers.
Interesting proposition, I suppose. But how the heck are you going to be able to persuade young influencers to take on antisemitism online? Is Kylie Jenner interested in anything more than her latest brand of eye shadow, I wonder? Now, if Bar Rafaeli or Gal Gadot were to join forces with the Kardashians, maybe that would work. Now there's an idea!