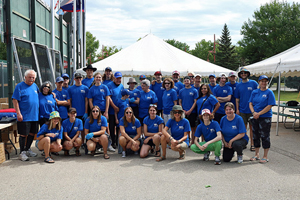 On Sunday, August 14th, B'nai Brith Canada in Winnipeg held its 14th annual "Afternoon with the Winnipeg Goldeyes" event, bringing out the city's most vulnerable to spend a fun day at the ball park.
Since 2008, B'nai Brith has played host to the event, providing a valuable service to the community by inviting clients of Winnipeg's service agencies to come out to the Goldeyes ball park.
Attendees enjoyed a complimentary lunch from Salisbury House, Dickie Dee ice cream and B'nai Brith gifts of a commemorative t-shirt and hat, sunglasses and a drawstring knapsack, all at NO COST to them.
This year over 1200 recipients from 62 Manitoba agencies attended.
The event truly struck a chord with everyone involved, including our staff and volunteers, and especially all of the participants.