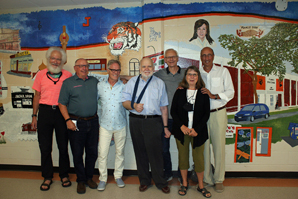 Elsewhere on this website (Aron Katz story) you can read a lengthy story about the tragic death of 21-year-old Aron Katz, who died heroically while saving his own sister from drowning one summer day in 1973 in the Big Whiteshell.
On August 16, seven of Aron's former classmates from the 1969 graduating class from St. John's – along with others who had or now have a connection to the school, gathered to unveil a plaque dedicated to Aron's memory. Click on "Read More" to read the wording on the plaque:
ARON KATZ
1951-1973
Graduating Class of 1969
Aron was an exceptional young man of great intellect and even greater courage, who in the summer of 1973 was about to begin his third year of Medicine at the University of Manitoba. He gave his life while saving his younger sister from drowning during a camping trip in the Whiteshell and was posthumously honoured for his heroism with Canada's second highest award for bravery—The Star of Courage.
Incredibly bright, unselfish, kind and humble, Aron was the second youngest of seven children who grew up under very modest circumstances in an old wooden clapboard house on Alfred Avenue. He had an exceptional thirst for knowledge and was a valued member of St. John's High School's "Reach for the Top" team, a televised, academic quiz show in which the best and brightest from Winnipeg high schools competed. Aron made friends easily, loved sports and was a huge Jimi Hendrix fan. He dreamt of being a doctor one day in order to help others and had just completed the first half of his medical degree.
At their fiftieth anniversary reunion, Aron's fellow graduating classmates from 1969 (Room 333 – The Theatre Room) decided to honour him in perpetuity with an annual scholarship in his name, recognizing a graduating student each year who best demonstrates academic promise and exhibits empathy for others; in particular, one who has shown extreme courage when faced with a significant challenge in their life. Donations were made by twenty-six members of that class, together with Aron's five surviving siblings, as listed opposite.
Aron Katz left this world much too soon. May his memory and legacy last forever. God bless him.