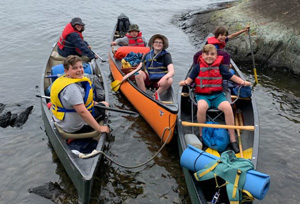 By BERNIE BELLAN Back in the spring it was hard to know what might unfold for our two Jewish sleepover camps.
It was in our May 12 issue when I reported that while BB Camp's co-directors, Jacob Brodovsky and Lexie Yurman,  weren't optimistic that the Ontario government would lift all restrictions that had been imposed on camps as a result of Covid, there were still reasons to be hopeful that they would be able to run some form of second session, AC (Advanced Camp) and LTP (Leadership Training Programs) programs at the camp this summer.
When I asked them though whether there was any chance the popular day camp program – which sees children brought out to camp each day by boat from Kenora, could be offered, the answer was, we're still waiting to see how things will look in June and July. (As it turned out, there wasn't any day camp at BB Camp this summer.)
But, what BB Camp did have in the works – as a sort of substitute for the normal camp experience, was something called "BB Bed & Breakfast". Families were going to be able to come out for three-night stays, beginning in July, during which they would be treated to the full camp experience.
Parents and children were invited to participate in "the best parts of a traditional sleep-away summer camp program to offer a unique and unforgettable family cabin rental experience", including the option of going on a two or four-night canoe trip following the camp stay.
According to Jacob, the BB Bed & Breakfast was sold out quite quickly and was an overwhelming success, with 19 different families participating altogether.
"Everyone was rapid tested on site every three days," Jacob explained, and each family was its own cohort, taking meals on their own, and participating in activities separate from every other family.
But, perhaps even more gratifying to Jacob and Lexie was the decision by the Ontario government to allow a full sleepover camp following the July family program.
"We didn't really know whether we were going to be able to offer what would have been the second session of camp" until the go-ahead was received from Ontario authorities in June, Jacob said.
An inspector from the Ontario Health Department came out to the camp in May to assess preparations that the camp had taken for social distancing and was satisfied that the second session of camp could go ahead as planned.
As it was, 160 campers were able to enjoy a full camp experience, beginning July 25 and lasting through August 8. With 65 staff also at the camp , what was feared might be impossible to pull off succeeded with flying colours.
One aspect of the camp experience, however, was that the vast majority of the campers were over the age 12. "We only had 11 kids (out of the 160) who were under 12," Jacob said.
But, with such an older group of campers on hand, it gave camp staff the opportunity to send the vast majority of campers out on canoe trips ranging in length from one to three weeks.
"We had six AC (Advanced Camp) canoe trips" where 52 campers spent their entire time at camp out on Lake of the Woods, Jacob explained. As for the rest of the campers, who spent various periods of time out on the lake, toward the end of the camp session the Ontario government also gave BB Camp permission to combine all the campers into one large cohort.
It may have been touch and go for the longest while for Jacob and Lexie, wondering what sort of experience they might be able to offer campers, if any at all, but in the end Jacob said it turned into a hugely satisfying summer, what with the very successful B&B program, and a full complement of campers on hand for the second session.