Canadian Jewish News – Canada's flagship Jewish newspaper, announces it's folding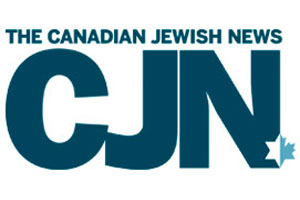 By BERNIE BELLAN
This story is one that I had been dreading to see. The Canadian Jewish News has been a hallmark of superior journalism for years. It was the model for all other Jewish newspapers in Canada.
April 3, 2020
MONTREAL (JTA) — Canada's flagship national Jewish newspaper, the Canadian Jewish News, became a coronavirus casualty after it announced that its April 9 issue would be its last after 60 years in business.
"Unfortunately, we too have become a victim of Covid-19," president Elizabeth Wolfe said in an official statement Thursday on the Canadian Jewish News website. "Already struggling, we are not able to sustain the enterprise in an environment of almost complete economic shutdown."
Canadian Jewish News will cease both its print and online editions.
The weekly, launched January 1, 1960 under the editorship of Myer Nurenberger, fell victim to the economic devastation of the COVID-19 pandemic after struggling to stay afloat since coming to the brink of closure once before, in 2013. It revived after a groundswell of community support.
At the time, the newspaper let go of about 50 staffers in Montreal and Toronto and relaunched with new editorial leadership, a fresh look and layout, and a trendier variety of content. But losses continued to mount and the paper succumbed to the economic woes brought on by the coronavirus outbreak, said Wolfe. (Wolfe is a member of the board of directors of 70 Faces Media, JTA's parent company.)
The staff was informed of the newspaper's demise via video-conference call. Its circulation at its demise was about 32,000.
Following are excerpts from the statement posted to the CJN website by Elizabeth Wolfe, president of the Canadian Jewish News (and daughter of the late Ray Wolfe, who was driving force behind the CJN for years):
f Everywhere we have seen the devastating impact of COVID-19. It has attacked every aspect of life as we know it, and we are all struggling to cope with the upheaval. We had hoped that The CJN could play some small role to inform, console and distract our readers as we all isolate at home, worried about our families, our friends, our medical caregivers, all those risking their lives to provide essential services, our businesses and livelihood, our community, our country, our world.
It is with great regret that we have realized that we will be unable to do so. Unfortunately, we too have become a victim of COVID-19. Already struggling, we are not able to sustain the enterprise in an environment of almost complete economic shut down. It is with deep sadness that we announce the closure of our beloved CJN, both in print and online.
In the spring and summer of 2013 we saved The CJN from its announced demise. At that time, I consulted with a number of community leaders, including my mother, Rose Wolfe, a longtime board member of The CJN and community leader. Her response at the time surprised me. She said: "It had a good run. Everything has its season. It is time."
That response did not sit well with me, as I was not satisfied that we had done everything possible to save The CJN, especially given our family's 40 year association with the paper. I was not willing to give up without another try. With the support of the board of directors, we re-organized, restructured and created a new version of the paper and website to serve the Canadian Jewish community. Against all odds, our friends, advertisers and readers recognized how important it was to maintain The CJN as a platform to inform and engage Canadian Jewry.
The outcry at the time encouraged our efforts. It did not, however, translate into widespread support for The CJN, although our dedicated subscribers, advertisers and friends kept us afloat. Despite the challenges facing print journalism everywhere, we managed to survive, printing 100 editions (50 each in Toronto and Montreal) annually as well as supplements and periodic magazines, and providing digital access through our website.
We have not been immune to the decline of the industry, although our decline has been slower than most. Our bottom line showed small profits early on, to start to rebuild our lost reserves, became barely break-even shortly thereafter, and then recently succumbed to increasing losses. The economic devastation striking our community has also affected The CJN. The CJN suffered from a pre-existing condition and has been felled by COVID-19.
Our board of directors and management agree that, while we are committed to our community and our readers, our first obligation is to our staff, many of whom have been with The CJN throughout their careers. On behalf of all our readers, I want to extend an enormous thank you to all of The CJN staff who have provided Canadian Jewry with a much needed connection to community.
I have no doubt that there will be another outcry from the community, particularly from those readers who rely on the print edition as their source of information, and perhaps, their connection to the Canadian Jewish community. It is my hope that members of our community will recognize the need for a national platform and that a new CJN will emerge.
Please know that we have done everything in our power to continue The CJN for as long as possible. It is with tears in my eyes that I conclude: It had a good run. Everything has its season. It is time.
 
Elizabeth Wolfe
President, Canadian Jewish News
Congregation Etz Chayim says good bye to 123 Matheson Ave.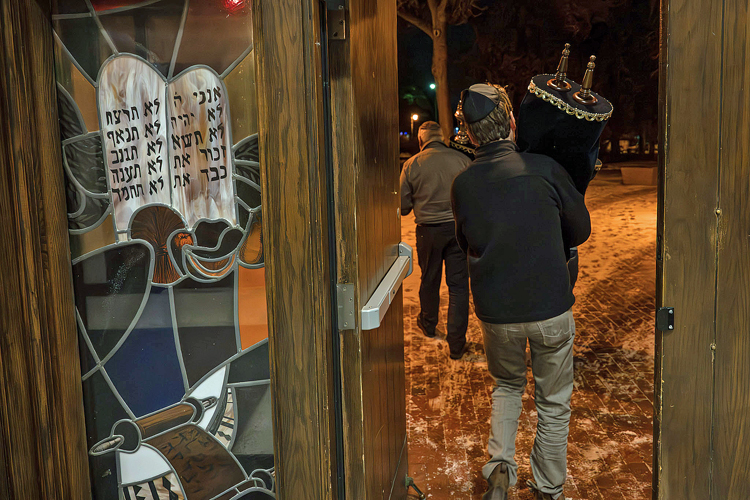 By BERNIE BELLAN After 71 years of serving as the home for first the Rosh Pina Synagogue, then for the past 21 years as the home for what was the merger of three different congregations – Rosh Pina's, along with the Bnay Abraham and Beth Israel, the Etz Chayim Congregation held its final service on Wednesday, November 29.
You can read the story by CJN writer John Longhurst elsewhere on this site (https://jewishpostandnews.ca/rss/congregation-etz-chayim-in-winnipeg-says-a-bittersweet-farewell-to-their-old-building-as-they-prepare-to-move/) along with our earlier story about the sale of the building to an Eritrean Church (https://jewishpostandnews.ca/faqs/rokmicronews-fp-1/former-congregation-etz-chayim-synagogue-building-to-become-eritrean-orthodox-church/), but here are some pictures from the final service.
(Photos courtesy of Keith Levit)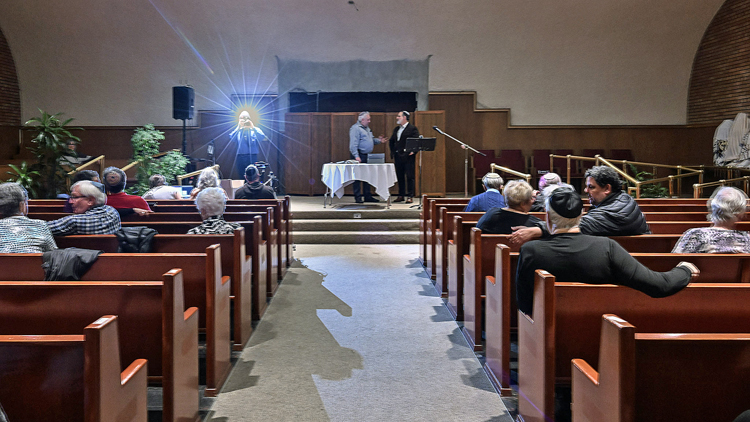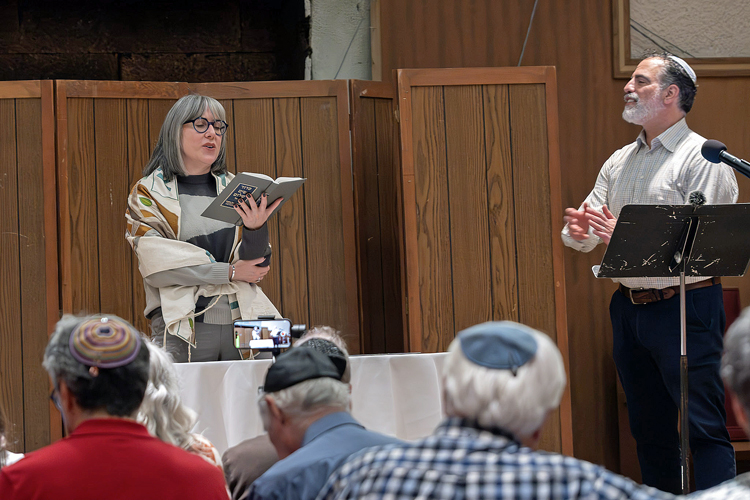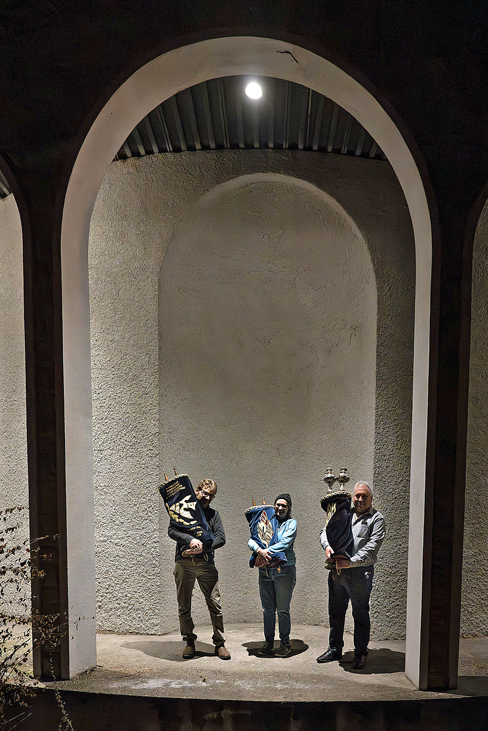 Israel report by former Winnipegger Bruce Brown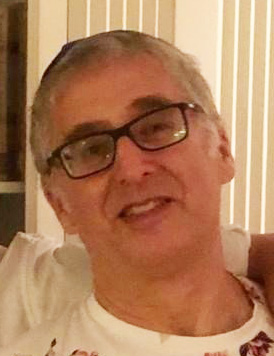 By BRUCE BROWN (posted Nov. 28/23) Was driving home from work the other day.  Pre-ceasefire.  Left the office early to reduce driving time in the evening hours.  Hamas likes their 6PM missile barrage and I'm honing my missile-avoidance routine.
 
Was listening to talk-radio… but kind of had enough of the news.  Too much war talk and its getting a bit overwhelming.  So switched to Spotify and up popped Supertramp – the Logical Song.  For sure how 'wonderful, beautiful, magical' life once felt.  Before Oct 7th.  Before Hamas. 
 
Then, as if on cue.  I gaze towards the sky.  And saw missiles flying overhead.  At first it didn't really click. And then.  Yikes!  I quickly switched back to the news.  Where, in a very calming voice, they were announcing areas under missile attack.  Which is another reason to listen to the radio while driving during war – real-time information.  Lesson learned.
 
Suddenly my smartphone's flashlight started flashing.  Which was pretty darn cool!  And there I was, on Star Trek.  Standing on the bridge.  Even recalled the vessel number – NCC-1701. There I was with Captain Kirk.  No!  I was Captain Kirk.  Dr. McCoy by my side.  Sulu and Chekov at the controls.  The Klingons were attacking.  And Mr. Spock -standing to the side- was calmy advising the attack coordinates.  No Wait!  That was the radio announcer.  Seriously.  This all took place within a split second in my over-active imagination.
 
The flashing continued.  Then I realized my cellphone was communicating with me.  Warning of danger.  I have the Home Front Command application which sounds an amazingly loud alarm during a missile attack in my area.  But changing between the radio and Spotify prevented the siren from going off.  So instead, the phone activated my flashlight.  Sending out an S.O.S.  Now how neat is that!  In a geeky sort of way.  Like for someone who imagines himself on Star Trek during a real-life missile attack.
 
Then.  Reality set in.  There were Home Front Command instructions to follow.  Momentary-panic set in.  Where was my wife.  To tell me what to do.  Like she always does…but that's another story.  This time I wanted her there, instructing me. 
 
All these thoughts racing through my mind in milliseconds.  As I calmly slowed the car and veered to the shoulder.  Like other cars around me.  I put on the blinkers.  More flashing lights but the bridge of the U.S.S. Enterprise now a distant thought.  Looking both ways I left the car and hopped over the road- barrier.  Moving away from the car.  Although probably not far enough.  Because there was a steep decline just below.  It was getting dark and, suffering from poor night vision, I didn't want to trip and hurt myself.  I heard my son laughing at me. "Nerd!" he called out.  But that was just my imagination.
 
I should have laid flat.  Prostrating myself for maximum protection.  But it rained earlier that day, the ground was wet and I didn't want to get muddy.  '"Nerd!"  This time it was my daughter in my mind's eye.  "Okay," I said to no one in particular.  "I'll squat."  Good enough…but not really.
 
The family in the car ahead were huddling together but too close to their vehicle.  I shouted for them to move further away.  But they didn't react.  Probably didn't understand me, especially given my still heavily accented Canadian Hebrew.  This time I heard both my kids.  Teasing me – thirty years and still talk like an immigrant!  "Hey, they just don't hear me."  I said to the darkness.  Otherwise it was very moving seeing the father crouching down on top of his brood, in a protective sort of way.  "Isn't that touching." I said to my wife.  "For sure." She said somewhat sarcastically in the back of my mind, "I know you'd do the same."  
 
Then it was over.  The sky went quiet.  People returned to their cars.  The nestled family broke apart and entered theirs.  We should have stayed in place several more minutes.  Ten minutes is the recommended time.  But it was dark.  Getting late.  Also a bit cold.  I just wanted to get home.  Back to the real chiding of my kids and to my wife… somehow longing for her ordering me about.
 
A few minutes later my wife called.  Making sure I was safe.  And then routine set in.  "Don't forget to pick up some milk and bread from the corner store."  She instructed me.
 
Um Israel Chai
 
Bruce Brown.  A Canadian. And an Israeli.  Bruce made Aliyah…a long time ago.  He works in Israel's hi-tech sector by day and, in spurts, is a somewhat inspired writer by night.  Bruce is the winner of the 2019 American Jewish Press Association Simon Rockower Award for excellence in writing.  And wrote the 1998 satire, An Israeli is….  Bruce's reflects on life in Israel – political, social, economic and personal.  With lots of biting, contrarian, sardonic and irreverent insight.
 
Jewish community holds solidarity rally November 25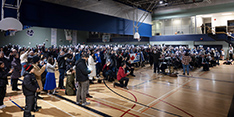 The Jewish Federation of Winnipeg held a rally in support of Israel on Saturday evening, November 25.
A number of speakers addressed the crowd of 800, including Rabbi Yosef Benarroch of Adas Yeshurun-Herzlia Congregation; Members of Parliament Ben Carr & Marty Morantz; Yolanda Papini-Pollock of Winnipeg Friends of Israel; Paula McPherson, former Brock Corydon teacher; and Gustavo Zentner, President of the Jewish Federation.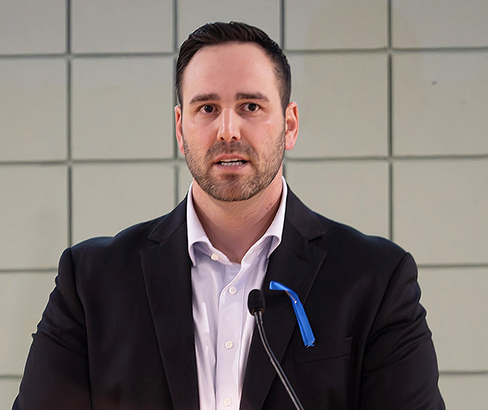 Click here to watch Ben Carr's remarks: https://www.youtube.com/watch?v=crfREGNRKfg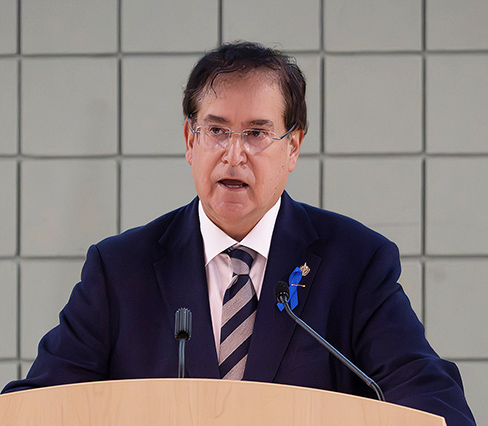 Click here to watch a video of Marty Morantz's remarks: https://studio.youtube.com/video/zHzC-iaqivg/ed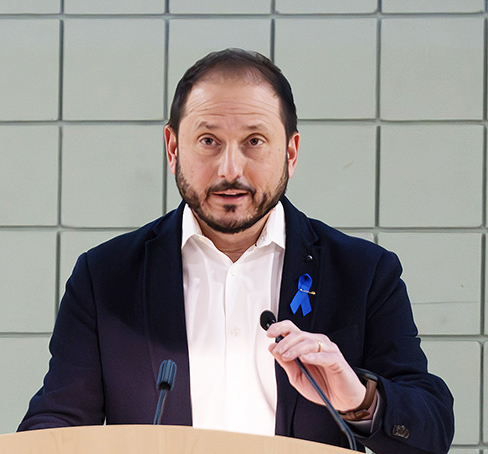 Click here to watch a video of Gustavo Zentner's remarks: https://www.youtube.com/watch?v=L3M_cCYuLgs