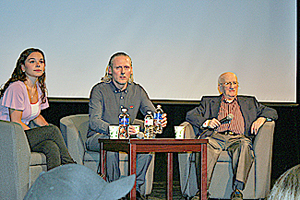 By BERNIE BELLAN
For 94-year-old Isaac Gotfried. telling the story how he survived three years in various slave labour and concentration camps during World War II has been his mission in life for over 26 years now.
In 2018 I recorded a talk Isaac gave to 32 Muslim students from a school in St. Boniface. A video of that session can be seen on our website at http://jewishpostandnews.ca/ categories-media/78-shoah/227-isaac-gotfried. During that talk Isaac noted that, at that point in his life, he estimated that he had spoken at over 100 schools to over 20,000 students.
This past Wednesday, March 11, an audience in the Berney Theatre had the opportunity to watch a brand new film which also showed Isaac interacting with students from a different school, this time J.H. Bruns Collegiate, which is also in St. Boniface.
The occasion was the world premiere of a new film titled "Tikkun Olam". The film was produced by Yolanda Papini-Pollock, who is not only the founder of Winnipeg Friends of Israel, she is a documentary film maker of some renown who, four years ago, produced an excellent documentary about four survivors of different genocides titled "Never Again: A Broken Promise".
This time though, Yolanda took a more sophisticated approach to her film about Isaac Gotfried, inter splicing footage and stills from World War II with scenes of Isaac meeting students from J.H. Bruns last spring and this past fall.
The film is partly narrated by a student by the name of Kaitlin Medeiros, who graduated from J.H. Bruns last year. It also focuses on the efforts of a teacher by the name of Tim Beyak to introduce teaching about the Holocaust to students whose understanding of what went on in World War II was somewhat limited. According to Beyak, after he was introduced to Yolanda Papini-Pollock over two years ago, the idea for making this particular film took root. To give the students in the film quite a bit of credit, however, many of the students whom we see during the course of the film were well aware of what the Holocaust was prior to meeting Isaac. As one might expect though, the details that Isaac Gotfried shared with them about his own personal experiences came as a total shock to the vast majority of them. One scene in particular – when Isaac describes the depravity of Ilsa Koch, who was the commandant of Buchenwald concentration camp, and who was known as the "Bitch of Buchenwald", the students' mouths were left agape.
In my 2018 story about Isaac Gotfried, I referred to Isaac's having seen Koch in person and his description of her own particular brand of sadism: "…Isaac came face to face with the 'Bitch of Buchenwald' – Ilse Koch, a woman who was so sadistic that she would choose men to sleep with during the night, then have them shot the next morning." In the film Koch's penchant for taking the skins of those men and turning them into lampshades is shown in graphic detail.
Isaac Gotfried has written his autobiography, "Lucky to Survive", which was published in 2017. In introducing her film to the Berney Theatre audience, filmmaker Yolanda Papini-Pollock told the audience that "Isaac was a young boy (living in Poland) when the Nazis invaded." (He would have been 13.)
"Despite everything that happened to him though," Yolanda continued, "Isaac considers himself lucky. He has dedicated his life to sharing his story with students of all ages."
The film doesn't recount too much of the detail of what happened to Isaac during the war, although he does tell one harrowing story to the students at J.H. Bruns that he has told to thousands of students before, and about which I wrote in my 2018 article about Isaac:
"Toward the end of his captivity, Isaac said, one night, when he was sleeping in his bunk – and there were eight men assigned to bunks designed to hold only two, he had a pain on his side and he wanted to turn over to the other side. He tried to move the man next to him so that he could turn over, but the man didn't move. He was dead. So Isaac said he turned back to the man on his other side; he, too, was dead.
" 'I was sleeping between two corpses,' Isaac said to the students."
Within the documentary, "Tikkun Olam", we learn that there is a subtext to the story of Isaac meeting with students at J.H. Bruns, and that is the hugely diverse backgrounds of the students themselves. There are students from all over the globe represented in the film – including one transsexual student who relates their own particular experience of having been bullied at school. Later, when asked what their takeaway is after having met Isaac, many of the students say that they have a newfound appreciation of what it means to be discriminated against.
Later, after the movie was shown, Isaac Gotfried sat on the stage with Tim Beyak and Kaitlin Medeiros, and the three of them fielded questions from the audience.
One of the questions related to the point of what was the impression left with the students at J.H. Bruns after having met Isaac: "Did you see a change in attitude toward bullying after Isaac spoke at your school?" the questioner asked
Kaitlin Medeiros responded: "For sure – I think seeing something as traumatic as the Holocaust makes you realize how trivial your own problems seem."
Following the showing of the film and the question and answer session audience members gathered in the Berney Theatre foyer for refreshments – and a chance to meet Isaac and buy his book. I asked Yolanda Papini-Pollock whether she has plans to show the film at other venues.
Yolanda explained that, due to the COBID-19 virus, 27 residents of the Shaftesbury Retirement Residence who had planned on attending the Berney Theatre for the premiere of the film were unfortunately kept from boarding their bus. As a result plans are being made to show the film at the Shaftesbury itself.
As well, Yolanda said, she will be sending the film to various film festivals around the county and it will be one of the films shown at the upcoming Rady JCC Jewish Film Festival. Yolanda added that she is hoping to find an educational distributor who will show the film at more schools.