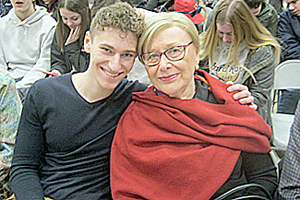 By MYRON LOVE
Edith Kimelman, whom I have known for many years, exudes elegance and confidence. Beneath the surface though, this child survivor of the Holocaust – in common with most Holocaust survivors – will tell you she continues to bear the scars of the trauma that she went through. And, as with many of her fellow survivors, she came here with nothing and built a life for herself as a wife, mother, grandmother, scholar and educator.
In recent years, Kimelman has devoted much of her time to Holocaust education, sharing her story with many high school students in and around Winnipeg in an effort to inspire young people to eschew prejudice and hate and work for the betterment of society. In 2016, she was one of those featured in filmmakers Yolanda Papini Pollock and Erol Meryl's "Never Again: A Broken Promise" – a documentary on genocide.
On Thursday, March 12, Kimelman told her story to her largest audience yet – 1,350 high school students from 27 Manitoba schools who were in attendance at the University of Winnipeg's Duckworth Centre for the 19th annual Holocaust and Human Rights Symposium presented by the Jewish Heritage Centre of Western Canada.
Kimelman and Indigenous leader, acclaimed author, and Indian Residential School survivor Theodore Fontaine were the two keynote speakers for the day, with Kimelman speaking in the morning and Fontaine in the afternoon session.
The symposium began with remarks from Dr. Annette Trimbee, President and Vice-Chancellor of the University of Winnipeg. She noted that pre-war Germany society was not much different from our own society today. "Minority communities in many countries are still being marginalized and abused," she pointed out.
Trimbee quoted the late Simon Wiesenthal, who said that "for evil to flourish, it only requires good men to do nothing".
She also spoke of the importance of education in making the world a better place.
In introducing Edith Kimelman, Belle Jarniewski began by putting the Holocaust into graphic context. The executive director of the Jewish Heritage Centre of Western Canada and director of the Freeman Family Foundation Holocaust Education Centre noted that, along with death camps, the Nazis built tens of thousands more slave labour camps, transit camps and ghettos throughout Nazi-occupied Europe.
In addition to the more than three million Jews murdered in the death camps – as well as millions more Roma, Jehovah's Witnesses, political prisoners and others deemed "undesirable", 1.4 million more Jews in Eastern Europe were murdered by the Einsatzgruppen in mass shootings.
Jarniewski also spoke of Canada's sorry record of residential schools as well as the worrying explosion in recent years of antisemitism, racism, and anti-immigrant sentiment in many countries. "There are at least 100 active white supremacist hate groups in Canada alone", she added, noting that many espouse neo-Nazi ideology.
Jarniewski urged the students at the symposium to add their voices to the fight against hate. "Together, we can make a difference," she said.
Kimelman began her remarks with a paraphrase from the great Israeli statesman Abba Eban, who described the Holocaust as one of the greatest crises in the history of Western civilization – with the Jews at the centre of it: "Antisemitism is the most violent hatred," she observed. "I have carried the trauma of what we went through all of my life. I was robbed of my childhood but still managed to find a spark from the ashes from which I was able to build a new life in a new country."
She described her early years as a happy time, doted on by loving parents in a small, community in Ukraine, where her best friend was a non-Jewish little girl next door. Life as the six-year-old Edith knew it came to an end in June 1941, when the Nazis arrived. Her family's home was ransacked by the neighbours and almost everything was taken.
"I saw my best friend wearing my best clothes," she recalled. "My friends shunned me. I sensed that something was wrong, but I didn't know what it was. I thought that I must have done something wrong."
A short time later, German soldiers took her father away and shot him. She and her mother found his body and had to carry it back to their home, where two of her mother's brothers came to take her father's body for burial.
Part of Edith's family home was overtaken by Ukrainian militia. Her mother overheard some of the militiamen making plans to drown Edith, her mother and grandmother (her father's mother), along with some Russian soldiers who they had previously captured – in the Horin River. Her mother woke the little girl in the middle of the night (her grandmother refused to leave) and they walked 24 km to Rowno, where they were taken in by her mother's relatives.
Her mother's parents were farmers in another village. They sent a farmer with a wagon filled with hay to pick up mother and daughter and bring them to the safety of their farm. In the fall of 1941, 19,000 Jews in the Rowno Ghetto who did not possess work permits were gathered at the train station, then taken directly to Soscenki, and shot into prepared mass graves.
In the fall of 1942, Edith and her mother continued to stay with her mother's family in Tuchin. The remaining Jews in the Tuchin ghetto decided to burn it down rather than being slowly depleted in small groups.
At another point, Kimelman's mother was badly beaten by some Germans and left with permanent kidney damage.
Kimelman told how she, her mother, grandparents, and her uncles and aunt were hidden in a haystack by a kindly Ukrainian lady throughout the winter of 1942-43. After that, they joined other escapees in the forest.
There were other brushes with death and finally, in early 1944, the group of about 75 destitute and desperate Jews was liberated by Partisans. That spring, Edith and her mother were both afflicted with typhus. Her mother eventually died in Lodz as a result of the severe beating that she had received, which had damaged her kidneys.
"With my mother's death, everything I loved, everything I held dear also died," Kimelman recalled. "I felt that I had nothing to live for. Fortunately, my grandmother, my uncles and my aunt gave me the courage to hang on to life."
In 1949, Edith and her surviving family came to Winnipeg, where she lived with her grandmother and an uncle. Education had been very important to her parents and, by becoming well educated, Edith was determined to honour their memory. She went to university as a mature student, earning a BA from the University of Winnipeg and certification from the University of Manitoba, followed by graduate studies at Bar Ilan University and the Hebrew University in Israel, Oxford, and Columbia. She became an educator and an administrator in the Jewish school system.
Edith was married to Sam for 63 years prior to his passing in 2017. She is the proud mother of three sons and grandmother of two grandsons.
"I see myself as a branch that was ripped from a tree, but managed to take root and grow," she told her audience. "We are fortunate that in Canada, we have the opportunity to raise our family in freedom, peace and security."
Nonetheless, she added, quoting Bernie Farber, former executive director of the Canadian Jewish Congress, "Jews are no strangers to antisemitism. While history has shown us that Jew hatred may take an occasional holiday, it never takes a permanent vacation."
"I am frightened by the current rise of antisemitism and am reaching a time in my life when every day is a bonus. The world is turbulent; so many countries are at war with other or themselves. I am grateful that I live in Canada where I can express my feelings before you without feeling repercussions just because I am Jewish. I hope I have been able to leave you some seeds of thought which will take root."
The symposium receives funding from the Jewish Foundation of Manitoba and the Asper Foundation, while the Jewish Heritage Centre is a beneficiary agency of the Jewish Federation of Winnipeg,