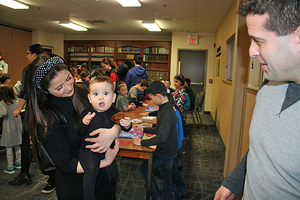 So many different organizations had different ways to mark Chanukah this year. We've put together a series of short descriptions of what's been happening in Winnipeg's Jewish community this year. Click "read more" to see what's been going on: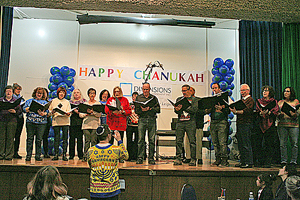 Shaarey Zedek Extravaganza and Market – Sunday, Dec. 15
The Shaarey Zedek played host to an eclectic mix of vendors and Chanukah celebrations Sunday afternoon, Dec. 15. With Chanukah songs from Dor Chadash – the children's group under the direction of Rabbi Anibal Mass, along with a performance by the Winnipeg Jewish Chorus, there was plenty of musical entertainment.
But what really stood out was the amazing number of booths assembled on the auditorium floor (30 altogether), selling everything from honey to mezuzahs. In particular, the booth set up by the National Council of Jewish Women highlighted the need for people to commit to donating their organs following their deaths. For information about donating your organs following your death, go to www.signupforlife.ca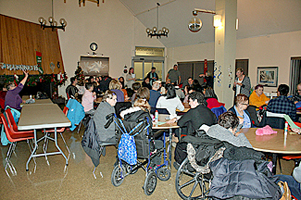 Shalom Residences Chanukah party Dec. 18
Shalom Residences held their party for their residents (there are now 33 individuals living in Shalom Residences) on Wednesday, Dec. 18, at 1010 Sinclair, which is an independent living facility. In addition to residents of Shalom Residences, there were also residents of other independent living facilities in attendance.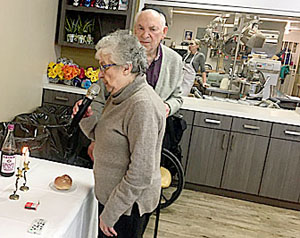 Gwen Secter mixes Chanukah with xmas with program titled "Have a Jolly Jewish Christmas"
Under the capable direction of Karla Berbrayer, the Gwen Secter Centre has been presenting a series of Friday afternoon programs featuring lunch followed by musical entertainment of a wide variety of sorts.
On Friday, Dec. 20, Debbie Maslowsky sang well-known Christmas songs – all composed by Jews, after some 75 members and guests had enjoyed a delicious lunch – all for the low price of either $13 for members or $16 for non-members.
It was also announced that the "All About Jews" series has received renewed funding from the Jewish Foundation, the Jewish Federation, and the WRHA, which will allow the series to continue in 2020.
For information on future programs at the Gwen Secter Centre, contact either Dan Saidman or Becky Chisick at
the Centre, phone 204-339-1701, or check their website: www.gwensecter.com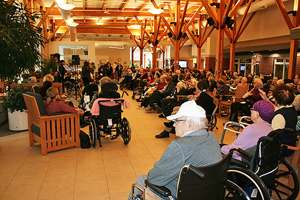 Simkin Centre – Sunday, Dec. 22
Sunday afternoons at the Simkin Centre provide opportunities for residents and visitors to enjoy concerts provided by different entertainers. On Sunday, Dec. 22 the beautiful atrium was jam packed as the usual concert was followed by lighting of the first candle of Chanukah.
Shaftesbury Park Retirement Residence – Sunday, Dec. 22
That same afternoon residents of the Shaftesbury were treated to a medley of Chanukah songs sung by Shayla Fink (with a sprinkling of xmas songs thrown in as well).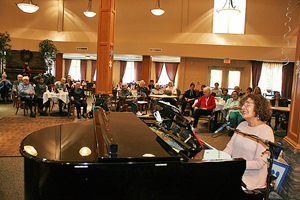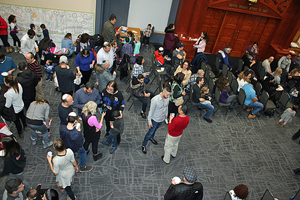 Chabad Chanukah celebration Dec. 22
The final celebration on the first night of Chanukah took place – as usual, at the Jewish Learning Centre, run by the Chabad movement. Naturally – it was "jam" packed (pun attended), what with free sufganiot and latkes.