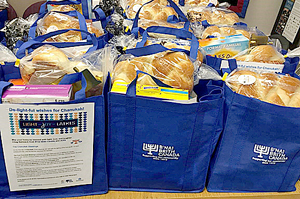 Various groups contributed to making this holiday season somewhat more pleasant for those among us who are less fortunate. B'nai Brith, in conjunction with Jewish Child & Family Service and the Chabad Lubavtich, provided 60 bags containing food and Chanukah-related items for different Winnipeg Jewish families.
Winnipeg Friends of Israel provided food bags containing only Israeli products – this year for Willow Place, which is a women's shelter. Read more about the great work that was the result of dedicated volunteers devoting hours of their time to worthy causes.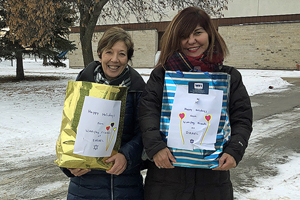 Winnipeg Friends of Israel "double mitzvah" project
Submitted by Yolanda Papini-Pollock of Winnipeg Friends of Israel
The custom of giving during special holidays is as old as the Jewish people themselves. Donating to the less fortunate during festive times is a time-honoured mitzvah that has been practised by Jews around the world for millennium. 
Following in this tradition of hesed (acts of loving kindness), Winnipeg Friends of Israel (WFI) has been reaching out to local communities—non-Jewish as well as Jewish—and providing food baskets for the disadvantaged and marginalized in our city, but with a Zionist twist. 
As an Israel advocacy organization, WFI launched The Double Mitzvah Project to help those in need while simultaneously supporting Israel's economy and thereby peacefully fighting the Boycott, Divestment, and Sanctions (BDS) movement, an inherently antisemitic campaign that targets only Israel for censure—not only economically but culturally and academically as well—with a view to eroding world support and ultimately eliminating the Jewish state.  
The Double Mitzvah Project was established four years ago and has gained the support of many members in our community who have been encouraged by WFI to buy Israeli goods whenever and wherever possible as way to protest the BDS movement. 
In the past, the donations of Israeli products made through WFI's Double Mitzvah Project have been delivered to the Indian Metis Friendship Centre of Winnipeg, the House of Peace, the Indigenous Women's Healing Centre, the Calvary Temple, and to Jewish Child and Family Service. 
The beneficiaries always receive a clear message that the food was donated by those who love and support Israel.
This year, the food will be donated to Willow Place, a family violence agency supporting transformation, healing, and healthy relationships. The organization operates an emergency shelter for women and their children who are leaving family violence situations.
For photos and more information on Winnipeg Friends of Israel's Double Mitzvah Project, please check WFI's Facebook page.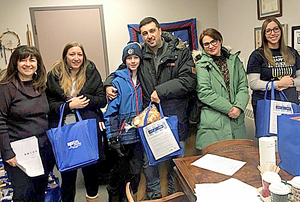 B'nai Brith's "De-Light-Ful Wishes for Chanukah"
Submitted by Adriana Glikman of B'nai Brith
B'nai Brith volunteers and donors worked to make Chanukah very special for some 60 recipients of gift bags this year.
The Chanukah program, called "De-Light-Ful Wishes for Chanukah" is done in conjunction with Jewish Child & Family Service.
Chabad Lubavitch of Winnipeg contributed menorahs, candles and latkes. The challahs and latkes were made by Alla Golinkin of Grandma Alla's Kitchen. (Chabad will be selling latkes and sufganiot through Dec.27.)
This year we counted on the generous support of many organizations and private donors who helped to make this program possible and increase the delivery of our Chanukah food bags to 60 different recipients in the community. Plus we had the best crew of volunteers who helped with the packing and deliveries!
Some of the organizations that helped were: B'nai Brith Yachad Couples Unit, BBYO chapters, Chabad and Joy Café Bar.