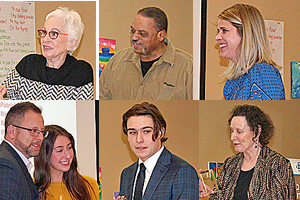 By BERNIE BELLAN
There's a lesson to be learned from how the board and staff of the Rady JCC handled their Annual General Meeting on Monday, December 16: It was over in record time!
Why was that? The answer is: No long speeches! After all, like almost any Jewish event, the main point of the evening was to get to the food – not to hear how great a year an organization just had. (Does any organization ever say they've had a really crappy year?)
But – the Rady JCC did actually enjoy a very successful year. Here are just some of the highlights of the past fiscal year (ending Aug. 31, 2019), as were briefly mentioned by Rady JCC President Lindsay Sawyer Fay during her own short report:
• The Rady JCC has 4,750 members
• Over 1 million visitors came through the doors of the Rady JCC last year
• 9,000 visitors came to Shalom Square during Folklorama
• The International Jewish Film Festival was the largest one ever held in Winnipeg, with over 4500 individuals having watched films
• Summer Day Camps provided programs for over 700 kids
• The Ken Kronson Rady JCC Sports Dinner attracted over 1300 attendees, with guest speaker Alex Rodriguez and special honouree Marjorie Blankstein
• The Rady JCC finished the year with a surplus of $89,368 (up over $70,000 from the previous year). Total revenues amounted to $7,856,515.
After the business part of the meeting was concluded, recipients of this year's Ken Kronson Kehila Awards were called up, each to receive an award from Rady JCC Executive Director Rob Berkowits.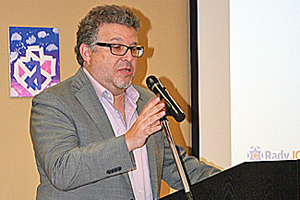 Among the award winners was Blair Worb, who has served as Chair of the Sports Dinner for years now – having taken over from the late Ken Kronson. At the AGM Worb announced that he will be stepping down as Chair of the dinner, with Al Greenberg now taking over.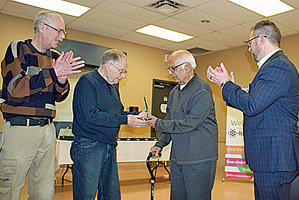 This year's recipient of the Sid Slonim Award was Dr. Vid Persaud. The award is named in memory of Sid Slonim, a long time member of the Rady JCC. The award is given annually to the member who, like Sid, distinguished himself as someone who has worked tirelessly for the betterment of the members.