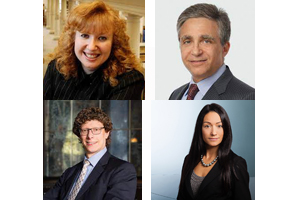 Honorary Title Recognizes Exceptional Merit in Law Profession: Goertzen (January 25, 2022)  The Manitoba government has appointed 11 Manitoba lawyers as Queen's counsel to recognize their extraordinary contributions to the practise of law, Justice Minister Kelvin Goertzen announced today. Among the 11 appointees are four members of the Jewish community:
Jonathan Kroft – Kroft is counsel to MLT Aikins LLP and was called to the Manitoba bar in 1984. He has practises in the areas of commercial litigation, administrative and public law, arbitration, alternative dispute resolution and securities litigation. Prior legal positions include executive vice-president, risk management and chief legal officer at Wellington West Holdings Inc. where he dealt with commercial matters, mergers and acquisitions, regulatory issues, employment issues and dispute, and risk management. Kroft has been involved with a number of community organizations including Simkin Centre personal care home, Mauro Centre for Peace and Justice, and the Jewish Federation of Winnipeg.
Richard D. Buchwald – Buchwald is a partner with Pitblado Law and was called to the Manitoba bar in 1994. He practises in the areas of civil and commercial litigation including estates professional regulation, debtor and creditor relations, agri-business, employment and commercial leasing. He is a trusted advisor to many clients in a wide variety of sectors. His professional activities include being a life bencher of the Law Society of Manitoba, a past member of the board of directors of the Canadian Bar Association and past-president of the Manitoba Bar Association. Buchwald currently serves on the board of directors of the Health Sciences Centre Foundation.
Leilani Kagan – Kagan is a partner at Thompson Dorfman Sweatman LLP and was called to the Manitoba bar in 1999. Her practice focuses on tax, corporate reorganizations, trusts and estate planning, and business law. Her community involvement includes her activities as a director and past-president of the Dream Factory and director of Toba Centre for Children & Youth. She is also a member of the engagement committee of the Associates of the I.H. Asper School of Business and co-chair of the United Way's major donor cabinet.
Brenlee Carrington Trepel – Carrington Trepel is a recently retired self-employed lawyer and sole practitioner who was called to the Manitoba bar in 1999. She was recently the chairperson for the Manitoba Human Rights Commission and was the first equity ombudsperson for the Law Society of Manitoba. Carrington Trepel has journalism experience and is currently a freelance book reviewer with the Winnipeg Free Press. She has published more than 70 articles on human rights, discrimination, harassment and respectful workplace issues for the Law Society and the Manitoba Bar Association's newsletter. Her community involvement includes being a member of the Black and White Ball committee of the Royal Manitoba Theatre Centre, a member of the president's advisory council of the Winnipeg Symphony Orchestra and a volunteer with the University of Manitoba Biomedical Research Ethics Board.