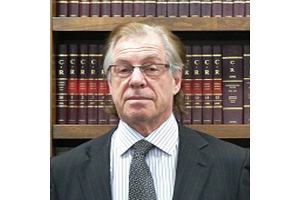 By BERNIE BELLAN The news of the passing of legendary lawyer Greg Brodsky has already been well reported in various news media.
But, aside from his numerous contributions to jurisprudence Greg Brodsky was someone who contributed a great deal of his his time to a myriad of Jewish organizations.
A scan of Jewish Post and Jewish Post & News archives reveals the many organizations to which Mr. Brodsky devoted his time. The very first mention of Greg Brodsky's name in one of our issues was in the January 21, 1965 issue, when he was a young 24-year-od lawyer.
His name was listed as a vice-chairman of the 1965 Israel Histadrut campaign. (How long has it been since we've had any reference to Histadrut in this paper?) In succeeding years Mr. Brodsky's name was regularly listed in Histadrut campaigns.
In 1968 his name was listed on the Pioneer Women's Child Rescue campaign (another annual event that was at one time a staple of our community).
In 1976 Greg's name was on the list of barristers backing the Combined Jewish Appeal campaign that year.
But, starting in 1980, the name Brodsky began to appear on a regular basis in Harvey Rosen's sports column, "The Sporting Touch". Here is what Harvey wrote in our June 7, 1980 issue, under the headline "These Runners Didn't Stumble". The occasion was the second running of what has since become an annual event: The Manitoba Marathon.
"I decided to scan the thousands of names and at random choose some of the 'chosen people' who realized their dream of one day running the equivalent distance of the Boston Marathon.
"Was Dr. Fred Shane's name there? Do kids love Mickey Mouse?….
"Lawyer Greg Brodsky, upon whom Shane prevailed to join him this year in Boston, also completed the Manitoba race…According to Fred, 'Brodsky has got incredible drive.' Greg, who should now be capable of taking on a greater load due to his superb conditioning, began only a year ago to take the sport of running seriously."
Freda Glow also wrote about Greg's running hobby when, in 1993, she wrote about what had become another popular race, the Winnipeg Beach to Gimli 10-mile run.
Freda wrote this about Greg's participation: "Avid runner Greg Brodsky has participated in the race 10 times. 'It's a good way to see where you're at in your training. You can't lie to the clock.' He said it's only too easy to find an excuse not to run. Despite four past injuries, he's continued.
"The busy criminal lawyer, who is recuperating nicely from two operations on his Achilles tendon states, 'We're going to show those doctors. They told me I couldn't run any more. "
In our July 24, 1980 issue Mr. Brodsky's name appears on the list of newly appointed executive members of the Shaarey Zedek Board, something that was to be repeated several times in future years.
In 1986 Mr. Brodsky's name appears on a list of newly appointed members to the board of Canadian Associates of Ben Gurion University.
And, although there wasn't a story in our paper about his involvement with the Vaad Ha'ir (the body responsible for the supervision of kashrut in Winnipeg for a very long time), my first personal meeting with Mr. Brodsky occurred some time in the 1980s when he was part of a group of three men who came to our old office on Hutchings Street to discuss a matter that I've forgotten exactly what it was about.
All that I remember was that certain individuals were unhappy with The Jewish Post over something to do with kashrut. (Was it that we were carrying ads for "trayf" restaurants? I just can't remember.) What I do remember was that Mr. Brodsky didn't say a word during that meeting – and looked a mite uncomfortable even being there. (My impression was that he would have rather been anywhere else. I'm glad I wasn't subjected to one of his famous cross-examinations.)
In 2002 Mr. Brodsky was a member of the cast of the Manitoba Bar Association's production of "One Flew Over the Cuckoo's Nest".
In our February 9, 2011 issue Mr. Brodsky's name is listed as a newly appointed director of the Winnipeg Board of Jewish Education.
In March of that same year, Mr. Brodsky delivered the eulogy at the funeral of another great member of Manitoba's legal community, Harry Walsh, saying: "Mr. Walsh was a big part of my life. He is responsible for what I am today. He left me with 40 years worth of memories. I am going to miss him."
My final communication with Mr. Brodsky occurred in the fall of 2020. I received a phone call from him – much to my surprise, because I had never had a phone call from him any time previously. His speech was slurred and it was immediately apparent to me that he must have either had a stroke or was suffering from some other debilitating condition.
I should note that for years we had been running memoriams for both of Mr. Brodsky's parents and were always paid with personal cheques from Mr. Brodsky.
This time – and although it was not easy for me to discern what he was saying, it became apparent that he was trying to schedule a memoriam for his late wife, Sylvia. I wasn't sure how I could comply with his request without knowing more details, so I contacted Greg's son, Dan.
As I recall, I did contact Dan, but unfortunately, I can't remember the conversation I had with him. In the end, I didn't schedule that memoriam – something I deeply regret, as I was told by an individual who took over responsibility for Mr. Brodsky's affairs when he was no longer capable of doing so that Greg Brodsky so looked forward to receiving our paper each issue.
While Greg Brodsky will no doubt be remembered for the indefatigable energy he devoted to the law, I hope that by offering a smattering of other aspects of his life, as noted at various times within the pages of this paper, that I have offered a wider glimpse of a man who was so generous with his time to so many different organizations but who was, as evidenced by descriptions of his dogged determination to continue running even when he had so severely injured himself doing so – someone of incredible determination, drive, and zest for life.