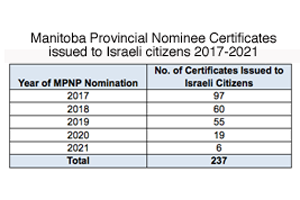 By BERNIE BELLAN Elsewhere on this website (http://jewishpostandnews.ca/local/1132-increase-in-allocations-to-provincial-nominee-program-likely-to-lead-to-influx-of-israeli-immigrants-to-winnipeg) we have a story about the Provincial Nominee Program, which is the program through which a great many new Jewish immigrants from Israel and other countries have been able to move to Manitoba.
Following publication of that article, however, we received comments from an immigration consultant who suggested that, as a result of the tightening of requirements under the PNP, there are fewer individuals from Israel who will be applying to come to Manitoba.
That individual also suggested that many immigrants who have come here have left Winnipeg as a result of not being able to find work in their chosen fields.
We had previously contacted the Jewish Federation to try to obtain specific figures on how many individuals had come to Manitoba through the Federation's program of providing assistance to prospective immigrants. But, when we received the communication from that immigration consultant we passed her comments on to the Federation for reaction.
Following is what we received back from the Federation:
"In 2019, 76 families arrived through GrowWinnipeg, followed by 45 in 2020, and only 7 in 2021. Uncertainty and restrictions imposed as part of the pandemic negatively impacted the number of arrivals and in-person exploratory visits. To keep things moving for our applicants, we implemented a virtual pre-exploratory visit process where they could connect with our community's organizations, as well as social and employment contacts.
"Federation has not imposed any restrictions on applicants; however, they must adhere to the requirements put in place by the MPNP (Manitoba Provincial Nominee Program). We have 75 people ready and willing to come to Winnipeg and continue with the immigration process, and with pandemic restrictions loosening, we anticipate numbers to bounce back from 2021. There are currently 300 individuals in various stages of producing required documents necessary to continue with the process. Based on research conducted in 2017, there is an 80% retention rate of families who have moved to Winnipeg since we began tracking in 1999.
(The 80% retention rate for Jewish families that have moved to Winnipeg is in line with provincial figures, as you will see at the end of this article. Still, the notion that many families that had immigrated here with the help of the Federation have actually left Winnipeg, as was suggested by the immigration consultant with whom we communicated, is something about which we are still wondering. We are anxiously awaiting the results of the 2021 census to see just how many Jews there are in Winnipeg. As a reminder, the 2016 census reported that only 7,640 individuals in Winnipeg reported they were Jewish by ethnicity. Again, that result seemed to be an anomaly, largely because "Jewish" was not one of the choices for ethnicity listed on the 2016 census.)
The response from the Federation further noted that "It also worth noting that Federally, IRCC's (Immigration, Refugees and Citizenship Canada) application backlog has grown beyond 2.1 million people. Permanent residence, temporary residence, and citizenship applications grew by nearly 99,000 people in the month of April alone."
As a footnote to the May 25 article, it is worth noting that Manitoba has been allowed to accept increasing numbers of applicants under the PNP each year for the past seven years to the point that the province was allowed to accept 6,275 applicants in 2021 (which is 775 more than the province was allowed to accept each year between 2015 and 2017).
We wondered though whether the province has actually approved the full number of applicants it has been allowed to receive.
We contacted the representative for Jon Reyes, Manitoba Minister of Advanced Education, Skills and Immigration, who had previously provided us with detailed information about the PNP, and asked him this question:
"The one thing I would like to know though is how many people have actually come here under the PNP. The figures you sent me were for how many applicants the province was allowed to accept, but I wonder whether you've filled the quota each year?"
We received this response: "I can confirm we filled the quota last year, and the department is going to check the numbers for the years previous."
Subsequently we received an update from Minister Reyes' deparment:
The department was able to pull this data in regards to retention:
MB 5-year retention rates are as follows (based on 2014 PR admission and 2019 tax filing):
· Provincial nominees category: 75.3%
· All Immigrant categories: 72.8%*
* Federal Economic Class, Provincial Nominees, Sponsored Family, Resettled Refugees & Protected Persons, etc.