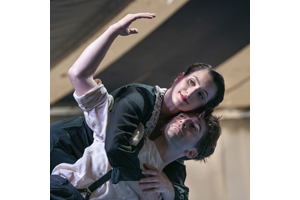 "The Flying Lovers of Vitebsk" – a WJT production – on now at the Asper Campus
Reviewed by BERNIE BELLAN Most of us are familiar with the paintings of Marc Chagall – with his surrealistic imagery permeated with flying cows, roosters, fish, and the moon. But, what about the man himself? What was he like as a husband? And, what about the woman he married? What was she like?
Now, in a new play being performed for the very first time in Canada, audiences find out that Marc Chagall also enjoyed a long and happy marriage to a brilliant woman, Bella, who died suddenly and much too soon shortly after the Chagalls had moved to America.
"The Flying Lovers of Vitebsk" tells the story of Marc and Bella's romance – through words and music, with some beautiful choreography as well.
Set on a stage with the audience seated all around, and within a very large tent on the grounds of the Asper Campus, there is an unusual intimacy between audience and performers – in this case the two actors who play Marc and Bella: Daniel Greenberg and Isidora Kecman.
The play begins with Marc mounting the stage, soon to receive a phone call from someone (not seen) who evidently wants to discuss Marc's paintings in very technical terms. But, the fact that he is speaking on a fairly modern looking phone would seem to indicate that the time is fairly recent.
Soon though, we are transported back in time to 1914 – which was a crucial period in history for so many reasons. It was in that year that Bella (née Rosenberg) meets Marc, who is already a successful painter. The two fall almost immediately in love, but with the First World War and the chaos of revolution enveloping Russia, Marc and Bella find themselves uprooted.
During the course of the play we find out that Bella comes from quite a wealthy family; her parents own three jewellery stores in their native city of Vitobsk (which I found out afterward is actually in Belarus). Marc's father, in contrast, is a poor delivery man for pickle barrels.
Yet, the story is not told in chronological fashion. It's not an attempt to tell the story of Marc and Bella Chagall's lives beyond offering the audience glimpses of the chemistry – and occasional friction, that developed between them.
There are props used recurrently on the set – such as that aforementioned rooster, cow, and fish – that offer a hint of the motifs that are most common in Chagall's paintings, but there is no probing of what led Chagall to seize upon those particular images. As such, anyone who might have expected to find a deeper examination of an artist's motivation will leave "The Flying Lovers of Vitebsk" feeling somewhat disappointed.
Instead, they will be treated to a romantic evening that explores some of the key years in Chagall's career and sets them into the context of his coming to terms with the anti-Semitism that engulfed Russia both before the 1917 Communist revolution, and then again following the revolution.
There are references to the pogroms that were a regular occurrence in pre-1917 Russia and later, after Chagall had been appointed to a prestigious position by the new Communist regime, the anti-Semitism that forced him to relinquish his post.
But, interspersed with the narrative of the play, there are occasional dance scenes and singing performed by the two young – and oh so attractive actors who play Marc and Bella. The energy that Daniel Greenberg and Isidora Kecman bring to their roles is truly awe-inspiring.
From time to time, they transition from actors speaking their lines to lithe dancers moving in beautiful and graceful harmony together. One scene in particular is bound to resonate with anyone watching this play – when Marc Chagall dances and leaps all around the stage with a long ribbon twirling magically in his hand, and with Bella the object of his adoration throughout.
And, although WJT Artistic Director Ari Weinberg had warned the audience beforehand that the play would be 75 minutes, with no intermission (so, if you hadn't "pished" already, as Ari noted, you were in trouble), the audience the night I was there seemed quite enchanted by the entire production. I'm sure that most everyone can tell when members of an audience start to lose interest; it's when the coughing starts.
I can't recall hearing anyone cough at all during "The Flying Lovers of Vitebsk".
As much as you will learn quite a bit about Marc and Bella Chagall though during this play, there are several references to how talented and brilliant Bella was in her own right that might make you wonder, as I certainly did, how much did her having to live in the shadow of such a well-known and successful painter as Marc Chagall dampen her own potential to become a great success in her own right? (She did write quite a bit of Yiddish poetry, we learn, but it is not at all clear to what extent she was published during her lifetime, if at all.)
As a result – and I discussed this with some other audience members afterward, it is likely that many people will want to find out a great deal more about the lives of Marc and Bella Chagall than they would have learned from watching this play.
"The Flying Lovers of Vitebsk" is on until June 19. For ticket information call 204-477-7478 or visit WJT.ca.