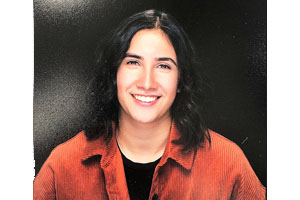 By MYRON LOVE
Like other students who expected to graduate high school anywhere in the world, 2020 Oak Park High School graduate Lauren Cogan was disappointed that there will be no formal graduation ceremonies this year to mark this momentous occasion in one's life.
Undeterred, the daughter of Joel and Jessica Cogan has come up with a creative alternative. She has put together a video – which can be seen on Instagram and YouTube, in which the 2020 grad, clad in graduation gown and mortarboard, stands in front of her school and delivers a valedictorian address for the ages.
While Cogan introduces the usual themes about gratitude, positive memories and lessons learned, she shares her screen time with 80 other students from 17 different countries who volunteered to share their thoughts and sentiments as part of a "global Valedictorian speech." .
The young filmmaker says she was inspired to create this video by other – localized – virtual grads and parties she had heard about or seen online. In order to create her global valedictorian speech, she reached out to fellow and sister 2020 grads – via Instagram – all over the world.
She was helped in her efforts to make the video, she notes, by close friend Reis Best and a grant from a Federal Government program called "Rising Youth".
She reports that, as of the end of May, the video had received 12,000 views on her Instagram account and 1,000 more on YouTube. "I have received a lot of positive comments from viewers thanking me for trying to bring grads together," she says. "It has been a great way to spread a powerful message of unity."
That Lauren Cogan should undertake such an initiative comes as no surprise. Rather, she has shown herself to be a doer. She has an extensive volunteer resumé both in and out of school, locally and nationally.
This past year, for example, she served as co-President of the Oak Park Student Council. She has served as a peer tutor, and a Conservation Committee member. She has also been one of Manitoba's leading athletes (for which she was awarded the Bert Knazan youth athletic award last year).
In the community, she started a youth-led initiative that collects sanitary products for people in our community who can't afford them. (The initiative has provided over 500 boxes of products to date.)
She has served as President and Vice-President of a student led company through Junior Achievement and – last summer – she was selected to attend the JA National Summit in Calgary, where she was selected as one of the top eight leaders at the summit. In May, she received an Entrepreneurial Excellence scholarship from JA.
She has also served on the National Youth Advisory Committee for a non-profit, called Experiences Canada. As well, last summer, she, along with 64 other youth from across Canada, was invited to attend the Experiences Canada forum on Diversity and Inclusion.
Currently, she is the Meal Delivery Coordinator for the Gwen Secter Creative Living Centre.
This past spring, she was supposed to go to Germany with BBYO as one of their ambassadors in March, but that was cancelled due to Covid-19. She was also scheduled to go on the March of the Living. And, as a Maimonides Scholar, she was supposed to be going to Yale University this summer for two weeks, along with other Jewish teen, to learn with some top Jewish thinkers. However, because of Covid-19, the courses this year are being conducted via Zoom.
"Maimonides hopes to have us come to Yale to learn in person sometime in the future," she adds.
For the fall, she has been accepted to Western University and its Ivey School of Business in London, Ontario. The five-year program would give her dual degrees in Economics and Business.
But, as she concludes in the Global Valedictorian film: "Life is not about the final destination, it's about the journey".