Grade 12 graduate Lauren Cogan creates virtual grad video with student participation from around the world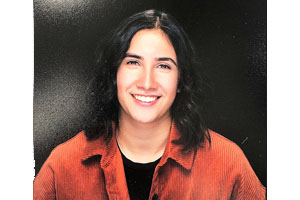 By MYRON LOVE
Like other students who expected to graduate high school anywhere in the world, 2020 Oak Park High School graduate Lauren Cogan was disappointed that there will be no formal graduation ceremonies this year to mark this momentous occasion in one's life.
Undeterred, the daughter of Joel and Jessica Cogan has come up with a creative alternative. She has put together a video – which can be seen on Instagram and YouTube, in which the 2020 grad, clad in graduation gown and mortarboard, stands in front of her school and delivers a valedictorian address for the ages.
While Cogan introduces the usual themes about gratitude, positive memories and lessons learned, she shares her screen time with 80 other students from 17 different countries who volunteered to share their thoughts and sentiments as part of a "global Valedictorian speech." .
The young filmmaker says she was inspired to create this video by other – localized – virtual grads and parties she had heard about or seen online. In order to create her global valedictorian speech, she reached out to fellow and sister 2020 grads – via Instagram – all over the world.
She was helped in her efforts to make the video, she notes, by close friend Reis Best and a grant from a Federal Government program called "Rising Youth".
She reports that, as of the end of May, the video had received 12,000 views on her Instagram account and 1,000 more on YouTube. "I have received a lot of positive comments from viewers thanking me for trying to bring grads together," she says. "It has been a great way to spread a powerful message of unity."
That Lauren Cogan should undertake such an initiative comes as no surprise. Rather, she has shown herself to be a doer. She has an extensive volunteer resumé both in and out of school, locally and nationally.
This past year, for example, she served as co-President of the Oak Park Student Council. She has served as a peer tutor, and a Conservation Committee member. She has also been one of Manitoba's leading athletes (for which she was awarded the Bert Knazan youth athletic award last year).
In the community, she started a youth-led initiative that collects sanitary products for people in our community who can't afford them. (The initiative has provided over 500 boxes of products to date.)
She has served as President and Vice-President of a student led company through Junior Achievement and – last summer – she was selected to attend the JA National Summit in Calgary, where she was selected as one of the top eight leaders at the summit. In May, she received an Entrepreneurial Excellence scholarship from JA.
She has also served on the National Youth Advisory Committee for a non-profit, called Experiences Canada. As well, last summer, she, along with 64 other youth from across Canada, was invited to attend the Experiences Canada forum on Diversity and Inclusion.
Currently, she is the Meal Delivery Coordinator for the Gwen Secter Creative Living Centre.
This past spring, she was supposed to go to Germany with BBYO as one of their ambassadors in March, but that was cancelled due to Covid-19. She was also scheduled to go on the March of the Living. And, as a Maimonides Scholar, she was supposed to be going to Yale University this summer for two weeks, along with other Jewish teen, to learn with some top Jewish thinkers. However, because of Covid-19, the courses this year are being conducted via Zoom.
"Maimonides hopes to have us come to Yale to learn in person sometime in the future," she adds.
For the fall, she has been accepted to Western University and its Ivey School of Business in London, Ontario. The five-year program would give her dual degrees in Economics and Business.
But, as she concludes in the Global Valedictorian film: "Life is not about the final destination, it's about the journey".
Gray Academy Visiting International School program attracts first student from Australia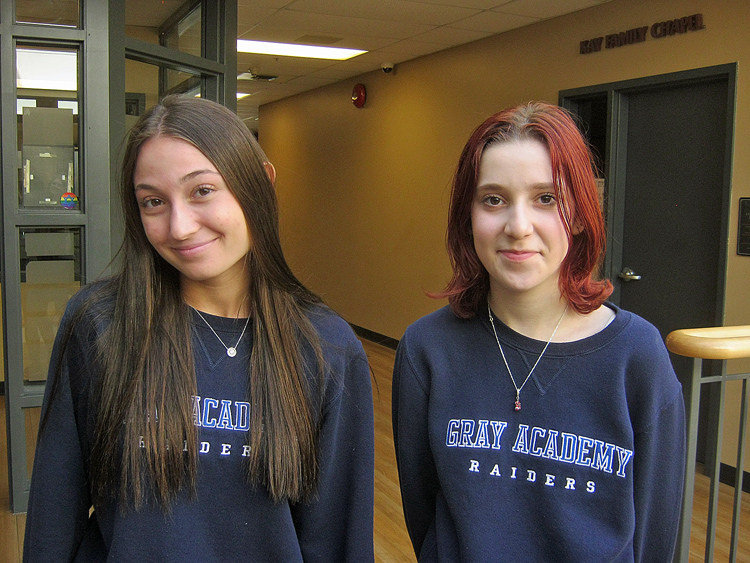 By MYRON LOVE Gray Academy, our community's only junior kindergarten–12 Jewish day school, holds a unique place among Jewish schools in Western Canada.
The school has a higher per capita enrollment than any other Jewish day school in Western Canada related to the number of potential Jewish students in the community. As well, it is the only Jewish high school in North America – other than yeshivot – that offers an international student experience.
"We generally enrol one or two students a year from international communities," says Gray Academy Head of School and CEO Lori Binder. "Our International Student program has always been a niche program," "We want to be able to make sure that the international students are well integrated into our student body."
For the most part, she reports, the visiting students have come from Brazil and Mexico. "We have agents in Brazil and Mexico," she notes. "In the past, we have participated in recruitment trips – and we might again one day – depending on available resources. Most of our international students hear about our program through word of mouth."
This school year, Gray Academy has two international students enrolled. Natalie Rozenberg is from Rio de Janiero This is the Grade 12 student's second year at the school. She is following in the footsteps of her older sister, Dafne, who graduated from Gray Academy in 2020 and is currently enrolled in third year Data Science at the University of Manitoba.
The newest international student at Gray Academy is Tara Foster, who has come all the way from Australia to sample a different kind of educational experience. "Tara is the first Australian student to participate in our program," Binder says. "In fact, she reached out to us after finding information about our program online."
The Grade 10 student was born and raised in Sydney. Her father, she notes, was also originally from Sydney, but her parents met and married in London. They moved to Sydney 18 year ago. Up to now, Tara has been a student at Masada College, a K-12 Jewish school in Sydney, where she will be returning next fall.
I wanted to experience a school somewhere else – preferably in an English-speaking country," she says. "I searched online and Gray Academy was the only school offering this program."
While her mother, she notes, had some concerns about her 15-year-old daughter traveling so far from home for school, her father was fine with the idea. He is involved in an accounting software business which brings him frequently to Toronto. Her mother, Tara says, is planning to come to visit in January.
Tara has been here for just over a month. She reports that Winnipeg so far is sort of what she expected. "It is very flat," she muses. "It is easier to get around here than in Sydney."
She says that she has already made some friends in her new school and is starting to get involved in extracurricular activites
Natalie began the school year by joining her Grade 12 classmates on their Human Rights and Holocaust Education trip to Washington, DC. She is looking forward to continuing to work out regularly at the Rady JCC.
"I am still working on improving my English," she says.
She notes that her parents are happy that their two daughters are living in a safe community such as Winnipeg.
As is the standard practice with Gray Academy's International Student program, both girls are living with host families. "Over the past 15 years or so, our visiting International Student Program has hosted more than 30 students," Lori Binder reports. "Not only do the visiting students benefit from the experience of going to school here, but our own students get the opportunity to welcome fellow students from different places and learn more about the larger world."
She adds that the visiting students form long-lasting bonds with their host families, with the guests often becoming part of the host family's extended family.
Rabbi Michael Skobac, international leader in Jewish outreach, to speak at Adas Yeshurun Herzlia on October 20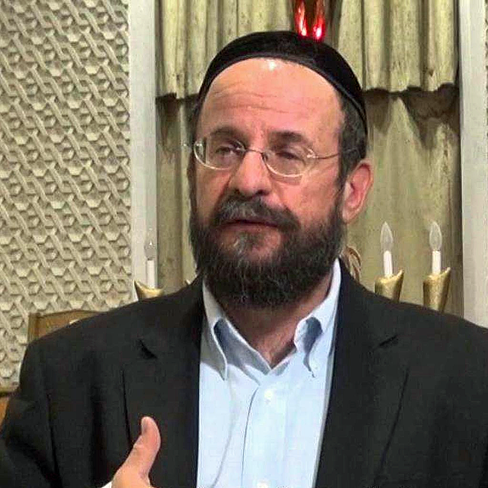 By MYRON LOVE It has been many years since I have had the pleasure of interviewing Rabbi Michael Skobac. I am happy to report that the long time Education Director of Jews for Judaism has been invited back to Winnipeg by the Adas Yeshurun Herzlia Congregation to do a presentation – on Friday, October 20, after Kabbalat Shabbat services – on the subject of the ongoing missionary threat to the Jews.
The subtext for "The Battle for the Jewish Soul," the title of his lecture, he points out, is an exploration of why so many Jews are susceptible to the siren song of missionaries – not just Christian missionaries, but also Asian religious movements – an issue that also falls under the aegis of Jews for Judaism.
"It is not just a matter of a lack of education or knowledge," he explained in a wide ranging interview with the JP&N last Friday morning. "Many of those who have left Judaism grew up in Jewish homes, had their bar/bat mitzvahs, went to Hebrew school and visited Israel. What they are missing is a sense of spirituality.
"Too many Jews have grown up in a spiritual vacuum," he continued. "They have holes in their soul that cry out to be filled and they are not finding it in Judaism. Therefore, they are turning to Bhuddism, Hinduism and the Church."
To further illustrate his point, he cited a story about a conference on Jewish meditation a year ago in New York City. "There were about 1,000 people registered," he recounted. "They were asked to raise their hands if they had participated in Eastern mediation practices. Everyone raised their hands. When subsequently asked how many of them had had any experience with Jewish meditation, no hands went up."
That anecdote speaks to one of the several ways that Jews for Judaism's mission has evolved and expanded. The organization was founded in 1989 in Toronto by Julius Ciss, himself a former "Jew for Jesus" who had returned to Judaism some years before and had begun doing counter missionary work.
Rabbi Skobac joined Jews for Judaism full time in 1992. A graduate of Yeshiva University, the former New Yorker received his smicha in 1980. After teaching for a short time, he was drawn into outreach work within the Jewish community prior to joining the staff of Jews for Judaism.
Initially, Jews for Judaism's primary mission was working to bring back to Judaism susceptible Jews who were enticed into joining messianic congregations operating under the guise of following Jewish ritual practices within a context of worshipping Yesha (Jesus).
Skobac notes that Jews for Judaism's focus has never been criticizing Christian beliefs, but rather on educating lost Jews as to the joys of Judaism. "We operate under the idea that the missionary activity of Jews for Jesus is not the problem," he explains. "It is a symptom. The problem is that a growing number of Jews are disconnected from Judaism. Our communities are dealing with a lot of assimilation and apathy. The other thing we realized is that it is not just Christ who is calling to Jews. Twenty five percent of North American Bhuddists are Jewish and Jews are similarly overrepresented in other Eastern religions such as Hinduism and Bahai."
Skobac noted that Jews for Judaism has become a 911 service forJewish communities – responding to many family members concerned about siblings or children who have strayed into other religious faiths.
There have been some interesting phenomena developing in more recent years that Skobac commented on. One is related to the growth of the messianic movements themselves.
"We are not dealing with just one or two messianic congregations in North America now," he observed. "There are currently more than 500 – and they have become organized. They have camps and day schools and "rabbinical schools" to fill the growing demand for "rabbis". The result is more of the messianic Jews are actually studying Judaism and some are – as a result- coming back to the Jewish community."
Another difference that Skobac points out is that you no longer see these missionaries preaching on street corners. As with everything else in our modern world, virtually all the missionary work today is happening online. And the outreach efforts of Jews for Judaism has also moved to some degree online.
"Twelve years ago, we started our own YouTube channel," he reported. "We have had between 8 and 9 million views. Obviously not all of our viewers re Jewish."
He pointed out that over the past 40 years, a growing number of non-Jews have become interested in learning about Judaism and begun practising the "Noahide" laws as ordained in the Torah. These laws were required by God of Noah's descendants and include prohibitions against idolatry, blasphemy, adultery, theft, murder and cruelty to animals.
And some of these Noahides convert to Judaism. Skobac reported, for example, that he was recently in Alberta to help a family living outside of Edmonton that was converting to Judaism.
The bottom line, Skobac noted, is that a growing number of Jews are not finding meaning in Judaism. "People need a sense of the spiritual in their lives to give their lives meaning," he observed. "If they can't find it in Judaism, they will look somewhere else. What we try to do is bring out the beauty and spirituality in Judaism."
Readers who may be interested in attending rabbi Skobac's presentation (which includes supper) can contact the Adas Yeshurun Herzlia office at 204 489-6262.
Three Jewish candidates in running for upcoming provincial election

By MYRON LOVE For those of us who still remember the 1969 provincial election that vaulted Ed Schreyer and the NDP into office for the first time, one of the aspects of that turning point in our province's political history that stood out was the large number of Jewish MLAs who were elected to office that year.
That number included four for the NDP (Sid Green, Saul Miller, Saul Cherniack, and Cy Gonick) as well as two for the Progressive Conservatives (Maitland Steinkopf and Sidney Spivak). Spivak later went on to become leader of the recently defeated Progressive Conservatives and Leader of the Opposition.
It has now been more than 30 years since a Jewish MLA has sat in the Legislature. That would be the late Jim Carr, who was first elected as part of the Liberal resurgence in 1988, was returned to the Legislature in 1990 as part of a much reduced Liberal caucus, and resigned in 1992.
While there are three Jewish candidates in the running in the election next week, it is very unlikely that the dearth of Jewish MLAs will be coming to an end any time soon.
For Nathan Zahn, representing the Green Party in River Heights, this will be his third try and second in River Heights. As the Green Party has never won a seat n the province and he is running against the long-serving and popular former Liberal party leader Dr. Jon Gerrard, to describe Zahn's campaign as an uphill battle is an understatement.
The annual Electronic Music Exhibtion organizer (which is held in June in the Exchange district) and founder and executive director of the non-profit Science First (that promotes science literacy and ecological conservation policies) is a long time Green Party member.
"My goal in running," Zahn says, "is to raise awareness of several issues."
Some of those issues, according to the Green Party platform, are fighting climate change, electoral reform, instituting a guaranteed basic income and improving access to healthcare.
In Wolseley, Phil Spevack is the Liberal standard-bearer. The candidate is best –known in our Jewish community as the long time organizer of the Saturday evening Grant and Wilton Coffee House concert which are held in the basement of Temple Shalom (where Spevack also serves as the
shamas. He has also volunteered over the years for Habitat for Humanity and has a program wherein he speaks to church groups, using a combination of music and humour to educate his audiences about Judaism.
The Liberal caucus in the Legislature currently consists of only three MLAs and Spevack is fully aware of the long odds he is facing. "The Liberals needed a candidate to stand for the party in Wolseley," Spevack says/ "Jon Gerrard asked me to run and I thinki very highly of Jon."
While the candidate did have a couple of campaign events planned, he points out that working around all the yom tovim has limited the amount of time he actually has to go knocking on doors in the riding.
Running for the Progressive Conservative Party in the north Winnipeg riding of St. John's is first time candidate Teddy Rubinstein. Although new to politics, the University of Winnipeg student in the Faculty of Education does have a role model in his baba, Sheila Billinghurst, who served two terms as a school trustee in Pembina Trails school Division.
(Teddy's parents are Steven Rubinstein and Marla Billinghurst. Bernie and Sheila Rubenstein are also his grandparents.)
While Rubenstein had not responded to efforts to contact him by press time, his blurb on the PC election website notes that "he is running because he wants to make a difference in the St. John's community, be a positive voice for youth, and give back to Manitoba, where Teddy has lived his whole life.
Teddy believes that it's important that the younger generation, the future of Manitoba, gets involved in decision-making in order to make a difference in, and be a representative of, their communities. He wants to work to help fight for Manitobans, including addressing the issues of crime that we are seeing in Winnipeg, and to make life more affordable for all Manitobans."
The St. John's riding has to be considered a lock for Nahanni Fontaine, the current sitting MLA and Deputy Leader of the Party.
Election day is next Tuesday. Please go out and cast your vote.