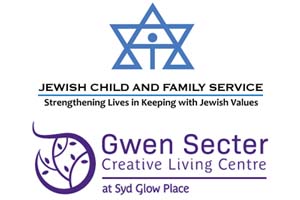 By BERNIE BELLAN
Beginning two months ago, I've been reporting on the incredible job that the Gwen Secter Centre has been doing in providing meals for seniors in our Jewish community since the Province imposed a lockdown on March 13.
As I noted in our May 27 issue, Gwen Secter has gone from producing 60 meals the week of March 30-April 3 to 286 meals for 73 different individuals in late May. This past week, according to Becky Chisick, Executive Director of the Gwen Secter Centre, 340 meals went out to seniors.
I had asked Becky whether there is anyone in particular who deserves a shout-out for what Gwen Secter has been doing?
She wrote:  "The shout-out really needs to be going to our volunteer drivers.  The routes are increasing and get larger in size.  A number of people have come forward to volunteer their time and we are still looking for more. I also have a part-time volunteer meal coordinator, Lauren Cogan.  Lauren is helping with on boarding new seniors, coordinating volunteers and making calls to everyone on delivery days. " (We have a full story about Lauren Cogan in this issue and the extremely active life she leads on page 7.(
Working hand in hand with the Gwen Secter Centre has been Jewish Child and Family Service, which has a large number of senior clients. (The JCFS typically serves between 500-600 seniors a year, according to JCFS Executive Director Al Benarroch.)
Here's how the JCFS Annual Report described its older adult services: "Older Adult Services is a program designed to support the needs of Jewish elderly living independently in the community. Services ensure an optimal level of psychological, social, cultural, emotional and physical functioning in clients, thereby maximizing their quality of life and allowing them to remain at home and age in place.
"Aging Mental Health is a focused program that addresses the needs of our aging clients who also are living with mental illness and/or other chronic emotional problems. This area provides highly specialized, crossprogram services to clients requiring unique supports for a variety of issues, including those arising from psychiatric illness, memory loss and isolation."
In addition, JCFS also provides services for Holocaust survivors.
I asked both Becky Chisick and Cheryl Hirsh Katz, Manager, Adult Services at JCFS, whether they could provide me with some names of seniors who might be willing to talk about what Gwen Secter and JCFS have been doing for them during a time when seniors, in particular, are isolated and experiencing much higher levels of anxiety.
In response, I was given the names of six different individuals who, I was told, were willing to speak with me about their experiences. For the purposes of this article, I am using different names for the individuals with whom I spoke, in order to preserve their anonymity. Each of the individuals with whom I spoke lives alone.
"Lisa" told me that (like the 70 other seniors who have been receiving meals from Gwen Secter), she's been getting four meals a week – two on Tuesdays and two on Fridays.
I asked Lisa how she was put in touch with Gwen Secter to start receiving meals.
"My worker at JCFS is Heather Mandel Kraut," Lisa explained. "Heather had asked me whether I could use the service (Gwen Secter's food deliveries)" when the Province imposed the lockdown.
In Lisa's particular case, while she is able to get out on her own, because of a physical condition, "it's hard for me to stand – even for the five minutes it usually takes to put together a meal", she noted. Also, because it's hard for her to remain on her feet, she does have someone doing shopping for her.
I asked Lisa what she does to supplement the meals she's been getting from Gwen Secter.
"I'll buy a chicken and roast it," she said. She also prepares salads and side dishes but, like the others seniors with whom I spoke, Lisa doesn't eat a huge amount, so she's been able to stretch the four meals that she's been getting from Gwen Secter.
Lisa told me that each time there's a delivery from Gwen Secter, one meal is meat and one is milk. The meat meals which, she said can be anything from chicken to sweet and sour meatballs, to turkey sausage, to brisket (occasionally), are all accompanied by "a carbohydrate and some kind of vegetable", Lisa noted.
But, because Lisa is also diabetic, the kitchen staff at Gwen Secter have been careful not to include any items containing sugar in her particular meals so that, in a dairy meal with blintzes, for instance, the strawberries that come with the meal have no sugar.
Something else that Lisa mentioned is that, while she did grow up in a Jewish home where she loved her "baba and aunt's cooking", it's been a long time since she had tasted many of the foods that were so familiar to her as a child. Having lived away from Winnipeg for years, it's only been since she started receiving meals from Gwen Secter of late that she's been able to conjure up memories of her baba's and aunt's meals.
"I was incredibly lucky in my life to have a baba and aunt who made fabulous meals and the Gwen Secter meals have comparable taste," Lisa said. "The meals have the traditional edge to them" that she so fondly recalls from her childhood years; eating those meals "brings it all back," she added.
And – as a sign how thoughtful the Gwen Secter staff has been in arranging those meals, Lisa observed that there "have been extras as well – like boxes of matzah during Passover" and, more recently, challahs on Thursdays.
(I asked Becky Chisick when challahs started to be included with the Thursday deliveries and who's been providing them? She responded: "We've been including Challah for the past few weeks on our Friday deliveries. This was something I really wanted to do for the seniors who are isolated. I felt it was important to bring a little Shabbat into their homes. The challah is not donated, but City Bread is helping us out with a much appreciated deep discount to help stretch our funding dollars.  I'm happy to hear everyone is enjoying.")
*****
"Norman" returned to Winnipeg last year after having lived elsewhere most of his life. In his case though, as a result of an injury, he hasn't been able to get out, but he is rehabilitating his injury and hopes to be fully functional sometime soon.
In the meantime, his worker at JCFS also told Norman about Gwen Secter's food delivery program, and he's most appreciative.
"I do get around with a walker," he added, but "getting the meals is very helpful".
I asked him whether the portions in the meals provided by Gwen Secter are sufficient?
"I've lost a lot of weight" (since his injury and subsequent operation), Norman answered, "so my eating habits are different – and the portions are sufficient".
But then Norman mentioned that there are some items in the meals delivered by Gwen Secter that he doesn't eat, such as potatoes or perogies. I said to him that he should simply let the Gwen Secter staff know that there are certain foods he won't eat, and I was sure substitutes could be arranged. (I told him about Lisa's diabetes and how Gwen Secter made sure there was no sugar in any of the foods in her meals.)
Something else that Norman said – and which is probably typical of many of the seniors who have found themselves availing themselves of Gwen Secter's assistance, is that "I would like to not use it (the food deliveries) so that someone else could use it."
By the way, Norman had not even heard of JCFS when he returned to Winnipeg last year, so being able to receive assistance from that organization came as a most pleasant surprise.
"JCFS has been very helpful to me," he noted – "and very supportive – by phone or by email – on an as-needed basis."
As for the Gwen Secter Centre, again – like JCFS, Norman had never heard of that organization either, and he is deeply appreciative of what the Gwen Secter Centre has been able to do for him.
*****
"Bonnie" has been a client of JCFS in the past but, like Norman, she had been living away from Winnipeg for years.
Unlike Lisa and Norman, however, Bonnie hasn't had to avail herself of the Gwen Secter food delivery program. She is able to get out and do her own shopping.
In Bonnie's case, however, it wasn't a physical condition that led to her contacting JCFS. She has a psychological condition, "but I couldn't afford to pay a psychologist or a therapist," she explained.
Yet, Bonnie was not aware that JCFS provides services for individuals such as her. Once she was told though about JCFS's services for seniors and other individuals with psychological conditions, she did get in touch with JCFS and has maintained weekly contact with a social worker assigned to her case ever since – most recently via ZOOM.
Ever since the provincial lockdown was imposed, Bonnie said she's been in weekly contact with her social worker. (It used to be only once every two weeks, she noted.)
"The social worker has been really wonderful," Bonnie said.
*****
The final senior with whom I spoke was "Anne".
In Anne's case, she explained, "I have arthritis, so I've been stuck using frozen meals."
"I usually shop at Walmart" (online), Anne said, but "I couldn't get online" because Walmart's system was so inundated with users.
"I also tried Cantor's (early on during the lockdown), "but they were rationing groceries, – things like sweet potatoes," Anne noted.
"So, I started using Save on Foods for deliveries," she said, "but they're quite expensive.
"Then Dan (Saidman, Program & Volunteer Coordinator at the Gwen Secter Centre) phoned me. He knew I'd be in trouble, so he asked me whether I wanted to start getting meals from them – which I did, right from the start" (in late March).
For Anne, just like Lisa and Norman, the meals from Gwen Secter have been a Godsend.
*****
Finally, I spoke with Cheryl Hirsh Katz of JCFS to ask whether there has been an increase in the agency's caseload of seniors.
Cheryl indicated that has indeed been the case – primarily as a result of the Jewish Federation's having enlisted volunteers to call seniors (and other individuals in the community who find themselves in particularly unfortunate circumstances as a result of the pandemic). Many seniors have been referred to JCFS as a result of those phone calls, Cheryl noted.
"We've identified those of our clients who are most in need," Cheryl said, and have been keeping close tabs on them, including "sending out 50 care packages to some of the most isolated seniors with plans to send an additional 50 to another group of isolated seniors. Our plan is to do this once or twice per month while this pandemic lasts."
"We have capacity to take on more clients," Cheryl noted – and 20 more clients have now been added to JCFS's caseload to this point.
While JCFS does maintain an "emergency food pantry" to help individuals or families in urgent need of groceries, "there hasn't, as yet, been an increase in demand", she said.
What there has been though, is "an increase in demand for emotional support," Cheryl observed.
"Individuals who have had illnesses" have found themselves isolated and, one other agonizing aspect of the isolation we've been enduring is that, for those among us who have lost loved ones during the past three months, it's been an especially difficult grieving period.
"We have our friendly volunteer phone callers; also our own workers are regularly calling clients", Cheryl said, but for those seniors who could use some emotional support or would like to be added to Gwen Secter's food delivery program, the JCFS welcomes your calls.
The JCFS phone number is 204-477-7430. The Gwen Secter Centre's phone number is 204-339-1701.