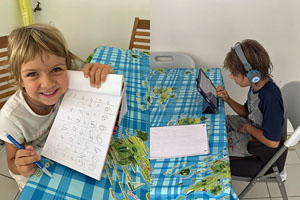 By BERNIE BELLAN
At the end of my conversation with Lori Binder, Rob Dalgliesh, and Andrea Ritter about how Gray Academy has adapted to online learning, I asked Andrea whether she could suggest the names of some parents who might be willing to offer comments about how their children have taken to online learning.
Andrea sent me names of three parents: Tara Kozlowich, who has children in Grades 3 & 6; Sophie Gaulin, who has children in JK & Grade 2 (and who has been in Guadaloupe since before the pandemic due to her husband's work); and Marla Levene, who has children in Grades 6 & 9.
In addition, I also contacted Jonathan Strauss (who was actually the individual who had suggested that I do a story about how well Gray Academy is doing with online learning.) Jonathan has boys in Grades 4 & 7.
Following are the questions I posed to Tara, Marla, and Sophie: (I simply asked Jonathan to offer some capsule comments about his impressions of "Gray Away".)
1. How much time do both of your children typically spend doing online learning in a given day?
Tara Kozlowich: We have two daughters at the Gray Academy. One is in Grade 6 and the other in Grade 3. They spend most of their school day in a balance of live online classes and independent work. Our older daughter has dedicated times where she can attend a google meet to ask her teacher questions about assignments or to go over something in a personalized setting, similar to what you would expect in a classroom. Our younger daughter has smaller group breakout sessions which has been very helpful in teaching different concepts and providing 1 on 1 attention. They also participate in a range of other subjects such as French, Art, Gym and Music.
Marla Levine: Our children (grade 9 and grade 6) spend between 5 1/2 to 6 hours a day learning. There are also breaks in the morning and afternoon as well a lunch break.
Sophie Gaulin: Our son, Samuel is in Gr. 2 and spends in average 4 1/2 hours in total online, learning, between zoom classes and homework.
Our daughter, Charlie in JK spends about two hours total, mainly on zoom.
2. Does it vary much from day to day?
Tara: One of the great things about Gray Away is that there is consistency and structure, which is such an important part of their school day – especially in the situation we all find ourselves in. The schedule can differ by day but expectations are always clearly communicated to the kids.
Marla: Each day the amount of time spent on computer as opposed to working alone changes.
For our daughter in grade 6, there is a "meet" with her general studies teacher first thing in the morning. They spend the morning with a combination of instruction from the teacher and independent time to do the assigned tasks. At the end of the morning they have a check in before lunch. The afternoon is a similar format with the Judaic studies teacher. In addition, the other itinerants (French, art, gym, debating/public speaking, music, etc.) are spread at different times within the morning or afternoon throughout the week.
For our son in high school, the week is divided into his various classes. For any given class they may have a live meet with instruction, time to work on posted assignments with the teacher available on a meet for questions, or a combination of both. There is also small group advisory with a designated teacher to check in on the kids and how they are doing.
For elementary, the itinerants vary from day to day. The content / format for main subjects in General and Judaic studies also vary depending on what they are working on at that time. In high school, it varies from day to day (depending on what each teacher is doing in that subject on that day) as well as from class to class.
Sophie: It doesn't vary much from one day to another.
3. How are they reacting to it? (For instance, did they adapt to it quickly? Was there a novelty aspect to it at first? Are they feeling the same way about it now as they did to start?)
Tara: They have both adapted well to the Gray Away program. Although they miss their teachers and classmates, the school has done a great job keeping them engaged and supported and they are able to connect digitally with their friends and teachers daily.
We are in a good routine with the program. Our older daughter who is in Grade 6 is independent and does not need assistance from us throughout the day. Our daughter in grade 3 needs some help each morning getting organized for the day. The structure of the program has allowed us to both work from home with minimal interruptions to our workday. Although the higher grades were already well versed in turning in assignments electronically, it's amazing how quickly our younger daughter has picked up submitting assignments online, or taking her weekly spelling test online.
Marla: When Gray had to stop in school instruction, there was a huge unknown for everyone as to what to expect. Starting from the first day of Gray Away, our kids have been busy, engaged, happy, at ease. They are excited to see their peers and teachers. They are happy to remain connected to school. These are very uncertain times for everyone and Gray has given the kids a sense of normalcy, schedule, purpose to their day
Sophie: Our situation was a bit complicated at first because we are away in Guadeloupe. My husband was doing a locum at the hospital in NICU and PICU. We were supposed to stay on vacation only 10 days and come back mid-march but because of the COVID, he was asked to stay and help for an extended period of time.
We decided to stay together as a family but the kids didn't have their school material and we didn't have a printer, books… nothing. So at first it was a very stressful situation. But right away I saw why Gray is often described as a family: from Joyce Kerr, to Lori Binder, to the teachers, to Ira… we were shown an extensive solidarity that enabled us to continue their education abroad. They were sending the material every day. When we couldn't find the material to do an activity (because we had restrictions to go out of the house for the first 6 weeks), they made sure my children didn't feel left out.
They were amazing at providing a structured day so that the kids didn't feel like they were on holidays but at the same time, my children feel empowered by the new learning experience. When the teacher says that they have a 30 minute break, they put their timer and go off. The system put in place is extremely organized and doesn't require much of my time. And I have to admit it suits me fine because I work long hours remotely with my colleagues in Manitoba.
4. Do you think they are learning as much as they would be in a physical class room setting?
Tara: Although it's hard to replicate the class room environment, they are not only learning academically, but also have the benefit of learning so many other skills such as resilience, kindness and the importance of community during difficult times. The school has done a great job of also continuing to make connections through online events whether it be for Yom Haatzmaut or a weekly Shabbat Assembly. It has been amazing to see families come together online.
Marla: We are incredibly pleased with how much our children are learning. Whether it is "as much" is easier to assess with our daughter as we can compare with what our son was learning in grade 6. It appears to us that they have not missed a beat … the teachers have modified lessons and brought in new innovative teaching, allowing the kids to flourish.
Sophie: I don't know if they are learning as much but what I can say, is that they have not felt disconnected from school thanks to the amazing program put in place. I couldn't believe how fast Gray was able to respond to the crisis. Within a couple days, we felt they had things under control and I felt really guided through this experience.
I feel that my children are still learning a lot. Yet they miss the real interaction with their friends and teachers.
They are also learning different skills. For instance, my 7 year-old son started writing his own emails to his teachers. So he learnt how to be responsible for sending his work or sending an email explaining why he couldn't do it.
5. Lori mentioned that they actually have recess breaks built into the program? Do your children go outside during those recess breaks?
Tara: Our kids will often take their breaks outside for short walks or connecting with friends virtually. It's nice to be able to spend 'lunch recess' with them and hear how their morning went.
Marla: The kids definitely take breaks. Sometimes that involves an outside activity and sometimes it involves an inside activity. It depends on the day and how much time they have. For example, with our son, if he happens to finish an assignment early he will often go for a walk or a bike ride or do some other type of exercise.
Sophie: Yes the schedule is very balanced. They have recess breaks and my children put the timer on and go off. Sometimes they go swimming in the pool, sometimes they go in the yard chasing lizards and caterpillars!
I invited each of the respondents to add a final comment.
Tara: Overall, our family has been so happy with Gray Away – in a short period of time the school came together quickly to launch a program that has been so well received.
It is important to mention how committed our teachers and Administration have been throughout this time – they have shown a tremendous amount of dedication to their students. Special touches like surprising the Grade 6 students with an early delivery of the coveted Gray Academy Raiders sweatshirt, or sending a personalized letter (received through regular mail!) to our younger daughter letting her know how much they miss her was such a nice surprise. These gestures have gone a long way towards our children's happiness.
Well done Gray Academy!
Marla: We cannot thank the Gray team enough. They were able to create in a matter of days an online learning platform that should take years to launch. The administration, teachers and all staff adapted to create a learning environment that is truly remarkable. They also have gone above and beyond to check in to ensure each of our kids (and our family as a whole) is coping well with all that has come with this pandemic. We are so fortunate to have people so dedicated to our children and their well- being – educational, mental and physical. (As an aside, I should add that we have had conversations with many of our peers who are parents and our peers who work in the various educational systems. We can say confidently that there is no other private or public school that compares on any level to what is going on at Gray from an educational perspective, a connection to teachers/classmates and overall concern for emotional and physical well-being.)
Finally, here is what Jonathan Strauss had to say:
"Our family has been very impressed with how quickly Gray Away was developed and launched.
"The daily structure means that our kids are working without the need for us, as their parents, to be involved in their day to day work. From what we hear from other parents this is not the same as many other schools.
"The boys are spending much of their school day on their computers. While it is more than normal, we are happy that they are being engaged with their education for more than just a couple of hours per day.
"Seeing their friends every day on video calls means a lot to our kids. Having been separated for so long from their friends they look forward to this regular connection via Zoom.
"We can't say enough about how pleased we are with Gray Away. Lori, her leadership teams and all of the teachers have done a tremendous job in transition quickly to online learning."
I would really have liked to talk with individual children, and I might still do that – but I think I'll save that for a future article.