Gray Academy excels at online teaching during pandemic with 'Gray Away"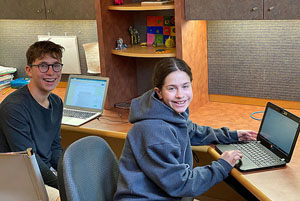 By BERNIE BELLAN
It was March 13 when the Province of Manitoba announced that, effective March 23, all schools in Manitoba were going to close for three weeks – with the possibility that the closure might be extended.
While it shouldn't have come as a major surprise, given the speed with which the novel coronavirus was sweeping across Canada and the United States, still, how do you prepare for something as huge as the closing of all schools?
For staff at Gray Academy, however, adapting to new technology has always been a strong suit. Within a period of days the school informed parents that almost everything that had been done in the bricks and mortar Gray Academy was now going to be carried over into what was titled "Gray Away".
Now, after over two months of having transitioned to a totally new way of learning, the results are in – and it seems that everyone, from staff to parents to students themselves, are more than satisfied with how Gray Academy has managed to adapt so well to the demands that were thrust upon that school.
Staff forced to pivot to online learning in a very short time
On Friday, May 15 I spoke with three members of Gray Academy: Head of School and Gray Academy CEO Lori Binder, Director of Teaching and Learning Rob Dalgliesh, and Director, Marketing and Communications Andrea Ritter.
We discussed how Gray Academy has responded to the demands of taking an entire curriculum online and what the reactions of parents and students have been.
Lori Binder began the conversation by saying: "We're phenomenally grateful to all of our staff for being able to pivot so quickly in the middle of March in caring for all of our students.
"No one could ever have imagined that within 48 hours we'd have to figure out an infrastructure to care for all of our students and our learning.
"It's been going incredibly well. We have been able to solicit feedback along the way in the last eight and a half weeks. Feedback has been immensely helpful to help create "our Gray Away infrastructure.
"We had some things in place in the school before the pandemic hit that allowed us to pivot more successfully – especially in the upper elementary to the high school.
"I think it was caring for our littlest kids – nobody in this world would have fathomed children learning virtually at three, four, or five years of age, but I think the biggest drivers for us were insuring that our students in their isolation had very strong connections with their teachers and with their peers on a daily basis through having a timetable and live classes, also a solid structure."
How the curriculum was developed
Rob Dalgliesh added: "Although our time line was very short, great care went into the creation of 'Gray Away' – our virtual academy. It wasn't rushed. We spent a lot of extra time in the wee hours of the morning creating the pieces that went into it.
"We started with standard curriculum creation by looking at the principal foundations of what we would then carry forward. We looked at the research that is in the area of online learning.
"We looked at pillars – things that we could build on. We wanted to make sure that our kids felt that they were being cared for and safe, but to do that we wanted things to be somewhat familiar – that connection with their teachers, that connection with their peers.
"We also wanted to include a spiritual element. Being a Jewish school we wanted that to be there, so we have our 'Kabbalat Shabbat', we have things for holiday programming. Even during the Pesach break we had educators dedicate time to bring forward programming connected to the holiday.
"Another pillar was physical health. It's easy for a kid not to get up and get going, so we wanted to make sure that there's an expectation that we wanted them to continue with their phys ed programming.
(Another pillar was) "Mental health – we wanted to help kids with that; showing kids that there's more to learning than reading a text book. We looked at calming exercises, at the integration of a variety of techniques that our teachers are great at using that help kids with their mental wellbeing.
"For instance, we had wonderful suggestions for creating art at home, also project based learning."
Zoom for JK-Grade 2; Google Meets for students in Grade 3 & up
At that point I asked "whether the lessons for the kids are individually tailored or are they done in group Zoom sessions, for instance?"
Lori Binder answered: "We're using the Zoom platform from junior kindergarten through to Grade 2 and we are using the Google classroom platform – which uses Google Meets, in Grades 3 through 12. There are live classes that occur every day – mornings and afternoons.
"We have also built in one-on-one time in our elementary so that teachers have a chance to connect with kids and do some assessment. In our high school there's a little bit of one-on-time on a daily basis.
"We've also set aside blocks on day 3 for all teachers to have an open meeting."
School still starts at 9 a.m.
I asked: "Can you give an idea how much time a typical student would be online – either individually or within a group setting?"
Lori Binder: "I'll paint you a picture of elementary: At 9 a.m. every student comes on to Zoom – JK through elementary. The whole school is welcome, but it's mostly elementary. There are live announcements and the anthems (both O Canada and Hatikvah), and then they head straight to their live classes. They start with a live class with their general classroom teacher, then they continue on either to a live specialist class, which could be French, guidance, music…and then they'll continue on live.
"I wanted to clarify that in an hour for instance in the high school, it's not just live teaching." (Later Lori explained that there is also time set aside for students to study on their own during the school day – just as if they were in the actual physical school.)
Rob Dalgliesh added: "One of the pillars (upon which the virtual school was built) was having a balanced day so that there is online collaboration, for example, small group work.
"At the high school level, there is a teacher giving a lesson, then there is Q and A time afterward – just like in a bricks and mortar school.
"Sometimes the collaboration with other students is just over the phone – like we are right now, having a conversation. It's not necessarily in front of a screen.
"There are off line working sessions with students doing homework with paper and pen. There are research and innovation projects – personal passion projects that a student wants to research and carry on by him or herself."
Lori Binder: "I would say it's about 41/2-5 hours a day (spent in the virtual classroom), but again – it's not sitting and staring at a screen.
"We've got some incredible things going. For instance, a couple of nights ago, the Grade 9 science teacher invited all the students at 9:30 (p.m.) to hop on to a live meeting to look at Venus. It was a particular night that Venus could be visible in the sky.
"Our younger kids would be spending less time (in the virtual classroom) – more around three hours a day, divided up into smaller chunks."
Close monitoring of each student's performance
I asked: "Are you able to monitor individual students to see how much time each student is actually spending online?" (I asked that question because I was skeptical that all students are responding with equal eagerness to adapt to the "virtual classroom").
Lori Binder: "One of the most amazing ingredients to this has been the very close connection between the teachers, the students, and the families. Every three days there are phone calls home.
"If a child has not arrived in the classroom and we have not heard from the parents, then we're following up. We have very high engagement. I would say that almost every kid is learning.
"Where there's a differential is in the junior kindergarten – kindergarten, where it's a little more challenging to be regimented. But, because of the technology (we're using) all our classes are recorded (and remain on our password protected website for five days), so that if a child did miss a class the parent could go on at any time (and play that lesson for the child)."
Andrea Ritter explained that the younger children spend about 20 minutes at a time online, then they go off to do something on their own, such as art , music, or gym. The teacher is available live, but the student can go and do their work on the dining room table for instance. All the students may be doing their math work, but the teacher is on their screen if they need help.
I asked whether there is a full slate of classes, including Judaic studies, for all students?
Lori Binder answered: "Every single program is running, including English as an Additional Language, our special education department, our guidance department."
I wondered whether the curriculum being followed thus far in the virtual classroom is keeping apace with what would have occurred in the actual physical classroom?
Lori Binder: "It's hard to compare going completely virtual. I would say that we are confident we will have achieved the proper outcomes of the curriculum by year end."
Rob Dalgliesh added: "We're carefully mapping what's being done, what's completed and what's not. We will be able to determine what a student hasn't completed before the next year begins.
Rigorous timetable being followed
Lori Binder: "We made a decision to exceed the provincial requirements. We decided to have a rigorous timetable that was also balanced so that, for instance, the lunch hour is a little bit longer than what students would have had in the actual school because we thought the students would need a 'quiet hour' getting off the screen time.
"There's a break of half an hour in the morning and afternoon for the elementary kids so that they can get up and stretch.
"The schedule ends around 3:15 instead of 3:40. Instead of starting at 10 to 9 we're starting at 9 o'clock."
I said: "What I'm getting from this is that the kids are adjusting to a situation that would be as comparable as possible to the actual classroom situation."
Lori Binder: "Yes, we really felt that our kids needed routine, that in their isolation they needed to be connected to the school, to the school community, and to their classmates."
She went on to explain how the timing of having to switch to the virtual classroom was quickly interrupted by the Pesach break: "In a normal Peasach break we would be off and relaxing, but we knew that our kids would not have the luxury of a Pesach break where they could go out of town so on the non-Yom Tov days we put together a program (with about 20 volunteer staff) where we went on Zoom and we had everything from a pet parade, story time for the young kids, we had an author (Jon Waldman) read from his Jets book, we had teachers eat lunch with the kids – because we just couldn't go from 13 days of virtual school to a Pesach that was quiet.
"It was during the Pesach break that our leadership team formulated the next phase of Gray Academy, which was Gray Away 2.0, where we finessed our timetable and we finessed our learning hub, especially with the younger kids, so that we found a way to bring the families into a good structure.
"What about other schools that might not be in as good a situation as Gray Academy?" I wondered.
"Are kids in other schools going to have to repeat the year entirely because they might not have had access to the kinds of technology that Gray Academy kids have?" I noted that in Quebec, for instance, "they're abandoning the school year for kids who live in Montreal."
Lori Binder explained that "there is an answer from the province actually." She asked Rob Dalgliesh to expand upon what the province has asked schools to do.
Rob Dalgliesh picked up: "The province does not want children to be held back based on what's happening now." There is a possibility that there may be summer schooling for students who have fallen behind, he noted.
Lori Binder also noted that the province has asked that in report cards at year's end, for students in Grades 9-12, it will have to be cited whether a student requires recovery learning in the fall or whether they do not require recovery learning. That will help guide students who are moving between schools.
Plans being laid for eventual reopening of the school
"Are you making any plans at all for a possible return to the classroom with social distancing in place?" I asked, or "is that too far ahead to think about yet?"
Lori Binder: "We were just in a town hall meeting with Dr. (Brent) Roussin (Manitoba's Chief Public Health Officer) yesterday, along with about another thousand administrators from across the province and they just released a draft guideline called 'limited facility school use'. It's incredibly limited; it doesn't involve plans for the fall. It deals with a child needing to meet with a guidance counsellor one on one, for example, or with a therapist.
"We are anticipating planning for a number of scenarios and, therefore, we're planning with about five or six different things in mind, such as: 'Are we going to have fewer students in spaces?' We've been looking at what social distancing might look like in a classroom, whether we're going to have to look at mixed days.
"We are very, very involved with our Canadian accredited independent schools. We meet with the Department of Education weekly. We're also very connected to the Manitoba Federation of Independent Schools. (I happen to be vice-chair of that right now.) We're all working together."
Post script: Following my conversation with the three administrators from Gray Academy on May 15, the Province of Manitoba announced new guidelines for schools. We received the following note from Andrea Ritter on Friday, May 22:
"As you know, the provincial directives have changed since we spoke. Throughout the entire process of building and delivering Gray Away, we've had to be on our toes for ongoing changes!
"Right now we're exploring possibilities of what we might be able to do in terms of allowing limited groups students into our building (and our outdoor spaces) for occasional group activities, one-one-one guidance, exams, etc. There will be no in-class learning; the Province has re-iterated that in-school classes are still suspended for all Manitoba schools. Gray Away remote learning will continue for the remainder of the year, but it could be wonderful to be able to give students the opportunity to visit their teachers and friends, with strict adherence to physical distancing, etc.
"Even with new directives from the Government of Manitoba, we will only open our doors to students when we are fully confident that we can meet all provincial expectations for protecting the health and safety of our school community – staff, students and families. While we do not have all the answers today regarding what will over the next month or so, we will definitely keep our families informed every step of the way.
Andrea also sent links to three videos that provide good illustrations of how Gray Academy has been adapting to the current situation:
Thank You Teachers –
https://www.youtube.com/watch?v=vnNg-dPmTdg
Gray Academy Grad 2020 Tribute –
https://www.youtube.com/watch?v=cTH9dET_Ig4
Song Festival Greatest Hits Vol. 1 – https://www.youtube.com/watch?v=ikx858JUxhU&t=1080s
Congregation Etz Chayim says good bye to 123 Matheson Ave.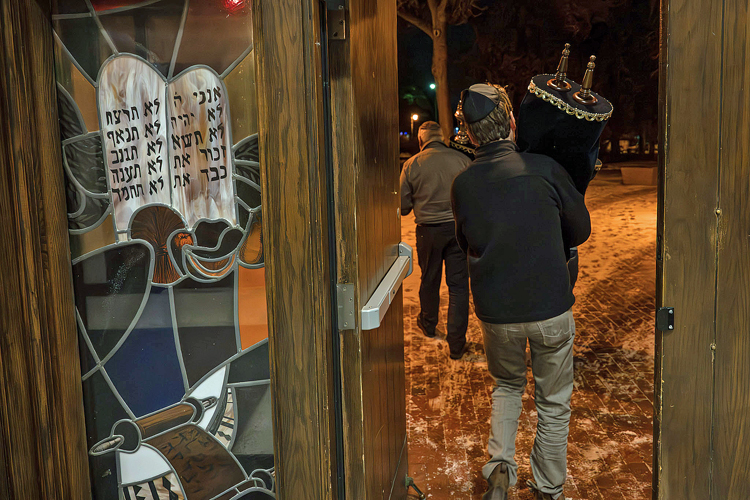 By BERNIE BELLAN After 71 years of serving as the home for first the Rosh Pina Synagogue, then for the past 21 years as the home for what was the merger of three different congregations – Rosh Pina's, along with the Bnay Abraham and Beth Israel, the Etz Chayim Congregation held its final service on Wednesday, November 29.
You can read the story by CJN writer John Longhurst elsewhere on this site (https://jewishpostandnews.ca/rss/congregation-etz-chayim-in-winnipeg-says-a-bittersweet-farewell-to-their-old-building-as-they-prepare-to-move/) along with our earlier story about the sale of the building to an Eritrean Church (https://jewishpostandnews.ca/faqs/rokmicronews-fp-1/former-congregation-etz-chayim-synagogue-building-to-become-eritrean-orthodox-church/), but here are some pictures from the final service.
(Photos courtesy of Keith Levit)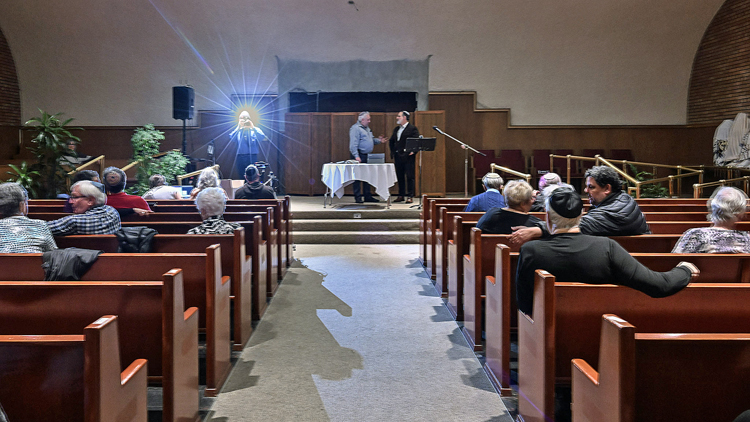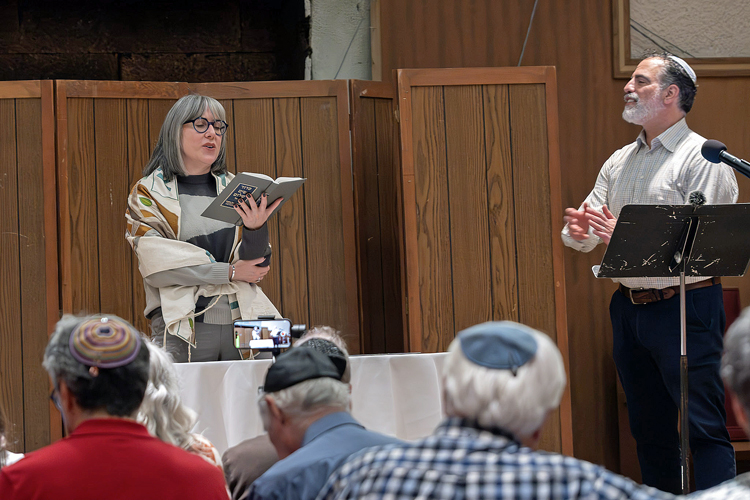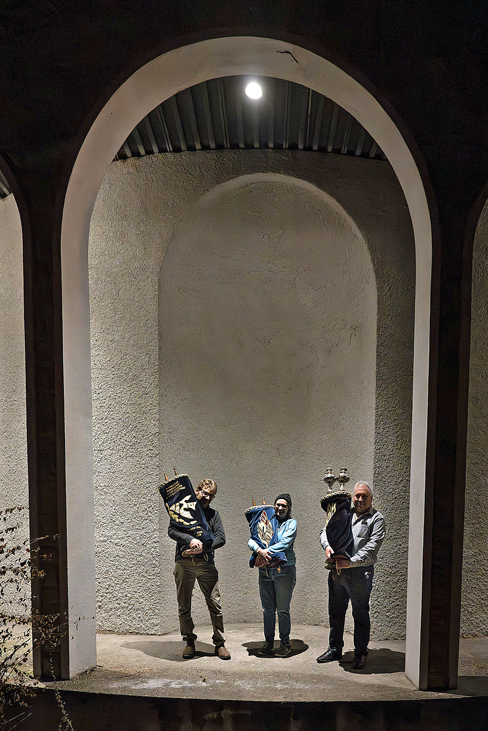 Israel report by former Winnipegger Bruce Brown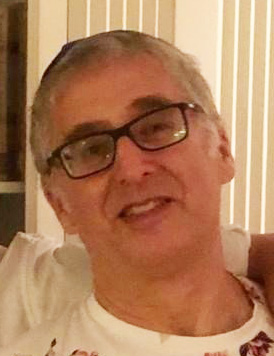 By BRUCE BROWN (posted Nov. 28/23) Was driving home from work the other day.  Pre-ceasefire.  Left the office early to reduce driving time in the evening hours.  Hamas likes their 6PM missile barrage and I'm honing my missile-avoidance routine.
 
Was listening to talk-radio… but kind of had enough of the news.  Too much war talk and its getting a bit overwhelming.  So switched to Spotify and up popped Supertramp – the Logical Song.  For sure how 'wonderful, beautiful, magical' life once felt.  Before Oct 7th.  Before Hamas. 
 
Then, as if on cue.  I gaze towards the sky.  And saw missiles flying overhead.  At first it didn't really click. And then.  Yikes!  I quickly switched back to the news.  Where, in a very calming voice, they were announcing areas under missile attack.  Which is another reason to listen to the radio while driving during war – real-time information.  Lesson learned.
 
Suddenly my smartphone's flashlight started flashing.  Which was pretty darn cool!  And there I was, on Star Trek.  Standing on the bridge.  Even recalled the vessel number – NCC-1701. There I was with Captain Kirk.  No!  I was Captain Kirk.  Dr. McCoy by my side.  Sulu and Chekov at the controls.  The Klingons were attacking.  And Mr. Spock -standing to the side- was calmy advising the attack coordinates.  No Wait!  That was the radio announcer.  Seriously.  This all took place within a split second in my over-active imagination.
 
The flashing continued.  Then I realized my cellphone was communicating with me.  Warning of danger.  I have the Home Front Command application which sounds an amazingly loud alarm during a missile attack in my area.  But changing between the radio and Spotify prevented the siren from going off.  So instead, the phone activated my flashlight.  Sending out an S.O.S.  Now how neat is that!  In a geeky sort of way.  Like for someone who imagines himself on Star Trek during a real-life missile attack.
 
Then.  Reality set in.  There were Home Front Command instructions to follow.  Momentary-panic set in.  Where was my wife.  To tell me what to do.  Like she always does…but that's another story.  This time I wanted her there, instructing me. 
 
All these thoughts racing through my mind in milliseconds.  As I calmly slowed the car and veered to the shoulder.  Like other cars around me.  I put on the blinkers.  More flashing lights but the bridge of the U.S.S. Enterprise now a distant thought.  Looking both ways I left the car and hopped over the road- barrier.  Moving away from the car.  Although probably not far enough.  Because there was a steep decline just below.  It was getting dark and, suffering from poor night vision, I didn't want to trip and hurt myself.  I heard my son laughing at me. "Nerd!" he called out.  But that was just my imagination.
 
I should have laid flat.  Prostrating myself for maximum protection.  But it rained earlier that day, the ground was wet and I didn't want to get muddy.  '"Nerd!"  This time it was my daughter in my mind's eye.  "Okay," I said to no one in particular.  "I'll squat."  Good enough…but not really.
 
The family in the car ahead were huddling together but too close to their vehicle.  I shouted for them to move further away.  But they didn't react.  Probably didn't understand me, especially given my still heavily accented Canadian Hebrew.  This time I heard both my kids.  Teasing me – thirty years and still talk like an immigrant!  "Hey, they just don't hear me."  I said to the darkness.  Otherwise it was very moving seeing the father crouching down on top of his brood, in a protective sort of way.  "Isn't that touching." I said to my wife.  "For sure." She said somewhat sarcastically in the back of my mind, "I know you'd do the same."  
 
Then it was over.  The sky went quiet.  People returned to their cars.  The nestled family broke apart and entered theirs.  We should have stayed in place several more minutes.  Ten minutes is the recommended time.  But it was dark.  Getting late.  Also a bit cold.  I just wanted to get home.  Back to the real chiding of my kids and to my wife… somehow longing for her ordering me about.
 
A few minutes later my wife called.  Making sure I was safe.  And then routine set in.  "Don't forget to pick up some milk and bread from the corner store."  She instructed me.
 
Um Israel Chai
 
Bruce Brown.  A Canadian. And an Israeli.  Bruce made Aliyah…a long time ago.  He works in Israel's hi-tech sector by day and, in spurts, is a somewhat inspired writer by night.  Bruce is the winner of the 2019 American Jewish Press Association Simon Rockower Award for excellence in writing.  And wrote the 1998 satire, An Israeli is….  Bruce's reflects on life in Israel – political, social, economic and personal.  With lots of biting, contrarian, sardonic and irreverent insight.
 
Jewish community holds solidarity rally November 25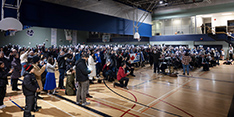 The Jewish Federation of Winnipeg held a rally in support of Israel on Saturday evening, November 25.
A number of speakers addressed the crowd of 800, including Rabbi Yosef Benarroch of Adas Yeshurun-Herzlia Congregation; Members of Parliament Ben Carr & Marty Morantz; Yolanda Papini-Pollock of Winnipeg Friends of Israel; Paula McPherson, former Brock Corydon teacher; and Gustavo Zentner, President of the Jewish Federation.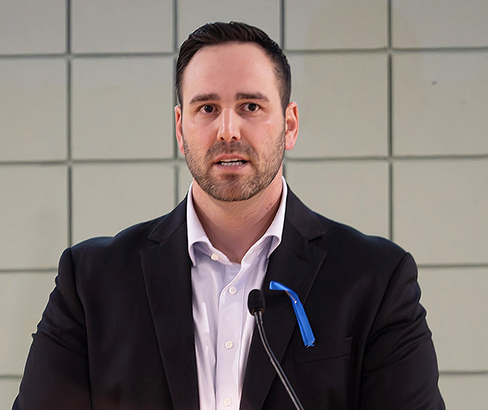 Click here to watch Ben Carr's remarks: https://www.youtube.com/watch?v=crfREGNRKfg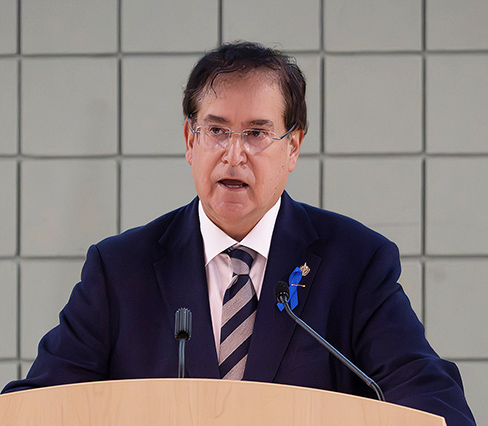 Click here to watch a video of Marty Morantz's remarks: https://studio.youtube.com/video/zHzC-iaqivg/ed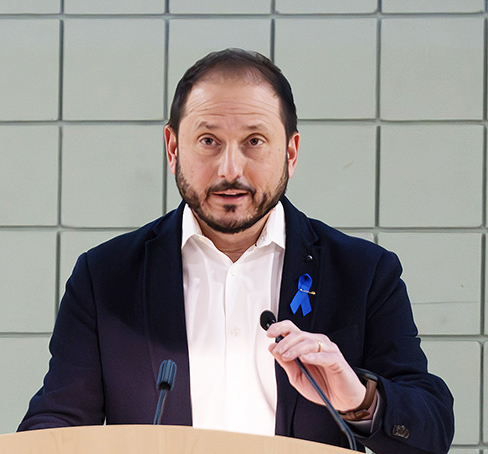 Click here to watch a video of Gustavo Zentner's remarks: https://www.youtube.com/watch?v=L3M_cCYuLgs