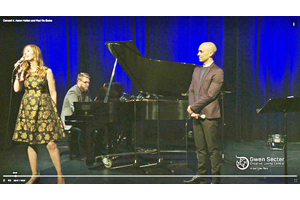 By BERNIE BELLAN
It's been almost eight months since the province imposed the first lockdown due to the COVID pandemic. While we've had our fair share of stories in this paper about how the pandemic has affected so many of us, we've also been trying to avoid dwelling on the terrible toll it's taken.
You're undoubtedly inundated with those types of stories from so many other media. Instead we've tried to find stories that illustrate the often innovative ways in which both individuals and organizations within our Jewish community have responded to the challenges presented by the awful disruption in life that we've all encountered to one degree or another.
One organization in particular has amazed me in the way that, despite its relatively small size, it has filled several voids in the community that were left when other organizations were either unable or unwilling to provide services that were desperately needed by some members of our community. I am referring to the Gwen Secter Centre. (Elsewhere in this issue we have a story by Myron Love about the upcoming tea that Gwen Secter will be holding –but not an actual tea.)
The reason I wanted to write this article was to explain how the Gwen Secter Centre – somewhat surprisingly, came to be involved in offering a firstrate online concert series that anyone can watch from their home – so long as you have a computer or tablet (and you register in advance, as will be explained if you continue reading).
I contacted our community's go-to impresario, Karla Berbrayer, who has been organizing concerts and other programs for various organizations for so many years that it's hard to know where this community would be without her. I told Karla that, while we've been running ads promoting the concert series, we really hadn't explained to readers how the series had come about, which led to a phone interview – interrupted strangely when her phone line went dead. (Later Karla emailed me to say that an MTS crew that had been installing new cables in the area had accidentally cut the line to her home, leading not only to the loss of landline connection, but the internet and TV as well. If that had happened in our home my wife would have blamed me.)
When our phone interview resumed Karla related the story how the online concert series had come about. She said she had been working for Gwen Secter the past year (2019) "doing a series called 'All About Jews'. That's when Becky (Chisick, Gwen Secter executive director) and I solidified our working relationship – and she had hired me back to do the same series in 2020."
The idea behind that series was to offer monthly Friday lunch time programs featuring either a speaker or a concert. The first program in "All About Jews" – in February, featured children's author Harriet Zaidman speaking about the Winnipeg General Strike while the second program – on Friday, March 13 (the last day before the province wide shutdown went into effect) featured Kevin McIntyre singing songs from Broadway musicals with a Jewish connection. The day of that second program Karla said she "wondered whether anyone was going to be here? " The first case of COVID had just been announced the day prior, Karla noted.
"The room was absolutely full," she continued, "and I said to one woman in the audience that I was afraid no one would come today, and she said: 'Karla, we just want to be entertained.' So I was adamant that I would continue bringing that to them.
"And once it became mandatory that this specific demographic was not going to be able to mingle freely in an environment like they had been, I suggested to Becky that I could do a virtual concert series. I said to her that if we wanted to bring culture to her membership I saw this as the only option and I'm happy to do it.
"We all have to reinvent ourselves," Karla observed, "and 'pivot' – that's a great word – and if you don't reinvent yourself, it's game over," she suggested.
" At that point Becky said :'Let me think about this' and then she called me back shortly afterwards and said: 'Karla, let's just do it.' "
"So that was amazing because she gave me carte blanche to put together a high quality concert series and gave me free run to manage it the way I felt it should be managed. Becky deserves a lot of credit. I produced the series but without Becky it wouldn't have happened."
Of course, by now many of us have become used to the notion of watching Zoom events, but frankly the quality of many of those sessions leaves something to be desired. And for Karla Berbrayer, the idea of simply offering concerts via Zoom was a non-starter.
"From the start I made a decision that I did not want to do a concert series where everyone is recording themselves from their living room or their kitchen – on their cell phone. I wanted a high end event. I wanted to record the performers in a theatre (which, in this case, turned out to the Berney Theatre), with lighting and sound and a tech crew – basically everything except the audience."
As it turned out Karla managed to record 10 different concerts – all in the same day!
Each concert is between 20-30 minutes. The concerts run the gamut from "jazz to pop to Borscht Belt to Broadway," Karla observed. "I try to give it a lot of variety so that if you don't like a specific concert you'll like another one."
"I would bring in a group or a performer and they would ask me: 'How many takes do I get?" and I'd say: 'One. You just perform as if there's a live audience. We're not doing any editing.' "
"Each one was able to have the feeling of playing live in a theatre, having a tech crew. It was also a good feeling giving all these people work as well. After all," she added, "their lives had been shut down because of the death of live entertainment in the city".
The series opened in October. Karla explained how it works: "Every Monday at 9 am we release a concert. They'll be released weekly right up until mid-December. There are 10 concerts altogether and all people have to do is register at and they're immediately given a link that will allow them to watch a concert. Also, every week they're sent a reminder when the next concert is coming up."
So far, concerts have featured local performers Nadia Douglas, Erin Propp and Larry Roy, Shayla Fink, and Aaron Hutton with Paul De Gurse.
I asked Karla whether the concerts can be viewed if you don't happen to watch one on a particular Monday?
"Yes," Karla answered. "The concerts are archived so if you want you can go online and watch an earlier concert – by going to the Gwen Secter website once you've registered. You can watch a concert any time of day and as many times as you'd like."
The response to the concert series has been terrific. Over 364 individuals have registered at www.gwensecter.com as of the time of writing. As well, statistics of how many people are actually watching the concerts live indicate that, as of the date of writing concerts have been viewed 729 times.
As for cost, Becky Chisick was adamant that the series would be offered free of charge. Funding for the series is provided by the Manitoba Arts Council.
I suggested to Karla that while Gwen Secter deserves full credit for stepping up to fill a cultural void in our community, the fact that it's the Gwen Secter Centre filling that void still comes as somewhat of a surprise. It wasn't that long ago that the Gwen Secter Centre's very survival was in question. Now it's rising to the fore of Jewish community organizations that are stepping up during the pandemic. Who would have thunk it?
.