Jerry Maslowsky, Inaugural Inductee – The Jerry Maslowsky Hall of Fame – Seven Oaks Performing Arts Centre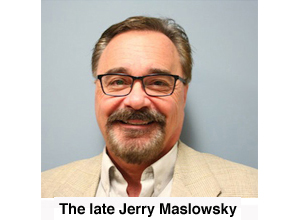 By HOLLY HARRIS Laughter and tears will flow when the Seven Oaks Performing Arts Centre (SOPAC) honours the late Jerry Maslowsky (zt"l), a prominent local business executive, supremely gifted entertainer, devoted family man, and all-around mensch, as the inaugural inductee for its newly minted "The Jerry Maslowsky Hall of Fame," bearing the beloved Winnipegger's name in perpetuity.
A special tribute concert co-hosted by Maslowsky's sister Debbie Maslowsky and his daughter Tara is being held Thursday, October 20th, 7:30 p.m. in the 525-seat venue located at 711 Jefferson Avenue. The gala evening that kicks off with a 6:30 p.m. reception will be capped by the naming of the SOPAC lobby in Maslowsky's honour, in addition to the Hall.
All ticket proceeds will go towards establishing "The Jerry Maslowsky Scholarship" through the Seven Oaks Education Foundation (SOEF), to be awarded annually to a student graduating from the division pursuing their passion in the arts. Online and in-person donations will also be gratefully accepted to help build the scholarship fund.
"Jerry would be overwhelmed with gratitude," Debbie shares over the phone when asked how her brother might have felt being feted in such a significant way, as his formative years growing up in Winnipeg's leafy Garden City neighbourhood essentially comes full circle.
"He'd be extremely humbled. He would thank his very dear friend, Dr. Harvey Max Chochinov, for nominating him for this honour, and his wife, Chris, and three children, Kaylee, Bobby and Tara for always supporting him, and letting him do all that he loved to do," she adds.
Debbie gives full credit to Chochinov for getting the ball rolling back in 2020 by originally pitching the idea to Seven Oaks School Division Superintendent Brian O'Leary; followed by his formal nomination letter to the Board of Trustees now bearing rich fruit.
"It's a wonderful occasion to recognize Jerry, and his history and career," O'Leary affirms. "It also celebrates our arts programming at Seven Oaks, and all the opportunities we're able to offer kids."
Born in 1957 to Sam and Evelyn Maslowsky, Jerry first cut his performing teeth at I. L. Peretz School, later dazzling audiences in musical theatre shows at Jefferson Junior High School and Garden City Collegiate (GCC), also attended by his three siblings Kenny, Debbie and late sister Barbara. The charismatic entertainer appeared in his first Rainbow Stage production, "The King and I," at the tender age of 12, and became a featured singer/dancer with the Sarah Sommer Chai Folk Ensemble in his teens.
He also co-wrote /co-hosted a three-part TV special "Wish Upon a Star" for CKY TV with Debbie in the early 1990s, as well as performed in "around 150" shows at the Hollow Mug Dinner Theatre, including many directed by my own father, Neil Harris, who recognized Jerry's world-class talent and loved him like a son.
"Jerry just adored Neil Harris and was so honoured to have worked with him, and to been asked to do any of his shows. They had such a special connection and laughed all the time," Debbie reveals of their unique bond.
Maslowsky passed away unexpectedly from an aggressive form of cancer on September 4th, 2016, with his death sending shockwaves throughout the local Jewish community and beyond. Over a thousand people, in stunned disbelief, attended his Celebration of Life at the RBC Convention Centre on September 8th; a living testament to how Maslowsky's passion to make the world a better place through community service, and sharing his wisdom with all those who asked for advice had touched their lives.
As a brilliant businessman, his career included being appointed CEO of Variety, the Children's Charity of Manitoba, as well as serving as Vice President of Sales and Marketing with the Winnipeg Football Club as a diehard Blue Bombers fan. And it all began with this very newspaper, with "Maz" beginning his professional life as advertising manager with The Jewish Post (prior to the merger of The Jewish Post and Western Jewish News in 1987).
He launched "Special Blend" in the early 1970s with his childhood chums, including Chochinov, as the city's "go-to" band on the Bar Mitzvah and wedding circuit. The group performed at hotels and every synagogue in Winnipeg for hundreds of Jewish holidays and life cycle events ("He knew the kitchen staff of every shul in the city," Debbie quips), including an anniversary bash at the Chevra Mishnayes Synagogue, co-founded by his zaida in 1908.
Chochinov, who needs no introduction as a world renowned psychiatrist and distinguished Officer of the Order of Canada, revered for his empathic research in palliative care, recalls playing violin and wailing on guitar licks with Maslowsky as the band's nattily attired lead singer throughout the mid-1980s. But their bond went much deeper than that.
"Jerry was like a brother to me. He was family," Chochinov shares of his lifelong pal, whom he first met at age 13, and kept in touch with over the years despite divergent career paths. "We were both auditioning for our Jefferson Junior High musical, 'Annie Get Your Gun,' and I remember thinking, 'I may have enthusiasm, but this man has real talent.'
"Jerry had this incredible sense of humour and an amazing kind of comedic timing. He could read a room and bring the house down with gales of laughter, but at the same time, had no ego about it. It was always about bringing joy to the lives of people," he continues.
"Jerry was an extraordinary friend and he was an extraordinary man, and a real role model for young people today in how he lived his life. While we all miss him terribly, we're just so delighted that we have an opportunity to honour him in this very special way."
The long defunct band, comprised of Michael Ryczak (accordion/ keyboards); Tim Feduniw (saxophone); Craig Doering (the group's original drummer, eventually replaced by Jeff Dolovitch), poignantly joined by Maslowsky's daughter, Tara, are notably coming together again to belt out several numbers at the October show – certain to bring the house down just as Jerry would want.
The program also includes Chai Folk Ensemble Alumni, popular vocalists Tracy Kasner Greaves and Arthur Liffmann with David Vamos on keyboard, world-class soprano Tracy Dahl and Winnipeg Jets anthem singer and longtime vocal jazz instructor at GCC, Stacey Nattrass.
The evening rounds out with R. F. Morrison School's high-octane Ukrainian dance ensemble, vocal jazz group Garden City Groove led by Nattrass, as well as excerpts from GCC's recent production of hit musical comedy "The 25th Annual Putnam County Spelling Bee."
"This is going to be a deeply emotional night for our family, but it also just affirms that while Jerry might be gone, he will never be forgotten," Debbie says of her cherished, dearly missed brother.
"Jerry's legacy will continue to live on through his family and friends, and all the many people whose lives he's touched, and is now being recognized with this honour. It would mean the absolute world to him."
For tickets ($30) or further information, visit: www.7oaks.org/resources/soef
Holly Harris has served as the classical music/opera/dance reviewer for the Winnipeg Free Press since 2004. She feels privileged to have known Jerry Maslowsky, and recalls his electrifying performances at the Hollow Mug and beyond, throughout the years.
Winnipeg Jewish Theatre to open season with world premiere of "Pals"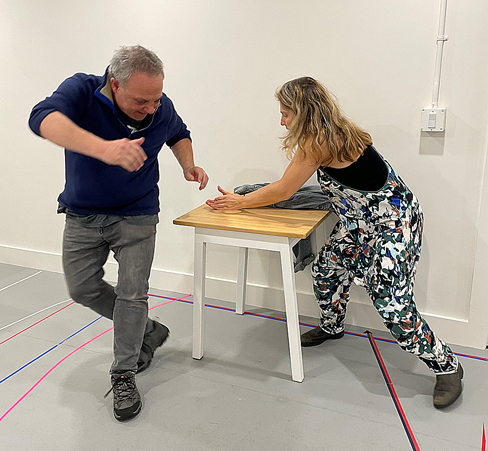 By BERNIE BELLAN The opening show of Winnipeg Jewish Theatre's 2023-24 season promises to be a clever and poignant take on relationships between men and women, when "Pals" makes its world premiere on November 9 in the Berney Theatre, running until November 19.
"Pals" is the third two-person show created by the team of Diane Flacks and Richard Greenblatt. Interestingly, when I spoke with Flacks and Greenblatt while they took a break from rehearsing the play in Toronto, they told me that their previous two two-person plays also had one word titles – with four letters in both: "Sibs" and "Care."
"Pals" is the story of two friends, told over a 25-year time period. Their friendship survives many tribulations, including both characters entering and exiting many other relationships. The play uncovers the underlying tensions that permeate all friendships.
"Pals" opens with the two characters meeting for the first time. I asked Diane and Richard whether the notion of their having sex ever enters into the plot, but Richard was quick to exclaim, "We don't have sex."
Diane also noted that, in the case of her character, she is married to another woman. (Diane is a lesbian in real life.)
The fact that the characters maintain a friendship though becomes a source of friction within their respective relationships. It raises the question: Can you have an intimate, albeit platonic, relationship, with a member of the opposite sex all the while you're in a physical relationship with someone else?
I asked whether the characters in "Pals" are Jewish (which both Diane and Richard are), and the answer was "yes."
Both Diane and Richard have had past associations with the Winnipeg Jewish Theatre. Richard's goes back a very long time – when he directed the critically acclaimed "League of Nathans" in 1995.
Diane Flacks appeared in a one-night performance of a show in 2021 called "25 Questions for a Jewish Mother," which was a part of that year's Tarbut festival. There were no in-person events that year, due to Covid, but "Jewish Mother" was available on Zoom and had a huge audience.
In addition to writing for the stage, Diane Flacks has written for TV, including Working the Engels, Baroness Von Sketch Show, Young Drunk Punk, PR, and The Broad Side.
Richard Greenblatt has performed in theatres across Canada and abroad, as well as in feature films, television and radio. He co-wrote 2 Pianos 4 Hands, which played on five continents and in over 150 cities since it opened in 1996.
Pals is directed by the internationally acclaimed director Jillian Keiley. More information, tickets and 5-show subscriptions can be found at: www.wjt.ca. You can also reach WJT by phone at (204) 477-7478.
To watch a preview video from Pals, click here: https://www.youtube.com/watch?v=z2W0VmHHFbA
Simkin Centre introduces Friday afternoon Shabbat services – open to all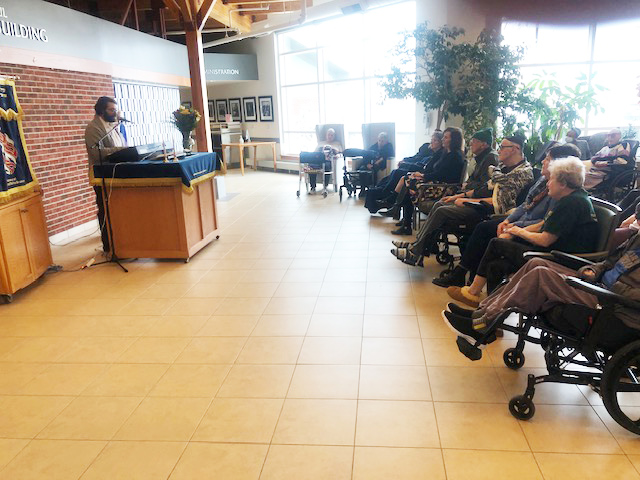 By BERNIE BELLAN (Posted Oct. 31) The Simkin Centre held its first ever Friday afternoon Erev Shabbat service this past Friday (Oct. 27), led by Rabbi Matthew Leibl.
There were more than 30 residents in attendance, along with various other outside guests. The service was approximately 45 minutes long and was filled with stories and songs associated with Friday evening Shabbats – some from Rabbi Leibl's own childhood and some from more recent years.
The Friday afternoon Erev Shabbat services are now to become a regular features at the Simkin Centre and are open to anyone to attend.
To watch a short clip of Rabbi Leibl introducing his first Friday afternoon service click https://youtu.be/hLSrV18K58o
The complete text of MP Marty Morantz's speech at the community vigil for Israel on October 10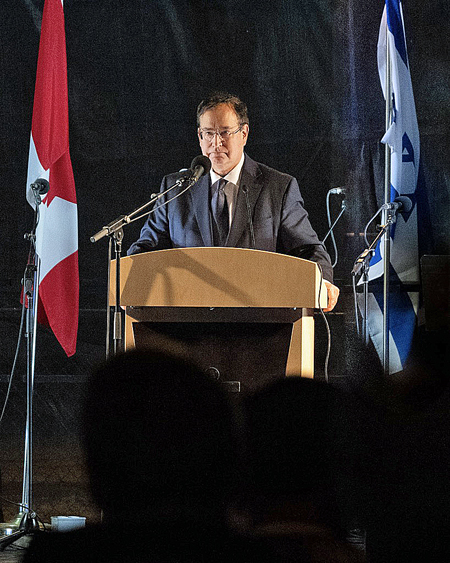 Tonight we are all Israelis!
Conservatives stand with Israel.
Pierre Poilievre stands with Israel.
On Saturday we woke up to unspeakable images.
We must stand shoulder to shoulder with Israel as it defends itself from these criminal and barbarous acts.
On Shabbat, Hamas brutally invaded Israel, invaded homes, killing hundreds, taking hostage hundreds.
More Jews were killed in Saturday's attack than in any single day since the Holocaust.
Some 1500 human beings killed in a single day would be like 6000 Canadians being murdered in a single attack.
They were children, babies, men, women.
They were young people just out listening to music at a dance party.
This was an unprecedented brutal attack.
As we speak Hamas is threatening to execute innocent hostages.
This outrage cannot, must not stand.
Don't let anyone tell you Hamas is the legitimate voice of the Palestinian people. It is not a government.
They are a genocidal murderous and evil death cult and they must be defeated.
But friends, we have seen evil before.
Jews have been persecuted for millennia, but we have survived.
Conservatives unequivocally condemn the invasion of Israel by Hamas terrorists and the sadistic violence that Hamas has carried out against innocent civilians.
Now is the time for moral clarity. There is no moral equivalency between democratic Israel and the butchers of Hamas.
There is no response, no matter how strong, that would be disproportionate to the crimes Hamas has committed.
Israel has the right to defend itself against these attacks and respond against the attackers – as any other country would.
Theodore Herzl, the father of modern Zionism, said, "If you will it, it is no dream."
In 1948 that dream became a reality – a homeland in Israel, the promised land.
Working together Israelis turned a desert into an oasis.
An island of democracy surrounded by a sea of autocracy.
A Jewish state where Jews could live in peace free from fear and persecution.
Let there be no doubt. Israel is the ancient and indigenous homeland of the Jewish people.
We will not let the butchers of Hamas take that dream, long realized, away from us.
Many politicians will stand with Israel when it is easy.
But listen to what they say when it is hard.
They will talk about "both sides."
I'm here to tell you that there is only one side.
The side of morality.
The side of democracy.
The side of Israel.
We see too often politicians at the United Nations unfairly singling out Israel for criticism.
I will always stand against the unfair singling out of the Middle East's only democracy.
Already there are calls for Israel to deescalate.
I ask you.
Would any country deescalate after having its people slaughtered in cold blood?
I wish the people of Israel and its brave soldiers Godspeed on their mission to defend the promised land from pure evil.
As Prime Minister Stephen Harper said:
Through fire and water Canada will stand with you.
Am Yisrael Chai!