CJA launches 2022-23 campaign with guest speaker from the Jewish Agency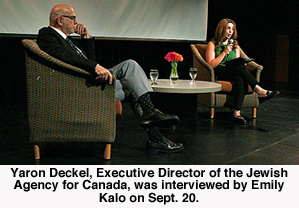 By BERNIE BELLAN The Combined Jewish Appeal of the Jewish Federation of Winnipeg launched its 2022-23 campaign before a small audience at the Berney Theatre on Tuesday evening, September 20. Welcoming remarks were given by Federation president Gustavo Zentner. Following his remarks, Zentner crossed the stage of the Berney Theatre where he introduced Ukrainian-born (and former resident of Israel) artist Eugene Kabrun. Together the two men unveiled a painting depicting the suffering ongoing in Ukraine and which will be on display at the campus.
Following the unveiling of the painting, Zentner introduced the special guest for the evening, Jewish Agency executive director for Canada Yaron Deckel.
Deckel was accompanied to the stage by Emily Kalo, a fourth-year science student at the University of Manitoba (also a Gray Academy grad). Emily co-founded Students Supporting Israel at the University of Manitoba and is the StandWithUs Israel Advocate of The Year, 2018. She is currently a member of the Public Affairs and Advocacy Committee at the Jewish Federation of Winnipeg and serves as the Vice President of Advocacy at the University of Manitoba Students' Union.
For the next hour Emily asked Yaron Deckel a series of relatively short scripted questions, ranging from what the Jewish Agency has done to help Ukrainian refugees, to asking about security provisions the Agency has helped Jewish organizations institute in response to heightened anti-Semitic attacks throughout the world. Emily also asked Deckel about how awareness of Israel can be increased among Jewish students on campuses.
Deckel gave lengthy answers to the questions posed to him, but what he didn't do is explain to the audience just what the Jewish Agency is.
So, in an effort to better understand what the Jewish Agency is, here is a short primer, taken from Wikipedia. (Wikipedia admits on its website that much of its article on the Jewish Agency reads like an advertisement for the Jewish Agency.):
"The Jewish Agency for Israel (in Hebrew: HaSochnut HaYehudit L'Eretz Yisra'el) formerly known as The Jewish Agency for Palestine, is the largest Jewish non-profit organization in the world. It was established in 1929 as the operative branch of the World Zionist Organization (WZO). The stated mission of the Agency is to 'ensure that every Jewish person feels an unbreakable bond to one another and to Israel no matter where they live in the world, so that they can continue to play their critical role in our ongoing Jewish story.'
"It is best-known as the primary organization fostering the immigration of Jews in diaspora to the Land of Israel (known as aliyah) and overseeing their integration with the State of Israel. Since 1948, the Jewish Agency has brought 3 million immigrants to Israel, and offers them transitional housing in 'absorption centres' throughout the country.
"By law, the Jewish Agency is a parastatal organization, but does not receive core funding from the Israeli government. The Jewish Agency is funded by the Jewish Federations of North America (JFNA), Keren Hayesod, major Jewish communities and federations, and foundations and donors from Israel and around the world.
"In July 2022, during the Russian invasion of Ukraine, the Russian Ministry of Justice took steps to stop the Jewish Agency For Israel from operating in Russia, claiming that the agency had broken Russian law regarding collecting, storing and transfering data. After the invasion started, there had been a sharp increase in emigration from Russia to Israel…
"Its operating budget for 2019 was US$379,807,000…
"As of 2019, the Jewish Agency sponsors dozens of programs that connect Jews to Israel and to each other. The Agency organizes the programs into four different categories: 1. Connecting young Jews to Israel and their Jewish identity (Jewish and Zionist education in the Jewish diaspora), 2. Connecting young Israelis to the Jewish people and their Jewish identity, 3. Aliyah and absorption, 4. Supporting vulnerable populations in Israel."
While Deckel said all the right things about trying to engage young Jews in supporting Israel, as in "It's time for us to invest in young people to try to make a difference, otherwise young people will be even less interested in Jewish identity," that would hardly constitute startling news.
For anyone following world events these days though the Jewish Agency has been most prominently featured in the news of late as a result of Russia's Ministry of Justice having filed a motion in court to liquidate operations of the Jewish Agency in Russia. While it is not clear what prompted that move, it did follow Israeli Prime Minister Yair Lapid's criticism of Russia's invasion of Ukraine. Deckel did not touch upon the purported attempt to force the Jewish Agency out of Russia.
Deckel did note in his remarks that 17,000 Russian Jews have emigrated to Israel since Putin's baseless invasion began on February 24 (along with 40,000 Ukrainian Jews). Now that Putin has called for the mobilization of a further 300,000 reserve soldiers the number of Russian Jews attempting to leave that country can be expected to grow exponentially. The role of the Jewish Agency in helping Russian Jews to leave that country is bound to take on an even larger importance in the coming days.
Congregation Etz Chayim says good bye to 123 Matheson Ave.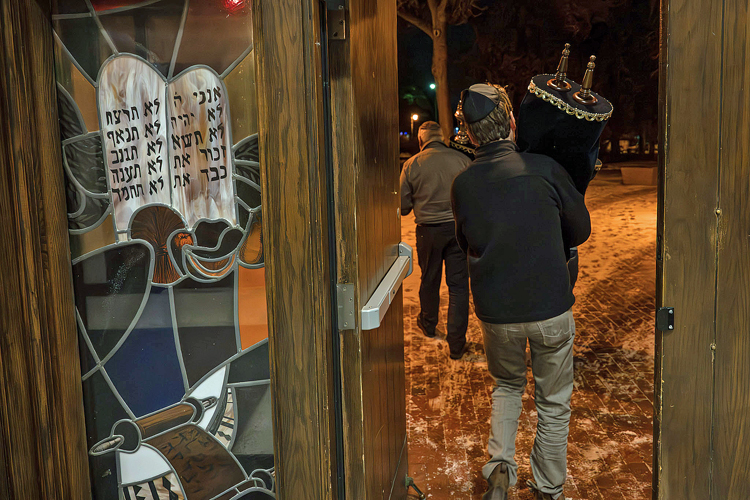 By BERNIE BELLAN After 71 years of serving as the home for first the Rosh Pina Synagogue, then for the past 21 years as the home for what was the merger of three different congregations – Rosh Pina's, along with the Bnay Abraham and Beth Israel, the Etz Chayim Congregation held its final service on Wednesday, November 29.
You can read the story by CJN writer John Longhurst elsewhere on this site (https://jewishpostandnews.ca/rss/congregation-etz-chayim-in-winnipeg-says-a-bittersweet-farewell-to-their-old-building-as-they-prepare-to-move/) along with our earlier story about the sale of the building to an Eritrean Church (https://jewishpostandnews.ca/faqs/rokmicronews-fp-1/former-congregation-etz-chayim-synagogue-building-to-become-eritrean-orthodox-church/), but here are some pictures from the final service.
(Photos courtesy of Keith Levit)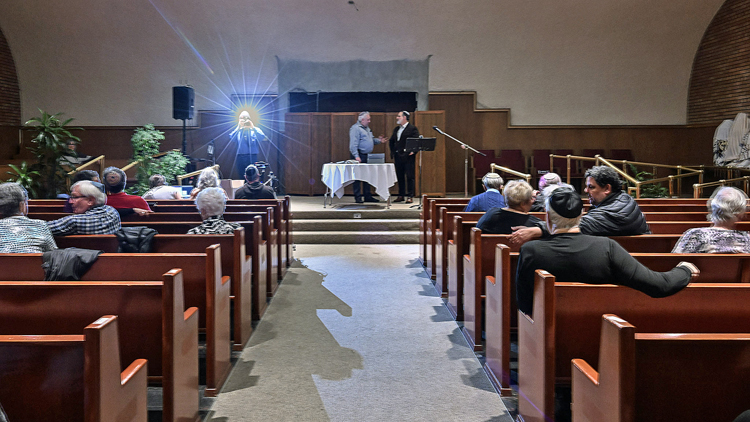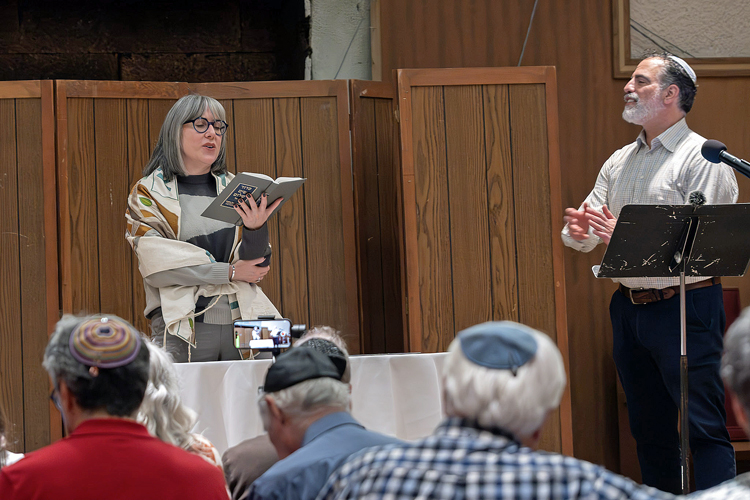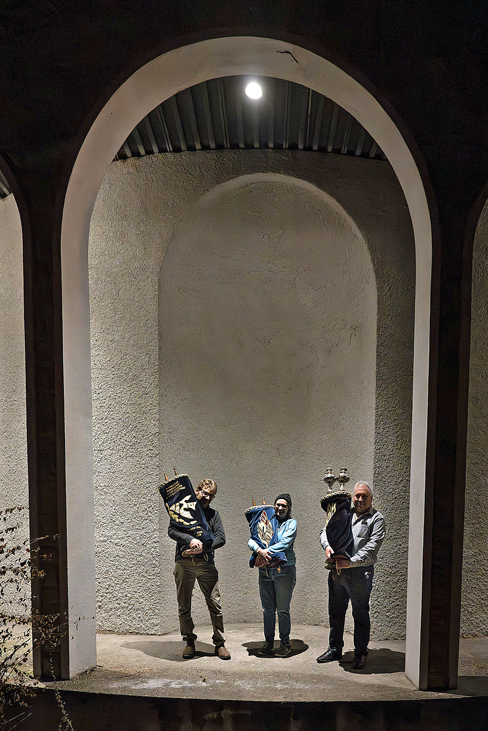 Israel report by former Winnipegger Bruce Brown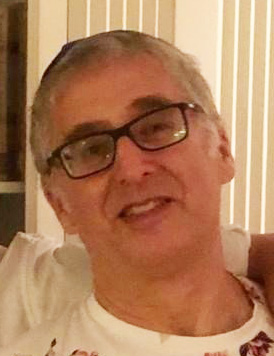 By BRUCE BROWN (posted Nov. 28/23) Was driving home from work the other day.  Pre-ceasefire.  Left the office early to reduce driving time in the evening hours.  Hamas likes their 6PM missile barrage and I'm honing my missile-avoidance routine.
 
Was listening to talk-radio… but kind of had enough of the news.  Too much war talk and its getting a bit overwhelming.  So switched to Spotify and up popped Supertramp – the Logical Song.  For sure how 'wonderful, beautiful, magical' life once felt.  Before Oct 7th.  Before Hamas. 
 
Then, as if on cue.  I gaze towards the sky.  And saw missiles flying overhead.  At first it didn't really click. And then.  Yikes!  I quickly switched back to the news.  Where, in a very calming voice, they were announcing areas under missile attack.  Which is another reason to listen to the radio while driving during war – real-time information.  Lesson learned.
 
Suddenly my smartphone's flashlight started flashing.  Which was pretty darn cool!  And there I was, on Star Trek.  Standing on the bridge.  Even recalled the vessel number – NCC-1701. There I was with Captain Kirk.  No!  I was Captain Kirk.  Dr. McCoy by my side.  Sulu and Chekov at the controls.  The Klingons were attacking.  And Mr. Spock -standing to the side- was calmy advising the attack coordinates.  No Wait!  That was the radio announcer.  Seriously.  This all took place within a split second in my over-active imagination.
 
The flashing continued.  Then I realized my cellphone was communicating with me.  Warning of danger.  I have the Home Front Command application which sounds an amazingly loud alarm during a missile attack in my area.  But changing between the radio and Spotify prevented the siren from going off.  So instead, the phone activated my flashlight.  Sending out an S.O.S.  Now how neat is that!  In a geeky sort of way.  Like for someone who imagines himself on Star Trek during a real-life missile attack.
 
Then.  Reality set in.  There were Home Front Command instructions to follow.  Momentary-panic set in.  Where was my wife.  To tell me what to do.  Like she always does…but that's another story.  This time I wanted her there, instructing me. 
 
All these thoughts racing through my mind in milliseconds.  As I calmly slowed the car and veered to the shoulder.  Like other cars around me.  I put on the blinkers.  More flashing lights but the bridge of the U.S.S. Enterprise now a distant thought.  Looking both ways I left the car and hopped over the road- barrier.  Moving away from the car.  Although probably not far enough.  Because there was a steep decline just below.  It was getting dark and, suffering from poor night vision, I didn't want to trip and hurt myself.  I heard my son laughing at me. "Nerd!" he called out.  But that was just my imagination.
 
I should have laid flat.  Prostrating myself for maximum protection.  But it rained earlier that day, the ground was wet and I didn't want to get muddy.  '"Nerd!"  This time it was my daughter in my mind's eye.  "Okay," I said to no one in particular.  "I'll squat."  Good enough…but not really.
 
The family in the car ahead were huddling together but too close to their vehicle.  I shouted for them to move further away.  But they didn't react.  Probably didn't understand me, especially given my still heavily accented Canadian Hebrew.  This time I heard both my kids.  Teasing me – thirty years and still talk like an immigrant!  "Hey, they just don't hear me."  I said to the darkness.  Otherwise it was very moving seeing the father crouching down on top of his brood, in a protective sort of way.  "Isn't that touching." I said to my wife.  "For sure." She said somewhat sarcastically in the back of my mind, "I know you'd do the same."  
 
Then it was over.  The sky went quiet.  People returned to their cars.  The nestled family broke apart and entered theirs.  We should have stayed in place several more minutes.  Ten minutes is the recommended time.  But it was dark.  Getting late.  Also a bit cold.  I just wanted to get home.  Back to the real chiding of my kids and to my wife… somehow longing for her ordering me about.
 
A few minutes later my wife called.  Making sure I was safe.  And then routine set in.  "Don't forget to pick up some milk and bread from the corner store."  She instructed me.
 
Um Israel Chai
 
Bruce Brown.  A Canadian. And an Israeli.  Bruce made Aliyah…a long time ago.  He works in Israel's hi-tech sector by day and, in spurts, is a somewhat inspired writer by night.  Bruce is the winner of the 2019 American Jewish Press Association Simon Rockower Award for excellence in writing.  And wrote the 1998 satire, An Israeli is….  Bruce's reflects on life in Israel – political, social, economic and personal.  With lots of biting, contrarian, sardonic and irreverent insight.
 
Jewish community holds solidarity rally November 25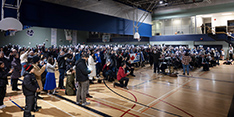 The Jewish Federation of Winnipeg held a rally in support of Israel on Saturday evening, November 25.
A number of speakers addressed the crowd of 800, including Rabbi Yosef Benarroch of Adas Yeshurun-Herzlia Congregation; Members of Parliament Ben Carr & Marty Morantz; Yolanda Papini-Pollock of Winnipeg Friends of Israel; Paula McPherson, former Brock Corydon teacher; and Gustavo Zentner, President of the Jewish Federation.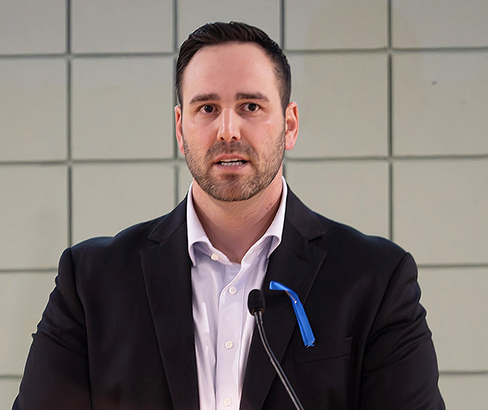 Click here to watch Ben Carr's remarks: https://www.youtube.com/watch?v=crfREGNRKfg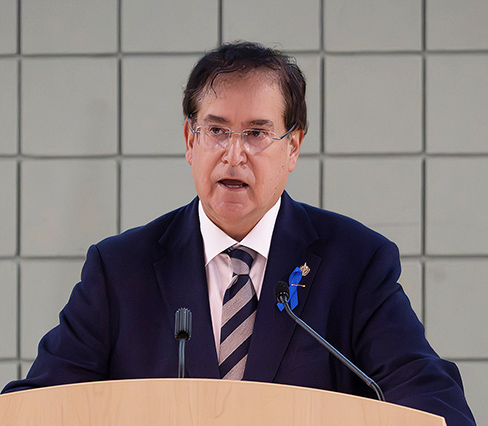 Click here to watch a video of Marty Morantz's remarks: https://studio.youtube.com/video/zHzC-iaqivg/ed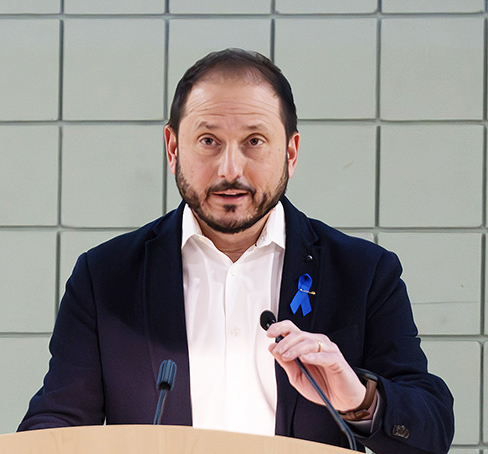 Click here to watch a video of Gustavo Zentner's remarks: https://www.youtube.com/watch?v=L3M_cCYuLgs