Jewish Federation of Winnipeg emergency campaign for the people of Israel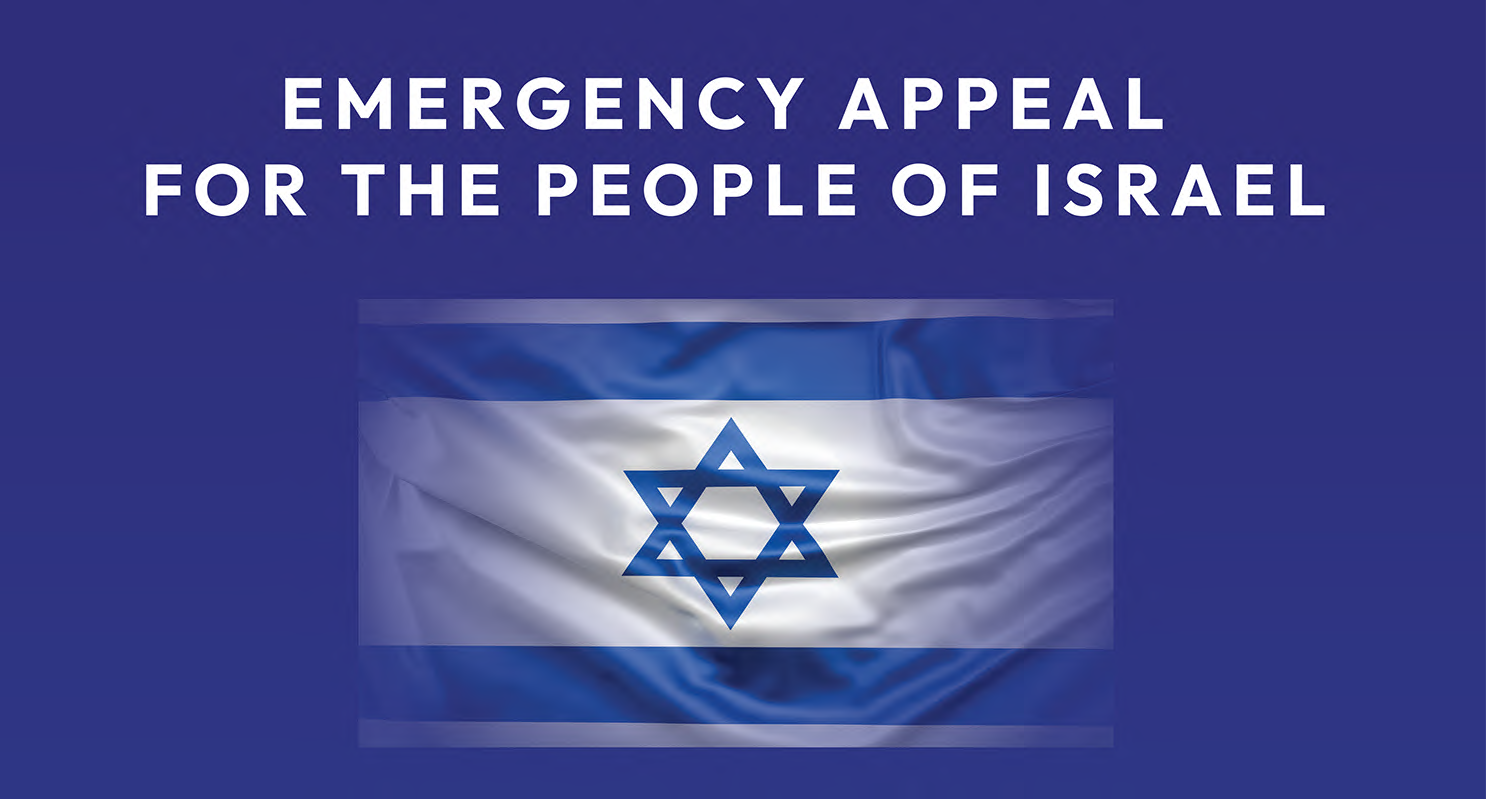 The Jewish Federation has launched an emergency campaign for Israel. Keep reading to get full information.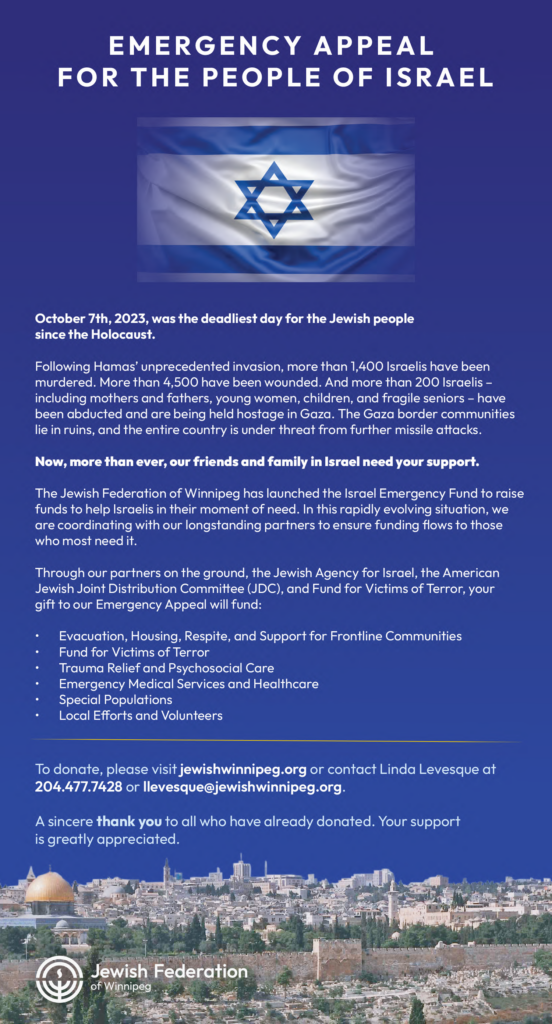 Professor Bryan Schwartz weighs in on issue of campus antisemitism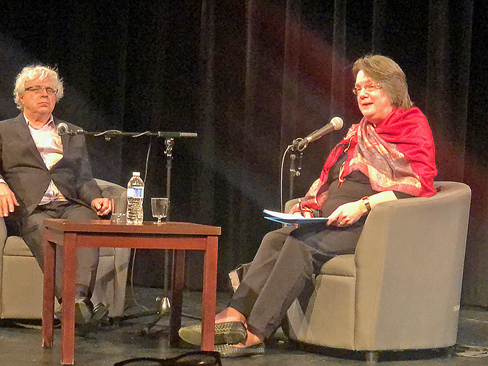 By BERNIE BELLAN The emergence of antisemitism on university campuses on Canada since the Hamas massacre of October 7 has shocked and saddened much of the Jewish community.
Whether it's ongoing rallies and demonstrations against Israel, Jewish students being bullied and threatened, or – perhaps what has come to be one of the most insidious forms of Jew hatred – the vehement denunciations of Israel by academics who refuse to countenance opposing views, university campuses in both the United States and Canada have become hostile environments for Jews, both students and teachers.
On Thursday, November 30, Professor Bryan Schwartz of the University of Manitoba Law School, engaged in a dialogue with Dr. Ruth Ashrafi, Regional Director Manitoba, B'nai Brith Canada about the subject of campus antisemitism. The setting was the Berney Theatre at an event organized by Winnipeg Friends of Israel and B'nai Brith Canada, which drew a very large crowd, made up of a good mix of younger and older members of the community, along with many individuals from outside the community as well.
Prof. Schwartz is certainly good for some choice quotes, but much of his analysis of what is happening to Jews as a group certainly leaned toward being heavily pessimistic and, when it came to offering advice how to combat campus antisemitism well, frankly, he didn't have much to suggest in the way of concrete advice beyond extolling the merits of a free exchange of ideas.
In fact, Prof. Schwartz repeated the expression "Jews don't count" several times during the evening, explaining what he meant by saying that is "there aren't a lot of Jews to count." If it's simply a matter of Jews being outnumbered, however, then there isn't much that can be said to counter the torrent of antisemitism that's been unleashed. But, as I note in my Short takes column in this edition, a professor at Columbia University by the name of Shai Davidai has achieved a high degree of recognition as the result of a Youtube video that was posted of him denouncing the administration of Columbia University for enabling antisemitism on that campus.
Frankly, Prof. Haskell Greenfield, who's head of the Judaic Studies program at the University of Manitoba, has also been urging a much stronger stand be taken against university administrators who wring their hands and resist denouncing antisemitism on their campuses – and that includes the president of the University of Manitoba, even more so the president of the University of Winnipeg – which has a shocking number of so-called "expert" academics for whom an open exchange of ideas is anathema.
With reference to what it's like being a university professor who is willing to stand up for Israel, Prof. Schwartz admitted,: "It's pretty lonely where I am." The much easier route to follow, Prof. Schwartz suggested, is for academics who want to further their career ambitions to join in on the piling on of Israel.
"What's easy is going along to get along," he said. "It's a safe environment to follow the official doctrine."
In introducing Prof. Schwartz, Dr. Ashrafi noted that he has just authored a recently-published book titled, "Reenlightening Canada" which, although it was written prior to October 7, sheds a great deal of light on the dire situation in which so many Jews, especially students on university campuses, now find themselves.
In his opening remarks, however, Prof. Schwartz set the tone for what proved to be a deeply depressing outlook on what the future holds, not only for Jewish students on campuses, but for Jews everywhere
"The arc of history is not trending toward Jewish survival," he suggested. Later in the evening he added this: "I can't think of another civilization that's facing extinction as we are."
"A university is supposed to be a place where you excel based on your excellence," Prof. Schwartz said. "That was the only criterion in which Jews have been able to survive."
Now, however, the ideology at universities has become dominated by what he described as "DEI": Diversity, Equality, and Inclusion.
What's been happening, Prof. Schwartz explained, is that campuses have been applying litmus tests for would-be academics based on how well they score on the criteria of DEI. Later in the evening, he repeated his condemnation of the sweeping trend toward DEI on university campuses, noting that there are entire bureaucracies at universities "largely hostile to Israel," populated by DEI officers. He opined, "The Woke industrial complex is a big business. DEI is a big business."
Dr. Ashrafi spoke of a book by someone by the name of David Batthil, who is a British comedian. A couple of years ago Batthil wrote something called "Jews Don't Count: How Identity Politics Failed One Particular Identity."
As Batthil points out in his book, and as Dr. Ashrafi explained to the audience, "Jews are white (strike one), privileged (strike two), and part of the structure of white hegemony" (strike"(strike three) – to use the stereotypical description of Jews now so popular with "Woke" academia.
Since October 7 we've now seen how it's become fashionable for so many members of academe to engage in those tropes. It's as if the events of the past two months have unleashed pent-up feelings of hatred toward Jews that were bubbling under the surface, but which many might have been embarrassed to admit prior.
Returning to Prof. Schwartz's dire warning that Jews are on the wane, he recited some figures to back up that contention.
"There is a worldwide shortage of Jews," he observed. "Jews make up 2 percent of the world's population.' (I did some fact checking: There are 14 million Jews in the world. There are 2.38 billion Christians and 1.8 billion Muslims.) "The myth is we're so powerful…What difference does it make to the people in power?… It's very career enhancing to criticize Israel."
Dr. Ashrafi asked Prof. Schwartz about Jews finding themselves in quandaries wondering now about the financial support so many have given to universities – and what should they do going forward ?
Prof. Schwartz used an interesting analogy – that seemed to perplex most of the audience, when he responded that many Jews are now having a "Colonel Nicholson moment."
He explained that Colonel Nicholson was a character in the movie, "Bridge Over the River Kwai" (played by Alec Guinness) who, upon realizing that he had been aiding and abetting the Japanese enemy by helping to construct a bridge that was intended solely to prolong the Japanese war effort, asked himself: "What have I done?"
That is what many Jewish donors to academic institutions must now be asking themselves, Prof. Schwartz observed. (Again, I refer to Prof. Shai Davidai of Columbia University, who offers a clear prescription for how Jewish donors to academic institutions should respond to what is happening on campuses everywhere. He suggests that you not call or write to your alma mater or favoured institution saying you're not going to be making a donation; rather, he says, "Wait until they call you, then say no." However, I'm writing this in the same issue where Myron Love profiles the University of Manitoba's Jewish Vice-President, Donor Relations. There is some irony there.)
Prof. Schwartz offered an imaginary description of a Jewish student applying for advancement at a typical university these days. When asked about their background and the student says, "I went to Jewish school, to Jewish summer camp, and to Israel, and my parents are well-to-do – it's not going to do a lot for you when it comes to passing the DEI litmus test."
Instead of donating to universities, Prof. Schwartz suggested, "Jewish donors should expend some of their energy and goodwill making sure the next generation of Jews will survive," by insuring that anyone who wants to send their kids to a Jewish school will be able to do so regardless of their income.
He also recommended looking to the concept of "free universities," where no tuition would be charged. Instead, they would be supported by donations, but where a free exchange of ideas would be guaranteed, not hampered by notions of political correctness
Prof. Schwartz turned to the subject of religion, suggesting that "the Jewish religion is a lot more tolerant than the 'Woke' religion."
"There were many flawed characters in the Bible," he observed, pointing to King David as an example.
"The Talmud is a record of debates," he added, whereas "Woke religion is a substitute for many forms of religiosity."
As for the Jews who have been joining the pro-Hamas crowd, Prof. Schwartz offered this pithy comment: "What good is an anti-Israel demonstration without a 'show Jew'?"
At that point, Dr. Ashrafi said she wanted to entertain questions from the audience. I happened to be sitting right near where Adriana Glickmann of B'nai Brith was holding the mobile mic, so I motioned for Adriana to hand me the mic. (I'm usually too shy to ask questions – well, maybe not.)
I asked Prof. Schwartz about a story that had just appeared in that day's Free Press – about a University of Manitoba nursing student who had been suspended for one year from the program, allegedly over anti-Semitic posts on her Instagram account.
I said that I was shocked that university administrators actually took steps to sanction a student over anti-Semitic posts and I wondered whether perhaps the U of M Faculty of Nursing administration had shown other administrators at universities here how to respond to anti-Semitic behaviour?
Prof. Schwartz responded that he wasn't able to comment about that particular case because he didn't have all the "facts," saying "I have to learn more…Merely having a non-conforming view is not sufficient" grounds for punishment, he suggested.
He added though, that "if we had an atmosphere of free discussion, then the Jewish cause would do quite well."
Someone asked Prof. Schwartz if he could distinguish between free speech and hate speech?
He responded: "In practice, free speech means you have the freedom to denounce Israel."
He did go on to offer a scholarly review of how the Supreme Court has approached the subject of "hate speech," suggesting that the court takes a very narrow view of what might constitute hate speech, saying that it has to constitute "hate toward an identifiable group."
Another questioner wondered "why aren't there reasonable limits being placed on spewing antisemitism?"
Prof. Schwartz suggested that "being a university president doesn't prevent you from speaking up." He added though, that "Jewish faculty are afraid to speak up. You want to be an academic and not get pilloried. What's easy is going along to get along. It's a safe environment to follow the official doctrine." (That certainly doesn't apply to Prof. Haskell Greenfield, who has been actively pressing the administration at the U of M to do much more to protect Jewish students and faculty on campus by, for instance, clamping down on pro-Palestinian demonstrations that have been organized by groups that have no standing at that campus.)
Prof. Schwartz added: "The President of the U of W can say something about events where there's no balance," such as that marathon hatefest toward "genocidal, colonial, imperalist Israel" conducted by seven U of W professors on Friday, November 24.
On the other hand, Prof. Schwartz observed, anyone who dares to take a stand in favour of a balanced presentation has to be thinking: "What's in it for me?"
Similarly, "if you want to get your grant money" you many come to the realization that "Jews aren't actually powerful" and viciously attacking Israel isn't going to hurt you monetarily.
Dr. Ashrafi observed that she's seen "students kicked off Zoom conferences because they voiced support for Israel." Nevertheless, she added: "We are resilient. We do not give up. We hold people to account. That's what we do at B'nai Brith."
Prof. Schwartz concluded with this assessment: "We're not going to win the censorship debate where we're arguing about censoring this, censoring that. The only hope is that in an atmosphere of free discussion the truth will prevail."
New Winnipeg-based online store features pro-Israel designs: SHALOM CUSTOM DESIGNS.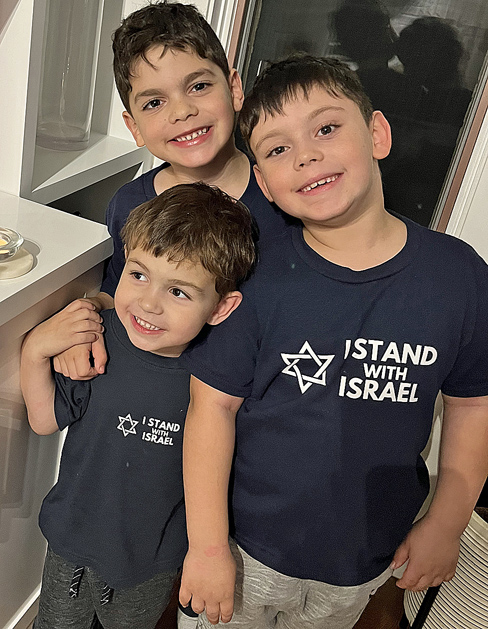 We were alerted to a new online store opened by Val Benevet, who has a strong background in marketing. The store, called SHALOM CUSTOM DESIGNS, is selling t shirts that feature pro-Israel themes and, just in time for Chanukah – Chanukah themes as well.
We asked Val to describe how she came to open her online store. Here's what she wrote:
Oct. 7 changed a few things for me, as for many of us of course.… it pulled me closer to our people and it, unfortunately, created a distance from certain friends and acquaintances. 
Over the days, I developed this urgent need to actively feel connected to our roots, our people and our land.  I found myself creating four I STAND WITH ISRAEL t-shirts for my kids to wear to Gray Academy on "casual day" – supporting the Israel Emergency Fund. Friends started commenting and praising me on my crafted items so I made a few more to give away. Then I thought, I can make more, sell them and donate the profits to the same emergency fund.  I did that – then created a different t-shirt style and then I thought: this is what I want to do; I want to work on a product line that embraces Judaism and love for Israel.  
 And so I did. I created the social profiles for the new brand, an online shop and a number of extra products to form a collection.  I received dozens of hateful and obscene messages from strangers, yet here I am proud and tall to help all Jews and friends of our homeland to express the love for Israel and Judaism.  
 As of now, I have a couple of pieces that generate a donation of $5 per piece to the CJA (Israel Emergency Fund) and the idea is to always have at least one Jewish cause to support through the sales of my shop. 
 Shalom Custom Designs website is: 
https://www.shalomcustomdesigns.com/ 

Jewish community welcomes Ben-Gurion University of the Negev medical students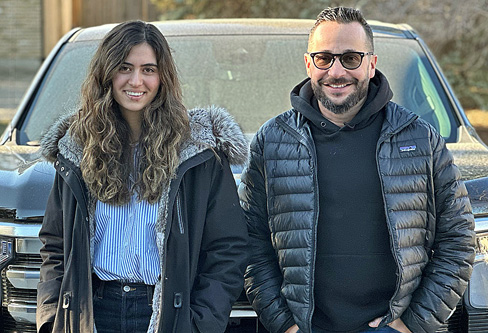 By MYRON LOVE On October 6, Maya Weinrich, a third-year student at Ben-Gurion University of the Negev's Medical School for International Health (MSIH), was preparing to go back to Beersheva after spending Sukkot with her family in Toronto.
Then the gates of hell flew open.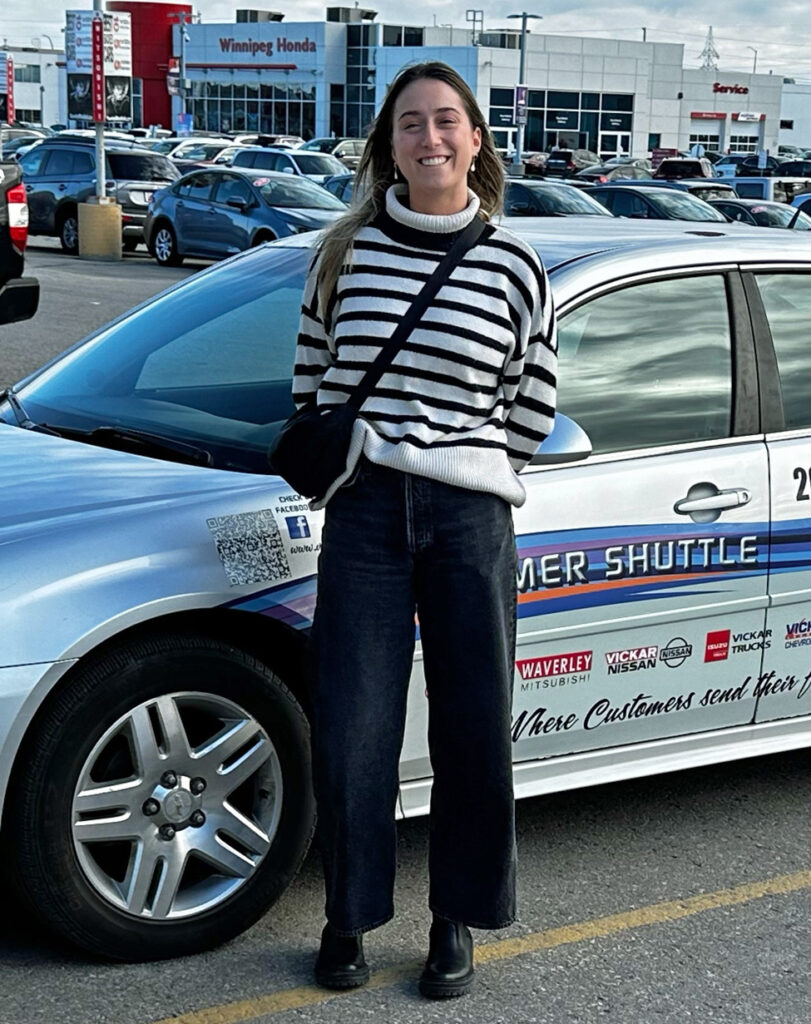 With all flights in and out of Israel temporarily grounded, Weinrich, and her sister student, Zoe Attal, who was similarly visiting family in Montreal, were stuck.
Fortunately, their home university was able to make arrangements with the University of Manitoba's Rady College of medicine for the two of them to temporarily continue their studies in our community – and the two students are quite happy to be here.
They arrived here at the beginning of November and are pleased with the reception that they have received from our Jewish community. "We have been welcomed with open arms," says Weinrich. "Everyone has been really helpful."
While she is here, Affal is staying with Michael and Lauren Narvey while Weinrich's temporary home is in an apartment belonging to a friend in Toronto.. As well, through the Narveys, Sam Vickar, the dealer principal at Vickar Community Chevrolet, has gifted the students a vehicle to share during their stay in Winnipeg.
"Sam has been a lifesaver for us," Weinrich notes. With the vehicle, it makes it much easier for us to get around."
Affal and Weinrich arrived at their current location by quite different routes The latter was born in Israel but grew up in Toronto.
"It is hard getting accepted into medical schools in Canada," she notes. "So I applied to schools elsewhere and was accepted at MSIH. Thye school offers a specific medical program focusing on international health issues."
While Affal's mother is from Montreal, she was born and raised in Paris, where her French-born father is a radiologist. After graduating from high school, she chose to broaden her horizons by enrolling in Science at University College London.
"I wanted to improve my English," she says. "I could have studied in the States, but the British universities are not as expensive."
For her medical studies, she was accepted by both the University of Toronto and Ben-Gurion. She says that she chose the latter because it is closer to home.
Both young women started their studies at BGU in the fall of 2021. The classmates are doing their obstetrics and gynecology rotations here – a specialty that Weinrich says she is interested in pursuing – working at several different clinics around the city.
The two friends are scheduled to return to their home university to continue their rotations on December 17 and expect to graduate in the spring of 2025.
Weinrich says that she would like to return to Canada to practice after graduation.