Simkin Cenre hosts animated focus group on personal care homes hosted by MARCHE

By BERNIE BELLAN There are approximately 130 personal care homes in Manitoba with approximately 10,000 residents in those homes.
Of the 130 pch's, 27 are in the not-for-profit category, most of which are faith-based.
One of those pch's is the Simkin Centre.
The association of not-for-profit homes in Manitoba is known as "MARCHE" (Manitoba Association of Residential & Community Care Homes for the Elderly).
Recently MARCHE held a focus group at the Simkin Centre attended by staff, residents, relatives of residents, and others who were interested in hearing about the current situation insofar as most pch's are concerned.
The discussion was facilitated by Julie Turenne-Maynard, executive director of MARCHE. Ms. Turenne-Maynard distributed points for discussion among the six tables at which participants sat. One person at each table was asked to take notes of the discussions that ensued. After approximately one hour of discussions at each table, the note takers were asked to give summaries of what had been said at each table.
According to Ms. Turenne-Maynard, the Simkin Centre focus group was the third and final one in a series of focus groups that MARCHE has conducted in Winnipeg.
Prior to our entering into the discussion groups Ms. Turenne-Maynard gave some introductory remarks pointing out the difficult situation faced by all pch's in Manitoba, not just the not-for-profit ones.
She noted that there has been no increase in operational funding for pch's for the past 15 years, even as inflation has made it increasingly difficult to deal with ever rising expenses.
"The majority of personal care homes in Manitoba were built in the 1950s and 60s," Ms. Turenne-Maynard observed, yet "governments haven't increased budgets for renovations to personal care homes in the past 25 years."
The average age of residents in pch's has risen dramatically. "In the 1960s and 70s many residents in personal care homes had parking spots," Ms. Turenne-Maynard observed. Now a great many residents in pch's are "level 3s and 4s," she said – the highest level of care that can be provided.
"Baby boomers are coming up and we don't have the room," she added.
But, rather than turning the focus group into a litany of complaints, Ms. Turenne-Maynard said that the purpose was to be able to provide the provincial government with useful information that could be incorporated into policy decisions.
At that point the discussions at each table began.
Not having anyone myself who is a resident at a pch, I was interested to hear from others what their impressions of pch's were and because everyone at my table was either a staff member at the Simkin Centre or a resident or spouse of a resident there, I was eager to hear their experiences. What was of particular interest to me was that even though there were two individuals at my table who work at the Simkin Centre sitting at my table, they were quite candid in discussing some of the frustrations they themselves have in working within the system.
The first point expressed by someone at our table was their frustration over the "panelling" process – the process whereby someone is admitted into a pch. It came as a surprise to me to learn that, under the current panelling system, if someone would like to be admitted as a resident into a pch, once a bed is available you do not have a choice where you can go. (No one at the table was quite sure when the system changed, but previously someone would be given a choice of three different pch's.)
Not only is there now no choice as to which pch you can enter, if you are hospitalized and deemed fit for discharge into a pch, and you do not want to go the first pch that is available, you will be charged $200/day to remain in the hospital.
The situation, I was told though, is somewhat different for an individual still living at home. Efforts will be made to provide home care rather than have someone admitted into a pch, but the limitations of home care have been well publicized, with clients allowed to receive only a maximum of 2 1/2 hours of home care per day.
The discussion turned to personal experiences of home care residents. What did they think was lacking in their care, if anything?
The individual at our table who is a resident at Simkin Centre said they had "no complaints."
A staff member at the table asked that resident if they thought there was enough "programming" at the Simkin Centre?
The resident answered that there was.
I asked the resident whether the food was good? The resident responded that they were quite happy with the food.
(I mentioned that I have heard from some residents at the Simkin Centre that they weren't happy with the food. I also referred to a forum that had been held at the Asper Campus years ago during which many complaints were voiced about the food at the Simkin Centre. To be fair, it's hard to make an overall assessment of food quality based on anecdotal reports, but I will continue to ask why the Simkin Centre has to serve kosher food to all residents when the majority of residents there are no longer Jewish? I realize this is a sacred cow among some members of our community, but the fact is that an increasing number of Jewish personal care homes in the US have gotten away from serving only kosher food.)
Another person at our table who actually has a close relative living at the Simkin Centre mentioned that person's most commonly repeated complaint is that "people aren't as johnny on the spot as she'd like" when it comes to responding to requests for assistance.
As well, apparently there is a problem at the Simkin Centre with "clothing sent to the laundry going missing."
We were then asked to respond to this question: "What services would be most important to you?"
The spouse of the resident at our table said, "Not being stuck in the rooms."
Someone else suggested that medical consultants coming to residents' rooms rather than requiring residents to be taken to see a doctor would be very helpful. That same individual listed a variety of specialists who are urgently needed at the Simkin Centre, including gynecologists, dermatologists, dental hygienists, and psychiatrists," as well as "estheticians."
The need for better x-ray services was also mentioned.
Someone else noted that the Garden Café is only open from 11-1.
The next question which respondents were asked to consider was: "What style of personal care home would you like to live in?"
Someone brought up the idea of "small house" personal care homes, in which groups of 20 individuals live in a separate residence, where each resident has their own kitchen and their own shower.
But, as much as that style of living might seem to be especially appealing when one incorporates their own life experiences into thinking about where they'd want to live, one of the individuals at our table suggested that "many people often blossom when they come here" precisely because they're living with a large number of other residents.
Still, the consensus among everyone at the table (with the exception of this writer, since I offered no opinion on the subject) was that, if they could ask for certain things in particular – which are not all available under current rules, they would be: 1) a private room (which is the case at the Simkin Centre); 2) their own fridge (not available); 3) their own shower (not available); and 4) their own coffeemaker. (I admit I was surprised to learn that coffeemakers are not allowed until it was explained that it was a safety issue).
The final question which respondents were asked to consider was: "What would you ask from the new NDP government?"
Answers included: "An increase in the hours per day allowed to each resident"; "more programming"'; "ask them to cover the increases in fixed costs"; "hours/worker have stayed the same while the needs of residents have increased."
Ms. Turenne-Maynard asked the notetakers from each table to give summaries of what had been discussed. Some of the points that were expressed were:
there is a need for more staff
staff need to interact more with residents
while it's nice that the previous government has budgeted millions of dollars to build more pch's, "don't build in a vacuum"
"regulate the off-label use of pharmaceuticals"
units in pch's should be smaller; instead of having 40 living in a unit, ideally it should be 12-15
"people need a purpose"
"a personal care home is a place to come and live, not a place to die"
Ms. Turenne-Maynard offered the following assessment of what to expect from the new government: "Because of the NDP sweep there's going to be a lot of reconnecting" – with new ministers and some new deputy ministers, but many deputy ministers and policy analysts will be staying on," which should give some continuity when it comes to planning.
At the same though, someone else observed that, as a result of so many failings in the private-for-profit personal care home sector, and the possibility that even more private pch's may close, there might be even more pressure placed on the not-for-profit pch's to fill the vacuum left by private pch's closing.
It was also suggested that the government "avoid building pch's using an outmoded funding model" that has long proved inadequate.
As one of the senior staff members at the Simkin Centre who was in attendance observed of government decision making: "Every pch operator submits their own 10-year plan – full of proposals – and you're lucky if you get one thing done."
Ms. Turenne-Maynard did say that MARCHE will take all the proposals that emerged from the three focus groups it has held and come up with a coherent set of ideas which it will take to the new government.
Congregation Etz Chayim says good bye to 123 Matheson Ave.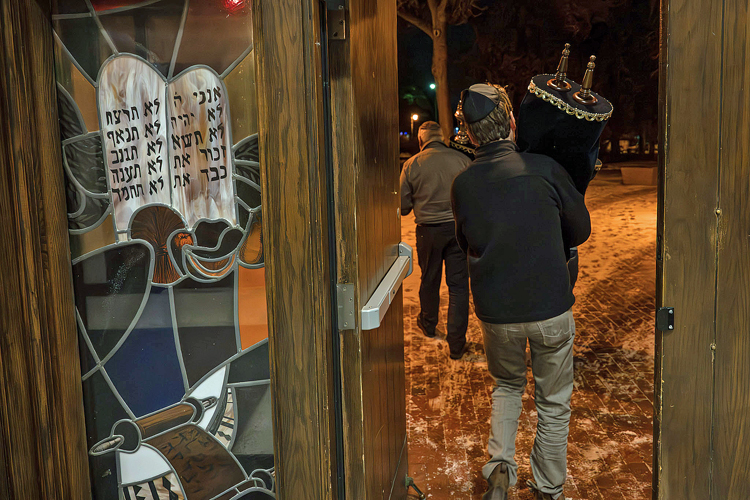 By BERNIE BELLAN After 71 years of serving as the home for first the Rosh Pina Synagogue, then for the past 21 years as the home for what was the merger of three different congregations – Rosh Pina's, along with the Bnay Abraham and Beth Israel, the Etz Chayim Congregation held its final service on Wednesday, November 29.
You can read the story by CJN writer John Longhurst elsewhere on this site (https://jewishpostandnews.ca/rss/congregation-etz-chayim-in-winnipeg-says-a-bittersweet-farewell-to-their-old-building-as-they-prepare-to-move/) along with our earlier story about the sale of the building to an Eritrean Church (https://jewishpostandnews.ca/faqs/rokmicronews-fp-1/former-congregation-etz-chayim-synagogue-building-to-become-eritrean-orthodox-church/), but here are some pictures from the final service.
(Photos courtesy of Keith Levit)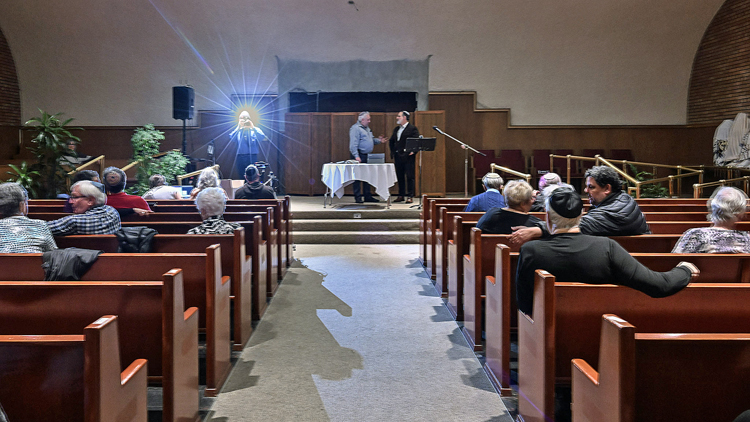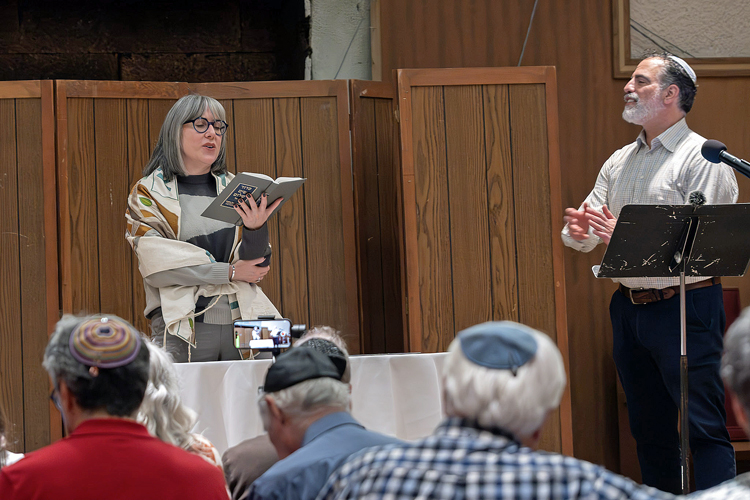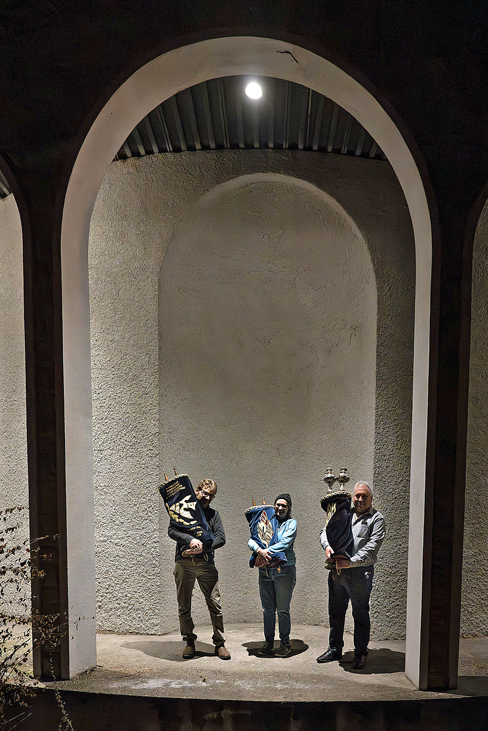 Israel report by former Winnipegger Bruce Brown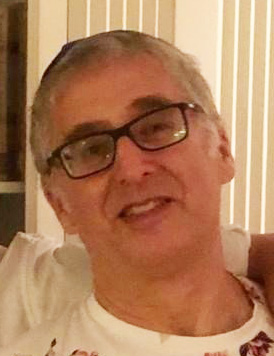 By BRUCE BROWN (posted Nov. 28/23) Was driving home from work the other day.  Pre-ceasefire.  Left the office early to reduce driving time in the evening hours.  Hamas likes their 6PM missile barrage and I'm honing my missile-avoidance routine.
 
Was listening to talk-radio… but kind of had enough of the news.  Too much war talk and its getting a bit overwhelming.  So switched to Spotify and up popped Supertramp – the Logical Song.  For sure how 'wonderful, beautiful, magical' life once felt.  Before Oct 7th.  Before Hamas. 
 
Then, as if on cue.  I gaze towards the sky.  And saw missiles flying overhead.  At first it didn't really click. And then.  Yikes!  I quickly switched back to the news.  Where, in a very calming voice, they were announcing areas under missile attack.  Which is another reason to listen to the radio while driving during war – real-time information.  Lesson learned.
 
Suddenly my smartphone's flashlight started flashing.  Which was pretty darn cool!  And there I was, on Star Trek.  Standing on the bridge.  Even recalled the vessel number – NCC-1701. There I was with Captain Kirk.  No!  I was Captain Kirk.  Dr. McCoy by my side.  Sulu and Chekov at the controls.  The Klingons were attacking.  And Mr. Spock -standing to the side- was calmy advising the attack coordinates.  No Wait!  That was the radio announcer.  Seriously.  This all took place within a split second in my over-active imagination.
 
The flashing continued.  Then I realized my cellphone was communicating with me.  Warning of danger.  I have the Home Front Command application which sounds an amazingly loud alarm during a missile attack in my area.  But changing between the radio and Spotify prevented the siren from going off.  So instead, the phone activated my flashlight.  Sending out an S.O.S.  Now how neat is that!  In a geeky sort of way.  Like for someone who imagines himself on Star Trek during a real-life missile attack.
 
Then.  Reality set in.  There were Home Front Command instructions to follow.  Momentary-panic set in.  Where was my wife.  To tell me what to do.  Like she always does…but that's another story.  This time I wanted her there, instructing me. 
 
All these thoughts racing through my mind in milliseconds.  As I calmly slowed the car and veered to the shoulder.  Like other cars around me.  I put on the blinkers.  More flashing lights but the bridge of the U.S.S. Enterprise now a distant thought.  Looking both ways I left the car and hopped over the road- barrier.  Moving away from the car.  Although probably not far enough.  Because there was a steep decline just below.  It was getting dark and, suffering from poor night vision, I didn't want to trip and hurt myself.  I heard my son laughing at me. "Nerd!" he called out.  But that was just my imagination.
 
I should have laid flat.  Prostrating myself for maximum protection.  But it rained earlier that day, the ground was wet and I didn't want to get muddy.  '"Nerd!"  This time it was my daughter in my mind's eye.  "Okay," I said to no one in particular.  "I'll squat."  Good enough…but not really.
 
The family in the car ahead were huddling together but too close to their vehicle.  I shouted for them to move further away.  But they didn't react.  Probably didn't understand me, especially given my still heavily accented Canadian Hebrew.  This time I heard both my kids.  Teasing me – thirty years and still talk like an immigrant!  "Hey, they just don't hear me."  I said to the darkness.  Otherwise it was very moving seeing the father crouching down on top of his brood, in a protective sort of way.  "Isn't that touching." I said to my wife.  "For sure." She said somewhat sarcastically in the back of my mind, "I know you'd do the same."  
 
Then it was over.  The sky went quiet.  People returned to their cars.  The nestled family broke apart and entered theirs.  We should have stayed in place several more minutes.  Ten minutes is the recommended time.  But it was dark.  Getting late.  Also a bit cold.  I just wanted to get home.  Back to the real chiding of my kids and to my wife… somehow longing for her ordering me about.
 
A few minutes later my wife called.  Making sure I was safe.  And then routine set in.  "Don't forget to pick up some milk and bread from the corner store."  She instructed me.
 
Um Israel Chai
 
Bruce Brown.  A Canadian. And an Israeli.  Bruce made Aliyah…a long time ago.  He works in Israel's hi-tech sector by day and, in spurts, is a somewhat inspired writer by night.  Bruce is the winner of the 2019 American Jewish Press Association Simon Rockower Award for excellence in writing.  And wrote the 1998 satire, An Israeli is….  Bruce's reflects on life in Israel – political, social, economic and personal.  With lots of biting, contrarian, sardonic and irreverent insight.
 
Jewish community holds solidarity rally November 25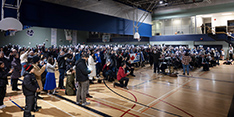 The Jewish Federation of Winnipeg held a rally in support of Israel on Saturday evening, November 25.
A number of speakers addressed the crowd of 800, including Rabbi Yosef Benarroch of Adas Yeshurun-Herzlia Congregation; Members of Parliament Ben Carr & Marty Morantz; Yolanda Papini-Pollock of Winnipeg Friends of Israel; Paula McPherson, former Brock Corydon teacher; and Gustavo Zentner, President of the Jewish Federation.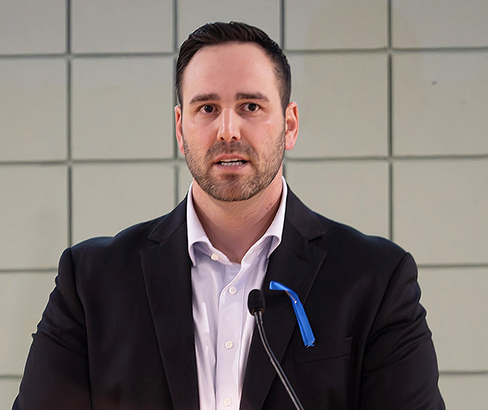 Click here to watch Ben Carr's remarks: https://www.youtube.com/watch?v=crfREGNRKfg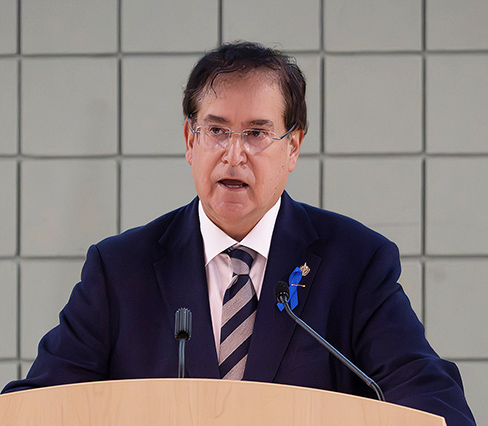 Click here to watch a video of Marty Morantz's remarks: https://studio.youtube.com/video/zHzC-iaqivg/ed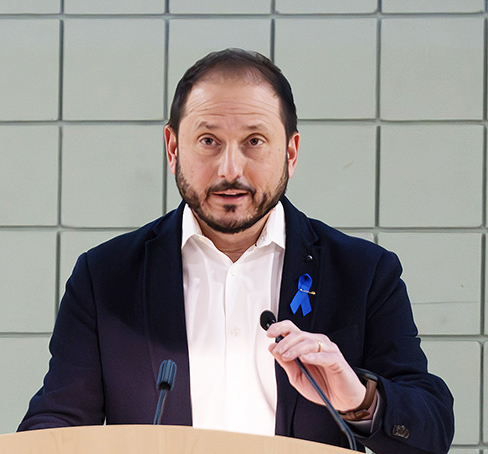 Click here to watch a video of Gustavo Zentner's remarks: https://www.youtube.com/watch?v=L3M_cCYuLgs