Jewish population of Winnipeg shows slight increase in past 10 years – but 2021 census does not give definitive answers as to what the size of our Jewish population really is
By BERNIE BELLAN The number of individuals in Winnipeg who report that their ethnic origin is Jewish has declined somewhat from the number reported in the 2011 National Household Survey (which was the last reliable report on the ethnic and religious composition of Canada produced by StatsCan).
However, set against the decline in the number of Winnipeggers who reported their ethnic origin as Jewish was a marked increase in the number that reported their ethnic origin was Israeli.
---

The number of individuals who reported their religion was Jewish also showed a very slight increase from 2011 to 2021.
Those are some of the most significant findings from the latest release of detailed information from the 2021 census, which came on October 26, when StatsCan released a whole trove of documents about immigration and ethnicity – with statistics about religion at the very end of the document release.
According to the 2021 census, 11,745 individuals in Winnipeg reported their ethnic origin as Jewish. In 2011 the figure was 12,005. However, considering that 1,435 individuals reported their ethnic origin was Israeli (as opposed to a total of 340 in 2011), when you add the two figures together the total comes to 13,180.

As for religion, the number of Winnipeggers who said their religion was Jewish stood at 10,740 in 2011. The 2021 census reported the number as 10,835, an increase of 95.
We have been waiting anxiously for the results of the 2021 census ever since results from the 2016 census were so wildly inconsistent with all previous census results when it came to showing that the number of Jews, not only in Winnipeg, but everywhere in Canada, had declined precipitously.
As we have been reporting repeatedly ever since results of the 2016 census were published, the reason for what were considered aberrant results in the 2016 census was that, for the first time, "Jewish" was not listed among the 20 choices for ethnic ancestry in that census. Instead, one would have had to write in "Jewish" as an answer. As a result, even StatsCan conceded that the low number of individuals who responded that their ethnic origins were Jewish was unrealistically low.
In the 2016 census also, the likelihood is that a number of respondents who might otherwise have responded "Jewish" if it had been given in the list of examples of ethnic origin, instead likely chose "Canadian," since Canadian was one of the 20 examples listed.
As a report from StatsCan noted, "After the 2016 Census, concerns were raised that changes to the list of examples of ethnic and cultural origins included as part of the question were affecting response patterns. Concerns were also raised about the wordiness of the question, which made it difficult for certain people to read and respond to the question."
StatsCan went on to explain that "respondents were more likely to report an origin when it was included in the list of examples and, conversely, less likely to report an origin if it was not included in the list."
As a result, StatsCan made major changes to how ethnic origin was tabulated in the 2021 census. The question that was asked was the same as what had been asked in previous censuses: "What were the ethnic or cultural origins of this person's ancestors?"
That question was followed by a further explanation:
"Ancestors may have Indigenous origins, or origins that refer to different countries, or other origins that may not refer to different countries.
But the 2021 census, which was required to be filled out online, actually gave a link to "a list of over 500 examples of ethnic and cultural origins," of which both "Jewish" and "Israeli" were among the choices. 
One might well wonder though whether many recent immigrants to Winnipeg who might be considered ostensibly Jewish might also have filled in different ethnic origins, especially individuals with Eastern European roots. (There was only room for one answer to the question about ethnic origins.)
But then we run up against the issue of the relatively low number of individuals who said their religion was "Jewish" in the 2021 census.
The religion question that appeared in the 2021 Census, "What is this person's religion?" was the same as the one that was asked in the 2011 National Household Survey and in the 2001 and 1991 censuses. It also had the same basic format: there was a write-in box in which respondents could report their religion, as well as a mark-in circle for indicating "No religion."
Thus, while one might posit that a certain number of immigrants to Winnipeg might have Jewish roots, if they didn't answer that their ethnic origins were either "Jewish" or "Israeli" and they also didn't indicate that their religion was "Jewish", is it fair still to consider them Jewish?
In an interview I conducted in August with Faye Rosenberg-Cohen, who is about to retire as the Jewish Federation's Chief Planning and Allocations Officer, I asked Faye how many immigrants make up the Jewish population of Winnipeg now?
Faye responded: "I can honestly say when I look at those numbers it's somewhere around 1/3 of the community."
JP&N: "So you'd say it's somewhere between 4-5,000?"
Faye: "I think it's more than that."
If what Faye said was true then the Jewish community would number at least 15,000.
I indicated my skepticism at that time, saying "You know that I've always been skeptical about the numbers that have been used by the Federation for the population of the Jewish community. I think though that it's always been more of a case of identification – who identifies as Jewish?"
In the final analysis, there is nothing in what StatsCan has just reported that would back up the notion that our Jewish population here is over 15,000. Yet, there is one more possibility that might allow the Jewish Federation to argue that our population is closer to 15,000. That will require a more detailed analysis comparing the results for respondents who said their religion was "Jewish" but their ethnic origin was not.
Following the 2011 National Household Survey, which was the first census that showed a sizeable drop in the size of our Jewish population, I entered into an email exchange with a statistician from StatsCan as to whether it was possible that our Jewish population was much larger than 12,010, which was how many respondents indicated their ethnic origin was Jewish back in 2011.
That statistician did a much deeper analysis of the data than was available to me. He showed that of the 10,740 individuals who said their religion was Jewish, only 7,885 reported that their ethnic origin was Jewish. That was a difference of 2,885. (Clearly there have been a lot of converts within our community). If you added those respondents who said their religion was Jewish, but not their ethnic origin, to the number of respondents who said their ethnic origin was Jewish, you came up with a figure of 14,885. That figure would have been much closer to what the Federation was saying was the size of our Jewish population in 2011.
Is it important? Well, as I've been arguing for years, if our Federation is basing its plans for the future on a notion that our Jewish population is much bigger than what is really the case, then those plans are misguided.
Gray Academy has far fewer students than was the case just ten years ago. Brock Corydon, the only other school that offers any sort of an exposure to a Jewish curriculum, also has fewer Jewish students than used to be the case. The Simkin Centre has a very high proportion of non-Jewish residents. Our synagogues have lost huge numbers of members. None of these changes would be reflective of a growing Jewish population.
However, as I've just noted, there is a very real possibility that our Jewish population is closer to the figure of 15,000 – which is the figure commonly cited by spokespersons for the Federation. In order to find out though whether that is the case, we'll need someone at StatsCan to do a similar analysis of data that was done at my request following the 2011 National Household Survey. I've already sent a request to StatsCan for a more comprehensive analysis of the answers to the questions about ethnic origin and religion, similar to what was done for me by a StatsCan analyst following the 2011 National Household Survey. We're hoping to have further answers to the question of how many Jews there are in Winnipeg in a future issue – if we hear back from someone at StatsCan.
Winnipeg Jewish Theatre to open season with world premiere of "Pals"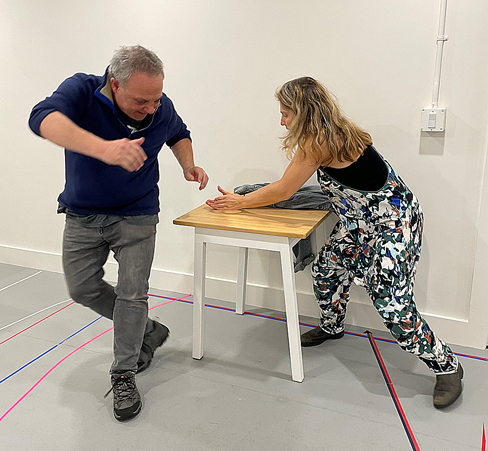 By BERNIE BELLAN The opening show of Winnipeg Jewish Theatre's 2023-24 season promises to be a clever and poignant take on relationships between men and women, when "Pals" makes its world premiere on November 9 in the Berney Theatre, running until November 19.
"Pals" is the third two-person show created by the team of Diane Flacks and Richard Greenblatt. Interestingly, when I spoke with Flacks and Greenblatt while they took a break from rehearsing the play in Toronto, they told me that their previous two two-person plays also had one word titles – with four letters in both: "Sibs" and "Care."
"Pals" is the story of two friends, told over a 25-year time period. Their friendship survives many tribulations, including both characters entering and exiting many other relationships. The play uncovers the underlying tensions that permeate all friendships.
"Pals" opens with the two characters meeting for the first time. I asked Diane and Richard whether the notion of their having sex ever enters into the plot, but Richard was quick to exclaim, "We don't have sex."
Diane also noted that, in the case of her character, she is married to another woman. (Diane is a lesbian in real life.)
The fact that the characters maintain a friendship though becomes a source of friction within their respective relationships. It raises the question: Can you have an intimate, albeit platonic, relationship, with a member of the opposite sex all the while you're in a physical relationship with someone else?
I asked whether the characters in "Pals" are Jewish (which both Diane and Richard are), and the answer was "yes."
Both Diane and Richard have had past associations with the Winnipeg Jewish Theatre. Richard's goes back a very long time – when he directed the critically acclaimed "League of Nathans" in 1995.
Diane Flacks appeared in a one-night performance of a show in 2021 called "25 Questions for a Jewish Mother," which was a part of that year's Tarbut festival. There were no in-person events that year, due to Covid, but "Jewish Mother" was available on Zoom and had a huge audience.
In addition to writing for the stage, Diane Flacks has written for TV, including Working the Engels, Baroness Von Sketch Show, Young Drunk Punk, PR, and The Broad Side.
Richard Greenblatt has performed in theatres across Canada and abroad, as well as in feature films, television and radio. He co-wrote 2 Pianos 4 Hands, which played on five continents and in over 150 cities since it opened in 1996.
Pals is directed by the internationally acclaimed director Jillian Keiley. More information, tickets and 5-show subscriptions can be found at: www.wjt.ca. You can also reach WJT by phone at (204) 477-7478.
To watch a preview video from Pals, click here: https://www.youtube.com/watch?v=z2W0VmHHFbA
Simkin Centre introduces Friday afternoon Shabbat services – open to all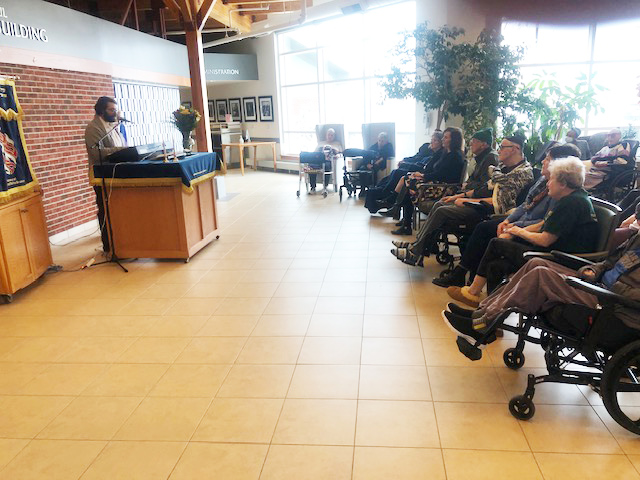 By BERNIE BELLAN (Posted Oct. 31) The Simkin Centre held its first ever Friday afternoon Erev Shabbat service this past Friday (Oct. 27), led by Rabbi Matthew Leibl.
There were more than 30 residents in attendance, along with various other outside guests. The service was approximately 45 minutes long and was filled with stories and songs associated with Friday evening Shabbats – some from Rabbi Leibl's own childhood and some from more recent years.
The Friday afternoon Erev Shabbat services are now to become a regular features at the Simkin Centre and are open to anyone to attend.
To watch a short clip of Rabbi Leibl introducing his first Friday afternoon service click https://youtu.be/hLSrV18K58o
The complete text of MP Marty Morantz's speech at the community vigil for Israel on October 10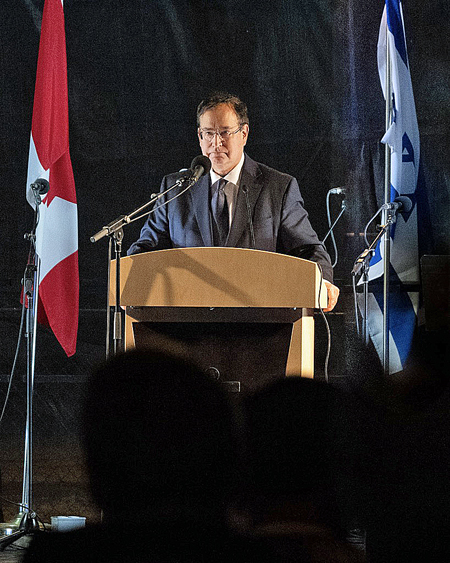 Tonight we are all Israelis!
Conservatives stand with Israel.
Pierre Poilievre stands with Israel.
On Saturday we woke up to unspeakable images.
We must stand shoulder to shoulder with Israel as it defends itself from these criminal and barbarous acts.
On Shabbat, Hamas brutally invaded Israel, invaded homes, killing hundreds, taking hostage hundreds.
More Jews were killed in Saturday's attack than in any single day since the Holocaust.
Some 1500 human beings killed in a single day would be like 6000 Canadians being murdered in a single attack.
They were children, babies, men, women.
They were young people just out listening to music at a dance party.
This was an unprecedented brutal attack.
As we speak Hamas is threatening to execute innocent hostages.
This outrage cannot, must not stand.
Don't let anyone tell you Hamas is the legitimate voice of the Palestinian people. It is not a government.
They are a genocidal murderous and evil death cult and they must be defeated.
But friends, we have seen evil before.
Jews have been persecuted for millennia, but we have survived.
Conservatives unequivocally condemn the invasion of Israel by Hamas terrorists and the sadistic violence that Hamas has carried out against innocent civilians.
Now is the time for moral clarity. There is no moral equivalency between democratic Israel and the butchers of Hamas.
There is no response, no matter how strong, that would be disproportionate to the crimes Hamas has committed.
Israel has the right to defend itself against these attacks and respond against the attackers – as any other country would.
Theodore Herzl, the father of modern Zionism, said, "If you will it, it is no dream."
In 1948 that dream became a reality – a homeland in Israel, the promised land.
Working together Israelis turned a desert into an oasis.
An island of democracy surrounded by a sea of autocracy.
A Jewish state where Jews could live in peace free from fear and persecution.
Let there be no doubt. Israel is the ancient and indigenous homeland of the Jewish people.
We will not let the butchers of Hamas take that dream, long realized, away from us.
Many politicians will stand with Israel when it is easy.
But listen to what they say when it is hard.
They will talk about "both sides."
I'm here to tell you that there is only one side.
The side of morality.
The side of democracy.
The side of Israel.
We see too often politicians at the United Nations unfairly singling out Israel for criticism.
I will always stand against the unfair singling out of the Middle East's only democracy.
Already there are calls for Israel to deescalate.
I ask you.
Would any country deescalate after having its people slaughtered in cold blood?
I wish the people of Israel and its brave soldiers Godspeed on their mission to defend the promised land from pure evil.
As Prime Minister Stephen Harper said:
Through fire and water Canada will stand with you.
Am Yisrael Chai!