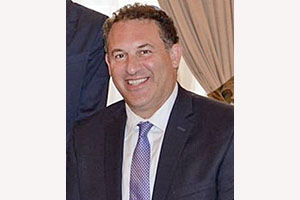 In a press release issued Thursday, January 30, the Jewish Foundation of Manitoba announced the appointment of John Diamond as its new CEO. Diamond is scheduled to begin his new role on Monday, February 10, 2020.
A lifelong resident of Winnipeg, Diamond's appointment follows a period of more than a year in which the Foundation had no CEO.
Despite not having a CEO, the Foundation managed to continue operating successfully – having received $7.5 million in new contributions in the 2018 fiscal year, and having allocated a record $4,558,794 in grants during that period – up $13,055 from the previous year.
Following is the full text of the announcement of Diamond's hiring:
The Board of Directors of the Jewish Foundation of Manitoba (JFM) is very happy to announce the appointment of John Diamond as its new Chief Executive Officer. He will begin his new role on Monday, February 10, 2020.
As a lifelong resident of Winnipeg, John understands our Jewish community. John's uncle, Samuel N. Cohen, was one of the original signatories to the JFM Charter in 1964. John has an appreciation of the importance of the JFM's engagement with the new generation of Jewish youth and the need for creativity, modernization, and adaptation.
John has been an active member of the volunteer community of Winnipeg for both Jewish and non-Jewish organizations, including serving on the allocations committee of the Jewish Federation, the "Y" sports annual dinner committee, Chairman of the Board of Versatech Industries (now Imagine-abilities), the alumni board of St. John's Ravenscourt School, and a leader, coach, and mentor for Challenger Baseball Manitoba.
John completed his B.A. from the University of Winnipeg in 1989 before earning his LL.B. (Hons) from the University of Manitoba, Faculty of Law (1995-1996) and the University of Sheffield, Sheffield England School of Law (1993-1996).
John practiced law at Thompson Dorfman Sweatman from 1997 to 1999. From 1999 to 2007, John served as a Private Client Manager for high net worth clients at Assante Asset Management, managing 140 client families with assets in excess of $200,000,000. John served as a Senior Account Executive with Walton International, at the time one of the largest real estate companies in North America specializing in land holdings and development.
In 2014, John was sought out to be the president of Threshold Mortgage Corporation, a large independent mortgage firm. In 2017, John and his team started a new company called Excelus Financial Inc., a unique online independent financial education and credit building organization, where John has been Managing Director.
John is married to Dr. Heather Diamond, and together they are the parents of three boys: Ben, Alex, and Jake.