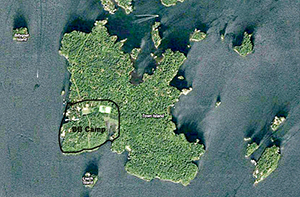 By BERNIE BELLAN
Originally published in the Feb. 5 issue of the JP&N
The one story that has preoccupied me most in recent weeks has been the impending sale of the portion of Town Island that is not owned by BB Camp, but which is owned by the City of Kenora. I am now glad to report that, at least for the time being, the sale of Town Island has been averted – not because the City of Kenora dropped the idea of selling it; rather, it was because Kenora did not receive one single "expression of interest" in buying the island, according to an email I received from Kenora's Manager of Development Service, Adam Smith.
(In a previous issue I explained that Kenora was prepared to sell Town Island only to one buyer. Undoubtedly, the thought of having to go through environmental and other regulatory hurdles must have discouraged anyone who had considered putting in a bid for the island.)
While the "stay of execution" that so worried the "Friends of Town Island" must come as a relief to the thousands of individuals who had been waiting anxiously to see what would happen as of the deadline of January 31 for receipt of expressions of interest in Town Island, there has been much confusion surrounding this story.
The most recent element of confusion – and something I wrote about in our last issue, occurred when an online publication known as Kenora Online wrote in a headline that the Ontario Minister of Northern Development, someone by the name of Greg Rickford, had told a reporter for that publication that the Ontario government was interested in a land swap that would have seen Kenora hand over Town Island to the provincial government in exchange for Crown owned land either in or adjacent to Kenora. However, when I read that particular story, I concluded that the minister had never said anything about engaging in a land swap. In fact, what he was quoted as having said should have led one to the exact opposite conclusion: that Ontario was interested in developing Town Island, not conserving it.
I asked the reporter for Kenora Online how he had come to the conclusion that this particular minister was interested in a land swap when the minister's own words gave no indication that was his intent, but the reporter simply said to me: "Why don't you contact Rickford yourself?"
Subsequently, I did attempt to do that – by email, phone, and Twitter – all to no avail. I tried to enlist the help of other reporters, including from the Canadian Jewish News and the CBC, and those two outlets may still follow up my line of inquiry, but at this point it seems that the issue is moot: Unless Kenora reopens the process of putting up Town Island for sale again in the near future, BB Camp is saved from having to worry about the island being opened up for development.
Still, the fact that this Minister Rickford was so consistently unresponsive to my repeated requests for clarification just what his government's position was re Town Island has led me to believe that the Kenora Online story was totally wrong: There was never any intention by the Ontario government to engage in a land swap with Kenora. This Rickford fellow was just another politician saying something innocuous – to the effect that he's quite willing to work with Kenora, which a news publication interpreted to mean something else entirely. That's why most provincial governments (and the Federal government for sure), keep armies of media personnel on hand to speak for their governments. They sure as heck don't want politicians speaking off the cuff – only to see their words get totally misinterpreted.
Post script: I finally did receive an email from someone in Minister Rickford's office – someone by the name of Sydey Stonier, who identified themself as Associate Director of Communications. The email came too late to include in the Feb. 5 issue of the JP&N, but here are some excerpts from the exchange of emails I had with Stonier:
I asked Stonier whether "the Ontario government iz prepared to engage in some sort of negotiation with the City of Kenora that would see Town Island preserved as a nature conservancy?"
Stonier responded, but didn't answer my question directly, so I wrote back: "The bottom line is the Ontario government is not interested in doing anything that would preserve Town Island as a nature conservancy. Would that be a fair statement to make?"
Stonier responded: "That would not be a fair statement to make. Minister Rickford's quote in the Kenora Online article is referring to finding development opportunities in the Kenora District in general, not a reference to the future use of Town Island as that is owned by the city.
"Ontario is only involved in this issue if there was to be a land swap with Kenora and MNRF to acquire additional crown lands for economic development. This land swap is no longer an option. Town Island is still owned by the City of Kenora, so you would need to ask them about any future plans."
The question for now is: Will Kenora attempt to offer up Town Island for sale again? Nothing in either what Minister Rickford had to say, nor his Associate Director of Communications, offers the least bit of assurance that the Province of Ontario is at all interested in safeguarding Town Island from development.