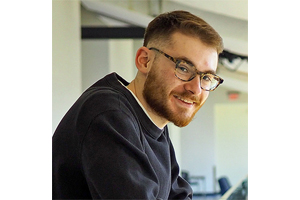 By MYRON LOVE Readers of the Winnipeg Free Press sports section may recently have noticed a new name appearing in print in the sports pages. That would be Toronto Metropolitan (formerly Ryerson) University journalism student Gavin Axelrod who is really excited for the opportunity to serve a summer internship in his home town with his hometown newspaper.
"I grew up reading the Free Press," says the 21-year-old son of Robert and Allison Axelrod. "It is really cool being back in Winnipeg and having this opportunity to put into practice at the Free Press some of what I have learned in school.
"I have always loved writing and sports," recalls the Grant Park High School graduate. (He was a Gray Academy student in the early grades, switching to Grant Park for grade 7.)
He notes that when he was 12, he started his own blog devoted to the Toronto Raptors and, in high school, contributed to several basketball blogs.
Knowing that he wanted to pursue a career in journalism, he enrolled at Ryerson (the name was only recently changed) right after graduation from Grant Park in 2019.
He reports that, in addition to his course work, he has served as sports editor of The Eyeopener, the university student newspaper. "We have 70 volunteers writing for the paper," he reports. "Twenty of them write for the sports section. We cover all the university sports – basketball, volleyball, hockey and soccer."
Internships, he points out, are an integral part of his university program. He first applied for an internship at the Free Press for the spring and summer of 2020, he says. The pandemic resulted in that position being cancelled for that year.
He didn't apply last year, but tried again for this spring.
He started at the Free Press om May 9.
He reports that his first assignment was covering the Goldeyes. One lesson he learned quickly was about the challenges of meeting tight deadlines.
"It was my first game," he recounts, The game was almost over and, with the Goldeyes safely ahead (or so he thought), I wrote my story – only to have to have to quickly change my lead when the other team took the lead in the late innings.
"The Goldeyes did come back to win."
Week two found him at the Bombers training camp in place of the regular Bomber writer who was away on vacation. "It was super cool watching Derek Taylor (the new voice of the Bombers this year) and the effort he puts into gathering as much information as he can about each player – including making sure he pronounces their names correctly,' Axelrod comments.
More recent duties have been covering the Valour, our city's soccer team, as well as some junior baseball. "I pride myself on being able to write about any sport and doing it well," he says.
As to future assignments over the summer, he is looking forward to tackling whatever comes his way.
"Everyone here in the newsroom has been really welcoming and I am picking up a lot of good advice," he reports.
Axelord says that he is looking forward to returning to university in the fall for his last year. And, after graduation, his future in journalism is still a blank slate waiting to be written.
.