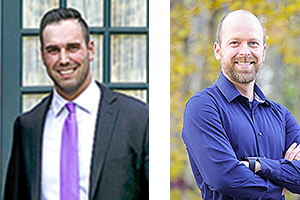 By MYRON LOVE
Long time friends Ben Carr and Kevin Freedman are hoping to be working together come March 21 as fellow members of Winnipeg School Division No. 1's Board of Trustees.
The pair are running in two separate byelections – in Wards 3 and 4, where the previously elected school trustees, Mark Wasyliw and Lisa Naylor, quit their positions after winning seats in the Manitoba legislature in last fall's provincial election.
This will actually be Freedman's third campaign for a school board seat. He was successful in 2014 in Ward 5 – but lost his bid for re-election in 2018. While his loss certainly came as a surprise…school board elections are a bit of a crap shoot as turnout is usually very low, name recognition is limited and all candidates are independents.
As reported in The Jewish Post and News coverage of the 2014 municipal election campaigns, Kevin Freedman's background has been in non-profit sport and social service organizations, in which he has served in various leadership roles. He currently teaches in the Department of Business and Administration at the University of Winnipeg.
Freedman has expertise in governance – an expertise that he brought to his role as a school trustee in his first term on the Winnipeg 1 school board. He notes that he pushed to create a new Governance Committee, the first new committee that the school board had approved in a generation.
He also initiated a long-term planning process and overall audit of the division's infrastructure.
Freedman is particularly proud of his role in pushing for Winnipeg's first Indigenous bilingual program at Brock Corydon Elementary School (which is also home to the division's long-running Hebrew Bilingual program). Both Cree and Ojibway are being taught at Brock Corydon now.
Freedman is a recipient of the YMCA Peace Medal and the Governor General's Caring Canadian award, among others, and has started various environmental and aid projects which have helped and educated tens of thousands around Manitoba and in Indonesia. Ward 4 covers the Wolseley area and the downtown. Freedman, should he be re-elected to the board, is looking forward to where he left off.
"There is still much work to be done," he says. "I have some ideas for new sustainable initiatives within the division."
"I am really rooting for Kevin," says Ben Carr – who notes that the two have known each other for going on ten years. "He is very intelligent and well-placed to provide leadership in areas of governance."
While this is Carr's first run for office, the son of Liberal Member of Parliament and high profile Cabinet Minister Jim Carr has had an extensive career behind the scenes in politics as well as in education. "I couldn't have had a better mentor politically or in life," he says of his illustrious father.
While currently the principal of the Maples Met School in Seven Oaks Division, his teaching career also includes stints at Kelvin High School – where he was also the head coach of the Kelvin Clippers JV football team – and Robert H. Smith Elementary School French immersion program.
Politically, Carr's Liberal Party resumé stretches back 15 years. He has served as Manitoba campaign manager for former Federal party leadership aspirants Scott Brison and Bob Rae, parliamentary assistant to Reg Alcock and Director of Parliamentary Affairs in Ottawa under former Minister of Cultural Heritage Melanie Joly. Naturally, he has also been part of his father's campaign team.
Ward 3 – where Carr is running – covers River Heights and Crescentwood.
"There is a tremendous amount of talent and expertise in Winnipeg 1 School division," Carr says. "But there is always room for improvement. One of my priorities will be looking for ways to reduce class size. It is more difficult for teachers to develop close relationships with students and act as mentors with an excess number of students in their classes."
He adds that he is also concerned about being fiscally responsible.
So mark the date March 21 in your calendars – if you live in Wards 3 and 4 – and help elect these two talented members of our community to the Winnipeg 1 school board. (Ed. note: This paper does not endorse anyone for political office. That last comment was Myron's alone.)