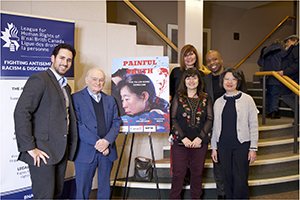 By MYRON LOVE
Genocide can take different forms. The Holocaust, for example, and the more recent Rwandan genocide were condensed in a frenzy of killing. For the Indigenous peoples of the Americas and Australia, the killing and attempted erasure of their cultures transpired over several hundred years.
Then, there is the matter of the Falun Gong.
Falun Gong (also known as Falun Dafa and Qi Gong) is a practice combining simple exercises with meditation based on the principles of truthfulness, compassion and forbearance.Of ancient Chinese origin, the practice – with the encouragement of the Chinese Communist government – developed a very large following in modern China. In 1999, however, Li Peng, chairman of the Standing Committee of the National People's Congress, decided that practicing Falun Gong was a threat to the Chinese Communist government. He initiated a thoroughgoing campaign to demonize the practice and eradicate anyone who continued to practice the tradition.
The horrors of the ensuing persecution of Chinese Falun Gong practitioners have been effectively brought out in filmmaker Yolanda Papini-Pollock's new documentary, "Painful Truth: The Falun Gong Genocide", which the filmmakers premiered at the Berney Theatre on Thursday, January 9.
The half hour film demonstrates once again how easy it can be to demonize members of a segment of a population – who may stand out because of their ethnic origin, race, religious beliefs or sexual orientation. What is unusual about the Falun Gong is that the people being persecuted are ethnic Chinese – no different than their fellow Chinese citizens – who were simply pursuing an activity (non-political) that made them feel better physically and mentally.
"Painful Truth" is, in a sense, a follow up to Papini-Pollock's "Never Again: A Broken Promise", a documentary focusing on genocide that included interviews with Holocaust survivor Edith Kimelman, as well as survivors of the Rwandan genocide, Yazidi persecution and a former Residential school student.
It was at the premiere of that film that Papini-Pollock learned about the plight of the Falun Gong. One of those in the audience was Dr. Maria Cheung, Associate Professor at the Faculty of Social Work, University of Manitoba, herself a Falun Gong practitioner and survivor of the Chinese gulag, who brought up the issue.
How many practitioners of Falun Gong are there in China? By 1999, about 100-million Chinese were involved in the practice of Falun Gong. Jiang Zemin feared that this had become a cult that might threaten the rule of the Chinese Communist government.
Maria Cheung observed that dictatorships – such as Communist China – need to continually be creating new "enemies" to keep the people onside.
The evening began with a demonstration of Falun Gong exercises by ten practitioners dressed in colourful garments.
Then, through visuals and interviews with former Falun Gong prisoners who are now living in Canada, "Painful Truth" delved into the multimedia propaganda campaign against Falun Gong, the social shunning, the large scale arrests and torture and, worst of all, the murders of Falun Gong prisoners for their body parts for transplantation.
The Chinese government's harvesting of organs from Falun Gong prisoners was first exposed by Winnipeg's own David Matas, a world leader in the fight for human rights, who, in 2009, in partnership with former Member of Parliament David Kilgour, released "Bloody Harvest: The Killing of Falun Gong for Their Organs".
Both Matas and Cheung appeared on stage after the screening of the documentary to answer questions about the persecution of the Falun Gong. Matas explained that he learned about the Chinese Government's organ harvesting through encounters he had as an immigration lawyer with Chinese immigrants to Canada who had been imprisoned for their practice of Falun Gong.
"They would talk about the torture, but also mention how they were subject to frequent blood tests and examinations of the health of their internal organs," he says. While there are no public records or eye-witness accounts of Chinese organ harvesting from Falun Gong prisoners (whose bodies would have been cremated), Matas and Kilgour extrapolated from organ transplant figures from before 1999 and after.
Matas noted that China does not have a tradition or history of organ donation. Before 1999, he said, it was well known that the Chinese Government removed the organs of prisoners who were executed for the small number of organ transplants that took place. After 1999 – and the beginning of the arrests of Falun Gong practitioners, the number of organ transplants increased exponentially.
What has been the world's response to the exposure of this sordid crime against humanity? Matas noted that Israel was a world leader in responding to this issue. Israel was paying all the expenses for Israelis travelling to China for organ transplants. After learning of the source of the transplanted organs, the Israeli government cut off insurance for organ transplants in China, criminalized participation in organ abuse abroad, set up an inspection system to check if Israeli hospitals are bringing in organs from outside the country and changed the rules so that people who know they are dying can choose to donate their organs for transplant after their passing.
He adds that 14 other countries – including Canada – have also passed or are in the process of passing rules monitoring the origins of organs for transplants.
The premiere was co-sponsored by Winnipeg Friends of Israel (which Papini-Pollock co-founded four years ago) along with B'nai Brith Canada and its League for Human Rights.